Actualized
The founder of Actualized.org is a guy named Leo. What I love about Leo is that he started off trying to figure his life out, got into building niche sites, which gave him the financial freedom to spend money on his own emotional and personal development, eventually spending over $100,000 over the course of several years, and now he's online teaching others how to grow themselves too. His signature is a funny face at the beginning of each video, and his bald head and beard add to his image. Overall, I've found that he knows how to explain complex ideas as simple, actionable ones.
Social Triggers
Derek Halpern is a rising star in the business world. His focus is on growing your self and your business, and he preaches being different so people remember you. Over the lasst 4 years, he has grown his online Social Triggers business into a 7-figure income each year, and he does so by explaining the psychological intricacies of business. He also has a no-nonsense approach to his business, along with his loud, booming voice, you either hate him or love him. I guarantee you'll love him though!
Strength Camp Online
Elliot Hulse is another one of those in your face kind of guys. He owns and runs a personal gym in the USA, and got his fame through making YouTube videos, many of which have 300,000+ views! He loves to mix personal growth with personal fitness, but it still makes sense to the average person who doesn't lift at the gym 5 days a week. He often talks about topics that might make some people queasy, like how to make your girl squirt, but in the end, it's coming from a desire to help you have a better, more meaningful life.
Steve Pavlina
Steve Pavlina is an old-school blogger, who hasn't updated the design of his website in many years. He leaves out advertisements, photos, video from his blogs. Instead, he focuses on long-form writing in a way that captivates you and tells it like it is. He lives in Las Vegas, and does many live talks there.
Dumb Little Man

Despite the name, this website has many authors that post blogs about personal growth and development, which allows the reader to follow many different paths and ideas all from the same website. While not as direct or in your face as the websites listed above, it's still worth a read.
Live Bold and Bloom

Live Bold and Bloom is the personal life coaching website of Barrie Davenport, a 5-time published author and creator of several online courses. Her website and style gives you a feeling of class, and focuses more on the psychology of your relationship with yourself and how that affects your relationships with others.
Live Your Legend

Live Your Legend started because Scott Dinsmore realized he hated his job. He hated it so much, he quit with no plan and started figuring things out as he went. He went on to give a TED talk about it, which he prominently displays on his website to provide proof of his success. His newsletter is designed to inspire you to take the first steps, while his website focuses more on the communities him and his wife have created around the world. They are currently on a 1-year trip around the world to visit these communities and celebrate with them.
Zen Habits

Leo Babauta is a minimalist through and through, and you can see it in his website's chosen design. His goal is to make your life as simple and easy as possible. He has no videos, no audio, and no photos. Just a white background and words. He has over a million followers around the world, and focuses on a zen-like style of living, so if you enjoy a Buddhist look at life, then ZenHabits is for you!
Positivity Blog

Positivity Blog is the brainchild of Henrik Edberg, a German who focuses on personal growth and development through teaching people how to maintain a positive mindset by sharing his stories of failure and the lessons he learned. He also provides easy to follow, actionable tips on things like being a better person towards others so you can be better to yourself.
4 Hour Work Week

Tim Ferriss is a world-renowned life hacker who has famously written the 4 Hour Work Week, and several other "4 hour" books, all from his desire to understand life better and learn how to become an expert at anything without spending your entire life figuring out how to get there. What started as one man's desire to learn, has evolved into a world-wide community of people who are all trying to live a better life.
Marie Forleo

Marie Forleo is another person who is focused on personal growth and development through building a business that not only makes you happy, but also makes you money. She has been featured and recognized by Derek Halpern and Oprah, so you know she is great at what she does. She's always testing and tweaking her methods so she can keep up with the changing business world.
Nerd Fitness

Nerd Fitness is a website dedicated to people who love to play video games, and lack a healthy diet and lifestyle as a result. There are many stories on the website about people who were overweight and very unhealthy, and after discovering Nerd Fitness, became engaged in learning how to eat, exercise, and grow in all ways possible. So, if you are like one of those millions of people around the world that fit this profile, Nerd Fitness may just change your life!
A Daring Adventure

Tim inspires you to step out of your comfort zone and begin the daring adventure that your life COULD be. He's a genuine Life Coach, and does his best to explain what life coaching is, and how it can help you.
Alden Tan

Alden Tan is a young Asian guy who is unlike any of the others on this list. He loves to curse and hates to censor himself, because life is boring if you adhere to society and its rules. You'll love him because he shares every thought, every detail of his life, and who wouldn't find that fascinating as a way to grow yourself into the most honest person in the room.
Be New Me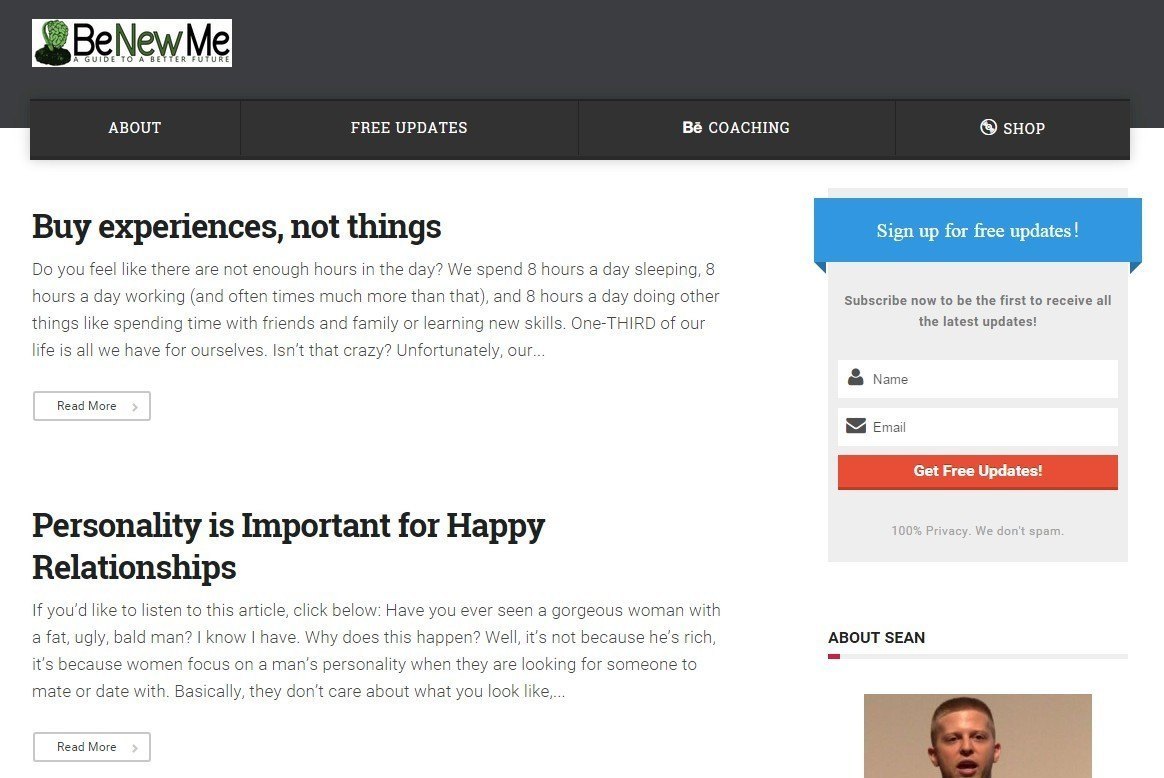 Sean Weisbrot is the founder of Be New Me, a website about meditation, mindfulness, interpersonal relationships, and personal growth. Unlike Alden, he doesn't usually cuss, but like Social Triggers and Actualized, he has his own style, one that preaches brutal honesty over everything else. He teaches you how to always think from the point of view of the other person, so we can stop fighting and start loving the world!
We love life, but we're stuck in this crazy world which tells us how to live. It's time to break free of that mold and live the life WE WANT. If you're ready, start following the people in the above list to get your life going.