Unlike a garden that's designed for family gatherings, a Zen garden has a very profound spiritual meaning to it and serves no such recreational purposes. It is a place for Zen monks to practice their meditation techniques and to strengthen their discipline. It is a sacred space for spiritual people to spend long hours meditating in, in order to attain enlightenment.
Today we're going to learn more about the elements that make up a Zen garden, what each of them means and how they interact with one another, but also gaze at some of the best practices and techniques to create your very own "sacred place".
What Is a Zen Garden?
A Zen garden is often referred to as a Japanese rock garden. It defies plenty of the conventional rules of what gardening means because it depicts a dry landscape that requires a careful arrangement of sand rakes, pruned trees, water features, and rocks.
Generally speaking, Zen garden is pretty small in size, and their history is reflected by Zen Buddhist that would create places of meditation. Zen gardens are based on three principles: ShiZen (naturalness, Koko (austerity), and Kanso (simplicity).
The Five Elements
In Chinese philosophy, there are five fundamental elements that interact with one another in the universe: wood, fire, earth, metal, and water.
These elements are connected to one another through two relationships: generating and overcoming. The generating relationship is a promoter of development, while the overcoming relationship is based on controlling the development.
General interactions are as follows:
Fire is fueled by wood.
Wood is fed by water.
Water is carried by metal.
Metal is contained by the earth.
Earth is formed by fire.
The overcoming interactions are hostile, and depict the following:
Fire is quenched by water.
Water is absorbed by earth.
Earth is separated by wood.
Wood is penetrated by metal.
Metal is melted by fire.
The Feng Shui theory (rooted in Chinese philosophy, this theory promotes good luck) is based on the interactions between the five elements.
Sand Raking
If you've ever seen pictures of a Zen-like garden, then you may have noticed that sand is raked. What is the meaning of this?
It is for aesthetic and concentration purposes. Zen priests turn to sand raking in order to improve their focus and concentration, as the pattern that resembles rippling water and waves is very hard to obtain.
How to Design a Zen Garden on Any Budget
While a Zen garden does have plenty of elements, it doesn't offer that many landscaping options as a regular garden does. That's because each element has a very specific meaning, so the Zen garden that truly meets their purpose are the ones who have as many elements as possible, taking into account that these also have to be placed correctly.
Those of you that want to take pride in having their own Zen garden should consider the following tips:
Water bodies are a great part of Zen garden equilibrium. The relaxing sound of pouring water and images of water flow are soothing.
Sand or gravel needs to be raked, with perfectly parallel lines, for balance and discipline.
Choose spreading plants instead of tall ones, and place them scarcely across the garden.
Stones are very important in the design of a Zen garden. Vertical stones are used to represent trees, and horizontal ones, water. Choose arching stones that symbolize fire. Stones can also be placed on top of sand, to create a soothing and intricate pattern.
Bridges are sometimes used as elements in designing a Zen garden. They can also be replaced with paths.
Mini Zen Garden Ideas and Plans
1. Miniature Meditation
CHECK IT OUT HERE
With an indoor table-top Zen-like garden, you can better understand how the elements of a full-sized garden are arranged, in order to aid in meditation that increases concentration, improves focus, and helps build inner equilibrium and discipline. The miniature rake gives you the chance to recreate soothing waves and water ripple effects.
2. DIY Mini Zen Garden
Since Zen gardens use nature's elements, it's fairly easy to create your very own miniature project. You will need plenty of wood, old newspapers, sand, small rocks, paint, and tools that most of you have lying around the house (such as screwdrivers, hammers, screws, pencil, metal files, etc.). It's an interesting DIY project that will put you on the right path of concentration.
3. Standalone Zen Garden Table
While most miniature Zen-like gardens consist of movable trays that can be placed on any flat surface in the house, some of them are as big as a fully sized table. In this particular example, witness how seashells are perfectly integrated in a Zen garden, complementing the raked sand, to beautifully depict the power of the sea.
4. Zen Sea Life
LEAR MORE
Notice how a miniature Zen garden can become very playful in terms of colors, despite the idea that these are based on natural elements that have neutral tones, like cream or gray. In this example, the colored blue sand is reminiscent of a large body of water, while the complementary elements are in tune with the overall theme: seashells and even a miniature turtle.
5. Beach Zen Garden
CHECK THE PRICE
We go further in the sea theme to explore a miniature Zen garden which is more of a small representation of relaxing beach scenery. The lifeguard's chair is shielded by a cocktail umbrella, while the sand hosts characteristic beach elements, such as a pair of flip flops or a bucket that children use to make sandcastles.
6. Ultimate Balance
This miniature Zen garden is adorned with sand and pebbles that recreate the world-famous symbol of yin and yang. These two concepts are the primordial forces of the universe, the dark, and the light. Deeply rooted in Chinese philosophy, it makes perfect sense for yin and yang to be represented by the elements of a Zen garden.
7. Cheating Discipline
CHECK IT OUT HERE
While absolutely adorable, one would argue that using stamps to create sand patterns is cheating. Part of the art of having a Zen garden is focusing on creating raked sand designs that out one's attention in balance, which would make choosing sand stamps "the easy way out". However, unless you plan on becoming the master of medication, these are must-have items for those of you that want a more sophisticated Zen garden.
8. Raking Technique
Having a miniature rake for your sand-drawing techniques is a mandatory part of experiencing the whole idea behind what a Zen-like garden truly stands for. Raking sand is an exercise of concentration, particularly when performed on the fully-sized garden and using big rakes in the process. However, miniature Zen gardens use tinier instruments of technique and discipline.
Zen Garden Ideas and Designs
9. Path of Gravel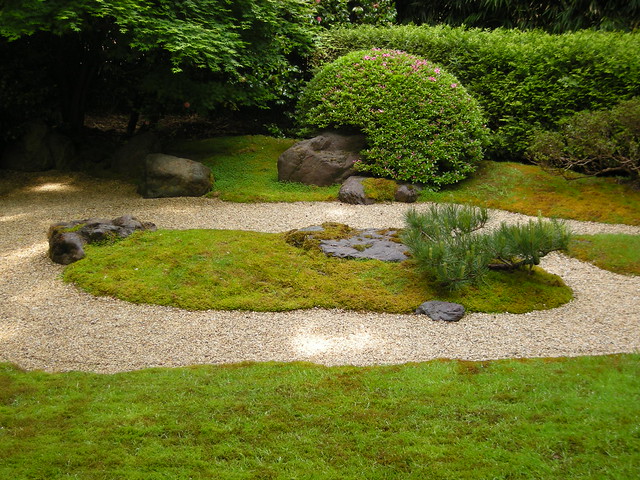 Gravel is another important element of Zen garden, and sometimes used as a replacement, or together with sand. It's not uncommon for people to rake gravel, which is more complicated and requires extra elbow grease. Alongside gravel, the elements inside the photo are focused on creating a greener garden. Notice how plants aren't focused on height?
10. Tree of Life
Natural garden elements are gathered once again in an image that shows us just how important nature is as part of the meditation process. The carefully-raked gravel creates a ripple effect around a perfectly-pruned tree, while a path of stepping stones circles the elevated portion of the earth that supports the wooden roots.
11. Meditation Corner
This is probably one of the examples of how stone and sand elements should be arranged inside a Zen garden design. The sand is carefully raked around the stones placed on top of it, showing balance and discipline on behalf of the owner. The earth squares create an almost playful pattern, yet it is all about the asymmetry that's part of the Zen way of life.
12. Luscious Lanterns
We welcome another element of Zen gardening: the lantern. Made entirely out of stone, the lantern is a decorative element that stands tall and proud amongst the jagged rocks that form the edge of the gravel region.
13. Temple Zen Garden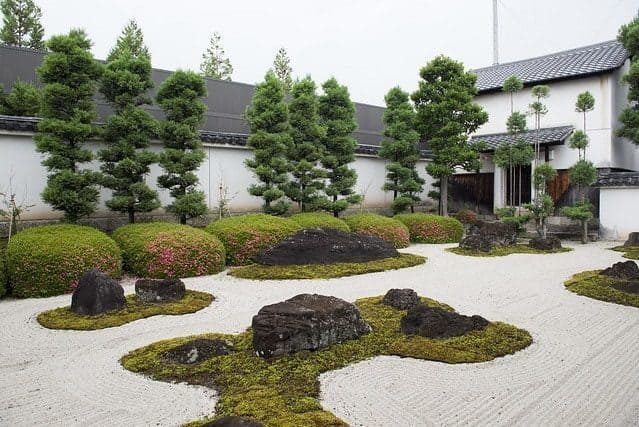 This image was taken in the Myoren-ji Temple, Kyoto. A place for Buddhism practices and mediation, the Zen garden of the temple gathers the majority of elements that are part of this culture of spirituality: raked sand, stones, earth, tall trees, and perfectly trimmed shrubs. It's the perfect place to reconnect with one's inner self, but also with nature.
14. Small Zen Garden
The main things that I want to point out with this image are that creating your own Zen garden isn't necessarily about having plenty of yard space. Even in the smallest of garden corners, you can combine the five elements of universal balance. To truly enrich the experience of the culture, you can add a Buddha statue.
15. Large-Scale Zen Garden
When space and garden structure allows it, you can always turn your yard into a Zen garden that doesn't require a great investment on your behalf. Here we can see a generous pool of sand that's carefully been raked to surround the stone elements. The generous green background is comprised of regular grass and trees but trimmed to perfection.
16. Bonsai Meets Zen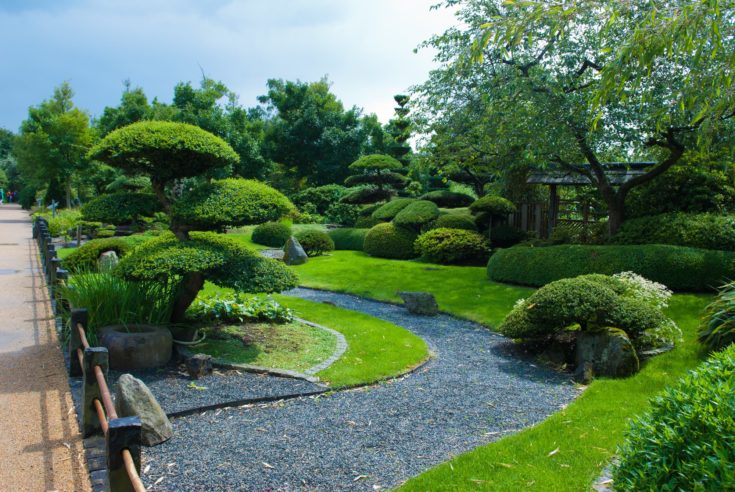 Also, a part of the Eastern heritage, this is a Zen garden that blends the intricate art of Bonsai in its landscape. The primary focus is on wood and earth, depicted by the trees, shrubs, and grass that harmoniously grow to create a beautiful shade of natural green.
17. The Lonely Island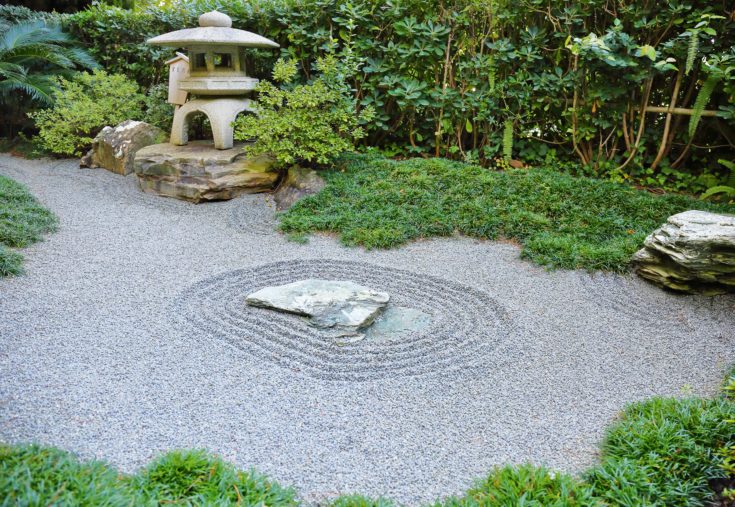 Dry landscapes are often the most convenient and easy ones to obtain because the bed of gravel is an affordable investment for those who want to bring Buddhist tranquility to their homes. See how the stone is surrounded by rakes gravel, to represent the island that's surrounded by a body of water.
18. Nature's Colors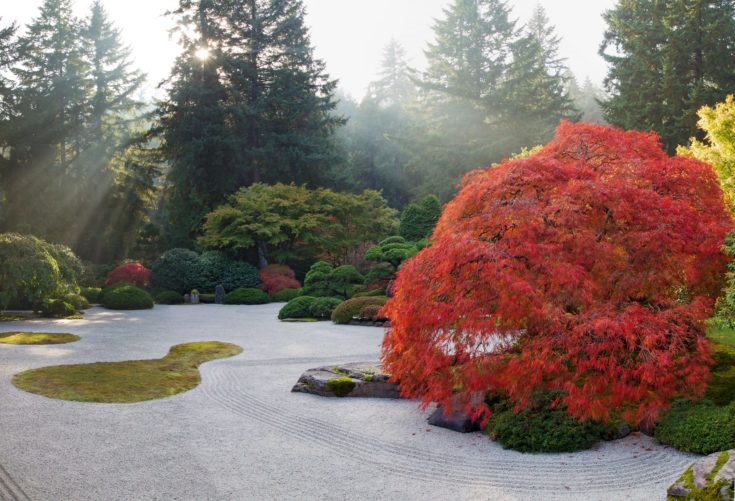 Focused on gravel once more, this garden is a bit livelier in terms of colors, particularly with that shade of brick-red that brings everything to life. The rays of the sun that spear through the tree branches create a heavenly view, leading to a spot that's perfect for meditation.
19. Element Richness
In this picture, you will notice a Zen garden that's more element-rich, because it not only adds a lantern, but also a small and basic stone bridge arched above the sand and gravel region of the scenery. Unlike other examples, this garden also hosts more floral elements, adding colors and vividness to the yard. Plus, the bamboo fence is a really nice touch.
20. Final Level
When you have plenty of space to work with and a larger budget, you can go really crazy with your Zen garden landscaping options. Here we see a pond as the central element of the garden, with large river stones that decorate one of the shores. On the other shore, we see natural elements, but also a bridge and a lantern that complement the scenery.
21. Intimate Zen Garden
With plenty of shade, you can create a more intimate Zen garden, one that kind of looks like a labyrinth. The wooden bridge is very touching, and it almost feels like you're walking through a temple garden. Using natural stone, you can create a pathway of stone and gravel, walking wanderers through the serendipity of the scenery.
22. Fine Sand Lines
This example of a Zen garden is focused primarily on sand, raked in perfectly symmetrical lines to create balance for at every sight. Notice once more how the ripple-like effect is created to surround the center stone, or the "island". The tree in the background is nothing short of majestic, guarding the water and the earth beneath it.
23. Spring Garden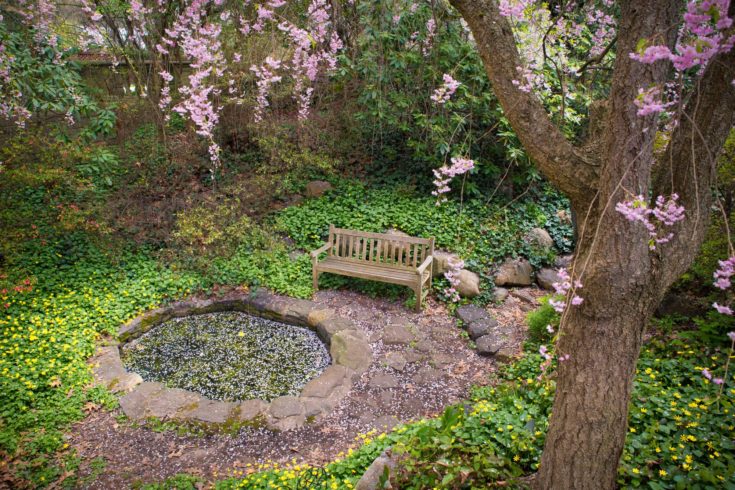 Here we have an image that's a little less Zen garden, and a lot more romance and intimacy-focused corned. The wooden bench is something torn from a Victorian novel, while the body of water is adorned by falling leaves and flower petals, worthy of a wedding proposal.
24. Samurai District
This image was taken in the Nagamachi Samurai Distric Nomura-ke, in a garden that tried to recreate the Zen balance of Chinese culture. The stones cross paths with the main road, while the edges of the path are given by small aligned shrubs.
25. Garden of Day Dreams
Maybe a little too pink for some, but bright and empowering for many others, this Zen garden idea is focused on the vivid colors of nature. With nuances of pink and white, the example shows a gravel path adorned with stepping stones, leading to a large wooden gate, also specific to this Oriental culture.
26. Picture-Perfect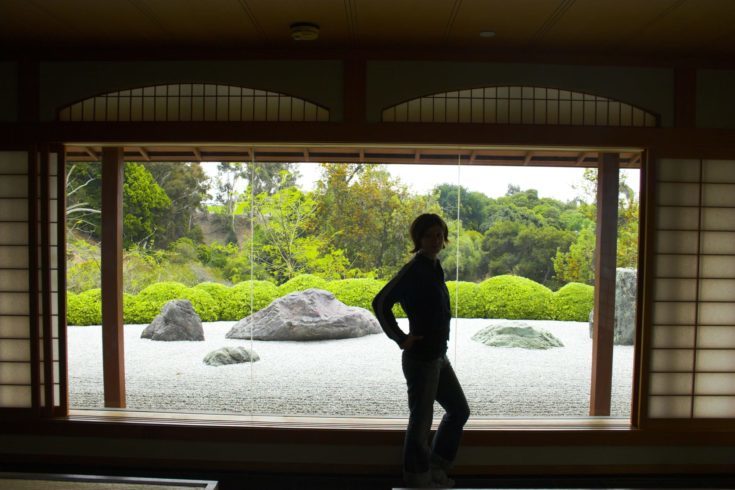 When sliding window panels unravel a Zen garden rich in stone and gravel, one can't help but gaze at the beauty that elements create when brought together. I can't even decide what's more breathtaking: the power of the jagged stones or the majestic beauty of the tall trees in the background.
27. 4/5 Elements
Aside from fire, here we have the perfect embodiment of the five elements of the universe: the metal chains that fall from the sky, the wooden fortitude of the trees, a body of water that feeds nature, and the earth that brings everything to life.
28. Wild Beauty
If it weren't for the beautiful lines of raked sand on the ground, I'd swear this is a picture taken in the heart of the wildest forests. But this picture was taken in Kyoto, Japan. Notice how autumn has colored the crown of the trees in the background, leaving nature bleeding under the pressure of caving into winter.
Modern Zen Gardens
29. Type "Zen Garden"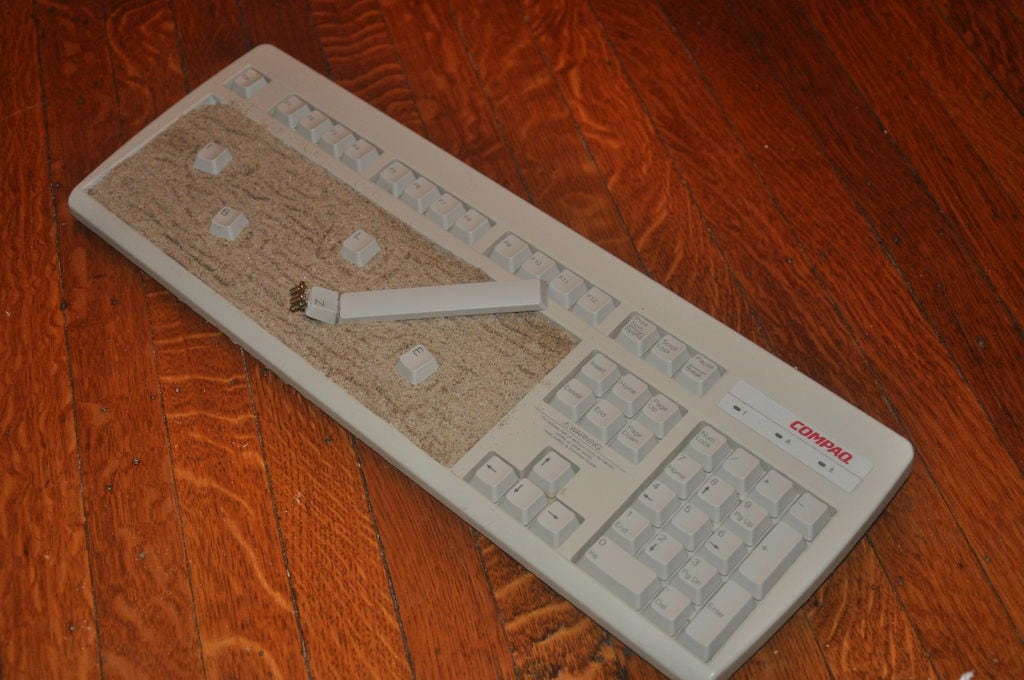 What do you do when you have an old and unusable keyboard and plenty of imagination? You take out the keys, fill in the large gap with sand, and create the most modern version of a Zen garden that one can think of. It's unusual, but a very original approach to miniature sandboxed, but one that your guests will surely compliment you on.
30. Etch-A-Sketch Zen Garden
This just goes to show you, there's nothing you can't achieve with a little imagination. Think of this as an automated sand raking process, by using the famous concept of etching and sketching. With the right tools and plenty of patience (alas, isn't Zen gardening all about patience?), you can create your very own automatic Zen garden raking techniques.
Stones & Rocks
31. Passion in the Details
Zen gardening is not so much about the details, as it is about natural representation. However, this stone shaped like a heart has a deep symbolic meaning that can quickly be attributed to Buddhism: love for nature. With elements like these, you can bring details into the life of a Zen garden, to show you commitment to the practice.
32. Black Beauty
LEARN MORE
No true Zen garden could ever be complete without stone: one of nature's most powerful elements. When you're looking to create truly unique landscapes that adhere to the Zen principles, you can black stones, such as these decorative river pebbles. They don't cost very much and are perfect for miniature garden, but also for those who are looking to add more personality to a full-sized garden.
33. Ishi Wo Taten Koto
It is strongly believed that the arrangement of stones is one of the most important practices of Zen gardening. When you think of a Zen garden, stones and sand are the very first things you visualize. That's because there is a concept called "ishi wo taten koto" (which is translated as "erecting stones"), which stands for garden making as mentioned in the oldest preserved manual of Japanese gardening.
34. The Visual Effect
Just by looking at this picture, you can understand the amount of effort it takes to persevere in the art of Zen gardening. The swirly patterns are created in parallel with the stone edges that look like massive seashells from afar, creating the perfect blend to represent water in all its greatness.
35. Cheat Sheet
CHECK IT OUT HERE
While stones might be the centerpiece of a Zen garden, who says you can opt for a faux rock instead? I know this might also be considered cheating, but it saves you the effort of having to carry a full-sized regular rock (which would cost you a fortune in delivery fees if you ordered one online.
36. Solitary Brother
One thing you may have noticed about Zen gardens and their stone elements is that most of them are secluded pieces, isolated from other elements that are part of the scenery. These are reminiscent of tall and strong mountain, but when surrounded by raked sand, they also symbolize solitary island. Every element in a Zen garden is well thought of.
Moss/Plants
37. The Wooden Element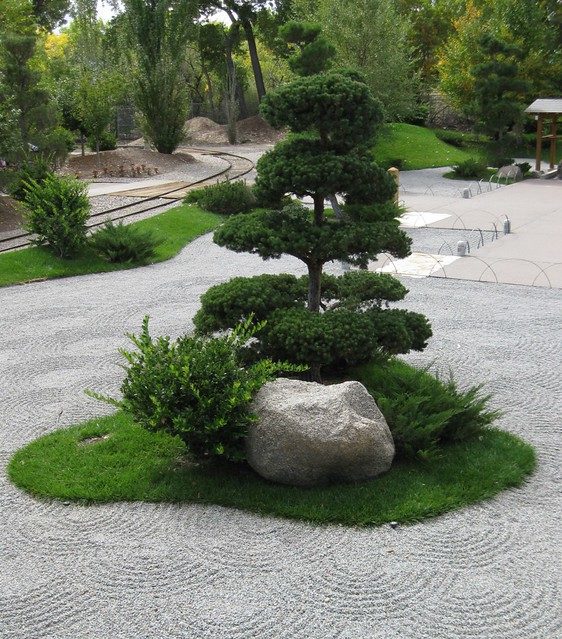 A natural landscape can never be complete without including the green elements of the universe, such as trees and other plants. Trees represent the wooden element of the magic five, born from the earth and feeding on water, it has a strong symbolic meaning in the art of Zen gardening.
38. Shine of Moss
Moss can really add beauty to a Zen garden, particularly because it mimics green grass. The smooth texture of moss adds shine to the landscape, and it strongly appears as if it's shining under the sun's bright light. Pair with a few large stones are surrounded by raked sand, and you've got yourself an amazing Zen effect.
39. Plant Islands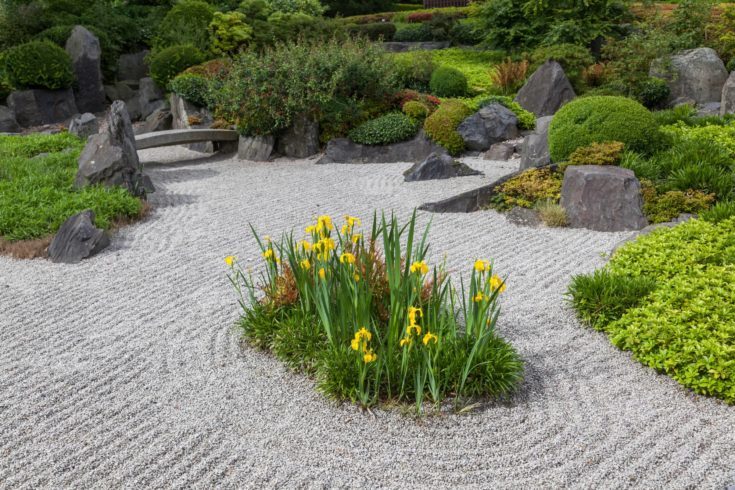 Use bodies of plants to create small islands in the middle of gravel or sand for a stunning visual effect. You can also experiment with planting colorful flower amidst the grass, bringing the landscape to live (although this kind of defies one of the principles of Zen gardening, which focuses on neutral colors that don't stand out in particular).
40. Gradient Planting
Who says you can't combine moss with plants and green grass to add versatility to your Zen garden? After all, it's all about the elements of the universe, and plants are something that grows when earth and water are combined in harmony, blending to create life.
41. Ryoan-Ji Temple
Temples are very strict when it comes to applying the techniques and elements of a Zen garden. Notice how they don't break the pattern of conventional landscaping, staying in line with the use of neutral tones, as well as linear and ripple effects made by disciplined sand and gravel raking.
Pagoda Lights
42. Carved in Stone
Pagoda lights are generally a wonderful outdoor landscaping feature, but they seem to blend in perfectly with Zen gardening settings as well. When made from stone or metal, both of which are part of the five elements of the universe, these pagoda lights can add personality to a garden.
43. Peaceful Meditation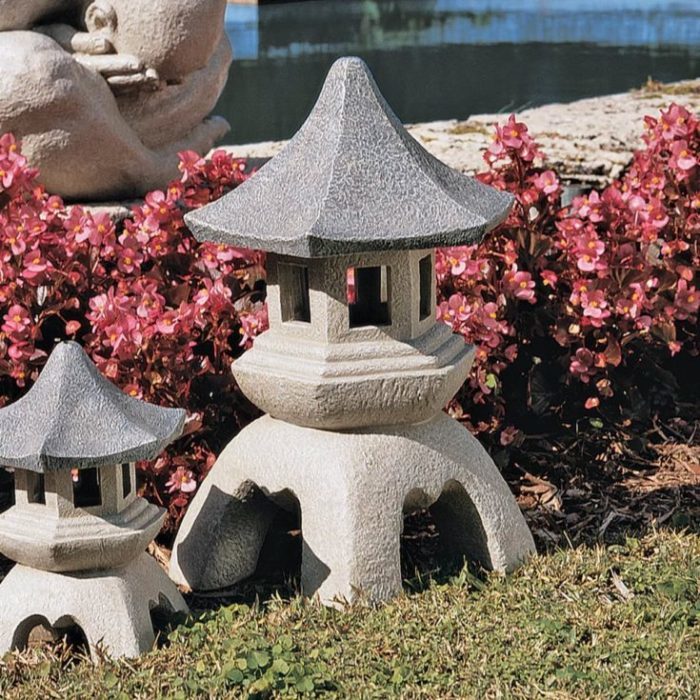 CHECK THE PRICE
Here is an example of a beautiful pagoda light that's made from stone bonded with resin. In a vintage style that symbolizes one of the elements of Asian culture, this pagoda light can be paired with small candles or battery-powered tea light, to soothe the scenery by night, because the nights are the best advisors.
44. Imperial East Garden, Tokyo
Far be it for me to say that Zen gardens are the most stunning when seen right at their origin. This image shows a lantern hosted by the Imperial East Garden in Tokyo. The intricate design of the lantern has a very vintage air, maybe something you'd expect to see in an Asian palace. It makes for an extravagant choice for Zen gardening, but who are we to argue with the fine taste of a culture that's offered us so much?
45. Solar-Powered Pagoda Light
CHECK IT OUT HERE
Good-looking and eco-friendly; what more could you ask for? This solar-powered light is surrounded by an ornate cage matching the design of an Asian temple lantern. Small in size, a bunch of these can sparkle throughout your Zen garden, and look particularly amazing when placed amongst plants or near bodies of water (careful with splash damage).
Water
46. DIY Water Body
Have you ever dreamed of having a water body in your yard, but found that fountains are too expensive? Here is an easy idea that can make it happen, and all it takes is a couple of pipes connected to a hose or a central water pipe. You can have your body of water in no time, while covering the pipes in the ground, for aesthetic purposes.
47. Koi Colors
I dare you not to fall in love with the idea of adding koi fish to a Zen garden pond. Their vivid colors are like a drop of magic amongst the dull neutrality that sometimes is a Zen garden. While out of the ordinary, the idea is enough to make homeowners stand out through elements of originality that you don't witness at every corner.
48. Creating Water Springs
Creating your own fountain doesn't have to be a complicated or costly process. You can conveniently hide a hose amongst shrubs and flowers, concealing the end with river stones. Then, create a rocky path for the water to follow, and you've got your very own imitation of a natural water spring.
49. Tenryuji Temple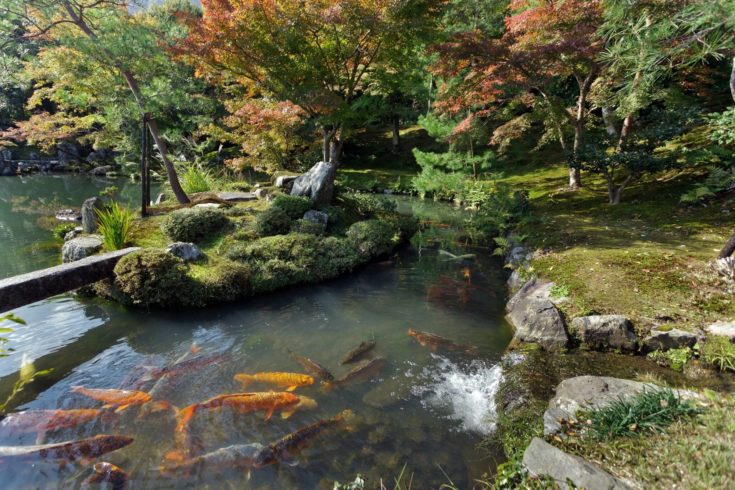 As always, the benchmark examples come from temples, such as this gem located in the Tenryuji Temple's Zen garden. A generous water pond hosts colored fish, much to the delight of the guests that witness how the fish's brightly colored scales shine underneath the sun.
Pathway
50. Lead the Way
There's something about stone pathways amongst gravel that feel simplistic, yet seems to have a story to tell. Part of a dry landscape that characterizes a Zen garden is using stones as frequently as possible, but when you want to avoid too much dull-looking gravel, a few stepping stones can fix that.
51. Get `Em While They're Stoned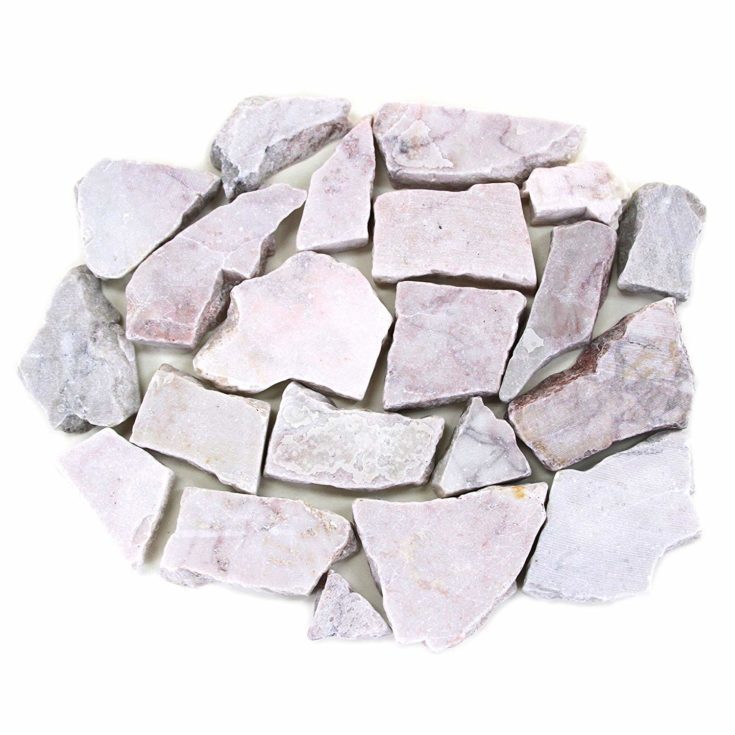 LEARN MORE
You can totally buy slate stones to decorate your Zen garden and that's absolutely awesome because no one really likes to go scavenger hunting for slate tiles. These rocks are perfect for landscaping, particularly for creating pathways through Zen gardens. Also, they kind of look like marble, which is nice.
52. Sophisticated Spiral
In the spirit of "breaking the pattern", how about using wooden planks instead of stones to create a pave way? Sure, you can create a more sophisticated design such as this one, gradually increasing (or decreasing, depending how you look at it) the size of the planks.
53. Graceful Steps
Speaking of pathways, if your yard is inclined, you can absolutely get away with creating steps. You won't even have to dig or poke around the pathway too much to get this step-like effect, as all it takes is some wooden logs buried halfway inside the ground and you're good to go!
54. Bury the Log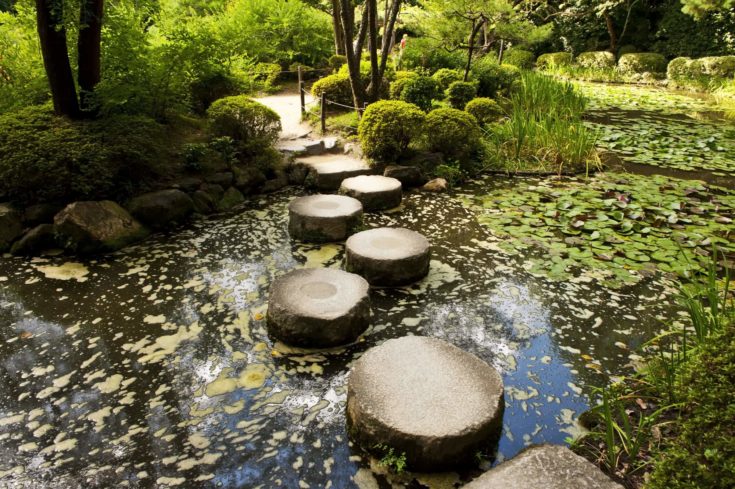 You know how you think you're super creative but then come across a landscaping idea that's so awesome, you're just mad that you never thought of it yourself? This is how I felt when I saw these logs buried in water, with an upper surface that creates a paved way to the other side? Brilliant!
55. Complete the Quest
There's always the more man-made and elegant approach to pathways. The well-defined edges of the large stones meet the asymmetrical beauty of the smaller ones, to make you feel like you're heading towards the prize at the end of a long journey.
56. Road to Minimalism
One could argue that Zen garden all about minimalism, since the pallet of decorative options is quite limited compared to what traditional landscaping has to offer. But that's not necessarily a bad thing, because it gives more people the chance to tackle this Eastern practice of serenity and balance. That being said, place a few flat stones on a sand or gravel pool and you've got a cool-looking pave way.
57. Natural Perfection
I have always had this fascination with large stones polished for a flat surface. There's something very natural, but also very elegant about them. It's like the spark richness but manages to be of good taste at the same time. The fact that they are used to make Zen garden pavements is just a bonus.
58. Ultimate Elegance
From simple to intricate and stylish, here is another example of how you can create a pathway that crosses your Zen garden. From brown tile stones to wooden accents, you can choose any natural material to pave the way through an outdoor oasis of meditation and inner peace.
59. Brick Pavers
Brick pavers are a bit more expensive alternative to traditional flat stones or wooden pieces. However, they are great because they are easier to step on, plus they can be used to pave a resting spot inside the garden. I love the wooden and metal benches that provide tranquility beside the water pond.
60. Slippery Stones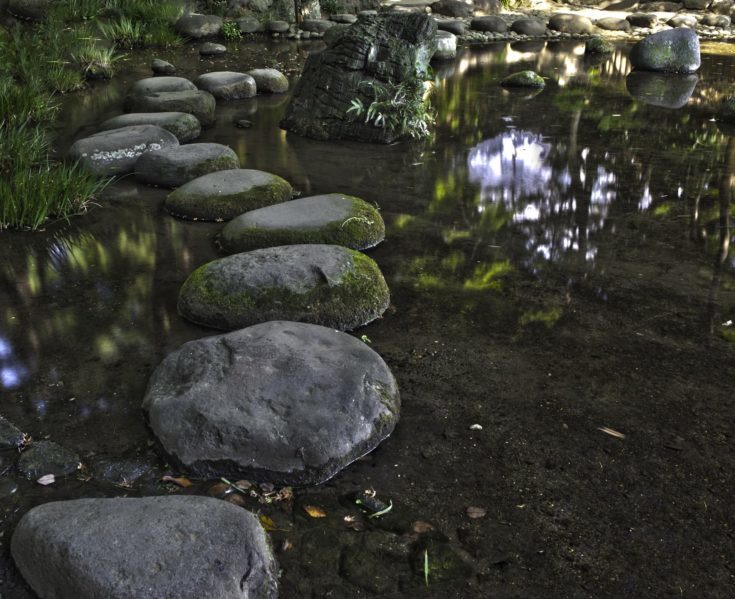 Since some of these stones are slippery and covered in moss, it's not advisable to actually step on them. However, they make perfect decorative stones for paths that cross bodies of water, particularly because their glimmering surface shines together with water under bright daylight.
Cats
61. Maneki Neko
The ancient Egyptian has Bastet, a goddess with the head or a cat and a human body. In Japanese and Chinese culture, you have the beckoning cat, known as Maneki Neko. A symbol of good luck, it makes sense that cats would make an excellent presence in a Zen garden.
62. Welcome!
Fear not, the raised paw on Maneki Neko isn't at all threatening, but it's actually a sign of welcoming guests. According to one legend, a man caught in the middle of a storm took shelter under a tree, until he saw a cat with its paw raised, inviting him into a temple. The man took shelter inside, and moments after, the tree where he previously stood was caught by lightning.
Bench/Chair
63. Veni, Vidi, Vici
Benches are a perfect addition to a Zen garden. They provide a great place to sit on when you're meditating, or just looking to unwind some tension by enjoying your beautiful garden landscape. Make sure that you pick benches made from wood, metal, or stone, for the perfect blend.
Sand
64. Textured Sand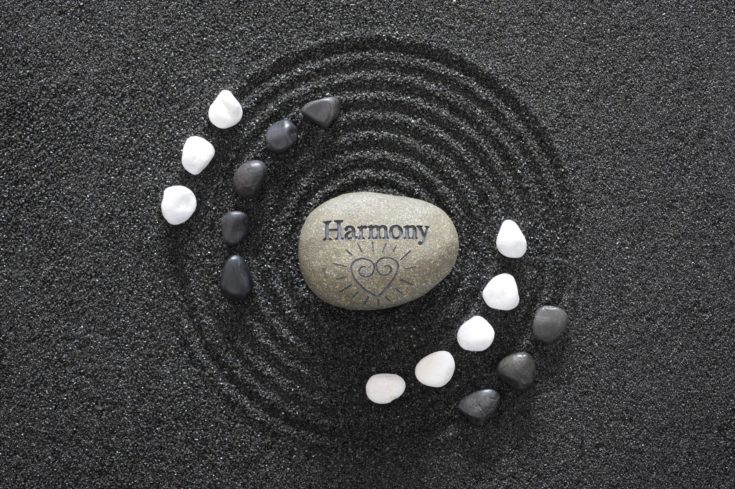 Much like the black pebbles, we presented a while back, you can opt for black sand, to add a different kind of vibe to a Zen garden. While it's probably not worth it to try and fill an entire yard with this type of sand, it makes quite the addition to a miniature Zen garden.
65. Universal Order
There's something very soothing not just in raking sand, but also in looking at the perfectly parallel lines that give a sense of universal order. Who knew that you can associate something as dull and trivial as raking with an ancient Chinese landscaping process to teach yourself discipline?
Rake
66. Primary Gardening Tool
Raking is a major part of Zen gardening, and no experience would truly be complete without having tried to do this. When you purchase a miniature garden set, you will most likely receive a rake as well, but these are also available for separate purchase. However, you can also make one of your own, it's really not that complicated.
67. Playing with Patterns
CHECK IT OUT HERE
Raking is a process that creates patterns to mimic common natural elements. The pattern is meant to accommodate the main features of your garden, such as large stones, water ponds, or trees. The desktop design has to be planned as to highlight these elements, but it's really important to you start the process by having a pattern in mind.
68. Making Waves
When raking, feel free to play with your designs, and don't always choose straight lines, although they are very common. You can create waves that imitate a stream, which is easy to make if you just wiggle your rake as you go along.
Buddha
69. Ancient History
A lot of people today have heard about Buddha, but how many people are truly familiar with his history. Buddha was a price that discovered material things don't always bring happiness, so he took the spiritual path to procure enlightenment. During 45 years, he traveled through India to share his discoveries and wisdom, always encouraging people to ask questions.
Conclusion
Throughout the years, we've heard plenty about the Buddhist way of life, and we've seen Zen garden at least in movies, if not in real life. But Zen garden has a very profound meaning, and that's why their elements and layouts are borrowed from people from all corners of the world.
If you started landscaping a Zen garden in your backyard or even on your balcony or patio tomorrow, what elements would you choose and why?