Juicing has without a doubt taken off in a big way. In the modern fast paced world it can be difficult to eat healthy when convenience is key. A juicing machine is a great way of consuming healthy food full of vitamins and minerals in a quick and tasty way.
But with so many buying options available, which juicer has the best reviews? You're in luck, we have checked out the latest and greatest juicing models of 2015 and given you the lowdown on each below.
Things to consider when buying a juicer
With a myriad of options and features, firstly you need to establish what you want to with a juicing machine. Do you plan on using it as a food processor too? Do you want to juice ice and hard foods?
Budget
How much you are willing to spend will be a factor in which juicer to buy. Set yourself a budget and decide and review the leading brands. Here is a list of well-respected brands in the juicing world:
Breveille
Hurom
Omega
Kuvings
Cuisinart
Nutribullet
Healthmaster
Juiceman
Type
There are a few different types and styles of juicers, each with pros and cons. Here is a summary of the main types of appliance:
Centrifugal – They extract the juice by crushing the fruit and vegetables and then spinning the pulp to extract the liquid.
Masticating – They chew and drill through the food at a slower speed than centrifugal juicer and therefore produce a higher, better quality yield.
Twin gear – Twin gear juicers go through a 2 step process. They bring even better results but are considerably more expensive.
Citric – A very simple, budget juicer which is only really suitable for soft fruits and vegetables.
Nutritional Value
Juicing is a process that actually damages foods and can reduce the nutritional value of the ingredients. This is because the high powered, destructive motion breaks down nutrients. Slow RPM juicers offer the best results but are more expensive. The amount of wastage is important as the pulp left behind can often contain a lot of fibre and other beneficial micro nutrients.
Our best juicers
Based on the considerations above, here are our top picks for buying a juicer.
Best Cheap Juicer
Black & Decker JE2200B 400-Watt Fruit and Vegetable Juice Extractor
400 watt motor
300ml pitcher included
Dishwasher safe parts
Pulp ration selector
Check the Price
A top seller on Amazon, this juicer has over 1900 reviews. At less than $30 it is a good introduction to making fruit smoothies and much more.
The parts are dishwasher safe and feature long-lasting stainless steel blades. Choose how much pulp you want with a dial on the side.
Best Masticating Juicer
Omega J8006 Nutrition Center Juicer
Masticating motor
Low speed
Dual stage system
Quiet operation
15 year warranty
Check the Price
Also known as cold press juicers or slow juicers and usually more expensive than their centrifugal cousins. The added benefits are a more effective method of extracting the juice from your fruit and vegetables.
Rated a #1 Best Seller by Amazon, you won't go wrong with this model. The masticating function enables this model to operate at a low speed (80 RPM). This produces a better quality final product and protects enzymes and prevents oxidation. The juice from this machine can be stored for up to 72 hours without degradation.
It has a range of features and applications including juicing hard foods, making pasta, juicing wheatgrass and ground coffee to name a few.
It also has a rudimentary but handy food processing feature.
Best Twin Gear Juicer
Tribest Green Star Elite GSE-5000 Jumbo Twin Gear Juice Extractor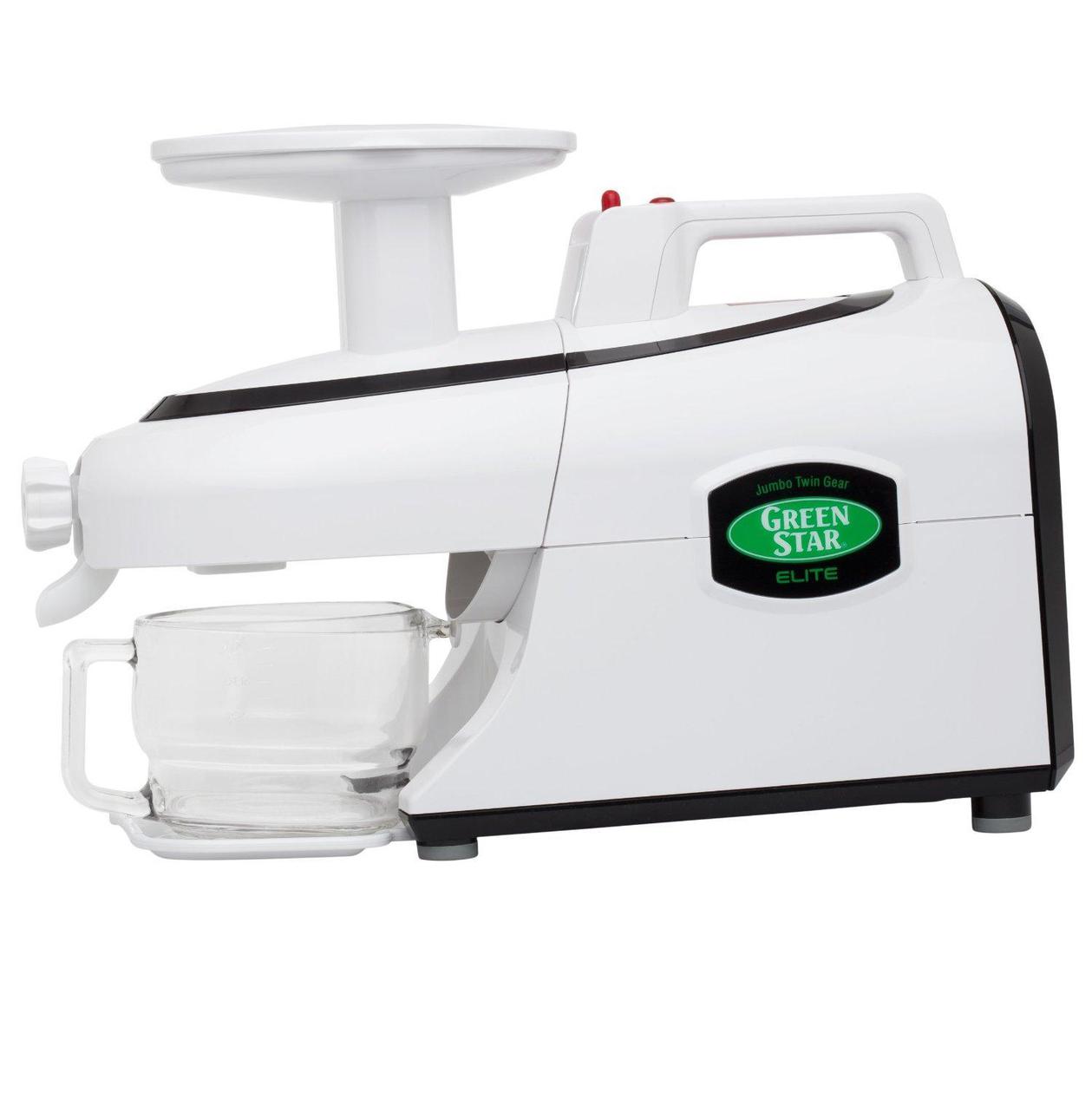 Auto pulp injection
Juice most fruits, herbs and vegetables
Easy cleaning
Portable
12 year warranty
Check the Price
The monsters of the juicing world. They extract the most pulp for your money leaving liquid goodness in a glass.
Automatic pulp ejection and continuous juicing make this a good contender for the top juicer. Although it may be out of budget for most it is very versatile. It can even juice nuts and grains! If you go for this one, make sure to choose the correct voltage (110/230).
The twin gears have stainless steel gears with pocket recesses to aid in juicing up hard vegetables like carrots. Strategic cutting points make light work of sinewy vegetables such as celery and reduce the strain on the motor.
The mastication mechanism actually operates much like human teeth with blades that mimic incisors, canines and molars.
Another nice feature is being able to adjust the pressure mechanism depending on the type of food and the desired density of the juice.
Although it may be pricey, when you consider its dual food processing features, it could be a cost effective, 2-in-1 device.
Best Citric Juicer
Epica Powerful Stainless Steel Whisper-quiet Citrus Juicer
More juice less time
Auto start and stop functions
Dispenses directly into a glass
Clog free flow
Check the Price
If you are happy with just fresh orange juice then a citric juicer may be all you need. And why not? They are cheaper, less power, smaller and easy to clean. Here is our top pick.
This Epica model claims to produce more juice (18%) in less than time than comparable models. It is also very quiet and low powered. You can change to different fruit sizes changing the included reamers. It breaks down into 3 washable parts which many users say makes it very for easy cleaning.
It has a sturdy construction which is well sealed which helps to prevent bits of pulp and juice getting into the unit. A good looking unit with a very small footprint makes this ideal for the casual, budget and size-conscious juicer.
So there you have it, the 4 best juicers. We have selected the best in each price range and category but there are, of course, alternatives. Our advice is to stick to a known brand, check reviews and look for discounts. Do you have any juicing tips of your own? Please share in the comments.
Save