Making your own bullet journal is a personal journey, and you want to have the products to help make it easy on the hand. Most people find they prefer certain writing and drawing products for various projects, but with a bullet journal you want to make sure you have a dependable set of pens and markers for a variety of needs.
Perhaps you enjoy sketching and doodling in your page margins, or maybe you are a minimalist at heart and want to ensure clean, bold lines for easy reading, notetaking, and goal setting. Whatever your needs, consider the quality of your writing products in order to continue enjoying the work you are doing. The best bullet journal pens and markers are those that last long, are dependable, and create the clean, clear lines you crave.
Choosing the Best Bullet Journal Pens for You
A few things to consider when looking for some go-to writing product choices concern quality, and above all, personal preference. Some people may love a roller tip pen, while others are frustrated by them and want something that lays down a little more ink.
You also want to take care to purchase choices that don't bleed through paper (unless you don't mind), don't smudge, and don't fade over time. If you plan on highlighting what you have written, also find a color fast option to use.
Brush tips, felt tips, micro tips, jelly rollers, and even fountain pens are all options you may not have used before, but sound enticing. Do a bit of research on the types of choices available to you to design, create, organize, draw, and write with. The options below showcase a multitude of quality pens that are popular with bullet journaling enthusiasts.
Sakura Pigma Set
This full micron pen set provides you with various tip sizes for note taking, drawing, and organizing your journaling process. They won't smear or bleed into the next page either- providing you with peace of mind.
Buy One Here
Pentel Refillable Calligraphy Pocket Brush
This is one of the best brush tip calligraphy pens you can buy. It is a refillable choice so you can always have it on hand. These are great for hand lettering your collections and pages.
Get It Here
Sakura Pigma Micron Ink Pen Set
This colorful micron tipped ink set is perfect for sketching and personalizing your journal pages. With a fine tip, you don't have to worry about bleeding through to the next page, and you can color code your materials.
Buy One Here
Faber-Castell Artist Brush Pen
One of the best names in the business, Faber-Castell products are an important staple to graphic artists as they offer a wide array of dependable writing and drawing options. This is a pen you will never want to be without.
Get It Here
uni-ball Vision Elite Rollerball Pens
Offering both bold and micro point tips, plus a variety of colors, this is a high end rollerball pen that you will want for all your writing needs. They are perfect in helping keep your BUJO look organized and write smoothly without smearing.
Buy One Here
Faber-Castell Set of 4 Black Pitt Artist Pens
With 4 various tip sizes, including a brush tip, this set is a great way to start out creating and labeling your books. Their quality will last for hundreds of strokes, and provide you variances to make whatever you need.
Get One Here
Sharpie Permanent Markers
Sharpies are often a go to favorite, and this set is no exception. Thicker pens are perfect for title pages and labels, while the fine tips are best for notetaking and doodling.
Buy One Here
Tombow Fudenosuke Brush Pen
Both a hard tip and soft tip option come in this set to provide you the touch you need for your journal. Great for lettering and calligraphy, these are a quality choice you can't go wrong with.
Buy It Here
Tombow Dual Brush Pen
This brush tipped pen is doubled sided and also includes a firm fine tip for all your lettering needs. The pen is so versatile, you may find you use it for all your note taking as well!
Get One Here
Copic Marker
The rich, solid black India ink is not only amazing for creating decorative titles, it can also be layered and used for sketching and shading. Water based, they are compatible with alcohol based markers and pens as well.
Buy One Here
Staedtler Pigment Fine Liner Pen Set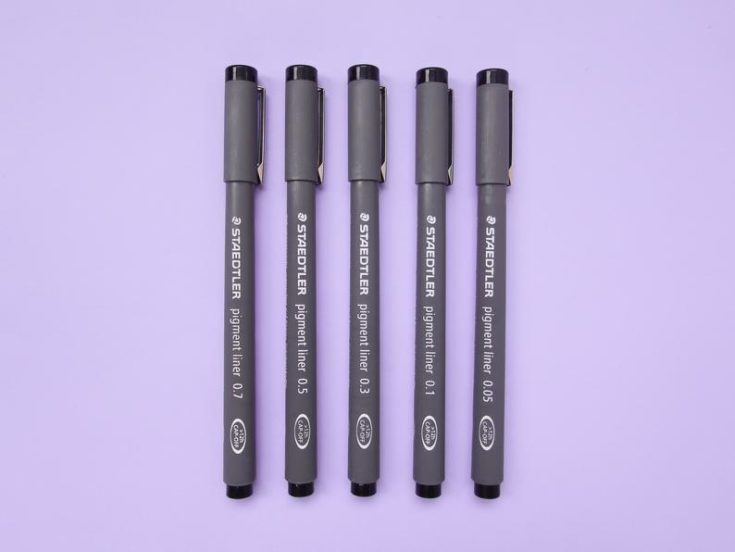 This fine line collection is a good choice for doodling, drawing, or basically just getting anything down on the pages you need. They are especially nice because they won't bleed when you go over them with a highlighter!
Get One Here
PILOT Precise V5 Stick
Buy in a pack or as a single pen, the Pilot Precise is an everyday choice that you can use for a variety of things. It also comes in multiple colors and creates clean, even lines.
Buy One Here
Lamy Safari Fountain Pen
This classic fountain pen comes with refill cartridges and may fast become your favorite writing tool ever. Create fine, consistent lines from a metal tip that stays sharp and precise.
Get One Here
Pilot Metropolitan Fountain Pen
The fine stainless steel point of this pen makes it an ideal option for your note taking needs. As a refillable choice, you can always have it on hand and be assured you aren't adding to environmental waste.
Get It Here
PILOT Varsity Disposable Fountain Pen Set
These disposable fountain pens are convenient and easy to use. With an advanced liquid ink fill system, it allows you to write smoothly. The set also comes in multiple colors!
Buy One Here
PILOT G2 Premium Refillable & Retractable Rolling Ball Gel Pens
These everyday pens write smoothly and are an excellent budget option for all your writing needs. They are a popular choice as well since they provide reliable, long lasting ink.
Buy One Here
Caliart 32 Colors Gel Pen Set
This 32 color gel pen set is perfect for color coding, drawing, and doodling in your journal. The 1.00 mm fine tip point provides a continuous smooth gel ink line that doesn't fade.
Get One Here
LePen Marvy Uchida Dark Micro-fine Set
These fine tipped, quality pens come in a variety of dark colors to ensure you can make a bold statement. A favorite due to the dark, yet colorful hues, these are a great bullet journal pen to help keep track of all your needs.
Get It Here
Paper Mate Flair Felt Tip Pens
Felt tips pens have been popular for decades due to their rich colors and smooth lines. These pens don't bleed, and come in a colorful set for you to create all day long. The point guard keeps it from fraying as well!
Buy One Here
Sakura Gelly Roll Moonlight Pen Set
Colorful and vibrant, gelly roll pens are a fun way to add pops of color to your dark pages. Waterproof and fade resistant, these can be used on light as well as dark paper colors, including black, and still be seen.
Get One Here
Pilot FriXion erasable pens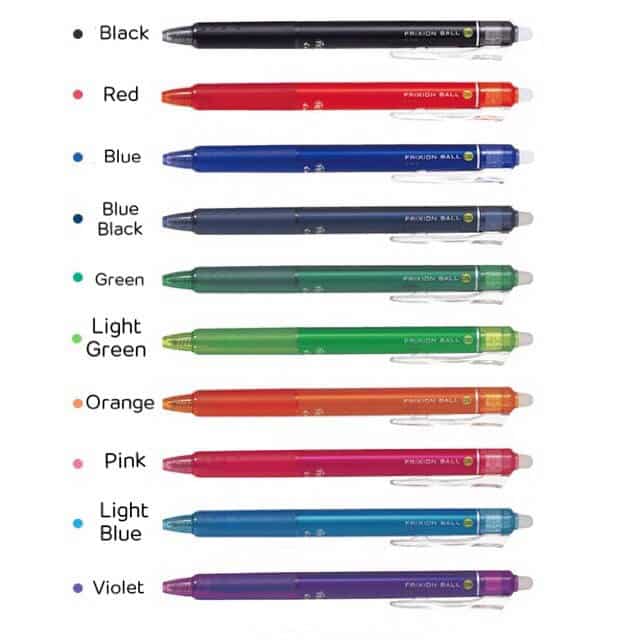 Yes, erasable pens do exist, and have for quite a few decades now. However, these are better than ever and offer a gel pen in multiple colors to allow a smooth line that can be easily erased if mistakes are made!
Get It Here
Staedtler Triplus Fineliner
The 0.3mm fine tip of these colorful pens provides the perfect collection for you to use in any drawing or writing situation. Great for tracing stencils and lines, or for simple margin doodling, these make a good addition to any BUJO collection.
Buy One Here
Metallic Jewel Brush Pens
Rich jewel tones define these brush pens that allow you to write on any color paper (including black) to create a vibrant line. Perfect for collection page creations, you can also highlight or trace existing letting for added detail.
Get It Here
Zebra Double Ended Pens
These soft colored markers double as a highlighter and provide a dual sided option for coloring, writing, designing, or highlighting existing text. The 15 pack set is also incredibly budget friendly.
Buy One Here
ARTEZA Real Brush Pens
The flexible nylon tip of these brush pens is the solution you need for calligraphy, drawing, shading, and for watercolor technique. They can be used dry brushed or with water to create fine lines and gradient techniques.
Get One Here
Conclusion
Bet you didn't know how many amazing styles of pens existed for you to take advantage of! Although a full list, it does not, by any means, showcase all the quality pens in existence. However, it does provide a great overview of the many styles that are out there for you to use in your journaling experience.
We'd love to see what favorite writing tools you have, as well as answer any questions you may have. Please leave comments below and, as always, share!