Some days the rooms we spend our time-in needs a little boost. This can be done by adding your favorite scents to the air that surrounds you. There are several ways you can do that but we are going to focus on two specifics, and popular, devices that do just that. Diffuser vs wax warmer is what we'll be discussing.
Diffuser and Wax Warmer Comparison
​​Diffuser

​​​Wax Warmers

PROS

​Fills rooms with scents

Helps you get benefits of essential oils

Many types to choose from

Good for your health

Fills rooms with scents

No flame needed

You control the amount of scent

CONS

If too small can't fill a large room

​Heat types can damage oils




LEARN MORE

​Heat can damage essential oils

To use your favorite oils you need to make your own melts

LEARN MORE
Diffuser
There are quite a few devices that fall under the category of diffuser but they all have the same overall function, which is to emit essential oil particles in the air for us to breathe. When we do this, we reap all of the benefits they have to offer. Of course, every essential oil comes with their own individual set of assets but how you disperse them into your space matters.
Types of Diffusers
Let's take a quick look at the different types of diffusers so we can distinguish one from another.
Heat Diffusers
This type of diffusers applies heat to the essential oils you insert, which breaks them up. They rise out of the diffuser. The application of heat might change the chemical composition of the essential oils and could eliminate the very benefits you are hoping to get.
Evaporate Diffusers
You can probably figure out how this type of diffuser works by reading the title. There are even subcategories within this. Some of these diffusers use a small fan to speed up the evaporation process while other types use reeds for evaporation purposes.
Ultrasonic Diffusers
This is arguably the most popular style of a diffuser. It has a basin that is filled with water and several drops of your favorite essential oils. At the bottom of the basin is a metal disc that emits ultrasonic waves into the water. They break up the water and oil mixture into a mist and the room is filled with the scents and all the benefits they have to offer.
Nebulizing Diffusers
The final diffuser on the list is considered by some to be the best of all. This is because neither heat nor water is required for it to function. The machine doesn't contain plastic, which is a plus. Air is pressurized and moves through a tube, which creates a vacuum that breaks the oil into a mist.
Benefits of a Diffuser
The best thing about a diffuser is the benefits you can get from the oils that are dispersed in the air. It's a great way to fill your room with your favorite scents while fighting a headache, getting an energy boost, relieving congestion, or sharpening your focus among other things.
Other benefits include helping one sleep, aids with fighting colds and flu, and it can lift your spirits, all depending on the oils you choose.
Disadvantages of a Diffuser
One downside to some diffusers is that they can't fill the room with scent if it's too big, but there are diffusers designed for large rooms. With heat diffusers, you risk damaging your oils but other than that they are fairly safe. Of course, if you are a pet owner, be sure to research whether or not diffusing is safe around your animals.
Wax Warmer
This device is similar to the diffuser in one way, it adds your favorite scents to the room you are inhabiting. Other than that, they are pretty different. Wax warmers heat up balls or blocks of scented wax, like the kind that is used to make candles.
You place the wax into the warmer and turn it on. The lightbulb inside of it heats up the plate that the wax sits in and it melts slowly as the scents lift through the air.
Benefits of a Wax Warmer
There are a ton of reasons why a wax warmer would be a good addition to your rooms. It helps with the scent and you can even make your own melts with your favorite essential oils. You can keep it on while you sleep because no flame is needed. This may also be used while relaxing in your tub and pampering yourself using a wax paraffin bath.
Wax warmers are also free of chemicals if you buy wax that is toxin-free or make your own. You can also control the amount of scent you get depending on how many melts you choose to use.
Disadvantages of a Wax Warmer
Wax warmers offer a ton of benefits, but when it comes to pairing a device with your aromatherapy regimen, this might not be the best choice because of the heat used. Just like diffusers that use heat, this machine could damage the healing compounds in your oils.
Comparison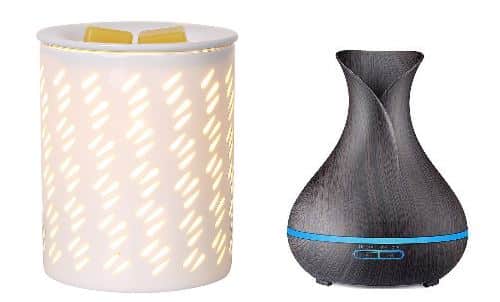 When it comes to these two devices, diffusers vs wax warmers, the decision you make will solely depend on what you are looking to achieve. If your goal is to make the room smell great then any of the machines we described above should do that for you.
If your goal is to gain the health benefits your favorite oils have to offer then a diffuser might be the best choice since you are risking damage to your oils when applying heat with a wax warmer.
Conclusion
Making our rooms smell great is a wonderful thing, but if you can help yourself get through a busy day by boosting your focus with a few drops of frankincense or filling your room with some lemon scented sunshine, that would be great.