Young Living Rainstone Diffuser Review
Aromatherapy isn't just an ideology, it's a lifestyle. As lovers of essential oils and all the benefits they can bring our way, we will settle for no less than the best vehicles to carry our oils.
Diffusing scents is one of the most popular ways to reap these advantages, and we want a machine that will keep the room smelling good. Today, we are going to conduct a Young Living Rainstone Diffuser Review to see if it's the diffuser to fit your needs.
Check The Price
Tradition and Technology
Unlike any other diffuser on the market today, the Young Living Rainstone Diffuser has a design that goes back more than one thousand years. Each device is made, by hand, in a tradition that has been handed down for generations. It also comes with a remote control.
Yet the technology in this machine is not ancient. It boasts state-of-the-art ultrasonic waves built into this ancient design. If you are looking to invest in a unique and powerful diffuser to use in your home or office, then keep reading to find out if the Rainstone is what you've been looking for.
Features and Benefits
As I mentioned just a moment ago, this diffuser is not produced on some assembly line with plastic. Each unit is crafted by artists who have been extensively trained in the art of ancient Chinese ceramics and takes up to five hours to complete. Using a unique purple clay, this design has been passed down for centuries, and Young Living has decided to merge this age-old construction with technology that fits our needs today.
Let's take a few minutes to look at what this diffuser has to offer and how these features and benefits compare to other diffusers on the market.
The Material
The clay that is used to form this diffuser is only found in a Chinese region that is known for this particular kind of earth. This ancient design and the company's need to preserve it to the point of having each of these devices made by hand is a feature that makes this diffuser worth considering. Let's face it, anyone can buy a plastic diffuser with wood grain stickers on it.
The artisans that create the Rainstone Diffuser are trained to work with this medium for a minimum of three years so there is no denying that a lot of thought, care, and devotion are put into each and every device they create.
The Technology
This is where it gets even more interesting. When I think of the ancient design and the artists that are trained extensively in this ceramics genre, my mind starts to imagine how this clay was used to diffuse so many centuries ago. My guess would be that they put oils in the clay and applied heat so that the aroma filled the area.
Of course, using heat with essential oils is rather controversial because some believe it can alter the chemical composition of the oils. Yet, when ultrasonic technology is used, heat is not applied and what you have is a method that is proficient in creating a mist that carries the broken down oils with it.
Young Living is attempting to give the users of their oils the best of both worlds- a device that has the traditional design of ancient aromatherapy with modern ultrasonic technology.
– How Does Ultrasonic Technology Work?
Ultrasonic diffusers work in the following way. A sufficient amount of water and the appropriate drops of essential oil are put into the basin of the diffuser. A small metal disk at the bottom of the water basin vibrates ultrasonic waves, which break the water and essential oil molecules and turn them into a mist that is emitted out of the diffuser to reach every part of the room.
The Young Living Rainstone Diffuser has ultrasonic technology that words at 44 decibels, which is pretty high when compared to the 23-decibel versions. The ultrasonic device inside this diffuser creates over one million waves per second. This is one of the reasons it was chosen as one of Young Living's best diffusers.
Check The Price
Room Coverage
The Rainstone Diffuser ultrasonic technology should be able to reach the entire area of a room that is almost 325 square feet or thirty square meters, which is a medium sized area much like a standard bedroom or office.
Settings
Some diffusers have an on-and-off switch while others have a wide array of selections when it comes to strength of mist and intervals. The Rainstone Diffuser has five time-settings: 1, 2, 3, 6, and 8 hours of settings to choose from.
Automatic Shut Off
There are quite a few diffusers that come with this feature but that doesn't make it any less important in this model. People like to diffuse when sleeping, which can propose a problem if there is no automatic shut off. But with this product, when the water runs out in this diffuser, it shuts off.
Negative Ionizer
Do you know what this is? You can't smell the negative ions that are given off by this diffuser, you can't taste them, and you can't see them. But, according to a study at Columbia University, when depressed people were put in a room with a machine that generates negative ions they felt relief from their symptoms.
On top of the mood-lifting you can get from diffusing Frankincense or Lemon essential oil, the negative ions released by the Rainstone Diffuser can add to the overall happiness.
Lighting System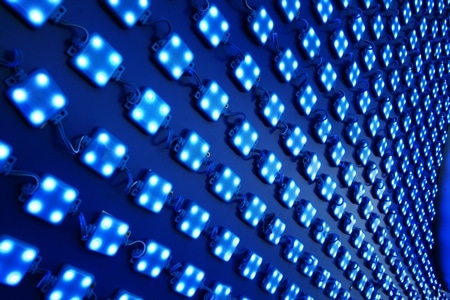 Some diffusers come with lights, some don't. This diffuser comes with an entire lighting system. You get to choose from blue, yellow, and purple lights. Each one can be a constant, or you can have them alternate between the three. There is a final option of no light at all, which is a nice setting when you are trying to sleep.
Size
The Rainstone Diffuser is 12.8 x 12.8 x 17 centimeters, which is not very large so it should fit nicely on any shelf or table without taking up too much room.
The Design
On top of the special artisan qualities this diffuser has, it has a look that should fit with most decors. It's dark until it is lit up, and even then, the lighting isn't overwhelming. It's oval shaped, kind of like a large egg that has a netting case around the top, while the bottom is solid because it holds the water basin and ultrasonic disk.
The Basin
The Rainstone Diffuser has a water basin that can hold up to 200 ml. It is designed to run through 21 ml of water and the added essential oils in an hour.
Check The Price
Extras
There are a few things that come along with the Rainstone Diffuser that sweeten the deal a little bit more.
A water cup
A remote control
A cleaning brush
A power adapter
One 5 ml bottle of Peppermint essential oil
One 5 ml bottle of Tangerine essential oil
Warranty
All diffusers produced by Young Living come with a warranty for one year.
How To Use It
Using this diffuser is pretty simple. The steps are as follows.
Fill the water cup with tap water that is room temperature
Add up to ten drops of your favorite essential oils
Remove diffuser lid
Close the ventilation hole with the switch
Pour the water/oil mixture into the reservoir
Add more water into the machine until you reach the red water line
Put the ventilation hole switch to open
Return the lid back on the diffuser
Plug it in
Use the remote control to turn it on, choose your setting, and run the lights
What Are People Saying?
It seems that the reviews of this product and the general feedback are mixed. There are some consumers that swear by this model and others who were unhappy with their purchase. While a good majority felt their scents were carried around their area in great proportion, some people reported it didn't mist well and could barely smell their oils.
Of course, this is a machine that is made to fit a smaller area which is dubbed "medium" so if you are using it in a large room, this may not be the diffuser for you. There seemed to be more than one complaint about the fact that it is run by a remote control, and there are no switches on the device itself. As noted by one purchaser, if they lose the remote, then there would be no way to turn on the device.
It was also noted that you need to be careful about opening and closing that ventilation hole so no water gets into the mechanics. One reviewer said it took some getting used to but once they did, they were happy.
PROS
Each device is handmade
Uses ancient clay from China
Works with ultrasonic technology
Has several time settings
5 option LED lighting system
Check CircleHas a remote control
CONS
A remote control is the only way to operate the machine
Who Should Purchase This?
Who Should Purchase This?
The fact that each device is made by hand in an ancient Chinese tradition should make it attractive to serious aromatherapy fans. While we love modern technology, the entire idea behind embracing essential oils and the powerful benefits they have to offer, as well as going back to thousand years of tradition is certainly exciting.
To Conclude
The Rainstone Diffuser by Young Living is a serious machine for serious seekers of aromatherapy benefits. It comes with all sorts of bells and whistles that appeal to pretty much anyone who loves to diffuse. If you have any experience with this diffuser, feel free to give us an opinion in the comments section below. We are building a community that is focused on the improvement of everyone's mind, body, and soul.
Check The Price