Aveeno Sunscreen
Aveeno sunscreen was developed by a leading brand committed to a healthy lifestyle and skin care. Their sun care line offers broad spectrum protection and hydration options to fit the needs of your entire family. They also specialize in providing options for sensitive skin, allowing you to enjoy the outdoors worry free.
Check The Product Out Here
Protecting your skin against both damaging UV rays and dryness can often become a challenge if you have sensitive skin. It is also difficult to find a protective sunscreen that actually works without leaving behind a greasy feel, a thick white residue, or clogged pores. Plus, if you have reactions to certain chemical ingredients found in some sunblock choices, you already know how hard it is to find protection that works without wasting money and your skin.
I struggle with finding a brand that protects without including an ingredient that increases my chances of burning- so I was hesitant to try, yet again, another option. Aveeno, a leading brand name that specializes in skin care products, has addressed each of these issues in their line of sunscreen options to provide you effective protection.
Despite the many struggles I have had with these types of products in the past, I was happy to find that Aveeno products are formulated specifically for sensitive skin. We've been able to personally address these claims here at Better Mind Body Soul to see how accurate they are and allow you to personally view our own Aveeno Sunscreen Review below.
Why Sunscreen is So Important
If you have ever suffered the after effects of too much sun, then you know how uncomfortable this can be. Tender, red skin that stings and feels 'thin' and delicate is often the most minor discomfort you'll experience. Blistering and peeling may commonly follow upon burns that go deeper into your skin layers, creating weeks of recovery.
These sunburns are indicative of UV ray damage, darkens skin pigments, speeds up ageing, dries the skin, and raises your chances of certain cancers each time they occur. Protecting yourself is of vital importance for your long term health, and understanding the degrees of protection sunscreen provides is part of the knowledge you should expose yourself to.
UV rays radiate from the sun and are responsible for skin damage. Even if you cannot feel the radiant warmth of the sun's rays on a cloudy day, you are still being exposed to UV light. There are two types of UV radiation: UVA and UVB. UVB rays are what creates surface skin sun damage and shows as a common sunburn. The damage stays fairly shallow and you will recover rather quickly. UVA rays penetrate deep into your epidermis, and although may not cause much initial pain or discomfort, leaves behind more lingering damage that may take years for your skin to recover from. Together these rays can leave behind quite a bit of damage.
About the Aveeno Company
Aveeno is dedicated to "skin happiness" and offers a large line of holistic health care solutions and therapeutic products for long term skin care. Founded in 1945 by two brothers, the idea of skin care began with the premise of soothing and nourishing using natural ingredients; in particular their use of finely-milled colloidal oatmeal as a main ingredient.
Long hailed as a natural option for skin healing and health, oats became a staple within their product line, and still serves as a powerful ingredient in many of what is offered. Through the years the company has continued to study natural options and worked with advancing technologies and scientists to create formulas for safe body, face, baby, hair, and sun protection.
Check The Price
Benefits and Features
Although the company provides various sunscreen and sun care products, I was able to review their Protect & Hydrate Lotion Sunscreen with Broad Spectrum SPF 70. All sun protection products are designed for skin hydration as well as protection to help offset the drying effects of the sun. They also are designed specifically for sensitive skin to avoid breakouts or other skin reactions.
Ingredients
The sun protective ingredients to protect against the sun are either categorized as mineral or chemical. Both are effective in protecting against a wide array of sun damage, but they work in very different ways to do so. Mineral ingredients sit on the surface for the skin and literally 'block' and reflect UV radiation away from the skin. Although highly effective, they often leave a thick residue on the skin that is not always conducive to protection in certain areas.
Chemical ingredients often absorb into the skin and filter and convert UV radiation for protection. The ingredients found in many sun lotion products are not reviewed for approval by the FDA (Federal Department of Agriculture) for safety since they are an over the counter choice. However, ingredients do have to comply with federal safety regulations and policies.
Active Ingredients
The active ingredients in this particular product include: Avobenzone, Homosalate, Octisalate, Octocrylene, and Oxybenzone in various percentages to provide a broad spectrum coverage. Side effects of chemical ingredients revolve around skin sensitivities, and are directly related to their concentrations.
Aveeno has been very careful in the uses of their active ingredients when mixed with more natural choices to provide a lotion that can be used by a wider array of consumers who complain of skin sensitivities. I burn quickly with the use of certain chemical ingredients due to whatever reaction my skin and the chemical caused. And I can usually tell within a half hour of use if a lotion is going to work for me. This particular product did not cause any issues for me at any time of use.
Antioxidant and Ingredients
Oat and oat proteins are found throughout the ingredient list and serve not only as a soothing, moisture protecting addition- but it also is highly antioxidant in nature. This helps support anti-inflammatory responses, further protects the epidermis from damage, and helps prevent the progression of various pathogens.
Moisturizing Ingredients
Although oat is highly skin nourishing, the product also contains beeswax. Beeswax is another antioxidant choice, but also provides emollient properties, prevents moisture loss, and helps with healthy skin cell turnover. As a humectant, it attracts water, helping to hydrate skin.
UVA/UVB Protection
All of Aveeno's suncare products provide a broad spectrum protection. This means that it effectively protects again both UVA and UVB radiation. Since many sunscreens only provide maximum protection against UVB and sunburn, this is excellent news to put your mind at ease if you are worried about more long term problems with sun exposure.
70 Sun Protection Factor
There are many misconceptions about the Sun Protection Factor (SPF) rating, with many people feeling that the higher the number the better the lotion. Although somewhat slightly true, the protection percentage is practically miniscule. The only reason I ended up with a 70 SPF is because it was all that was available in the store I purchased it from.
Often, buying a higher SPF creates a situation where the consumer feels they only need to apply the lotion one time for protection. This is untrue of ANY sunscreen, which should be applied, on average, every 60-120 minutes, and always after heavy sweating and water exposure.
To help explain, the number explains how much UV radiation gets through the protective barrier the ingredients create. For example, a 70 SPF allows for 1/70th of UV to get through, or provides 98.6% protection. In contrast, a 30 SPF provides 96.7% protection. This also means it would take 70 times longer to burn than if you were completely unprotected.
Sweat and Water Resistant
Problems many people have with certain sunblocks are how quickly they wash away with sweat and water exposure. The use of them is totally negated if you are floating along in a river, in and out of a pool, or enjoying a day by the lake if they come off every time they get wet.
The ingredients of Aveeno's Protect + Hydrate line are designed to absorb into the skin for long term exposure and allows up to 80 minutes of protection even when wet. It should be reapplied after this time, or after towel drying which works to lift the product from the skin.
Although I never did make it to the lake, I did partake in some pretty vigorous outdoor activities that left me drenched in sweat under an intense sun and I did not feel as if I have any loss of protection during this time.
Dermatologist Recommended
Not only are Aveeno products dermatologist recommended, they also work closely with the Mayo clinic to contribute to the science of skin health. It also is recommended by the Skin Cancer Foundation as effective sun protection. The ingredients used pass strict 5-step safety assurance processes, and only effective, beneficial ingredients are used. They also do not test products on animals unless required by law.
The Protect + Hydrate Sunscreen is both oil-free and non-comedogenic, meaning it will not clog pores, influence skin breakouts, or create any unsightly effects if work under makeup. This makes this particular product a good choice for both face and body.
How to Use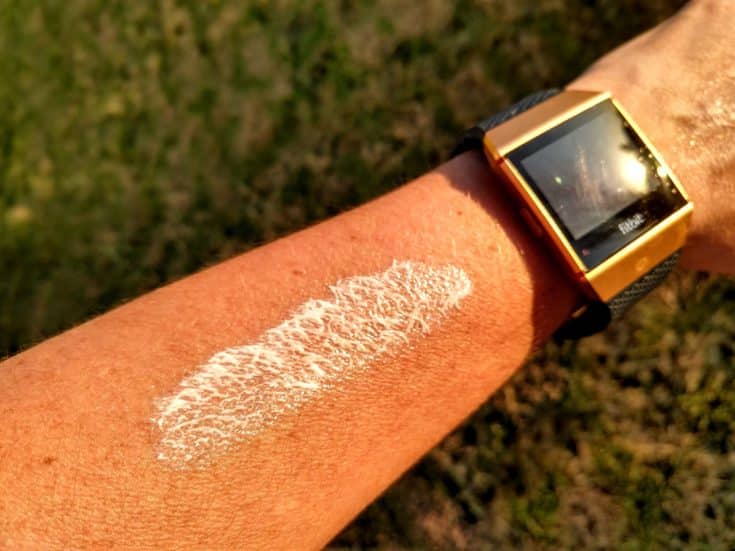 As with most sun lotions, be sure to apply generously at least 15 minutes before sun exposure to allow it to soak well into the skin. Apply after 80 minutes of water or sweat exposure, immediately after towel drying, or 2 hours of sun exposure.
To keep it fresh, keep it from excessive heat or sun. I love to put mine in the refrigerator and then store it in a cooler when taking it out of doors.
Also Offered By Aveeno Sun
Aveeno offers a wide array of sun protection available in lotions and creams, sticks, or sprays. All are non-comedogenic, and provide everything from 30 to 70 SPF protection for both face and body. They also provide a line specific to babies, as well as highly sensitive skin using a mineral based active ingredient.
Aveeno baby sunscreen reviews provide favorable results for young, delicate skin, and also works well as a sunscreen for toddlers. As a choice that works well for the entire family, this is an excellent brand option to consider.
Check The Price
What Consumers Are Saying
This is a product that is popular with consumers due to its lightweight, non-greasy feel and easy application that leaves behind no residue. Considered effective by those who use it, is is a favorite of those who have sensitive skin and is often used as a daily moisturizing routine due to its light scent and moisturizing properties.
There are some reviews that state they did not feel it was an effective sunscreen and sun sensitivity when they used it. This is not uncommon for chemical ingredients in those who have sensitivities to them. Unfortunately it is a side effect, making it ineffective for a small percentage of consumers.
Our Own Take on the Product
I do have a lot of skin sensitivities and burn badly with some ingredients, so I was sceptical about the use of the product. I have used Aveeno lotions in the past and been happy with the results, so I felt comfortable at least trying it out.
I applied it to my back and arms when attending a baseball game on a clear, hot summer day. I was in and out of the hot afternoon sun, literally for hours, without reapplying while wearing a tanktop.
As you can see in my before and after pictures, I do have some faint tan lines from a racerback tank top already, but those lines are not any more distinguishable after hours in the sun with the use of the sunscreen. There may be a slight pinking of the area, afterall, I never reapplied protection, but I never felt any increase in skin sensitivity such as a sunburn might cause.
Where I applied on my arms and chest were also void of any sun, and I also loved how hydrated my skin felt without feeling greasy or slippery after application. It had a light, almost floral scent that was not at all very noticeable unless you stuck your nose right in it.
My verdict? This is most definitely one of the better sun lotions out there for sensitive skins. It may not work for everyone, but it certainly did for me – and I have had issues with other dermatologist recommended products in the past.
Check The Price
Conclusion
Looking for a dependable sun protection product? The Aveeno Protect + Hydrate Moisturizing Sunscreen Lotion is an excellent choice to consider- especially if you have sensitive skin. The company has a long, dependable history of skin care, and stands behind their products to provide a quality choice to consumers.
Our own use and review of the lotion was favorable, and came out as a top rated option for those who may suffer from ingredient sensitivities. Although it may not work for everyone, it does allow for a residue free, moisturizing choice for many people.
If you have ever used this sunscreen, we'd love to hear from you below. And, as always, please share.