Taking care of your skin is more than just a daily routine, it should be a regular practice every time you step outside- no matter what time of year it is. This is especially true for your children who may not be capable of having an awareness of the damage sun, and UV rays can do to their skin.
Sun damage can be lifelong and raise your risk of certain cancers and diseases, so providing protection from a young age is crucial to long term health. Unfortunately, tender young skin, and sensitive skins may have adverse reactions to many sunblocks, creating a frustrating struggle to find the best product for babies. The following highlights some of the best natural sunscreens for babies available.
5 Best Natural Sunscreen for Babies Comparisons
IMAGE
BRAND
DETAILS

Aveeno Baby Sunscreen

SPF: 50

Size: 7 oz

Active Ingredient: Zinc oxide

Check The Price

Thinkbaby Safe Sunscreen

SPF: 50

Size: 6 oz

Active Ingredient: Zinc Oxide

Check The Price

MADE OF Baby Sunscreen

SPF: 30

Size: 4oz

Active Ingredient: Zinc oxide

Check The Price

Baby Bum Mineral Sunscreen Lotion

SPF: 50

Size: 3oz

Active Ingredient: Zinc oxide

Check The Price

Badger Baby Sunscreen Cream

SPF: 30

Size: 2.9 oz

Active Ingredient: Zinc oxide

Check The Price
The Importance of Sunscreen for Babies
With the knowledge that UV ray exposure can increase the likelihood of developing melanoma one day, who wouldn't want to take steps to protect the thin, soft skins of children? Children exposed to the sun are much more likely to show the effects of sun exposure compared to adults. It doesn't matter if you are looking for protection for a young baby, or for a toddler, the damage at these ages may increase problems in the future.
For the first 6 months, your child should not only wear sunscreen, but also be shielded from the sun as much as possible. UV rays reflect and come through windows, hence why you should always apply as much protection as possible. If you are concerned about using a lotion prior to 6 months of age, consult with your pediatrician about testing for skin sensitivities.
A Word on the Term "Natural"
There is no system set up to determine the use of the terms natural or organic within sunscreen reviews, and unless a product is third party approved and certified, chances are not all the ingredients used could be considered naturally sourced. This doesn't mean it isn't full of great stuff that isn't made in a laboratory, however, but short of making your own sunblock, you most likely won't know what every ingredient in the list actually is.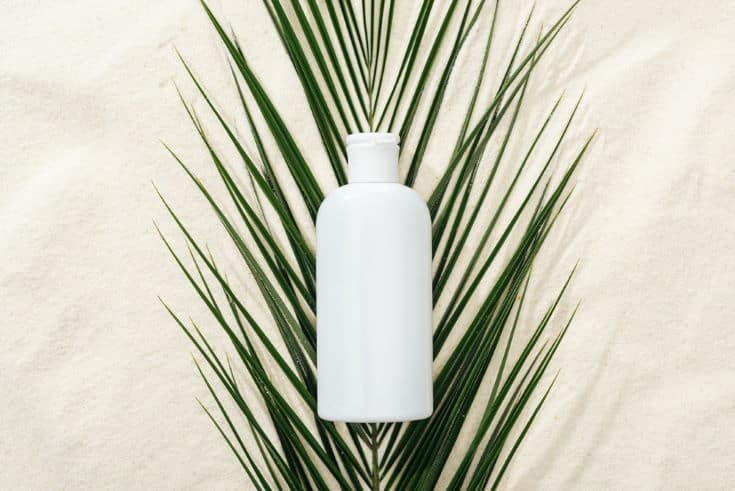 The important thing to consider is what the active ingredients are, and in a sunblock you need to look for those that either block or convert the damaging UV rays from the sun for protection. Organic (naturally occurring) ingredients, such as zinc oxide, are highly sought after as they work well on sensitive skin and are very effective. Chemical ingredients absorb the rays and convert them into something less damaging. No matter which you prefer, look for UVA and UVB protection on the label to keep all layers of your skin for full cellular protection.
How and When to Apply Sunscreen
These rules apply for babies and adults alike. To get the most out of your sunscreen you should apply to all exposed skin 20 to 30 minutes before going out in the sun. Always shake it vigorously before use to ensure you get all the particles of ingredients well mixed.
Be sure to reapply every 80 minutes to 2 hours, and immediately after swimming or sweating heavily. Although there are products that are made for swimming and sports, they may have ingredients that are too harsh for sensitive skin.
What to Look for in a Natural Sunscreen for Kids
As mentioned, you want to choose a lotion that has both UVA and UVB ray protection. You also want to look for a high SPF to ensure longer protection times between applications. For children, this factor should be between 30 and 50 for almost complete protection for up to two hours. Although there are higher SPF ratings, most physicians agree that numbers over 50 aren't any more effective overall and at best provide only a slightly higher protective rating– and often influence people to not reapply as often.
Also choose those blocks that use a natural ingredient approach to the sun protection factor. Zinc oxide is by far considered one of the best and can be found in conjunction with shea butters, and coconut oil that also have their own sun protective factors as well. Combined these create a formidable barrier that is also gentle and soothing to the skin.
The Top 5 Rated Best Natural Sunscreens for Babies
The following options are some of the best for babies and young children. They also work wonderfully well for adults who struggle with sensitivities. Although there are many other choices out there, these are some of the favorites and most effective based on consumer reviews.
Aveeno Baby Continuous Protection Zinc Oxide Mineral Sunscreen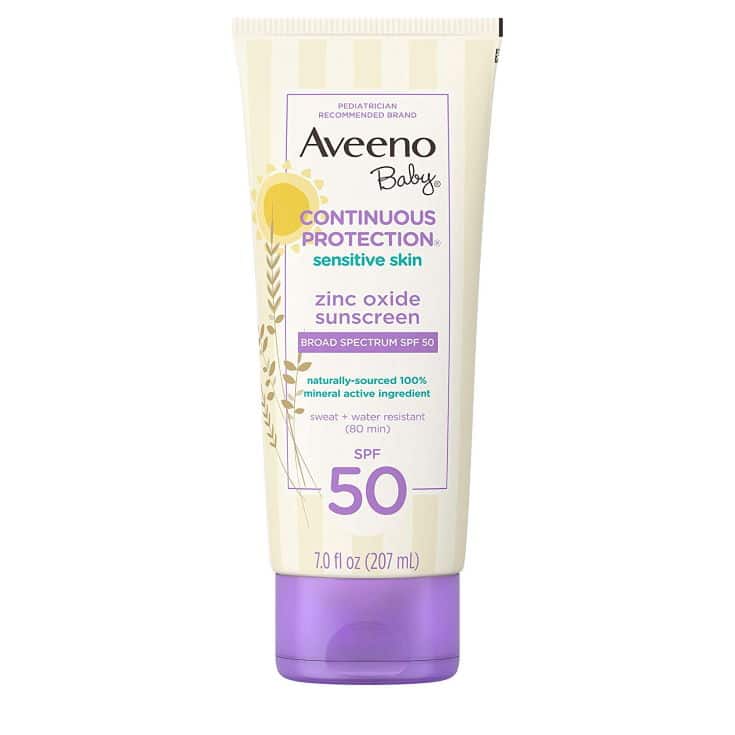 SPF: 50
UVA/UVB: both
Size: 7 oz
Active Ingredient: Zinc oxide
Check The Price
The Aveeno brand has a long standing, positive reputation as they offer products for sensitive skins. Their baby sun protection uses natural zinc oxide to protect up to 80 minutes in a 50 SPF formula. Thick and creamy, it smooths easily over the skin and is both sweat and water resistant to give you peace of mind on those days on the water. Pediatrician recommended, it also has awards for National Eczema Association and Skin Cancer Foundation. Check out our own Aveeno Sunscreen Review here.
Who it is Best For:
This is a great choice for delicate baby skin or for those who suffer from sensitive skin. It rubs on smoothly and nourishes the skin while protecting it.
Pros
Smells great and applies thick for protection
Great for all ages
Stays put in water
Cons
Leaves behind a white residue if not rubbed in well
Thinkbaby Safe Sunscreen
SPF: 50
UVA/UVB: both
Size: 6 oz
Active Ingredient: Zinc Oxide
Check The Price
The Think brand was specifically designed to address concerns about chemical ingredients, and seek alternatives to provide safe, effective sun protection. Their Thinkbaby formula provides a mineral based formula using zinc oxide and does not have an oily feel upon application. It is certified cruelty free, gluten free, and vegan. Plus it is water resistant up to 80 minutes and passes Whole Foods Premium Care requirements.
Who it is Best For:
If you are constantly in and out of the water, this is a choice you definitely want to consider. Having passed rigorous testing, this a a beach or lake requirement for sure.
Pros
Applies smoothly and is water resistant
Smells great
No eye stinging
Cons
Scores low for UVB protection
Not good for eczema
Baby Sunscreen Organic SPF 30 by MADE OF
SPF: 30
UVA/UVB: both
Size: 4oz
Active Ingredient: Zinc oxide
Check The Price
Although not fully organic, 75% of the ingredients are organic certified and are combined with 25% all natural choices to create a safe, synthetic free sun lotion for your baby's most sensitive skin. Zinc oxide, argan and coconut oils all work to provide a water resistant, non-oily, protective barrier against both UVA and UVB rays. It is also gluten free and holds certifications from the USDA, and Leap Bunny for cruelty free products.
Who it is Best For:
If organic certification is a priority to you, this lotion is one to consider. The many certifications it holds supports the product's safety claims.
Pros
Rubs in well with very little white residue
Smells great
Skin nourishing
Cons
Baby Bum Mineral Sunscreen Lotion
SPF: 50
UVA/UVB: both
Size: 3oz
Active Ingredient: Zinc oxide
Check The Price
Baby Bum offers a fully plant based ingredient list to help protect your little one's sensitive, delicate skin. Pediatrician and dermatologist tested and approved, vegan, gluten free, and cruelty free, the company uses zinc oxide combined with coconut oil, shea butter, and cocoa butter to provide a non-greasy, easy to apply sun protection.
Who it is Best For:
Sun protection is what this lotion does best, but it may not be as good for watersports. If you are out in the sun a lot, but aren't getting wet, this is the perfect protection.
Pros
Hypoallergenic and great for acne prone skin also
Rubs in with very little white residue
Long lasting
Cons
Not as waterproof as other options
Badger Baby Sunscreen Cream
SPF: 30
UVA/UVB: both
Size: 2.9 oz
Active Ingredient: Zinc oxide
Check The Price
Badger prides themselves in offering simple, wholesome products with transparency as to what's included. No more trying to pronounce half the ingredients, this sun lotion option has only 6 ingredients- all of which are easy to identify. Zinc oxide, beeswax, and natural oils combine to create a gentle, but effective sunscreen for sensitive skin. With both certified organic and natural ingredients, this is the perfect choice for anyone looking for a basic option.
Who it is Best For:
Those who want to be able to actually pronounce and recognize the entire ingredient list will love this brand. As long as you don't mind the thicker application, it is highly protective and a great choice.
Pros
Hypoallergenic and skin soothing
Great for the water
Natural oil smell
Cons
Takes some time to rub in, leaves a white residue
Difficult to remove- use a cleansing oil
Conclusion
If natural is your thing, then depending on zinc oxide and other natural ingredients is an excellent option for sun exposure. This is especially true for your young children who have very delicate skin compared to an adult.
The above choices are some of the best and hold a wide variety of certifications and approval by pediatricians and dermatologist for skin care. If you have ever used any of the above we would love to hear your feedback. And, as always, please share.