Meditation has long been practiced as a means to help you focus, be mindful, and aware of things both physical and mental. Meditation is a great way to help calm your mind and body and refocus your energies, but it can be hard to do when you are uncomfortable. Luckily, meditation cushions are a thing, and can help you find comfort all while providing a place to relax and find your balance.
If you are struggling to find your balance, literally, by shifting to and fro while you attempt to avoid pressure points and pain, you aren't going to be able to relax into a meditative state. The following meditation cushion reviews provide you the options you may need to get comfortable in order to focus. The best meditation cushions are those that are sized for your own needs, and protects your pose from outside, physical stressors.
Quick Comparisons of 5 Best Meditation Cushions
IMAGE
BRAND
DETAILS

Brentwood Home Crystal Cove Meditation Cushion

Type: Round

Fill: Buckwheat

Weight: 6.7 lbs

Check The Price

Manduka Enlight Rectangular Yoga Bolster

Type: Rectangular Bolster

Fill: Cotton

Weight: 3.5 lbs

Check The Price

Bean Products Zafu and Zabuton Meditation Cushion Set

Type: Zabuton Set

Fill: Buckwheat and Cotton

Weight: Varies with material choices

Check The Price

FelizMax Crescent Zafu Meditation Pillow

Type: Crescent

Fill: Buckwheat Hull

Weight: 4.7 lbs

Check The Price

GABUR Foldable Meditation Cushion

Type: Foldable

Fill: Kapok

Weight: 2 lbs

Check The Price
Benefits of Mediation
There are many proven benefits of meditation that supports your overall mental and physical health. The regular practice of this calming habit can help you become more focused on important issues, improve performance, allow for spiritual growth and healing, and provide energy for self-knowledge. Staying comfortable to avoid distractions while in a meditative state is important to the practice.
What is a Meditation Cushion and Why Use One?
In brief, a meditation cushion is truly anything that helps support proper mediation positioning, body alignment, and body comfort. You can truly find your own pillow, couch cushion, or thick blanket that works for you as an easy DIY meditation cushion, or you can explore the various types available that are made specifically for the practice.
If you are wondering how to sit on a meditation cushion, they are simply self-explainable and allow you to sit upon them and cross your legs in front of you. They help your body fall into a natural alignment and cushion your joints against a hard surface so you can sit for long periods of time.
It is good practice to have something to sit upon since without proper support your body will adjust to the surface you are sitting on. This can cause a general misalignment of your body, and create pressure points where you joints rest against a hard surface, and pull the legs, hips, spine, and neck into uncomfortable positions. This can cause back pain or strain along your limbs as your body tries to adjust.
Types of Meditation Cushions
If you are a beginner you may want to do some research into the types of meditative poses you are practicing to match them with the most effective cushion for support. Mediation and yoga often go hand in hand as well and can be used simultaneously, hence the various styles for various supports.
Cushion Shapes
You basically have 6 shapes or styles of cushions to choose from, all of which may be made from various materials depicting favorite patterns, solids colors, and textures. The traditional rounded shape is called a Zafu, and was designed to help the body be supported in a cross-legged sitting position. The term is now widely used in description to any cushioned pillow to provide a comfortable body support.
Square or Rectangular
Square and rectangular shaped cushions are popular choices for those who are also looking for support for certain yoga poses. They also provide a wider foundation for those who need more room.
Zabuton Style Sets
A Zabuton style cushion combines a square or rectangular shape with a zafu, or round cushion, to provide a raised surface that allows all your body points to be cushioned off the floor. These are good for when you have knee pain as well.
Crescent Shaped
A crescent shape can work to help cushion the hips and provide lower back and leg support. It is very similar to a rounded choice and is based on personal comfort preferences.
Round
The traditional round, or zafu style is by far the most popular. These come in varying heights to help support various heights of consumers.
Triangular
Triangular choices are often based on preference and not as easy to find.
Foldable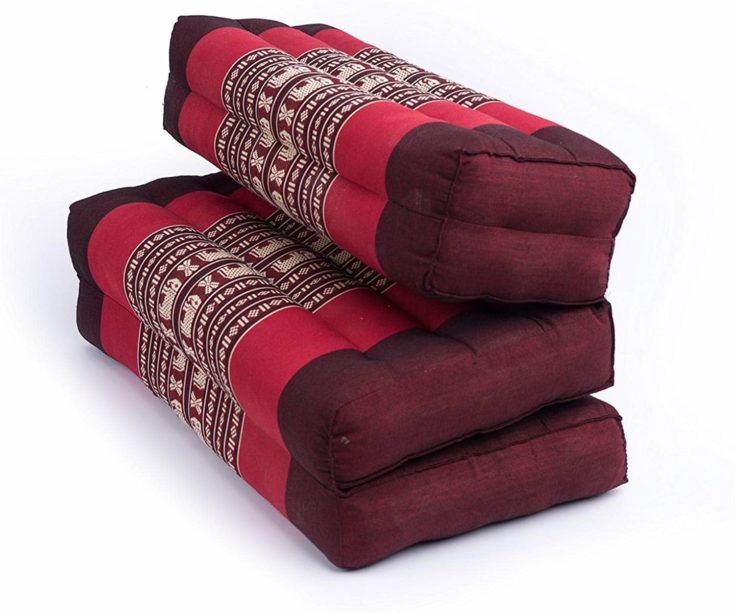 Foldable cushions are great to provide added back support and work for when you need to take your cushion with you. You also have a greater degree of cushion personalization.
Cushion Fills
What your cushion is filled with is important as well, and often dependent upon your own personal preferences. It also matters how much you weigh and your height to ensure you are getting the cushioning you need. If you already use a padded area for mediation, you may not need a full that is thick either.
Buckwheat Hulls
The lightweight, conforming hulls of buckwheat provide the weight and movement needed to help hold your body in position while cushioning against a hard surface. This fill is best used against harder surfaces, or for those who need stable support.
Kapok
Kapok is the soft fiber from the kapok seed. It is incredibly fine, yet provides excellent softness. It is often seen used in a blend of other fibers to create a soft, yet malleable surface.
Wool
All natural wool is springy, supportive, and very comforting when it comes to helping keep your body in a supportive position all while cushioning against a hard surface.
Polyester or Cotton Batting
Polyester and cotton are also common fillings, but may not hold up as long overall as other options. They may also be found as a blend with wool or kapok.
How to Choose a Meditation Cushion
Consider why you want to use a meditation cushion. The following questions can help guide you in choosing a product that works for your own personal needs.
Is it to help provide padding against a hard floor?
Do you need something that holds your hips and legs in alignment?
Or are you just new to the process and thought you needed one?
Do you need something that works for Yoga as well?
Do you already experience hip or leg pain?
Will you need something that is easy to travel with?
Top 5 Best Meditation Cushion Reviews

The following cushions are some of the best based on consumer review and use, and help highlight the variable differences styles may have.
Brentwood Home Crystal Cove Meditation Cushion
If you have wondered what a zafu meditation cushion looks like, this traditional rounded style is one of the most popular and comfortable for those who meditate. The removable soft-stretch knit cover is removable for laundering and houses a cotton casing filled with buckwheat hulls. The hulls can be removed for refreshing and adjusting, making it a great choice to customize for comfort.
Who Should Purchase This?
If you are new to meditation and want a dependable cushion, this is a great one to start with. It also has a handle for easy portability!
Pros
Very comfortable and cushioning
Adjustable
Very good height overall
Cons
Material not the best if you carry it around often
Not good for kneeling
Manduka Enlight Rectangular Yoga Bolster
The microfiber cover of this meditation and yoga bolster makes it easy to wash and clean, which is perfect for those of you who will want to take this style with you everywhere. Comfortable to sit on for meditation, perfect for kneeling, and a great option to use as a bolster when you practice yoga, it is a very versatile product indeed. Filled with a soft cotton, you can adjust the firmness if you wish to meet your supportive needs.
Who Should Purchase This?
Perfect for those who practice both yoga and meditation, the rectangular shape lends itself well to various uses. A handle on one end makes it easy to carry as well.
Pros
Comfortable to sit on
Good for kneeling
Works well as a bolster
Cons
Bean Products Zafu and Zabuton Meditation Cushion Set
Type: Zabuton Set
Fill: Buckwheat and Cotton
Weight: Varies with material choices
Check The Price
These traditional zabuton sets include a large or extra large square cushion filled with cotton, and a round, or crescent shaped buckwheat filled cushion. The covers come in many different colors made from cotton, organic cotton (undyed), or a thicker cotton duck for durability. The buckwheat can be assessed for new hulls or refreshing.
Who Should Purchase This?
If you want complete cushioning for your whole body, this set allows you to have a peaceful space that allows for the gentle cradling of your body to bring it into alignment.
Pros
Very supportive of all body sizes
Great set for the price
Covers wash easily
Cons
Colors may not be well represented
May have some offgassing
FelizMax Crescent Zafu Meditation Pillow
A crescent shaped pillow is often a more comfortable choice for some people. Similar to a traditional round Zafu, this modified shape supports the buttocks and hips to allow proper body posture. This pillow has a cotton canvas outer and inner buckwheat hull that allows for refreshing and adjustment of firmness. It also has a handle for easy carrying.
Who Should Purchase This?
If you like the traditional round cushion then you might love a crescent shape. Available in multiple colors you can pick and choose your own preference.
Pros
Easy to adjust
Comfortable for long periods of time
Good for larger bodies
Cons
May not be wide enough for everyone
GABUR Foldable Meditation Cushion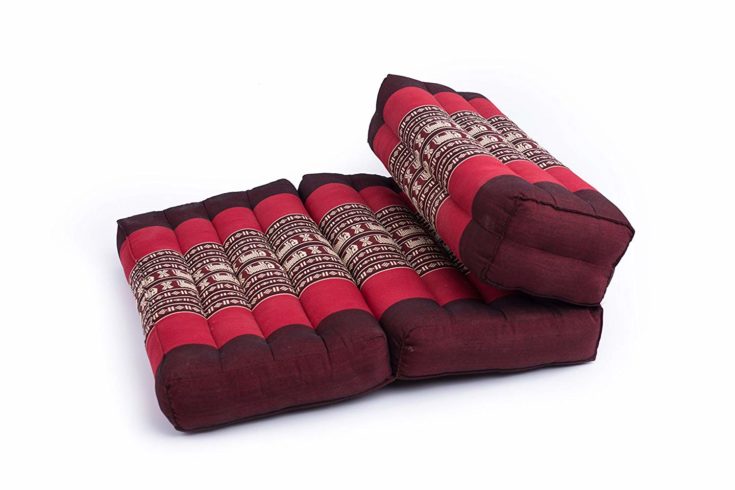 Folded cushions are stuffed sections of padded mats that allow for flex and foldability. This provides you the chance to adjust the thickness as well as support. Good for both meditation and yoga, this type of style is very versatile. The 100% cotton cover is filled with 100% soft, malleable kopak for long term comfort that will keep its shape.
Who Should Purchase This?
If you have been looking for something a bit different than a traditional cushion this is the perfect choice.
Pros
Perfectly firm and cushioning
Very versatile
Great design
Cons
May be stiff until it softens up from use
Conclusion
No matter whether you are new to meditation or are an old practice, a meditation cushion is a much preferred product to have on hand. Being comfortable allows you to stay focused for longer periods of time, and keeps you in a tranquil state, rather than having to move for comfort- often cutting your session short.
The various styles allow you to choose what is comfortable to you and even provide adjustment options for firmness levels. We'd love to hear which styles are your favorite, or which you would like to try. Leave your comments below. And, as always, please share!