Sweating is the nightmare of literally everyone who lives in a country where summers are ruthless. Not only does it make you smell bad, it leaves your skin feeling dirty, sticky, and causes so much discomfort, you just don't feel at ease with yourself anymore.
When thinking about things-that-you-can-use-under-your-armpits, the first two words that come to mind are "deodorant" and "antiperspirant". A lot of people wrongfully assume that these products are identical, but they actually fulfill two very different roles.
Best 4 Natural Antiperspirant Comparisons
IMAGE
DEODORANT
DETAILS

Tom's of Maine Women's Antiperspirant

Size: 7.2 ounces

Type: Stick

Scents: Fresh Meadow

Check The Price

Super Natural Goods

Size: 2.4 ounces

Type: Stick

Scents: Lavender

Check The Price

PiperWai

Size: 6.1 ounces

Type: Cream

Scents: Citrus & Mint

Check The Price

Bali Secrets

Size: 4 ounces

Type: Roll-on

Scents: Unscented, original essence, aloe delight, sandalwood, delicate rose

Check The Price
Deodorant VS Antiperspirant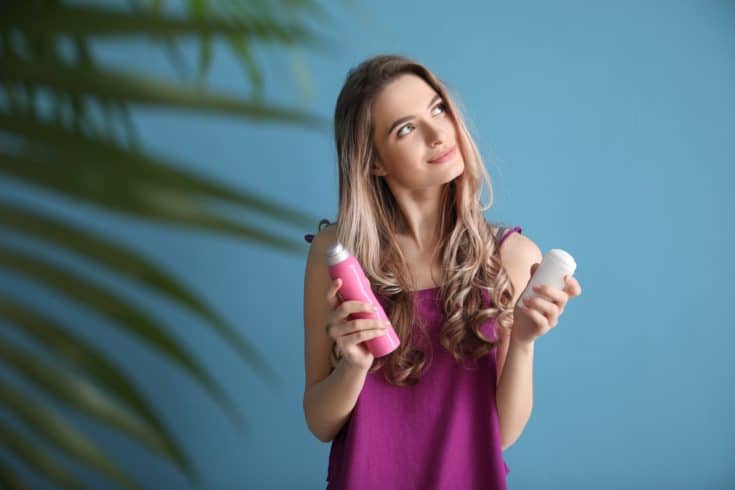 It's true that these two notions are often used interchangeably, but they actually refer to two very different kinds of products. Deodorant is meant to combat odors. Interestingly enough, it's not your sweat that causes the unpleasant smell, it's the sweat coming in contact with the bacteria that naturally resides on your skin.
That being said, deodorant doesn't prevent you from sweating, it just prevents sweat from smelling. It's typically applied on the skin on your underarms, but there are people who use for different parts of the body as well. Since using deodorant all over the body has become a trend, companies are not starting to release deodorants for specific areas of the body.
Buying deodorant that's designed for armpit use and then smudging it in more sensitive areas, such as the groin, is not recommended at all. Instead, you can use something like baby powder for these areas: it's much safer.
Deodorant also differs from antiperspirants in composition. Deodorants are typically very rich in fragrances, since their main purpose is to combat bad smells. Some of them also contain antibacterial agents. Natural deodorants have ingredients such as coconut oil, baking soda, or activated charcoal.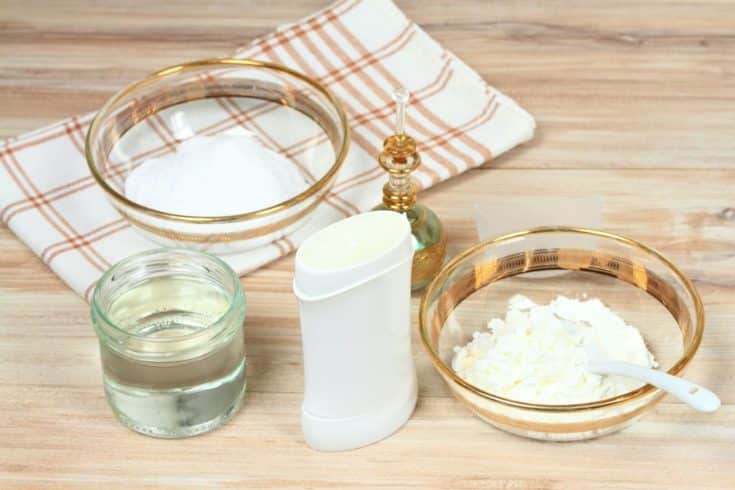 Deodorants typically have similar ingredients to one another, and the ones you're most likely to encounter in such a product are propylene glycol, hydrolyzed corn starch, dimethicone, fragrance, and cetyl alcohol.
Antiperspirants, on the other hand, are meant to eliminate as much sweat as possible from the get-go. They are generally rich in aluminum (unless you opt for a more natural product), and act as a gel that covers your skin, covering the sweat glands.
Interesting fact: since antiperspirants are aimed at block sweat, which is a natural body function, the FDA has labeled them as being drugs. That means that you can literally get a prescription for very strong antiperspirants if you are an excessive sweater.
You may have come across products that are labeled as "deodorant antiperspirant" and found them confusing. What these products actually are is a combination of both worlds: they are antiperspirants with fragrances.
How to Use Antiperspirant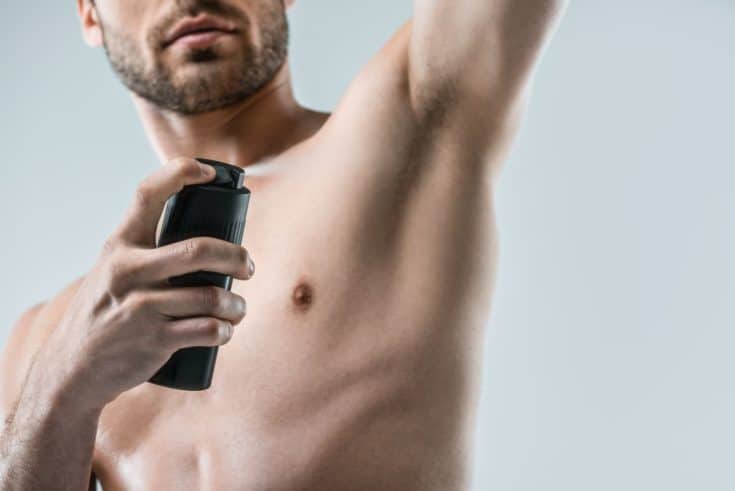 Antiperspirants can be quite potent, so knowing how to correctly apply them is important for skin health. Here are some ideas that might help:
If you buy a quality antiperspirant, the effect can last anywhere between 12 to 48 hours. Unlike deodorants, which are usually applied multiple times throughout the day, antiperspirants should only be reapplied sooner if you sweat a lot.
Antiperspirants are sometimes designed for multiple areas of the body, not just the armpits.
Some people like to apply antiperspirant before going to bed, and that's perfectly OK. Since these products contain active ingredients that take time to start working, applying antiperspirant right before your leave the house may not render the effects you hoped for.
With all the confusion between the terms "deodorant" and "antiperspirant", here is one rule that makes it all clear: if it's made with aluminum, it's an antiperspirant. These products can actually contain different types of aluminum, such as sodium aluminum chlorohydroxy lactate, aluminum zirconium trichlorohydrex glycine, or aluminum chlorohydrate.
Why Natural Antiperspirant Is Better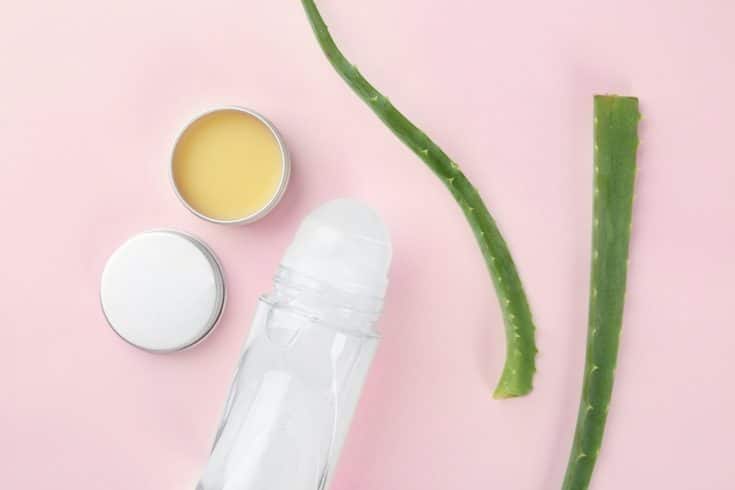 It doesn't really matter if you are a person with sensitive skin or have never had to deal with such issues before: antiperspirants aren't always made with natural ingredients. Most of these products have some sort of aluminum compound, meant to clog your pores and prevent you from sweating.
While sweating may be unpleasant, it's also healthy for your body. Sometimes, these acidic aluminum compounds can turn your shirts yellow below the armpits, ruining them forever. There is a lot of controversy around the ingredients that are used to make antiperspirant and deodorant, as a lot of them have been linked to allergic reactions and skin irritations.
Even so, there is something that we have to pinpoint now and which is super-important: just because an antiperspirant contains aluminum, that doesn't make it… unnatural. In fact, the best antiperspirants are the ones with a low concentration of aluminum substance combined with all sorts of natural ingredients.
Even if there are studies that suggest aluminum might cause this and that, the medical world doesn't accept the links as being true. Randy Schueller, the co-founder of "The Beauty Brains" and a cosmetic chemist, confirmed that there is actually no concise scientific evidence on how bad aluminum in cosmetics actually is.
However, it's important for you to know that the FDA only recognizes a product as being an antiperspirant if (and only if) it contains aluminum. If you come across a natural product that's labeled as being "aluminum-free", there isn't an actual guarantee that it will stop sweating, at least not from the FDA's point of view.
Even so, that doesn't make natural antiperspirants worse compared to conventional ones. Always keep in mind that it's absolutely normal and healthy for the body to sweat.
Top 4 Natural Antiperspirant Reviews
Now that we've uncovered the most important intel that could help you tell which type of antiperspirant is better for you, let's go through some of the best natural options on the market right now. No worries, we've labeled and categorized them, to make it easier for you to find a good match.
Tom's of Maine Women's Antiperspirant
Let's kick things off with an affordable natural antiperspirant, which is available in combos of two or six pieces, at a very convenient price. Tom's of Maine is made from plants and mineral extraction, giving women a fresh scent throughout the entire day.
One of the key ingredients is olive leaf extract, which is known for many health benefits (considering that olives make one of the healthiest oils known to man). The product wasn't tested on animals, not does it contain any animal ingredients.
However, the product is made with sustainable aluminum, so if your skin is sensitive to this ingredient, you should avoid buying it.
Who Should Purchase This?
Tom's of Maine antiperspirant features a series of natural and healthy ingredients, but does contain aluminum. However, it is a good choice for women who are on a budget, and don't have any sort of aluminum-related sensitivity.
Pros:
Natural fragrance.
Made with olive leaf extract.
No animal ingredients.
No animal testing.
Really good price.
Cons:
---
Super Natural Goods
Super Natural Goods has created an amazing natural antiperspirant that's bound to get you through those harsh summer days. It doesn't contain any aluminum whatsoever, which makes it a perfect long-term option for people who want what's best for their skin.
It smells like lavender, which is an absolutely amazing choice, considering how many people love the smell of lavender because of its therapeutic advantages. Because of its organic formula, the product can also be used by children. It doesn't contain any toxic ingredients.
The container is BPA free and completely recyclable, which is really something you'd expect to see in every "natural" product of the sorts. And the best part of it yet: the product comes with a 60 day full refund.
Who Should Purchase This?
Super Natural Goods has made an antiperspirant that's natural in the full sense of the word. It's a great option for people who are worried about chemicals and parabens, but also for those who want a natural antiperspirant for their children.
Pros:
Aluminum-free.
No parabens.
Lavender eucalyptus scent.
60 day money back guarantee.
Recyclable container.
Safe for children.
Cons:
---
PiperWai
PiperWai is what we like to call "a miracle product". Don't take that literally, it can't turn water into wine, but it's one of those products that's like a breath of fresh air in a sea of poorly-made antiperspirants.
This antiperspirant is also a deodorant that delivers a unique formula, blending in no less than 11 different essential oils, all in an aluminum-free product. While some people claim it has a herbal scent, it's actually a distinctive fragrance of mint and citrus, which smells absolutely amazing (or, as the company claims, "like a spa").
At the core of the product we find activated charcoal, which is meant to naturally absorb moisture and keep you fresh even when the temperature outside is really high. The fact that this antiperspirant uses only natural ingredients makes it a perfect option for sensitive skin as well.
Who Should Purchase This?
The fresh scent of the PiperWai is ideal for both men and women with sensitive skin, who are looking for a product they can actually rely on. For more information, check out our PiperWai Natural Deodorant Review right here!
Pros:
No parabens.
No aluminum.
Blend of 11 essential oils.
Pleasant scent.
Unisex.
Moisture-absorbent.
Cons:
---
Bali Secrets
Size: 4 ounces
Type: Roll-on
Scents: Unscented, original essence, aloe delight, sandalwood, delicate rose
Check The Price
If you're on the market looking for an all-vegan option, this might be the best one yet. Available in four different fragrances, plus an unscented option, Bali Secrets has created a product that's free of everything you thought was harmful in an antiperspirant.
One single bottle can last up to three months of use, and is also made with recyclable materials. It doesn't have any aluminum, baking soda, or parabens, and it doesn't stain your clothes either. It's labeled as cruelty-free and has been approved by PETA.
It contains several natural ingredients, such as essential oils for fragrance, coconut oil, distilled water, seaweed extract, and aloe vera gel.
Who Should Purchase This?
If you were looking for protection against sweat, but didn't want to give up on an amazing fragrance to give you that smell of freshness, Bali Secrets has this amazing product to show you!
Pros:
No aluminum.
No parabens.
Animal cruelty-free.
Made with natural ingredients.
Four scents + an unscented version.
Cons:
Doesn't inhibit sweat entirely.
The Bottom Line
The choice between antiperspirant and deodorant is up to you, and now that you know the differences between the two, the choice should be easier. Deodorants are made to prevent nasty odors. Antiperspirants were created to inhibit as much sweat as possible.
Natural antiperspirants, on the other hand, are quite the tricky product category. The ultimate question at hand is whether or not you choose to believe the scarce studies that suggest a connection between the aluminum found in cosmetic products and diseases like skin cancer.
In the medical and cosmetic world, it is quite unanimously accepted that, until proven otherwise, an antiperspirant can contain aluminum and still be natural if the other ingredients are as well.