Keeping track of the birthdays of those you love can be a difficult task. Busy lives and events often confuse the best of us, and dates creep up faster than expected. If you love to send a card or gift for birthday but hate having to settle on options because you are in a rush, you may want to create a birthday collection in your bullet journal.
These bullet journal birthday ideas help provide layout tips and examples to help you organize an area specifically for these special days. No more being surprised by how fast the year has gone or finding gifts you stashed away and forgot about. This is also a great technique to help you avoid wrapping gifts in the trunk of your car while on the way to a party!
Birthday Fun Facts
Why don't we look at some birthday fun facts to help inspire your own creation of a birthday tracker! Let's face it, who doesn't want to enjoy their birthday, and sometimes just a small remembrance can make somebody's whole day a little bit more special. Never forget a date with some simple page spread ideas and themes.
The first known birthday party invitations went out within the 1st Century AD.
The highest months for birthday celebrations are August, July, and September respectively.
2 billion birthday cards are sent in the US each year.
The largest birthday cake weighed 128,238 pounds, 8 oz. and used 16,209 pounds of icing.
William Shakespeare's died on his 52nd birthday: 23 April 1616.
The most common birthday is October 5th, 9 months after New Year's Eve.
Since your last birthday, the Earth has completed one journey around the sun traveling about 584,337,600 miles.
Graphic Visuals
Using pictures to help tell a story is the visual way many need to remember certain events. This is one reason why bullet journaling is so popular due to how it provides a graphic organizer that you can personalize to your own needs. These birthday cakes can be hand-drawn, stamped, or even stenciled within your monthly planners, or even in a birthday collection to help you keep track of which celebration comes next.
BUY ONE HERE
Monthly Reminders
Many people prefer to keep a separate collection specifically for birthdays or other types of celebrations, gift-giving events, or even just as a reminder for shopping for gifts. Adapt your own year at a glance tracker so you can easily spot upcoming reasons to drop a card in the mail,  shopping trips, and parties to attend!
Birthday Tracker
This year's long page layout provides you a fast and easy way to list your birthday dates and check off whether you have bought gifts, sent cards, or remembered to get in touch. Remember, you can make our tracker to reflect anything you feel is useful to help remind you to stay on top of upcoming dates.
BUY ONE HERE
Monthly Guide
If you can only handle month to month reminders, this is a great option that provides plenty of room to place names, gift-giving ideas, and any added notes you would like to include. This is a great way to keep track of ideas you may have as well prior to shopping.
Birthday Graph
Since your book is your own, you don't have to be restricted by prefab ideas. Instead, get creative, like this journaling guru did and create your own colorful graph complete with pop-out ideas to add names, dates, and notes you have pertaining to the big day!
Bunches of Balloons
Another cute idea for a visual reminder, these balloons can be used as a monthly reminder, or simply hold the names and dates of those who have an upcoming celebration in the order of their big day.
Make a List
A quick, creative page is the perfect solution when you need to quickly glance in your BUJO for upcoming dates. Use consecutive pages to make gifting gift idea lists, card-sending dates, and other reminders tied to the birthdays you want to remember.
Paint Your Own Background
Use a delicate touch and paintbrush markers to paint and design your own colorful background to any page you want. This specialized way of personalizing your bullet journal is an especially nice touch for birthday pages and collections.
Get Creative
What says celebration better than a stack of sweet confections and cakes? If you have the doodling bug, doodle your pages to a creative take on a birthday tracker to help keep the dates of those you love in order.
Decorative Spreads
Get creative with these great decorative spread ideas that show you how they were created in a step by step manner with a fun, and easy to follow video. These are inspiring and can help you get your own creative juices flowing.
The Sweet Spot
Doodlers rejoice! Create a fun theme for a month by month tracker that reminds you how sweet your friends and family really are. These bakery inspired drawings are also a great way to perhaps keep track of your own party promises if you are in charge of the dessert!
A Year at a Glance
Basic, simple, and easy to use, this 2-page spread is a great way to showcase the entire year and the dates you need to remember. It is a layout that gives you space to write and reflect in, as well as add some decorative touches.
Monthly Themes
Create your own seasonal inspired cupcake doodles, or anything else that reflects what is going on outside your window through the year. This is also a great way to play with ideas if you also are the baker of the family and lied to design your own confections!
Special Occasion Tracker
Birthday trackers don't have to be just used for birthdays. They are also a great option for special occasions and other events you may be looking forward to. You can combine all these events into one, or separate them out into a collection of dates you want to prepare for in advance.
Decorative Detail
You can get incredibly creative when making your pages, especially when you are inspired with a decorative detailed chart such as this. Circle graphs are a great way to highlight the months and provide the room to create branching lists pertaining to dates, names, and gifting ideas.
Pie Charts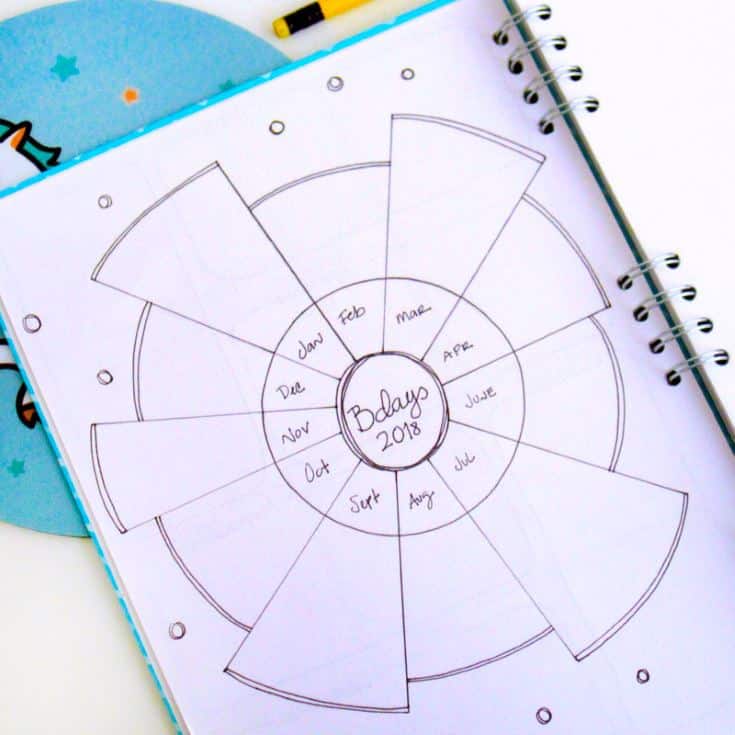 Mathematically inclined? Make a pie chart that highlights the busiest months so you can more easily prepare yourself for celebrating. This is also a great way to provide a visual for other upcoming events, deadlines, and work related materials.
Eat Cake!
Have fun titling your collection and design a colorful page dedicated to birthday celebrations. Favorite quotes, decorative lettering, and vibrant colors can all be a part of the way you showcase your dates to remember sections!
Conclusion
If you have been looking for some bullet journal inspiration and collection ideas, hopefully, these many birthday tracker tips and visuals have inspired your own pages. Use for birthdays, events,  special occasions, or even to highlight important dates that you are looking forward to. You can also adjust the design and styles to fit your needs, or even use them as part of your planner to highlight other responsibilities you don't want to forget.
We'd love to see your own creative ideas if you have any, or hear which of these are your favorite. And, as always, please share!