Coconut oil is a product popular with consumers due to its many beneficial properties when used in a proper manner. Everything from skin care, oral health, digestive support, and even some medical conditions may all benefit from including the oil in your daily routines. But what, exactly, are the uses of coconut oil, and how should it be applied in order to reap the maximum advantages?
Using coconut oil in your manner of choice is simple and easy to add into your regular eating, healthcare, or beauty regimen. Below, I'll discuss the use of the oil and briefly cover why you might want to do so.
​What is Coconut Oil?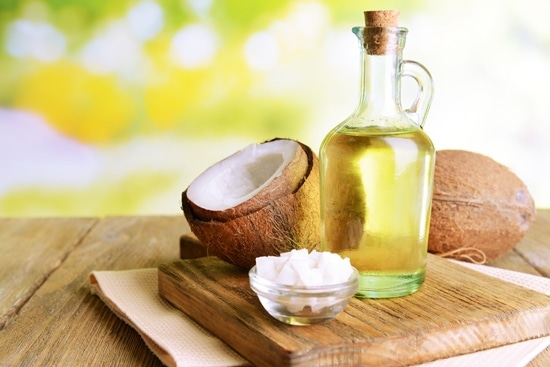 To make sure you understand what this oil is and to provide some information surrounding how it is processed (or not), the following contains some information in relation to this ever popular supplement. Coconut oil is extracted via various methods from the meat and kernel (called copra oil) of a mature coconut. Because it is resistant to rancidity, it has a long shelf life: 6 months or more. Oil is extracted from the coconut in a few different ways, some of which leave it fairly intact in its integrity, while others are more processed, losing its natural color and scent, as well as benefits.
Aqueous Processing
This process involves boiling the meat of the coconut in water. The softening meat releases the oil which separates to the surface as it cools to be skimmed off.
Ram or Cold Press
This process protects the integrity of the oil more so than any other extraction process. This literally presses the oil from coconut meat to be collected through a filtering tube and requires very little added refining.
Mechanical Centrifuge
This process is considered the means to make the purest form of virgin coconut oil. It basically squeezes the meat to extract the oil, and then is spun to remove what remains. There is no refining involved, and the oil smells and tastes strongly of coconut.
Expeller
An expeller process pulverizes the meat to form a cake which is heated and crushed. This is done to break down all of the meat to get as much oil as possible from the process. A chemical process is then applied to separate the oil from the cake which is then further refined to cleanse all the extract from the oil.
​Benefits of Coconut Oil
Although this article is focused on uses, rather than benefits, it is important to point out why these uses are so popular. There are dozens of benefits from the use of such oil in various forms, mainly surrounding its properties. It is a substance that can be used as a liquid or solid, which lends itself well to many mixes involving essential oils, salt, and sugar scrubs, as well as creams and lotions.
It also has anti-inflammatory properties and is considered an antifungal and antibacterial- which is part of the reason why it has such a long shelf life. Plus, it smells good and lends a subtle flavor to cooking and baking when used as a replacement for other oil-based ingredients.
​Warnings About Coconut Oil Use
Coconut oil is basically pure fat and has a very high saturated fat content at 90%. This is actually an incredibly unhealthy amount of fat to ingest regularly, especially since saturated fat is associated with high cholesterol. However, this oil has an unusually high amount of medium-chain triglycerides (MCTs).
MCTs do not store in the body as fat as easily as long-chain triglycerides, so they are utilized and burned off faster by your metabolism. This also makes them a fast source of sustainable energy. Ingestion should still be in moderation, however, as there is still a high caloric count as well, plus it is a pure form of fat overall. It should be a replacement rather than be added to your regular fat intake.
Although extremely rare, coconut allergies do exist. For the most part, reactions are very mild in nature and will show up as a skin rash or skin irritability. Serious reactions could include hives and blistering, or induce anaphylactic shock. This is almost unheard of, but if you have any concerns, you can always dilute the oil and run a skin test or speak with a healthcare provider prior to any use.
​Coconut Oil Use Reference Guide
There are two main ways to use coconut oil: topically or internally. These uses yield an incredible amount of external benefits that are constantly under study. It is the ingestion of the oil that comes under regular scrutiny, prompting the medical world to ask that you limit your intake of all saturated fats in general- a healthy choice most people are already making. This doesn't mean that they should be ignored altogether, however, as the use of the oil in moderation has yielded some promising results that need further studying in relation to specific medical conditions.
​Carrier Oil
As a carrier oil, this oil is used to help dilute and more easily apply concentrated oil choices, such as essential oils. Essential oils (or EO) are an oil extracted from various plants to use therapeutically as an aromatic, as a topical application, or even for consumption. Carrier oils allow you to take advantage of the many benefits offered when used topically, and coconut oil is a popular choice as it doesn't change the integrity of the EO being used.
​Skin
Coconut oil uses on the skin are probably the most popular use there is. It is considered a safe oil with very few side effects making themselves known. When in its solid state, it is easy to scoop and melts fast to spread over the areas that need attention. It is a wonderful moisturizer, and can work as a stand-alone treatment for dry, chapped skin, and even eczema or mixed into your favorite lotions.
It also is a soothing agent and can help take the red out of sunburns and other skin conditions. This oil helps support the protective barrier functions of your skin. Using it as part of a regular routine helps heal the skin and smooth the epidermis surface. You can use it as part of massage as well since it glides easily without feeling greasy or sticky.
Face
The delicate skin of your face will thank you for the application of coconut oil. It helps moisturize and bring balance to both oily and dry skin. You can use it as a face wash as well, either as a stand-alone and followed up with your own wash, or added to your regular routine to take advantage of the antibacterial properties.
Scalp
Rub some of this oil into your scalp for deep conditioning of your roots, but also to help provide moisture to loosen any dry skin that may cause dandruff. The antifungal and antibacterial properties also help heal psoriasis, as well as cradle cap in babies. It can be left on for a few minutes or even overnight before being washed out.
​Hair
Make your locks shiny and heal dry brittle ends with the use of this oil. It works well as a deep conditioner, or it can be added to your own conditioner for daily use. A little bit of oil rubbed into your hands and smoothed over your hair not only makes it shiny without being oily, but it also helps tame flyaways and control curls.
​Beauty
For beauty purposes, turn to this oil as a regular regimen to protect your skin while shaving and prevent shaving rashes.  It also can be used to remove makeup, especially around the sensitive skin of your eyes and eyelashes. The moisturizing properties can be taken advantage of when used on your lips and skin. It can even be used as a base for your foundation to provide flawless coverage or as an illuminator when dabbed on your cheekbones and other strategic places to provide a dew-kissed look.
​Sunscreen
Use coconut oil alone for light sunscreen coverage or mix with other skin protectant bases, such as zinc oxide, to help keep your skin from burning. Plus, it helps hydrate your skin when being exposed to the sun and helps cope with wind drying effects.
​Oral Health and Fresh Breath
To help promote oral health and fresh breath, you can pull or rinse with coconut oil. It helps provide a protective barrier on your teeth, is anti-bacterial, and promotes healthy gums. Do so for up to 20 minutes daily for maximum benefits and to help pull toxins from your mouth. You also can add it to baking soda to use as a natural toothpaste. Add a drop of peppermint oil for more fresh breath support.
Internal
You can take coconut oil internally to aid in a variety of ailments straight, as is from a spoon, mixed into hot drinks, or even put into a capsule to swallow. Your digestive tract will benefit from its use to help keep things moving. Use it to aid in bacterial infections and inflammation of the stomach and intestines, as well as a way to find relief from urinary tract infections.
Because it is a fat that does not store easily, it burns through your system instead, making it a fast source of sustainable energy utilized by your brain and body- which may help slow down the progression of diseases such as Alzheimer's and dementia. The lactic acid in it supports milk production in breastfeeding mothers and can help soothe and heal cracked and chaffed nipples.
Cooking and Baking
Use it in cooking and baking as a substitute for other oil-based products in a 1:1 ratio. The medium-chain saturated fat triglycerides do not store as easily as those found in vegetable oils, butter, and lard, thus making it a slightly healthier choice overall in your culinary dishes. It also lends a subtle but distinct coconut flavor to many dishes and is preferred in many cakes and muffin recipes.
​Conclusion
Using coconut oil is almost always a beneficial experience, and since it is easy to include in your daily health and beauty routines, you can take advantage of it with very little effort. Everything from skin health and beauty purposes to feeding your brain and body has been studied, and the only thing healthcare providers suggest with its use to is to use it moderately when consumed.
If you have any questions, comments, or just want to share your ideas on how to utilize this oil, please leave them below. And, as always, please share!
*You might also like: Avocado Oil Benefits And Usage: A Health Supplement Guide.