Keeping your hands clean is an essential step in personal hygiene and to stop the spreading of germs. Unfortunately, popular foaming soaps often create problems with the thin thin skin located on your hands. As it strips it of moisture, it can leave behind tight feeling skin, dryness, and even create sensitivities, itchiness, or even cracks.
The synthetic ingredients often found in these soaps also lead to problems. Luckily, you can make your own foaming soaps in just a few minutes with a few simple ingredients. The essential oil company, doTerra has a quick and easy recipe you can follow to control the exact amounts you use with all natural ingredients. You can even use organic and vegan options if you desire.
Read on below to make your own DIY doTerra hand soap that not only protects your hands, but also smells great.
Why Make Your Own Hand Soap?
Making your own hand soap allows you to control exactly what you are exposing your skin to. Washing your hands is a must to combat bacteria and avoid spreading germs, but the combination of harsh cleansers and hot water can wreak havoc on your skin's natural moisture barrier. This creates dry hands and can lead to cracked and unhealthy looking skin.
Foaming soaps, although incredibly convenient, are some of the worst culprits of this problem. They often use synthetic chemicals and fragrances that are effective in cleaning your hands, but the bright smells and ingredients aren't doing your skin any favors. The skin on your hands is also very delicate and thin- so providing hydration is important to avoid tight, uncomfortable, and wrinkled surfaces.
Buying the ingredients to make your own soap is much cheaper than what you pay for individual soaps over time. If you happen to hit a good sale at a popular soap making company, you might be able to score around 10 soaps for $30. It might sound great, but compare it to the price of making literally dozens and dozens of dispenser refills for the same cost.
Active Ingredients
Even though you may feel you are cleaning your hands of oils, oils are one of the most active ingredients in soap. When you choose hydrating options, rather than strip your skin of your own healthy oils, you can help support your natural skin barrier all while cleaning your hands of yucky bacteria and germs.
Homemade foaming soaps use healthy, bacteria killing oils, such as coconut oil, lemon, orange, peppermint, and tea tree oils. These ingredients can be combined with organic liquid Castile soap, which uses natural oils and organic alkaline substances to saponify (suds up) when water is added. This makes a very effective foaming hand soap that allows you to control what is being exposed to your skin.
What You Need:
To make your very own doTerra Copycat foaming hand soap, you only need a few simple ingredients. The following measurements make approximately 8.75ml of soap. I recycle a popular foaming soap container rather than toss it and add to plastic waste, so be sure to adjust ingredient measurements to fit your own sized dispenser.
If you want to recycle your own foaming dispenser, labels are easy to remove and any sticky residue left behind can be scrubbed off with a little orange oil.
3 Tablespoons organic Castile Soap (unscented)
Castile soap is popular due to its gentle cleaning without any toxic ingredients. It is safe for sensitive skins and also is a great option for acne prone types as well. The ingredients used are hydrating and healthy for the skin.
1 Tablespoon fractionated coconut oil
Coconut oil is highly hydrating, plus it provides antibacterial properties. Is soaks quickly into the skin and is soothing and protective.
15 drops favorite essential oil/ oil blend
Choose essential oils that provide both a great scent and cleaning properties. Ideas are provided below.
Step One: Measure Castile Soap into Dispenser
Castile soap is a gentle formula that is popular for use with children and pets as well. It is designed to be mixed with water when used, and when you measure properly it foams up beautifully. I found 3 Tablespoons of soap was the perfect amount for dilution for an 8 to 9 ml bottles.
Step Two: Measure Coconut Oil into Dispenser
The addition of coconut oil helps preserve your soap, and also adds additional hydration to the blend. Coconut oil is an excellent cleanser and provides antibacterial and antifungal properties. It is gentle, and is used for cleaning and protecting sensitive skin. 1 Tablespoon is the perfect amount to avoid any oil residue feeling after washing.
Step Three: Add Essential Oils and Swirl to Mix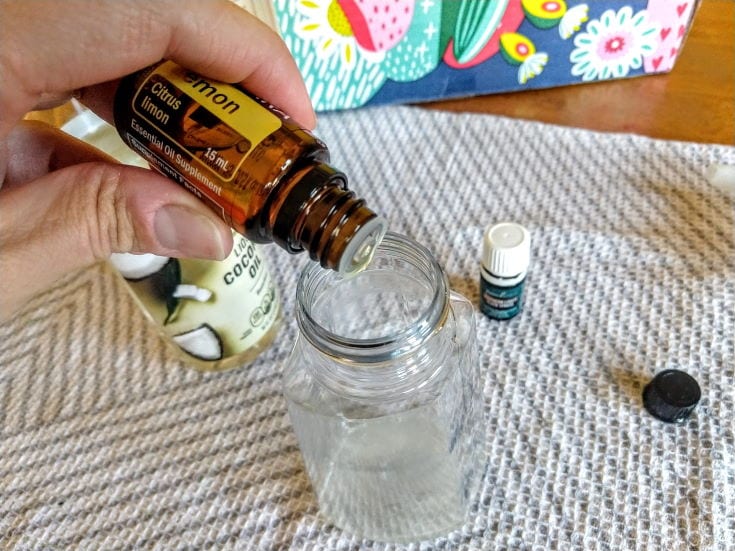 Pick your scent or scent blend from reputable companies that provide undiluted, pure essential oil concentrates. Since you are already diluting oils in the soap, if it is already mixed with an oil before being added it won't be as effective.
I'll provide some suggestions for oil use below, but as you can see, I don't discriminate between oil companies. All I care about is getting a high quality item so I can reap the benefits of their use. For this particular Bright Lemon scent I created I used 10 drops of doTerra Lemon and 5 Young Living Black Spruce. After adding be sure to swirl all the ingredients together.
You can also skip this step is you want an unscented soap.
Step Four: Add Water, Lid, and Shake
Top your container off with water, leaving room for the foaming lid so it doesn't overflow. Once the top is on tightly, shake well to mix all the ingredients and then allow to settle. Castile soap is opaque, and so your soap will look a little cloudy due to its use.This is actually helpful because you can see the suspension of ingredients that do not separate.
Step Five: Wash Your Hands!
This mix foams up beautifully, smells amazing, and leaves your hands feeling soft and clean! For best results use warm water to wash rather than hot. Hot water is harsh on your skin and isn't any more effective than a good soapy lather and rinse. Be sure to lather for approximately 20 seconds (or as long as it takes to sing the Happy Birthday song) to allow your soap to work as it should.
Popular Soap Scent Blends
Truly, the choice of scent and scent blends is personal, but the following highlights oils that work as a stand alone or well together if you are looking for a specific aroma. Many of these also have strong cleansing properties, soothe the skin, and destroy bacteria.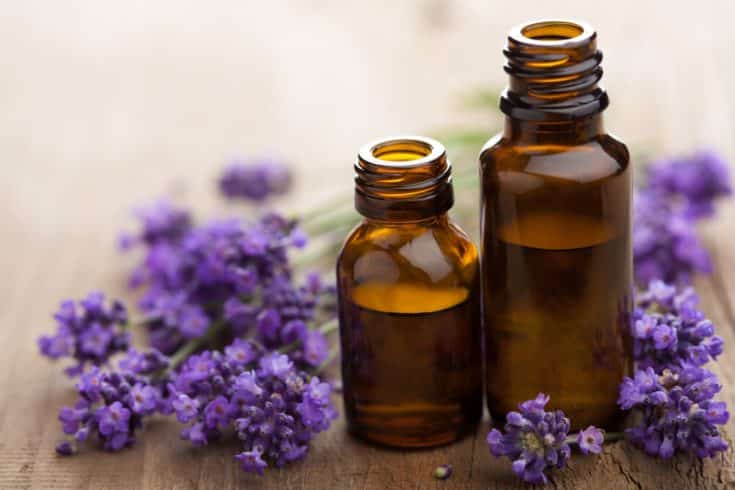 Use concentrated pure oils to ensure you aren't adding any extra carrier oils (not that it would hurt it) and missing out on the full essential oil benefits adding oils creates. Some oils are sold pre-diluted in a carrier such as coconut oil. Instead of getting a full 15 drops of essential oil, you might only get about 2 or 3 altogether mixed into the carrier.
Woodsy: Bergamont, patchouli, sage, spruce, fir, pine
Citrus: Orange, lemon, lime, tangerine, grapefruit
Floral: rose, lavender, ylang-ylang, geranium
Clean: lemon & basil, lemon & spruce, lemongrass, eucalyptus & citrus, tea tree
Fresh: basil, rosemary, mint, thyme, oregano
Warm: Cinnamon, clove, Frankincense
Conclusion
Save your skin and save your wallet when you make your own foaming soap. A few ingredients is all you need for healthier skin, and to support a healthier environment with less plastic waste. This same recipe can be easily altered to create a foaming face wash, body wash, or even shampoo!
Let us know your favorite homemade soap uses below, and, as always, please share!