It's a well-known fact that essential oils are the entire alternative medicine craze right now. While studies have linked these oils to numerous health benefits, today's focus falls upon the dreaded migraine. When you know which oils to combine, you can end up with a mixture that's simply rubbed against the forehead, temples, or back of the neck, in order to take the pain away and leave you feeling more relaxed.
We've put together 13 recipes for diffusers, inhales, but also to create massage mixture in hopes that we can make you throw away some of those pills that are never pleasant to take. You can use the oil brand of your choice such as Young Living or DoTerra to make these, too.
Migraine Relief Roll–On Blend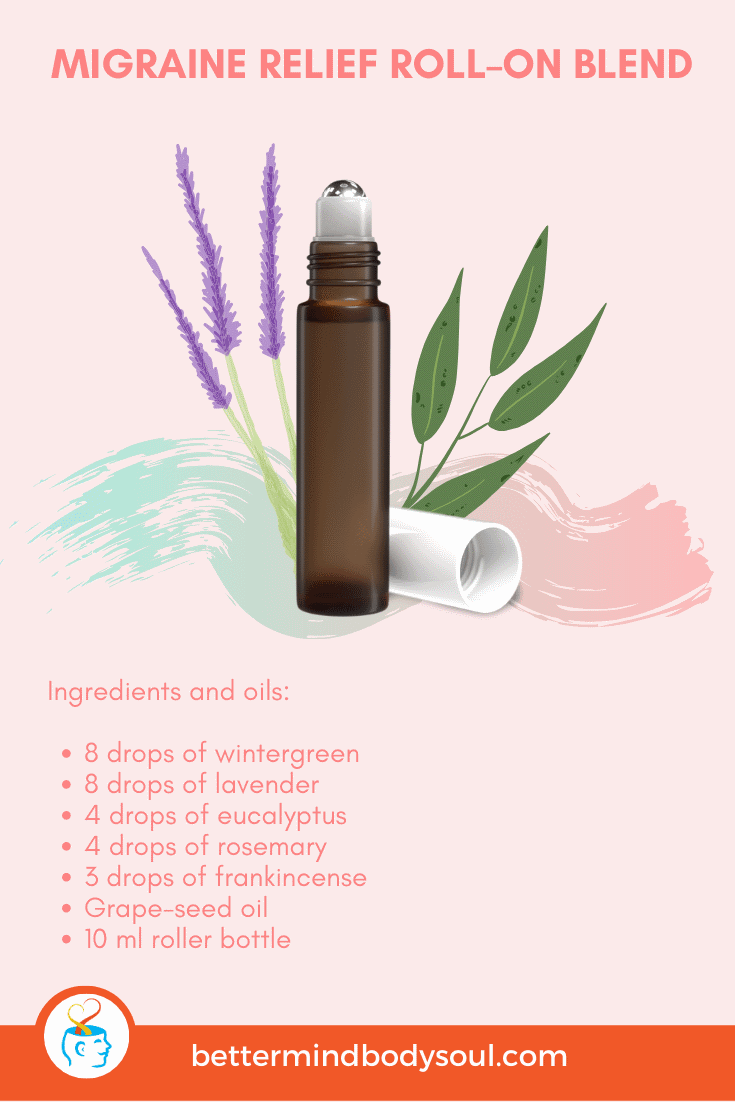 As highly concentrated liquid, essential oils have proven to be efficient in treating certain migraines. These oils are extracted from several natural sources, like roots, stems, flowers, leaves, and many others. For instance, the recipe below uses rosemary oil, which has painkilling and anti-inflammatory properties, and can help with headaches because it reduces stress, improves circulation, and can even reduce insomnia.
Ingredients and oils:
Directions:
Grab a clean roller bottle, and slowly add the oils one by one. Shake well and deposit for later use. You can apply the blend on your temples, shoulders, back of your neck, or forehead.
Lavender Blend
Lavender essential oil is something that plenty of people use in aromatherapy because of the scent, but there are actually plenty of other beneficial properties to this plant. It has anti-inflammatory properties, acts as a sedative, can protect you against mosquitoes, but it also helps tone down a nasty headache when all you're looking to do is just relax and go to bed.
Ingredients:
Directions:
Combine the essential oils and the carrier oil (you can use jojoba or sweet almond oil) into a bottle equipped with an orifice reducer insert. Roll the bottle between the palms of your hands in order to blend the oils together.
To use the oil, apply a couple of drops on your fingers and then massage your forehead gently. You can also use it on your temples and back of your neck.
Migraine Support Diffuser Blend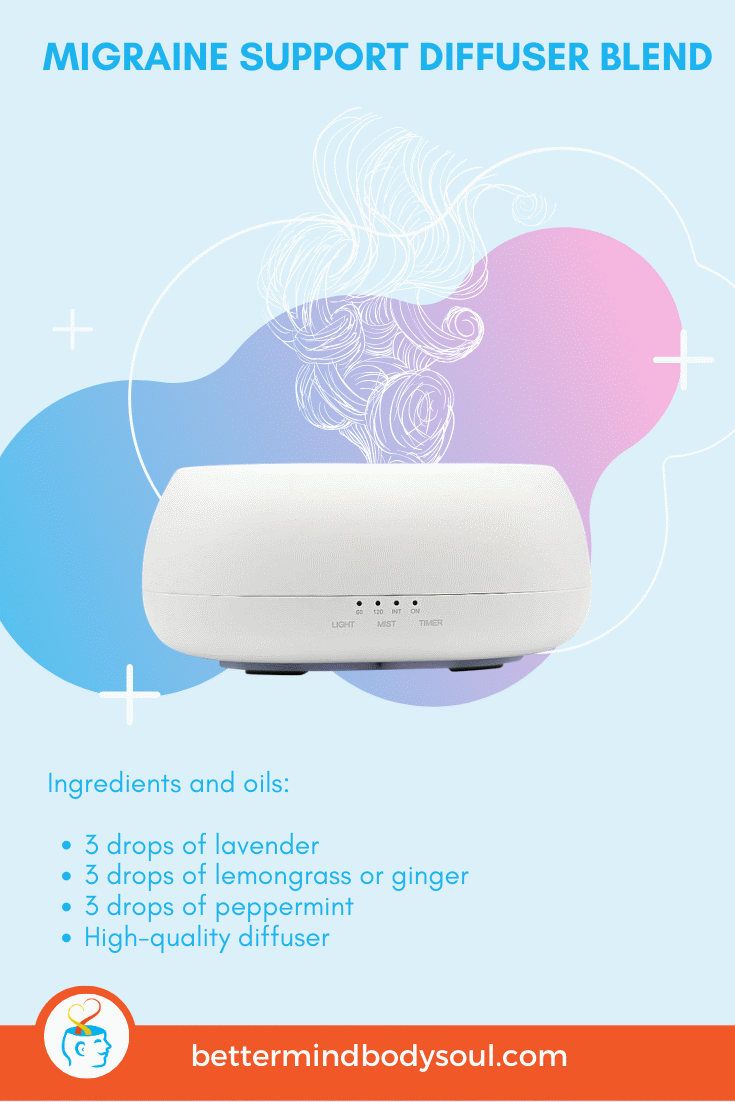 Below you have a mixture of lavender, peppermint, and lemongrass/ginger essential oils. What you may not know is that peppermint essential oil is actually one of the most popular oils used to treat migraines. It is rich in menthol, which helps the muscles relax and can soothe pain.
Ingredients and oils:
Directions:
Add the essential oils in your aromatherapy diffuser, making sure that you follow the manufacturer's instructions. For best results, use a cold-air diffuser. It's best if you diffuse this blend whenever experiencing the first signs of migraines in order to prevent the symptoms from getting worse.
Helichrysum Blend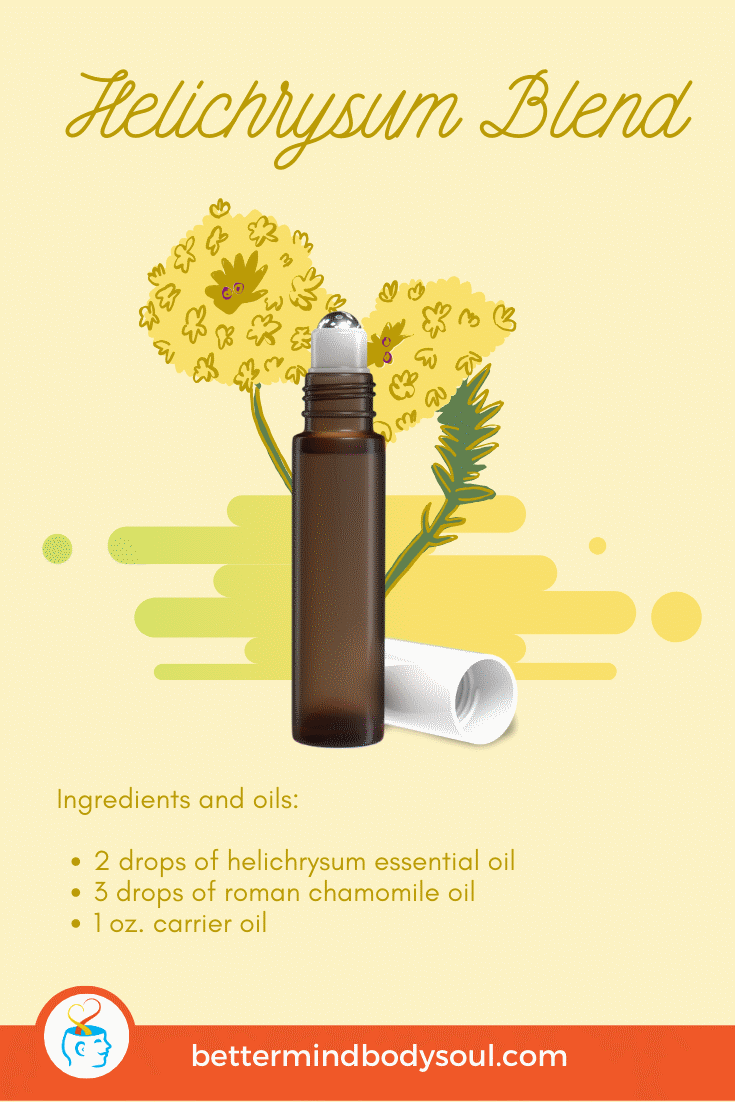 The headache essential oil recipe here is based on chamomile essential oil. For a long time, chamomile was considered a wonder plant, and even today it's used to make one of the most relaxing and anxiety-relieving teas known to man. It's really great in treating insomnia but can also help relieve the tension caused by something as nasty as a migraine.
Ingredients:
Directions:
Using a glass bottle with a special orifice, mix the essential oils together with the carrier oil. Make sure that you gently roll the bottle in the palms of your hands in order for the mixture to blend. Pour a couple of drops on your fingers and use them to massage your temples, the back of your neck, or your forehead.
Cooling Cold Compress
The migraine essential oil blend below is a solution to apply a cold and refreshing compress that combines cold water and a mixture of two very potent essential oils. By holding a cloth imbues with this magical solution on your forehead, you will feel the freshness of the eucalyptus oil almost as if it's absorbing the pain.
Ingredients and oils:
1 or 2 cups of cold water
A clean bowl
5 drops of eucalyptus
5 drops of lavender
A clean microfiber washcloth
Directions:
Add the cups of water to the clean bowl, and then add the essential oils inside as well. Use the washcloth to stir the water. Wring out the washcloth and apply it on your forehead after making sure the solution isn't dripping from the cloth anymore.
Hold the cloth on your forehead for about a minute, then repeat the process until you start feeling better.
Spearmint Blend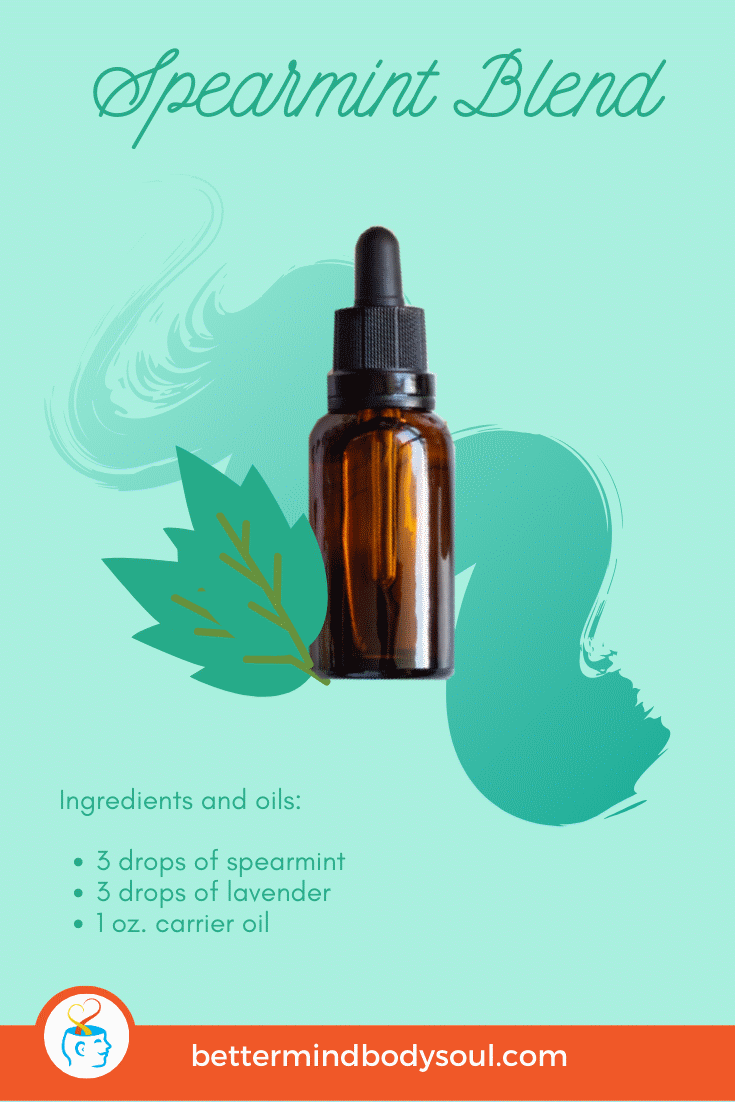 Spearmint essential oil has a lot of proven benefits. As part of the recipe below, it can reduce stress and promote relaxation in order to help you treat headaches. Not only is it useful in fighting stress, but it can also treat insomnia thanks to its sedative effect.
Ingredients and oils:
3 drops of spearmint
3 drops of lavender
1 oz. carrier oil
Directions:
Mix the essential oils together with the carrier oil in a small bottle, gently rolling it in your hands to create a homogenous mixture. Apply just a couple of drops on your forehead to relieve the pain.
Eucalyptus Blend
The minty freshness of this particular migraine essential oil recipe is absolutely soothing. By blending eucalyptus and spearmint, you will get a combination of oils that relieves sinus tension which can lead to headaches.
Ingredients and oils:
3 drops of spearmint
3 drops of eucalyptus
1 oz. carrier oil
Directions:
Just as in the example above, use a clean bottle to mix the carrier oil with the six drops of essential oils, rolling the bottle in your hands to create the blend. Apply on your forehead or the back of your neck, but no more than two drops at once.
DIY Essential Oils Migraine Relief Roller
This recipe requires a bit more ingredients than the others but rest assured that each of these essential oils has a very clear purpose in helping you get rid of your migraine. For example, helichrysum essential oil has anti-inflammatory and analgesic qualities to help relieve tension and muscle spasms, while copaiba essential oil can help reduce migraine-related discomfort.
Ingredients and oils:
1 tablespoon of vitamin E oil
5-10 drops of helichrysum
5-10 drops of eucalyptus
5-10 drops of frankincense
5-10 drops of copaiba
5-10 drops of lavender
Roller ball container
Directions:
Grab a clean mixing bowl and put the vitamin E oil inside it. Add the helichrysum essential oil, eucalyptus, frankincense, copaiba, and lavender essential oils. Take a clean whisk and start mixing all of these oils together.
With the help of a dropper, add the mixture to the roller ball container. Apply a few drops on your forehead or temples and gently massage them for a few minutes.
Headache Buster
If you often have migraines that push you to the point of having to take pills in order to make the pain go away, this is the right blend for you. It is designed to last you quite a while, and it blends some of the more potent and deliciously smelling essential oils on the market.
Ingredients and oils:
30 drops of peppermint
30 drops of lavender
10 drops of frankincense
10 drops of wintergreen
10 drops of birch
Fractionated coconut oil
1/3 oz. glass roller
Directions:
Add the essential oils inside the 1/3 oz. glass roller and top the oils off with fractionated coconut oil. Roll the bottle in your hands to mix. Add a few drops in your hands and gently rub the temples, forehead, and the back of the neck.
Migraine Relief Roll–On Blend
If you fancy recipes that blend plenty of different oils and fragrances, you will love with roll-on blend as well. It provides you with the perfume of lavender, the efficiency of rosemary, and the freshness of eucalyptus essential oil.
Ingredients and oils:
8 drops wintergreen
8 drops lavender
4 drops eucalyptus
4 drop rosemary
3 drops frankincense
10 ml roller bottle
Directions:
Add all of the essential oils in the roller bottle, while topping them off with grapeseed oil (you can use other carrier oils as well). Close the bottle and shake it to combine the oils. Whenever needed, roll onto your shoulders, the back of your neck, forehead, and temples.
My Favorite Headache Rollerball Recipe
Another great remedy for those of you who are tired of carrying headache pills around with you all the time is the following roller ball recipe. It uses plenty of oils that we've already covered in previous recipes, such as eucalyptus, peppermint, and lavender.
Ingredients and oils:
10 drops of peppermint
10 drops of eucalyptus
10 drops of lavender
20 drops of rosemary
The carrier oil of your choice
Directions:
Put the essential oils into a clean roller ball, and then add the carrier oil you most fancy to fill the remainder of the bottle. Close the bottle and shake to mix the contents. Turn the container up and down a few times before applying the formula, which you can then massage on your forehead, the back of your neck, or the temples.
Migraine Helper Diffuser Blend
This diffuser blend focuses on the analgesic properties of lavender essential oil, the relaxing properties of peppermint oil, and the anti-inflammatory properties of lemongrass. The end result is a formula that goes in your diffuser in order to make sure that your muscles unwind, and your headache goes away.
Ingredients and oils:
4 drops of lavender
2 drops of peppermint
2 drops of lemongrass
Directions:
Add the essential oils in your diffuser, and then add water as per the manufacturer's instructions.
Migraine Personal Aromatherapy Inhaler
Inhalers are awesome because you can have them with you and use them at all times. You can find plenty of inhalers available online, made from either plastic or aluminum. While the latter are more good looking, the former are a cheaper solution.
Ingredients:
2 drops roman chamomile
2 drops basil
2 drops lavender
3 drops sweet marjoram
3 drops peppermint
3 drops helichrysum
Directions:
Apply the drops of essential oil into a small bowl. Using a pair of tweezers, put the inhaler's cotton wick inside the bowl with the oils and move it around so that the cotton can absorb as much of the mixture as possible.
Using the tweezers, remove the cotton wick from the bowl and place it inside the inhaler part that has a hole in it. Secure the bottom cap and place the top cap on top of it, for protection. Whenever needed, just place the inhaler close to the nose and take a deep breath.
Bottom Line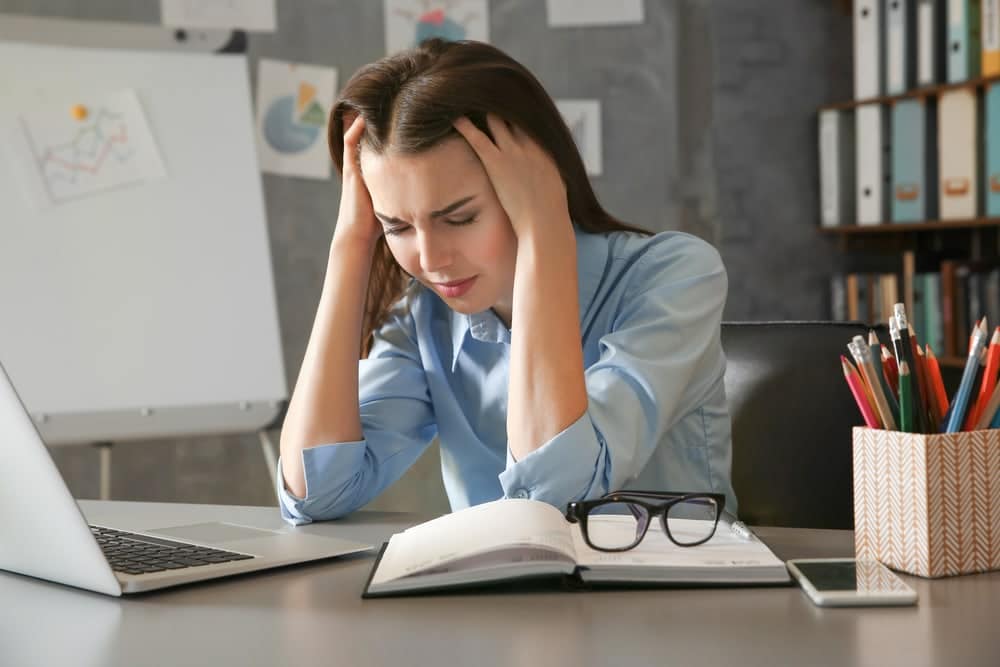 Migraines can be a terrible thing to have to deal with, and when you often end up having them, they can be a real nuisance. They can also get you pretty hooked on painkillers, so adopting a more natural solution to help you get rid of them is a nice idea.
If you've tried any of the essential oils for migraines recipes above, we'd love to know how they worked for you, but also drop us a line in the comments if you've tried any variations that worked!