doTERRA Lifelong Vitality Pack
Energy isn't easy to come by sometimes, and when you need a little help, doTERRA's Lifelong Vitality Pack is hard to beat. This product enables you to combine three doTERRA products from this list of six that are designed to help you get that extra boost your life needs.
Check The Price
When you hear the word "vitality," we think of a person who is strong, active and has an endless supply of energy. So how does a person reach that type of health? We all know that a well-balanced meal, regular exercise that includes some type of aerobic exercise, meditation, and trying to maintain a healthy lifestyle can lead you in that direction, but what about that extra boost?
Today we are going to look at a product that is designed to do that for you- doTERRA Lifelong Vitality Pack, or LLV, and some of the reviews consumers have given.
The Company
First, I'd like to give a quick overview of the company. DoTERRA was founded in 2008 by a collective of individuals who worked in both the business sector and health that's primarily associated with the powers of aromatherapy. They had a vision of bringing their knowledge to the world and gave their company a name that means "Gift of the Earth."
doTERRA Lifelong Vitality Pack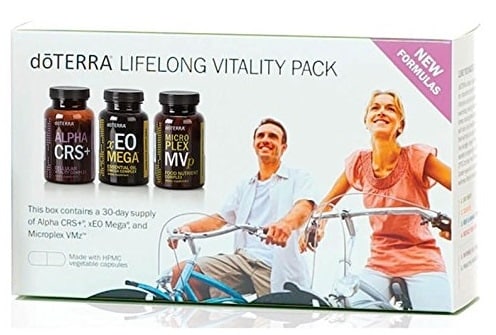 This product is more of an option to choose three of six doTERRA products, which we will cover below. It is designed so that the purchaser can choose the best three supplements to benefit their unique individual needs. The goal, in short, is to give the user more energy, both mentally and physically, as well as supply a healthy digestive system and immunity.
What is included in the "Pack"?
As for the actual product, this particular pack is more of a "combination" package. The purchaser has the option of up to three of the six choices as listed below.
Microplex VMz®
xEO Mega®
Mito2Max®
DigestZen TerraZyme®
Deep Blue Polyphenol Complex®
PB Assist®+
Not sure which three you would choose? That's fine. Let's look at each one closer and maybe a few of the product's benefits will entice you.
Click Here for the Price
Microplex VMz®
This product is a food nutrient formula created with bioavailable vitamins and minerals that aren't found in most people's diets. It includes the following vitamins and minerals.
Vitamin A
Vitamin C
Vitamin E
Energy complex of B vitamins
Calcium
Magnesium
Zinc
Peppermint
Ginger
Caraway
When you look at this list, it might seem like this is doTERRA's version of a multivitamin but the fact is, this offers a bit more. The mixture of vitamins, minerals, and herbs here offer healthy bones and a well functioning metabolism. Moreover, peppermint, ginger, and caraway are added to help ease the stomach.
All of this is held together in a sodium lauryl sulfate-free vegetable capsule. DoTERRA created this product to meet the dietary needs they feel people are lacking in our society today.
xEO Mega®
This next product combines certified pure therapeutic grade essential oils with a mixture of fatty acids that are both marine and land-sourced. It was designed to give support to the joints, the cardiovascular system, and cognitive health as well as promoting a healthy immunity. It contains the following.
900 milligrams of marine lipids
250 mg of plant-sourced fatty acids
800 IU (international unit) of natural vitamin D
60 IU of natural vitamin E
1 mg of astaxanthin
The antioxidant carotenoid
As with the Microplex VMz, all of this is held together in a vegetarian-friendly softgel. With this capsule, they hope to help people have a healthy balance between their omega-6 and omega-3 fatty acids in their diets. Professionals suggest that both of these fatty acids be ingested in a 1:1 ratio.
Yet, the kind of diet most westernized societies adhere to, particularly in the United States, is full of vegetable oils, which is chock full of omega-6 fatty acids. DoTERRA created xEO Mega to bring balance back to your life.
Mito2Max®
Just like the other two, this product is a mixture of compounds intended to bring good health. This particular blend combines standardized plant extracts and metabolic cofactors devised to support healthy cellular, specifically mitochondrial, functioning.
By doing this, doTERRA has created a product that is geared toward giving you more energy. But they aren't just talking about physical energy, which enables us to have more stamina and endurance. A user of Mito2Max should also find that their mental energy will increase as well.
Mito2Max contains acetyl-L carnitine, which supports healthy functioning of the mitochondria, brain circulation, and mental health. It also has Oligonol®†, a unique blend of antioxidants, including lychee fruit polyphenols and green tea. When taken in as a supplement form, these are absorbed faster and can work effectively to protect cells from any oxidation or free radicals that might be floating around.
DigestZen TerraZyme®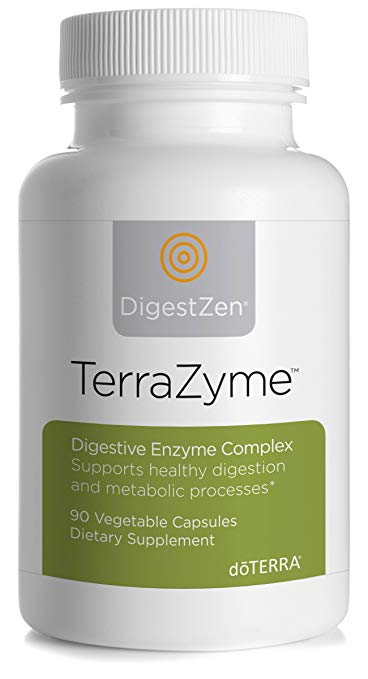 Next, we have a digestive enzyme complex. It is another supplement created by the professionals at doTERRA- a blend of whole-food enzymes and other cofactors that support good health, which is hard to find in the average everyday diet. The overall goal of this product is to support the production of enzymes that are imperative for good health.
In addition, DigestZen is also designed to help the user digest proteins, fats, complex carbohydrates, sugars, and fibers more effectively. Enzymes fall under two categories- metabolic and digestive. The metabolic type help cells carry out their functions and are found in organs, tissues, and blood. Digestive enzymes help turn food into fuel and are excreted by the liver and the pancreas.
Yet, when it comes to producing the enzymes a body needs for metabolic and digestive functions, sometimes our bodies fall short, especially if we aren't getting the proper diet. In addition to the other benefits, this product is said to support healthy digestion as well as gastrointestinal comfort and food tolerance.
Deep Blue Polyphenol Complex®
While the Deep Blue brand is typically associated with an essential oil blend created by doTERRA for soothing muscles. Keeping in line with the "calming" theme, this complex mixture of extracts was created to offer soothing support, internally, for muscle pains and other aches.
The extracts used for this version of Deep Blue include Indian frankincense, turmeric, ginger, green tea, pomegranate, and grapeseed that's all put together in a veggie cap. Indian frankincense has been used for its soothing effects by some cultures for quite a long time. Turmeric is another strong health advocate that many cultures have been turning to for ages.
Ginger, green tea, and the rest of the ingredients on this list are also powerhouses when it comes to a healthy diet. More importantly, they have all been used for their soothing properties.
PB Assist®+
The final supplement on this list focuses on the prebiotic and probiotic needs of the user's gastrointestinal tract. To maintain an overall feeling of good health, one needs a healthy GI tract, which is obtainable when prebiotics and probiotics are involved. PB Assist was created to give the taker a healthy balance of bacteria in the gut, which will lead to a well functioning digestive and immune systems.
What People Are Saying
For the most part, customers who reviewed this product were very pleased with the outcome. Some claim to have achieved mental clarity, and others said their health increased greatly. Some people found relief from their arthritis while others felt that their energy levels did increase.
As with any product, there were some negative reviews, although most had more to do with the shipping than the overall quality of the product. There was a reviewer who didn't feel their energy rise after using, and one found that they had a stomachache after taking one of the supplements, although they failed to say which one. We suggest knowing the ingredients and your reaction to each specific one before taking anything.
Conclusion
This seems to be a good purchase for anyone that is interested in trying more than one of the products on the list provided by doTERRA for the Lifelong Vitality Pack. Each of the supplements offered in this pack would be interesting to try on their own, it's no wonder that if you chose three for your specific needs that your energy levels and overall stamina would have a better chance of improving.
Several types of diets and probiotics can also help treat children with autism. You can visit this site for the best probiotics for autism.
Click Here for the Price