Coughing is a problem, especially when it gets out of control. I know that when I start on a coughing fit, I typically find myself sleeping on the sofa or trying to hold it in and not disrupt the current conversation. Unfortunately, there are so many reasons why a person might start to develop a chronic cough and sometimes we need to focus on how to treat it.
In the current climate, treating any issue naturally is considered a better route than pumping our body with synthetic remedies. Here is a list of the best essential oils for cough. We'll also discuss sore throats, which tends to come along with the territory, and how to use these extracts to obtain their fullest potential.
Best Essential Oils For Cough Comparison
What Is A Cough?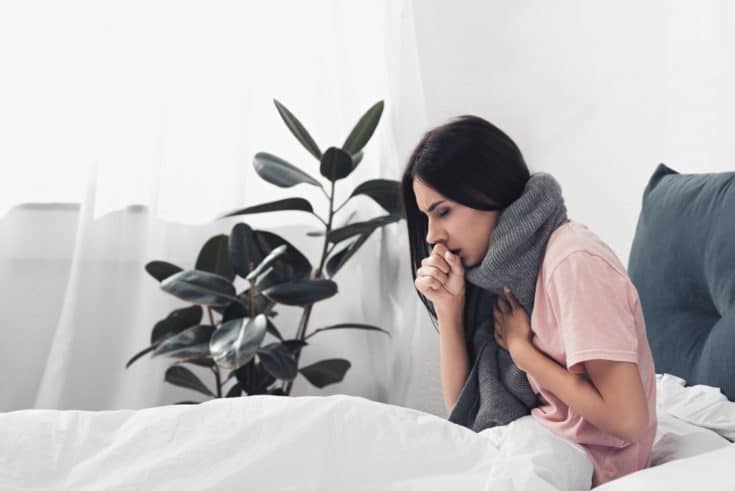 Sure, this sounds like a silly question. Maybe because on the surface it is. I don't know for a fact but I would wager every person who ever existed experienced a cough at some point in their lives. The medical term for a cough is tussis, and it is characterized as a quick expulsion of air from the lungs to clear the airways.
Phases
When it comes to coughing, it seems like a bodily function that only has one step but there are several steps to a full-on cough.
First, you inhale or breathe in
Pressure increases in the throat and lungs and the vocal cords close

Air releases in a mini explosion when the vocal cords open, which is why it makes a sound.
Types and Their Causes
There are all kinds of reasons for coughing but they have been organized under three major categories.
Acute
This type of cough will last less than three weeks. It is typically caused by the flu, common cold, sinusitis, bronchitis, pneumonia, hay fever or laryngitis.
Subacute
This type of cough lasts three to eight weeks. This occurs after the cause of the acute cough has healed.
Chronic
The third type of cough will last longer than eight weeks. Its causes include smoking, gastroesophageal reflux disease (GERD), asthma, medications like ACE inhibitors, post nasal drip from allergies or sinus infection, tuberculosis (TB), fungal infections, chronic obstructive pulmonary disease (COPD), pulmonary fibrosis, interstitial lung disease, and lung cancer.
What To Do
How you should treat your cough depends on which type you have. If you are suffering from a subacute cough then you are in the best position because the cause has been cured. If you suspect you are dealing with one of the issues that instigates a chronic or acute cough then you want to see a healthcare provider for a medical diagnosis.
If you have already been diagnosed with one of the ailments that cause either an acute or chronic cough and are currently under medical treatment, it's possible adding a natural treatment like aromatherapy can help when the coughing starts to disrupt your life.
How To Use Essential Oils For Your Cough
In the world of aromatherapy, there are three ways you can use your essential oils. They can be inhaled, applied topically, or ingested, although the latter is not typically recommended. For treating a cough, we will focus only on the first two.
Inhalation
A great way to stop your coughing when it becomes a nuisance is to put a few drops of your favorite oils in a diffuser and let the molecules fill the air you are breathing. Most diffusers require water, but there are some that do not.
You can also add a few drops of the oils into a hot shower and let the scent fill the air. This will allow the compounds to reach your lungs via the mist. Or, you can add a few drops to some boiling water and put your face over it with a towel over your head. Of course, when you apply heat to essential oils, you run the risk of damaging them so proceed carefully.
Topical
Another way essential oils can help your cough is by applying them directly to your chest so that they permeate through your skin to your lungs, which is typically the site of the problem. When you prepare to apply these volatile compounds to any area of your body, it is important that you dilute them accordingly so that you don't irritate your skin.
How To Choose The Right Oils
When it comes to selecting essential oils, there are several things you need to take into consideration. Seasoned aromatherapy practitioners might have one or more of these scents in their collection. In fact, I'd bet serious users have more than three.
Yet, for the beginner, purchasing all of these at once can be daunting so it makes sense that you might want to pick a few to start. So keep these things in mind.
What kind of scents appeal to you? Do you like florals, herbaceous smells, or coniferous? There are mints on here and citrus scents as well.
What kind of problem is causing your cough? Each of the oils on here deals with this issue in a different way so you want to make sure the oil works with your specific issue.
Do you want to create a blend? If you choose a few singles to purchase then you want to make sure the scents blend well together and enhance each other's powers.
Be aware of the risks. They aren't called volatile compound for no reason. Due to their potency, some essential oils can propose a problem to users. We will cover the specific cautions for each oil after discussing it.
Top 15 Essential Oils For Cough Reviews
Now that we have a better idea of what we are dealing with, let's look at what essential oils are best for your cough and this includes the dry type.
Bergamot
The first oil on our list is extracted from the rind of a citrus fruit that is relative to the orange. This fruit grows on a tree that is native to Europe. The aroma is sweet and it has been used in perfumes for a long time. When it comes to coughs, the good thing about bergamot is it contains camphene, which has been used to battle congestion, which causes coughing.
Additional benefits you can expect from your bottle of bergamot include comfort from depression, lowering your blood sugar, pain reduction, odor elimination, and spasm relief. Bergamot also works as a sedative, reduces fever, and promotes healthy skin.
Who Should Purchase This?
Users who appreciate sweet smells would like this oil. It's also a great choice for anyone who suffers from depression since it helps with that as well.
Cautions
This oil needs to be kept out of the sunlight and stored in dark bottles and dark spaces. If it is exposed to the sunlight, do not use it because it can become poisonous.
---
Cinnamon
Our next oil is one that is very powerful and extracted from the bark of the shrub it is grown from. Due to its strength, people tend to use the spice as opposed to the oil. But the oil is where the condensed powers lie. One study showed that the use of cinnamon may help with issues that cause respiratory problems.
It treats infections as well, which is a plus if your cough is a result of that. Cinnamon also accelerates the healing process. With it, you can control your diabetes and fight off colds, flu, and a dry sore throat.
Who Should Purchase This?
Cinnamon is a great choice for people who are fans of spicy scents and are looking for an oil that packs a punch. The non-coughing benefits that come along with cinnamon oil are numerous as well.
Cautions
This is an oil you should never ingest. When using topically, it should be thoroughly diluted with coconut oil or another carrier substance. Also, you should do a small spot test on your skin before applying everywhere. It should not be used on the face either. Our constant word of wisdom here is when in doubt, ask a medical professional.
---
Cypress
Here we have an oil that is extracted from the smaller parts of a tree that has needles as opposed to your typical leaves. It has a coniferous scent, like most oils derived from similar trees, for example, pine. Yet this oil isn't as sweet and can be a bit peppery and sour. This needle tree will not remind you of Christmas.
Cypress helps with coughs the same way bergamot does and with the camphene in its extracts. When you breathe it in, it should give you a cooling effect. It also helps the lungs run more efficiently. Other benefits you will get from this oil is stress relief, which always helps.
Who Should Purchase This?
I think this oil would be a good choice for the seasoned aromatherapy fan who is looking for something different. It would also be a wonderful selection for anyone who favors coniferous scents.
Cautions
This oil seems to be relatively safe except when you are pregnant. If you are pregnant, do not use this oil.
---
Eucalyptus
Odds are you have heard of this scent before and it keeps popping up when we compile a "best of" list of essential oils. The native populations in Australia have known for generations what we are just learning, that this oil is incredible. It has a minty smell that is also piney with a hint of sweetness.
As for how it'll treat your cough? First, it comes for the cold and flu, then it works against lung inflammation, it will relieve the muscle pain in your chest after you have a coughing fit, and it can fight the fever that is coming along with it all. It fights sinus infections and combats allergens. Eucalyptus also boosts immunity.
Who Should Purchase This?
Everyone should purchase this, in my honest opinion. If I have to narrow it down, I would suggest that anyone suffering from chronic coughing should consider this scent.
Cautions
Powerful oils come with risk and this one is no different. If you use too much you can get sick. So be sure to check with your doctor for an allergy test.
---
Frankincense
This is one of my favorite scents. I use it every day to gain focus while I'm working on these articles or other writing. It's my go-to scent for sure. It is extracted from the resin of trees found in the Horn of Africa, and it is used in religious ceremonies across many denominations due to its many healing qualities.
When it comes to your cough, frankincense is tough when it comes to respiratory issues. It has been used to soothe coughs and may even reduce the phlegm in your tracts. When you inhale it, you can relieve symptoms from bronchitis, nasal congestion, and even issues with the larynx. It also helps speed up healing and kicks stress to the curb.
Who Should Purchase This?
This is another oil I personally feel everyone should have in their drawer or cabinet. It does so much that it's worth every penny. It's a good choice for people who like musky scents.
Cautions
You should not use this oil when you are pregnant, nursing, and using certain medications. Check with your doctor if you are taking any prescriptions regularly.
---
Geranium
Extracted from the Geranium plant, this next oil is another powerhouse in the world of aromatherapy. A report published in the Complementary Medicine Research states that certain compounds in essential oils like geranium where a positive herbal treatment for coughing.
It also promotes the growth of new cells, it tones the body and the internal systems, it accelerates healing, and it works as an astringent. Geranium has the added benefits of being a perfect deodorizer, fights bacterial growth, and can reduce scars on your skin.
Who Should Purchase This?
Anyone who likes floral scents should consider purchasing this oil. Geranium has been said to resemble the fragrance of roses, and it has been used in soaps for its pleasing botanic aroma.
Cautions
This oils should not be used by women who are pregnant or breastfeeding. It is also known for heightening the senses so dilute well and use sparingly.
---
Lemon
Learning that lemons are beneficial to our health is nothing new. Lemon essential oils are extracted from the rind and go on to do a world of good for the user. When it comes to coughing, a few drops in your favorite diffuser will help soothe any respiratory issues you might be suffering, and it also fights infections in the throat.
Other benefits that come with owning a little bottle of this oil include fever reductions, burn relief, corn reduction, promotion of oral health and strong hair. It also lifts the spirits when inhaled, which is the best way to treat your cough.
Who Should Purchase This?
Fan of citrus scents should consider adding this oil to the compilation of aromatherapy scents. It is also a good selection if your cough has turned your mood a bit sour. Pun intended.
Cautions
Citrus oils tend to be phototoxic, which means you shouldn't go out into the sun after applying them to your skin. Lemon oil is no exception. Also, be sure to dilute it well if you are applying it topically. When in doubt, ask your healthcare professional.
---
Nutmeg
Next, we have a scent that is synonymous with the holiday season, although the oils can be used year round, especially when you are suffering from a respiratory issue. Speaking of that, this is the third oil on our list that contains camphene, the compound we referenced when talking about bergamot and cypress.
Certain derivatives of nutmeg oil have been added to over-the-counter treatments due to its relieving powers for respiratory issues. Additional benefits that come along with nutmeg is the ability to treat indigestion, a boost in blood circulation, and oral pain relief.
Who Should Purchase This?
This oil is the perfect choice for chronic sufferers of respiratory disorders. It has a nice warm scent that is a bit sweet and rich when inhaled.
Cautions
This oil can be dangerous if overused. It is important to speak to a medical professional before using. It can cause hallucinations and other mental side effects.
---
Oregano
If you are a fan of Mediterranean food then you are more than familiar with this herb. Used in salads and many main courses, including pizzas and oregano, it makes certain dishes taste better. As an oil treating your midnight hacking, oregano goes right for the respiratory system.
When you breathe it in, there should be a loosening of phlegm that will free up your airways, which is causing the issue. It also fights inflammations and infections, which are typically at the root of the problem. It also works as a pain reducer.
Who Should Purchase This?
People who are fans of herbaceous scents would love this oil. It is a good choice for someone who is looking for an interesting addition to what oils they already own.
Cautions
This is a relatively safe oil, although we always recommend not to ingest them without speaking to a healthcare professional and dilute it well when applying topically.
---
Peppermint
The next oil on our list is robust when it comes to aiding our overall health. When it comes to certain issues pertaining to the subject at hand, peppermint oil is no slouch. It's been used as a preventative treatment for allergies and sinus issues. When it comes to your cough, a few drops in a running hot shower can bring relief for a good night's sleep.
Added assets you can receive from your purchase of peppermint oil include a burst in energy, headache relief, hair growth, promotion of skin health, and reduction in fever. It also helps with acne and can suppress your appetite if needed.
Who Should Purchase This?
Fan of minty scents should consider this oil. It has a wealth of benefits and can come to your aid year round. It also blends well with other oils.
Cautions
Peppermint is an oil you need to be careful with. First, it should never be ingested directly in its concentrated form. If you are applying topically, make sure to dilute it well with jojoba or another good carrier substance like sweet almond.
---
Rosemary
This herb is associated with several culinary masterpieces, but when it comes to the oils extracted from it, all bets are off. Rosemary treats allergies, colds, sore throats, and the flu. It fights infections that settle into our respiratory system, and it has even been used to treat asthma.
That's not where the benefits stop. It detoxes, helps keep the hair healthy, works as a pain reliever, deodorizes, boosts the immunity, and promotes oral health. Rosemary oil also helps relieve stress and is used as a digestive aid.
Who Should Purchase This?
Anyone who is looking for an oil that will bring a lot to the table should buy this oil. It has so many health benefits you'll be using it for years to come for a myriad of issues.
Cautions
Rosemary oil has caused allergic reactions in some people so you should do a spot test or consult your healthcare professional before using it. Women who are pregnant or breastfeeding should not use this oil.
---
Tea Tree
I don't know about you but every time I look at a list of powerful oils there are always a few that are extracted from trees native to Australia, which is the case with tea tree oil. Studies have shown that Melaleuca, which is another name for tea tree, inhibits certain bacterias from growing and infecting the respiratory system.
It also works as an antiseptic, antivirus, antimicrobial, and fights certain types of infections. Added benefits include controlling acne, repelling insects, and it also works as a stimulant.
Who Should Purchase This?
Serious aromatherapy practitioners should already have a bottle of this in their collection. It has a strong smell that isn't pleasing to some people, but it has strong compounds that have been used to treat health issues for years.
Cautions
Due to the power in this oil, you have to be careful when using it. It can cause some side effects like skin irritation, rashes, and even vomiting. You should speak to a professional if you are under medical treatments, and it shouldn't be used by pregnant or breastfeeding women or young boys.
---
Thyme
This scent is the last single on our list, which means it is derived from one pure batch of essential oils. Thyme is an herb that is also used in several dishes, but the oils are extracted from the flowers and the leaves of the plant it is grown from. It has powerful agents that can kill the bacteria responsible for respiratory infections.
Thyme also works as a bechic, which a cough suppressant and gives the immune system a boost. Added benefits include skin care health, stops spasms, eases anxiety and stimulates energy.
Who Should Purchase This?
If you are a fan of herbaceous scents, this is another good selection. It comes with so much power that can enhance any homemade blend.
Cautions
If you are a sufferer of high blood pressure, you should avoid using this oil or talk to your doctor first. It can cause allergic reactions, so you should be aware of that.
---
Breathe Easier
Here we have a blend that was created by Edens Garden, a top supplier of essential oils. Blends are different than the single oils we've already talked about in that they are a combination of several scents combined for one purpose. In this case, it's to help the user breath easier.
When you consider the mix of oils the creators at Edens Garden put together for this blend, it's no surprise it works on a cough. Breath Easier is a combination of lemon, peppermint, eucalyptus, and Moroccan Rosemary. All of these have been listed in our singles section of this article with their individual benefits.
Who Should Purchase This?
Blends are great for people who aren't interested or just don't have the time to create combinations of their own. They are also good for beginners who might be apprehensive of creating a blend just yet.
Cautions
Edens Garden recommends that if you are nursing, pregnant, or under the care of a physician, you should consult your doctor before using this oil. Also, if you find that your skin is sensitive to it, stop using it immediately. Do not use around your eyes. Do not use undiluted on your skin. If the skin is broken or you have abrasions do not apply this oil on that area. Do not ingest this oil. After application, do not expose the skin to the sun for twelve hours.
---
Respir Aid
This final oil on our list is a powerful blend created by the good people at Plant Therapy. It contains eucalyptus, pine, peppermint, lavender, spruce, cypress, and marjoram. We've seen a few of these already on our list but the others we have not so let's take a quick look.
Adding these to the already powerful group of scent in this blend just adds to the overall benefits when it comes to coughing.
Who Should Purchase This?
Respir Aid is another good selection for someone who is looking to purchase one bottle as opposed to several scents and creating their own blend.
Cautions
Each of these oils comes with its own set of cautions so I would speak to a medical professional if you are pregnant, nursing, under medical care, or recently had surgery before using this oil. Make sure to dilute it well and do not ingest it. Do not use it on your children and keep it out of their reach.
---
Conclusion
Aromatherapy has been used for centuries as a healing device for so many human ailments, long before synthetic drugs were invented. While we always suggest seeing a doctor if you feel your symptoms are serious and following their instructions, adding natural treatments to your healthcare regimen will only enhance your healing opportunities.
If you found this article helpful, please let us know in the comments section below. If you know someone who can benefit from this information, please pass it along. We all need to help each other achieve a better mind, body, and soul.