One of your household's major yearly expenses is with cleaning products. We have gotten used to having one chemical solution for every particular situation, we end up buying 15 different bottles with mixtures for this, and that, and the other. But what if we told you it's actually super easy to make your own cleaning solutions using just a bunch of essential oils and some ingredients that are found inside the house?
As it turns out, are not just good for aromatherapy, but they can be quite amazing even as ingredients for homemade cleaning products with essential oils. We thought we'd share some of the most interesting cleaner recipes we found, which are all super easy to make, not to mention very useful to have.
Essential Oils for Cleaning Recipes
Easy Soft Scrub
You'd be amazed at how many useful cleaning concoctions you could whip up with stuff that's already lying around the kitchen. One or two will suffice, and here's an example of that.
Ingredients:
Directions:
To make your own soft scrub, mix water, baking soda, and drops of wild orange, peppermint, or lemon. The result is a paste that you can easily store in a sealed glass jar and use it time and time again.
Toilet Cleaner
Cleaning the toilet bowl may be nasty, but don't you just love that fresh smell of the bathroom immediately after? We have an easy recipe for just that.
Ingredients:
1-2 drops tea tree or

lemon oil

Water

Baking soda
Directions:
Now you can make your own scented toilet cleaner, by mixing a couple of drops of tea tree or lemon oil with some baking soda, directly inside the toilet bowl. These are great essential oils for cleaning the bathroom. You can use a brush to scrub the surface, and then use the All-Purpose House Cleaner (recipe below) as a final touch.
All-Purpose House Cleaner
Nothing beats like having a house cleaning solution in the scent of your choice. To whip up a batch of this essential oil cleaning spray recipe, you'll need an empty glass spray bottle, with a capacity of 16 oz.
Ingredients:
¼ cup

white vinegar

1 ¾ cups water

30 drops essential oil combinations
Combo 1
15 drops Lavender oil
15 drops Lemon oil
Combo 2
10 drops eucalyptus oil
10 drops peppermint oil
10 drops wild orange oil
Combo 3
15 drops grapefruit oil
15 drops lavender oil
Combo 4
30 drops Protective Blend
Directions:
Mix vinegar and water in the bottle. Then add 30 drops of essential oils with the suggested combinations.
Fresh Mint Window & Mirror Cleaner
Nobody likes a stained window, as it makes the entire room look dirty even if you've just cleaned it. With this simple mix, you can have a minty freshness that people crave in their room, while also making the windows spotless.
Ingredients:
20 drops peppermint or spearmint

3 cups distilled water

1/4 cup rubbing alcohol or vodka

1/4 cup vinegar
Directions:
You'll need a quart-sized bottle with a spray nozzle and the ingredients above. Mix these all together and spray them on your windows and mirrors, and wipe them off using newspapers.
Lemon Carpet Refresher
Who doesn't love the smell of a fresh carpet, especially when the scent is all lemony and clean? With this recipe, you can achieve just that.
Ingredients:
30 drops lemon

1 cup baking soda
Directions:
Put the two ingredients in a container that can be sealed tightly with a lid. Shake the mixture and leave it to sit for about eight hours. Then, you're free to use this mixture on a smelly carpet, but make sure it sits overnight. Vacuum the next day and enjoy the smell of freshness.
Goo & Crayon Remover
Who knew that you can actually make goo remover by using essential oils? You just need two ingredients to make it.
Ingredients:
1-2 tbsp almond or coconut oil

Lemon oil
Directions:
Simply place the mixture of the ingredients to whatever you're looking to get rid of (gum, crayon marks, goo, glue, etc.), use your fingers to rub the mix, and use a clean rag to wipe away what's left.
Tea Tree Cleaning Wipes
Cleaning wipes have become a must-have in most households, as they are super easy to use and efficient whenever something needs a quick wipe. To make your own tea tree cleaning wipes, you will need the items below.
Ingredients & Materials:
1 roll premium paper towels

2 cups warm distilled water

15 drops tea tree

1 tbsp castile soap

Airtight container or

gallon ziplock bag
Directions:
Grab a small bowl and mix the distilled water with castile soap and tea tree oil.

Cut the paper roll in half and leave the other for later. Take the half you want to use in this batch and place them inside a sealable container. Pour the mixture you made prior over the towels, making sure they are left to soak for about ten minutes.

Flip the container and leave the towels to soak for another ten minutes and then throw away the center tubing of the roll

Make sure you seal the container at all times once you decide you use it.
Pine Floor Cleaner
One of the best things about cleaning the house is that awesome fragrance that just floats around every room. When thinking about floors, we normally associate their cleanliness with a scent of pine, and that's where this recipe comes in.
Ingredients:
1 gallon water

2 tbsp

castile

soap

15 drops white fir essential oil

5 drop lemon essential oil
Directions:
Grab a clean mop bucket and fill it with a gallon of water, then add the essential oils and castile soap. Mop and let dry. The best part of it all? No rinsing required!
Simple Furniture Polish
Since furniture polishing is only required once every couple of months, why buy a solution that could expire, when you could just whip up your own batch? Check out this simple DIY to polish your wooden furniture.
Ingredients & Materials:
¼ cup olive oil

5 drops lemon
Directions:
Combine all the ingredients in the bottle.

Shake, spray on a cloth, wipe, and enjoy the shine. Simple as that!
Stain Remover Spray Recipe for Clothes
How many of you have stained your favorite piece of clothing and found it terribly difficult to find a proper stain remover? Don't fret, you can now make your own solution with this recipe.
Ingredients & Materials:
Directions:
Gather and combine all the ingredients in the spray bottle. Shake the solution and spray them generously on the stain. Make sure you rub the fabric so that the stain can be removed. The sooner you apply this solution to the stain, the better the odds or removing it for good. Remember to allow the stain to soak before putting the cloth in the washing machine.
Garbage Disposal Cleaning Bombs
Garbage disposals need cleaning too, so let's check out how easy it is to create your own cleaning bombs!
Ingredients:
2 cups baking soda

1 cup salt

1/2 cup water

1/4 cup liquid castile soap

15 drops orange

15 drops peppermint
Directions:
You will need a bowl, where you'll be mixing salt and baking soda.

Over this mixture, add peppermint and orange oils, plus the liquid castile soap.

Mix all of these together and then slowly add water until you reach a mixture that has the consistency of damp sand.

If the mixture is too wet, you can always add more baking soda, but if it's too dry, feel free to add some more water. You want the correct consistency, as you'll have to mold this mixture into balls, by using either your hands or a tablespoon.

When formed, place them on wax paper and leave them to harden for about a full day.
Essential Oil Cleaning Recipe for Sinks
Sinks can be a real hassle to clean, especially after having scrubbed so many pots and dishes. Luckily, we have a simple solution that anyone can make with a handful of ingredients found around the house.
Ingredients:
¼ cup vinegar

5 drops lemon

1 oz

witch hazel

Baking soda
Directions:
Use a glass spray bottle and add vinegar, witch hazel, and the lemon essential oil together.

Shake the bottle and then spray the mixture all over the sink.

Grab some baking soda and sprinkle it over the mixture. Scrub the entire surface of the sink, and then rinse it clean. Shiny, isn't it?
Sippy Cup Odors
With just two ingredients, you can remove any nasty odors formed inside the sippy cup. Try this recipe to remove those nasty odors.
Ingredients:
½ cup vinegar

3 drops lemon essential oil
Directions:
Put half a cup of vinegar inside the sippy cup and then add three drops of lemon oil. Fill the rest of the cup with water, shake the mixture, and allow it to sit until the next day. After having done so, rinse the cup and wash it clean.
Essential Oil Cleaning Spray Recipe
Yoga Mat/Workout Cleaner
Needless to say, yoga mats can get really dirty, especially during summer workouts, when we tend to massively sweat. And even if you don't, it's still lying on the floor most of the time, so it requires frequent cleaning. Try this quick recipe to make your own yoga mat cleaner.
Ingredients:
3 drops tea tree

5 drops lavender

⅛ cup witch hazel

¾ cup water
Directions:
Simply combine the ingredients in an 8-oz spray bottle and spray them on the surface of the mat. A word of caution: make sure that you test the mixture on a hidden corner of the mat so that you can test if it reacts to the mat and won't damage it.
Air Freshener
Here is another useful recipe that will create an air freshener ten times healthier than what you normally buy in a supermarket. Not only that, but it also disinfects the area where it is applied. Try out the different essential oil combinations in this recipe.
Ingredients:
Distilled water

Essential oils (Choose from our sample blends)
Combo 1
7 drops wild orange
7 drops grapefruit
7 drops lemon
Combo 2
15 drops wild orange
15 drops peppermint
Combo 3
10 drops cedarwood
10 drops sandalwood
Combo 4
10 drops bergamot
10 drops lavender
5 drops ylang-ylang
Directions:
Add essential oils in an eight-ounce glass spray bottle and top off this off with distilled water. Shake well and spray around the room. Of course, you can diversify the ingredient to obtain the fragrance you most like.
Daily Shower Spray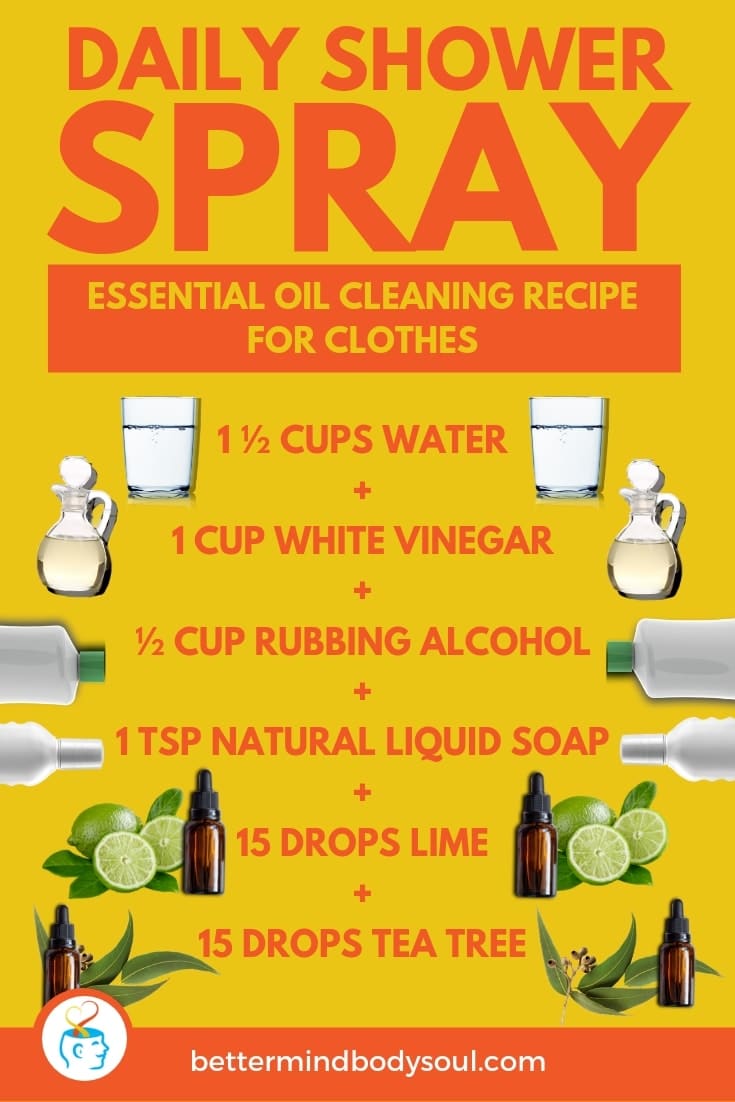 Taking daily showers is both a summer and a winter habit for a lot of people, but regardless of how relaxing the shower is, cleaning it afterward is nothing to look forward to. Thankfully, you can now make your own daily shower cleaner, simply by mixing the ingredients below.
Ingredients:
1 ½ cups water

1 cup white vinegar

½ cup rubbing alcohol

1 tsp

natural liquid soap

15 drops lime

15 drops tea tree
Directions:
Combine all the ingredients in a spray bottle. Make sure the bottle can fit the entire quantity of mixture, and then spray the walls and door of your shower at the end of each day. Not only does it smell nice, but it can also prevent build-up.
Fresh Linen Spray
Yes, there is such a thing as a linen spray. And yes, you can use it on your bedroom sheets, linens, pillowcases, duvet covers, etc. Whip up your own linen spray with this recipe.
Ingredients:
¼ cup distilled water

3 tbsp witch hazel or vodka

20 drops lavender

15 drops frankincense
Directions:
Combine all the ingredients in a spray bottle. Now season your sheets and enjoy!
Dusting Spray
A dusting spray is yet another amazing cleaning product that you can make just by using a few home ingredients. Make your own with this recipe.
Ingredients:
1 teaspoon olive oil

3 tablespoons white vinegar

10 drops white fir or lemon essential oil

3/4 cups distilled water
Directions:
Grab an 8-oz spray bottle and thoroughly mix all the oils and vinegar.

After having combined all these ingredients, add the distilled water.

Give a final shake, spray the mixture onto a microfiber cloth, and dust your way to clean town!
Refrigerator & Microwave Cleaner
Both your refrigerator and your microwave can develop food-specific smells, which get nasty in time and requires taking care of. When you do smell the nasty stuff, you'll need to get rid of those using our simple recipe.
Ingredients:
1/4 cup white vinegar

3/4 cup hot water

5 drops lemon oil

8 oz glass spray bottle
Directions:
On an eight-ounce spray bottle, mix in the lemon oil, white vinegar, and hot water, and then spray the mixture inside your microwave or your fridge. Scrub and clean using a damp cloth.
Another popular method of cleaning the microwave is by heating a cup/bowl which contains three drops of lemon oil. After heating for four minutes, leave it another five, so that the steam can really melt down that grease and food residue. Grab a clean cloth and wipe down the microwave.
Mold & Mildew Cleaner
Not only is mold and mildew unappealing, but it also poses a health hazard for you and a damage risk for your home. That's why you really need to rid of those with the help of an all-natural cleaner.
Ingredients:
5 drops tea tree oil

5 drops

lavender essential oil

5 drops orange essential oil

5 drops of eucalyptus essential oil

1 teaspoon

borax

2/3 cup white vinegar

1/4 cup distilled water
Directions:
Mix all the ingredients above in an 8-oz spray bottle.

Apply the solution on the affected area.

Let it soak for about 15 minutes, then use a damp microfiber cloth to wipe the surface.
Find more mold cleaning solution ideas here.
Bed Bug Mattress Spray
Bed bugs are a nuisance and one that affects a great deal of household, especially in Northern America. But getting rid of them is the true challenge. This DIY organic bug spray might just do the trick.
Ingredients:
1/2 cup vodka

1/2 cup distilled water

8 drops lavender essential oil

4 drops peppermint essential oil

4 drops tea tree oil

4 drops

eucalyptus oil
Directions:
In an 8-oz spray bottle, combine all the ingredients mentioned above. After mixing everything together, spray the mattress and leave it to air dry.
Homemade Cleaning Products with Essential Oils
Homemade All-Purpose Surface Cleaner
All-purpose surface cleaners are awesome because all it takes is one solution for so many cleaning-related needs! Make one with this easy-to-make recipe.
Ingredients:
3/4 cups distilled water

2 tablespoons white vinegar

15 drops lavender essential oil

15 drops orange essential oil
Directions:
Mix all the ingredients in an 8-oz spray container

After which, simply shake, spray, and wipe.
Homemade Citrus Dish Soap
We love dish soap because it leaves such a pleasant scent on our dishes, our skin, and the kitchen. But if you've ever wanted to try to make your own dish soap and felt intimidated by the idea, follow this recipe and notice how simple it actually is.
Ingredients:
3/4 cup liquid castile soap

2 teaspoons vegetable glycerin

1 1/2 teaspoons baking soda

10 drops lemon essential oil

5 drops orange essential oil

5 drops tea tree essential oil
Directions:
Grab a clean bowl and mix all the mentioned ingredients. Find an 8-oz bottle with a pump and pour the mixture inside, and then use it either in the dish water or on your sponge/washcloth.
Bottom Line
According to professionals Fantastic Cleaners, more often than not, some stains are left untackled for too long, and only professional-grade techniques, such as hot-water extraction or dry-chem treatments have the power to help.
As you can see, you can make a solution of just about anything, as long as you have the right essential oils and some empty glass spray bottles. The best part about making these mixtures is that they are natural and don't contain any questionable chemicals that you'd otherwise work with only with a pair of rubber gloves.
Have you ever tried making your own homemade cleaning recipe? If so, what ingredients/essential oils did you use? And was it useful? Let us know in the comment section below.