When experiencing 'pain' of any type, you may feel that you would do anything to alleviate it. Most of the time, over-the-counter and prescription medications should only be used sparingly as they can take a toll on your internal organs and even create dependencies.  Modern medicine is a wonderful thing but should always be approached with knowledge and awareness of their uses.
Essential oils can aid in the alleviation of pain through a variety of applications. Whether you suffer from a slight injury or a more chronic condition, there are many uses you may want to consider. If you are taking any other medication, always be sure to check with your medical provider to just ensure there are no expected reactions between the two. The following highlights 21 essential oil pain relief recipes to help you feel like new.
​Essential Oil Pain Relief Recipes
Pain can be debilitating and cause added stress and anxiety to your day. It interrupts our concentration, our rest, and can make us downright irritable. Although there are many solutions to aid in the worst of your pain through your healthcare provider and over-the-counter products, essential oils are often very
helpful to use either with or as a stand-alone solution to pain relief for homemade solutions. Always be sure to check for skin sensitivities with your healthcare provider, pertaining to interactions with other topical solutions you may be using.
General Aches and Pains
Unfortunately, pain is often a part of your life at some point whether you like it or not. Sunburns, headaches, earaches, bumps, and bruises all occur despite our best attempts to avoid them. There are certain oils that are better than others at helping to provide relief from the worst of your discomfort so you can go about your day (and night).
Ingredients:
Directions:
Mix well together and apply to areas that ache or are painful with gentle massage.
ACHES, PAIN, and RHEUMATISM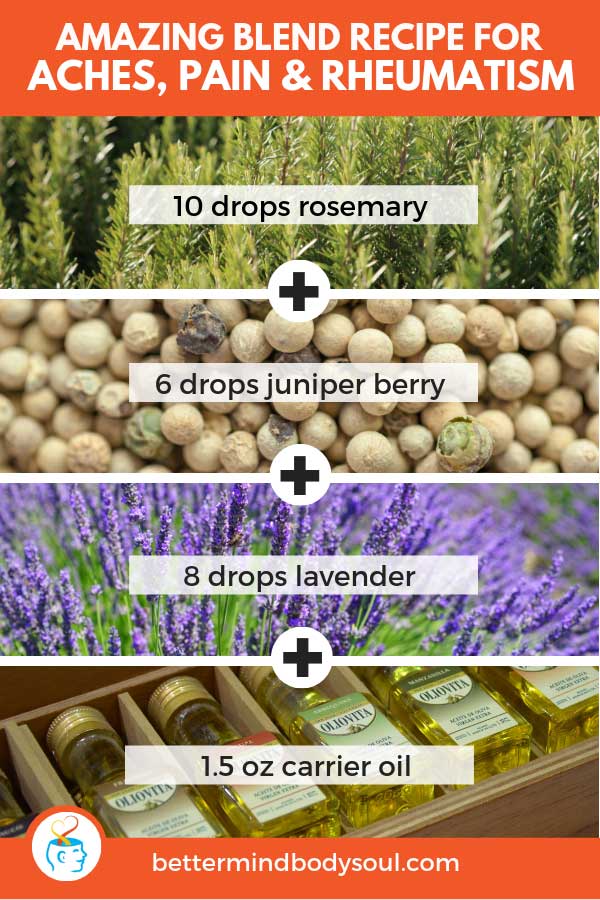 Aromatherapy is a practice that goes back centuries. Pleasant smells do so much more than provide a pleasant atmosphere, they can be stimulating to your senses, and actually, help alleviate pain when used in this manner. Typically, oils can be diffused, and when certain ones are blended into a carrier oil, it can work in both a mental and physical manner when massaged into your sore spots.
Ingredients:
Directions:
Mix well together and apply where needed.
ACHES & PAINS RUB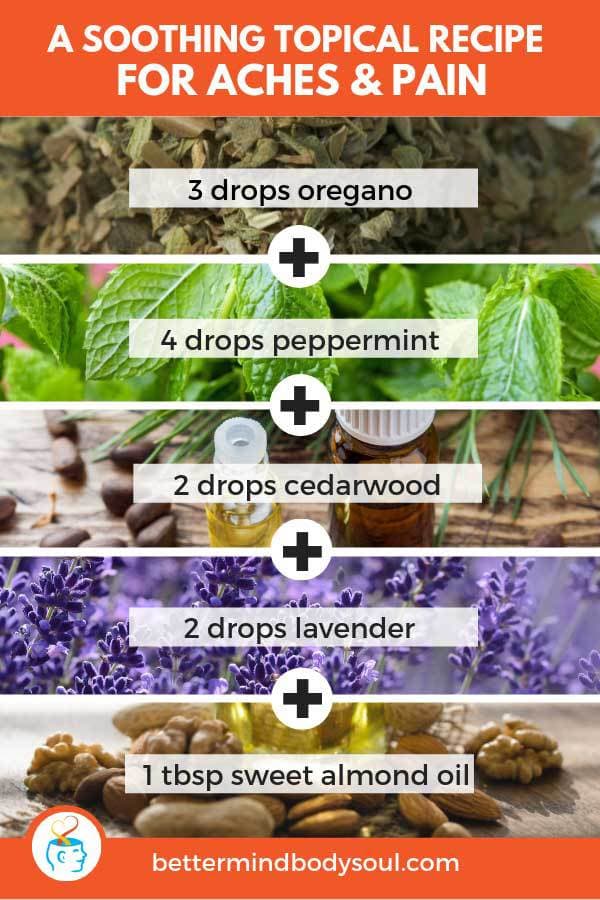 Both the mental and physical stimulation of this particular blend for rubbing help relaxes your muscles and provides a deep warmth for increased blood flow and healing. Many essential oils are excellent choices for topical application (always be sure to test for sensitivities) for the relief of pain, plus they leave your skin feeling smooth and elastic afterward.
Ingredients:
1 Tablespoon

sweet almond oil

3 drops Oregano
4 drops Peppermint
2 drops Cedarwood
2 drops Lavender
Directions:
Mix well and apply topically to where needed with gentle massage.
​Massage Oil for Sprain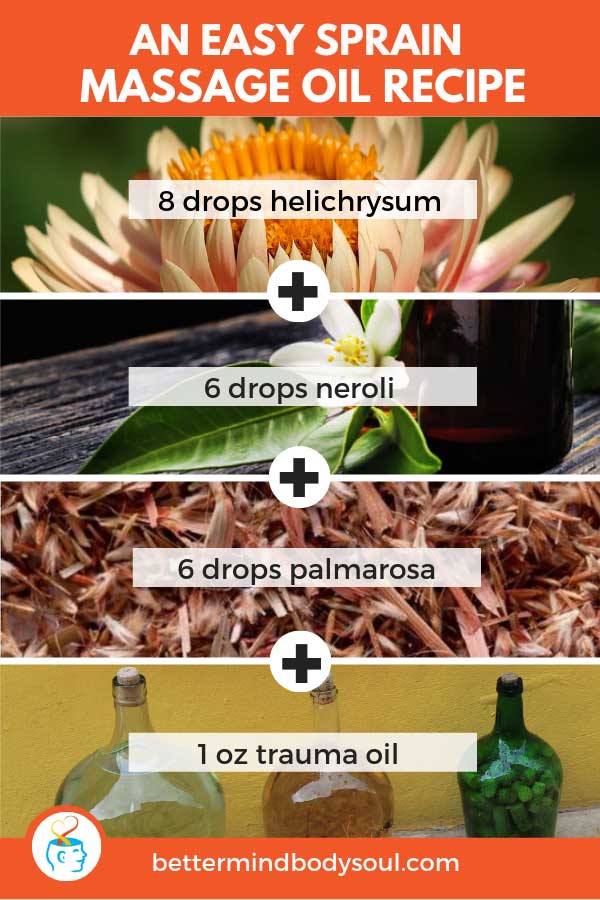 Nothing is worse than stepping or turning the wrong way and causing a sprain to various parts of your body. These take time to heal, but luckily you can help support that process and provide some pain and inflammation relief through the use of a blend made for muscle sprains and pain.
Ingredients:
Directions:
Mix well and massage into afflicted area gently as often as needed.
​General Inflammation and Pain Relief Blend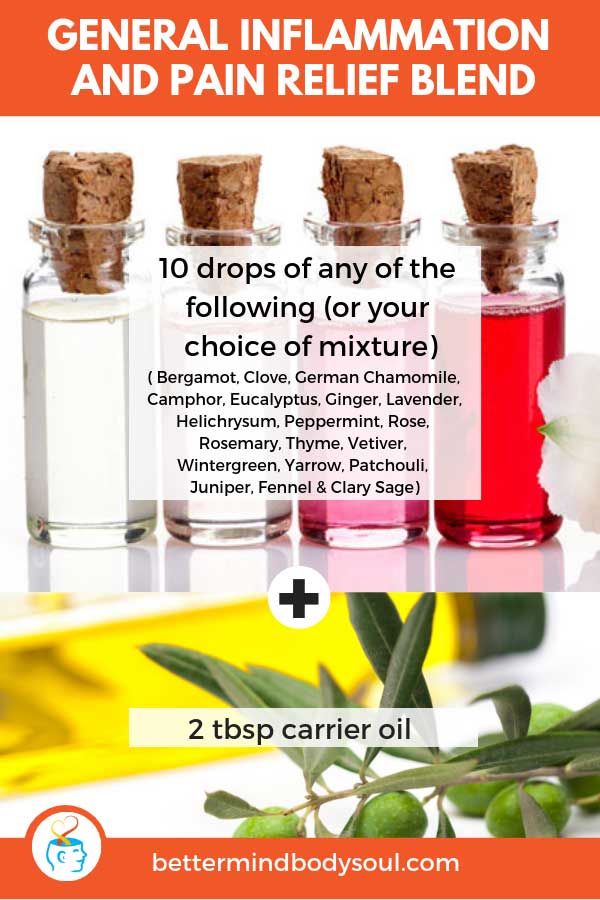 Most pain is caused by an inflammation of some sort. Luckily, there are many oils that have anti-inflammatory properties that can be used both topically and internally. Some of the best results come from certain blends that you can create soothing massage applications from.
Ingredients:
2 Tablespoon of carrier oil10 drops of any of the following (or your choice of mixture):

Bergamot
Ginger
Lavender
Helichrysum
Peppermint
Rosemary
Thyme
Wintergreen
Juniper
Directions:
After mixing, rub gently into afflicted areas and allow to soak in well. Apply as needed.
​Earache Roller Blend Recipe
The pain of an earache can be debilitating. The radiating pain from one can feel as if your whole jaw and the side of your head is part of the pulsing pain. Not much can help relieve the pressure and discomfort either until a doctor steps in. Luckily, you can get through the night with the use of a few helpful oils to reduce pain and provide some comfort until the symptoms subside, or you get some help.
Ingredients:
7 drops lavender
6 drops

eucalyptus radiata

5 drops juniper
An equal amount of trauma oil to your drops of essential oil
Directions:
Mix well into a roller bottle and apply behind ear along the pressure points and down the neck below the ear.
​Pain Away Roll-On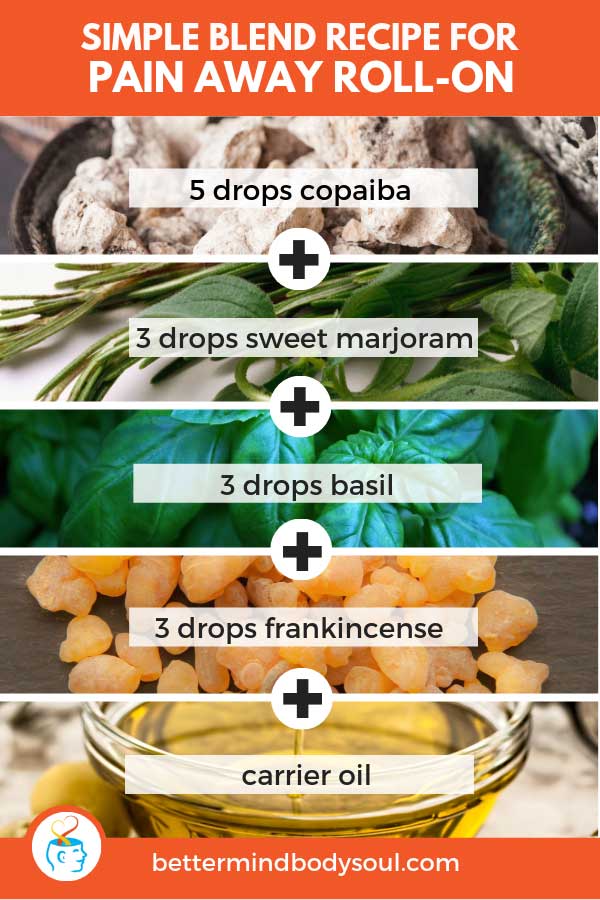 Making your own DIY rollers are a great way to add in essential oil use to your regular self-care routine. They are easy to take along with you wherever you go and can be personalized to help you address any pain issues, or otherwise, that you may be experiencing.
Ingredients:
Directions:
Use a 10 ml roller bottle and fill the rest with a carrier oil, such as jojoba or fractionated coconut oil. Apply as needed to areas of pain.
​Wintergreen and Peppermint Blend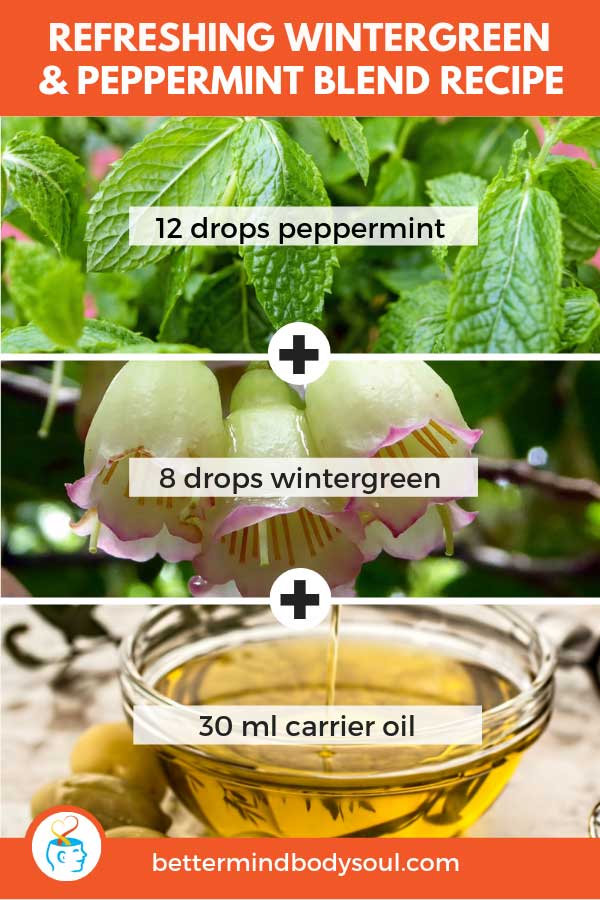 If your pain is rooted in an inflammation, then you need to address this specifically in order to find any relief. This is why many over-the-counter pain medications include anti-inflammatories. If you are looking for a more natural answer or further your relief through a site application, then you may want to consider those oils known for their strong anti-inflammatory properties.
Ingredients:
12 drops peppermint oil
8 drops wintergreen oil
30 ml of carrier oil of your choice
Directions:
Mix well and apply up to 3 times a day for relief. You can also add it to a roller bottle for faster access.
​Using Essential Oils for Premenstrual and Menstrual Pains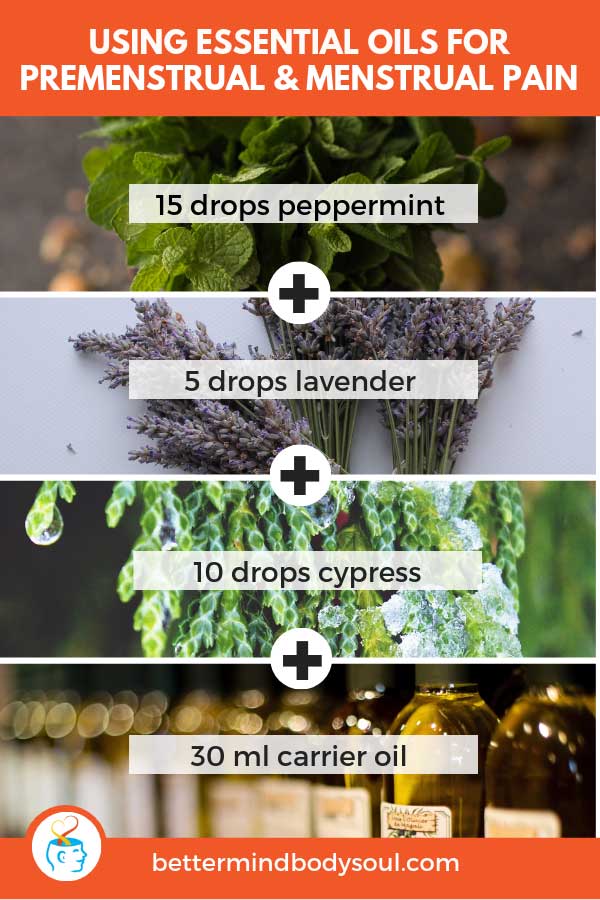 Women who suffer from period discomfort know that they would do just about anything to relieve the worst of their pain to be able to go about their day like normal. Even though it may only last a few days, for some women these are painful and uncomfortable. Even if you are only mildly discomforted, there are pain management solutions through the use of certain oils.
Ingredients:
15 drops peppermint
5 drops lavender
10 drops

cypress
Directions:
Mix into 30ml carrier oil of your choice and massage gently into your abdomen, using small circular motions.
​Natural Pain Relief Massage Oil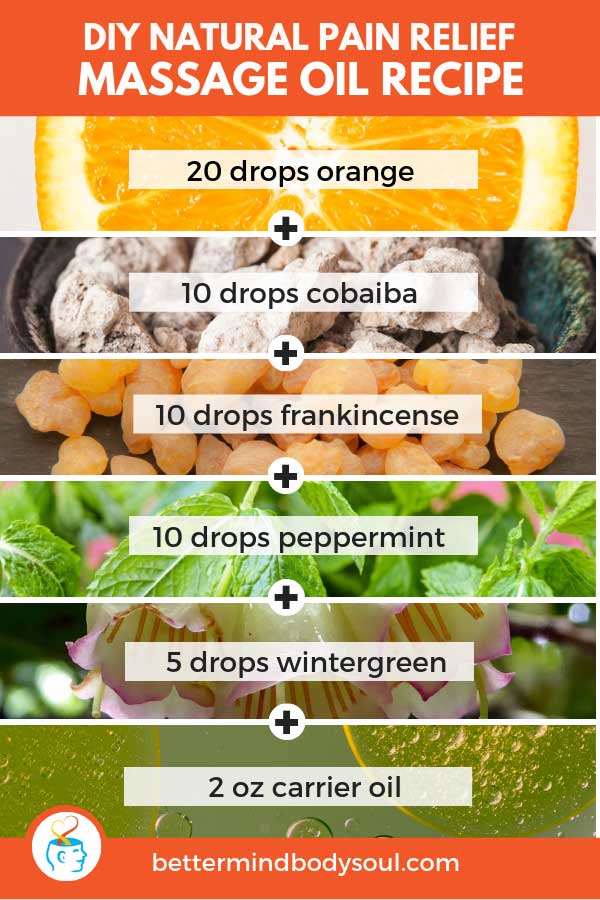 How to make your own massage oils for pain is a commonly sought after answer, but luckily, it is incredibly easy and not at all time-consuming. All you need are the correct essential oils, a carrier, and you are good to go. Massage is a great way to warm and loosen muscles, and when used with oils, it helps create ease in your deep tissue discomfort. Essential oil recipes for muscle pain are a great way to find relief.
Ingredients:
2 oz carrier oil of choice
20 drops

orange

10 drops copaiba
10 drops frankincense
10 drops peppermint
5 drops wintergreen
Directions:
Mix well and massage into sore muscles twice a day if needed.
Essential Oil Pain Relief Recipe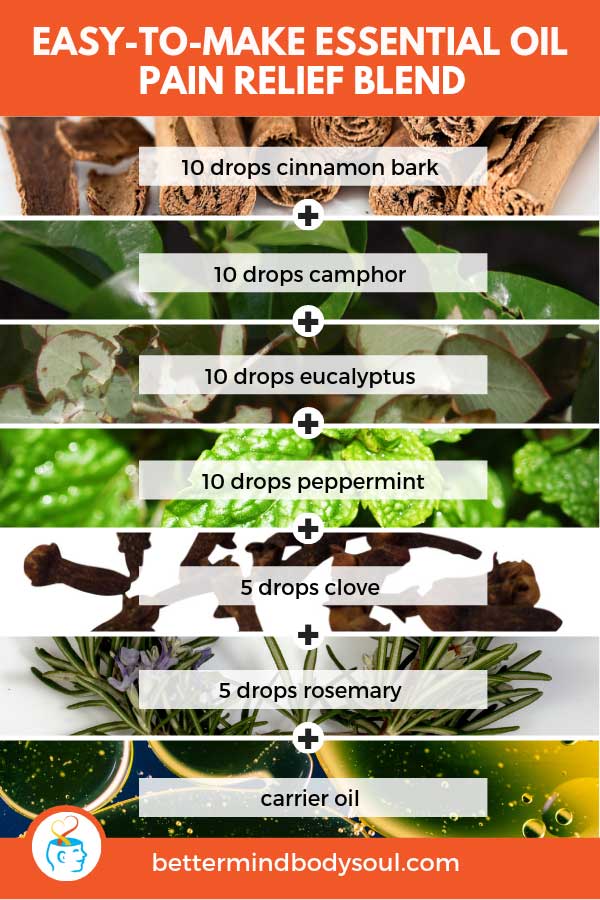 Essential oil recipes for joint pain are very similar to massage blends and use anti-inflammatory choices to help sooth conditions such as arthritis. Occasionally, oils may be mixed into your creams that you may already use if your healthcare provider approves it, otherwise, use a carrier oil.
Ingredients:
10 drops

cinnamon bark

10 drops camphor
10 drops eucalyptus
10 drops peppermint
5 drops clove
5 drops rosemary
Directions:
Mix above with a carrier oil in a 30 ml bottle (1-ounce dropper bottle). Apply as needed.
​Pain Relief Therapeutic Massage Oil Recipe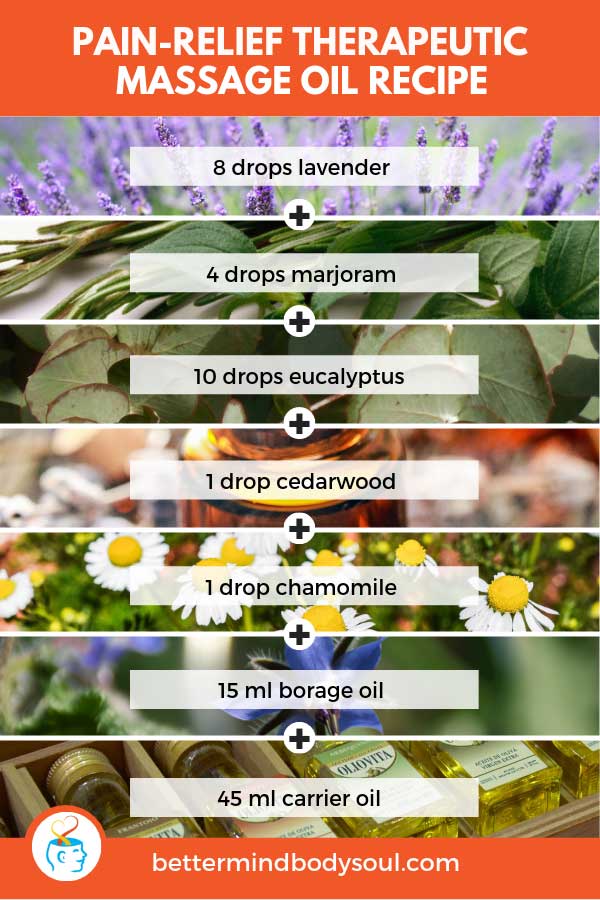 As mentioned, massage is very therapeutic to help warm soft tissues and relieve tensions. Oils not only provide a way to move your hands over the afflicted area more easily, it also helps treat your pain symptoms and can even promote healing in certain cases.
Ingredients:
Directions:
Mix well and store for at least 24 hours before use. Be sure to mix before each use, and apply as needed.
​Homemade Pain Relieving Cream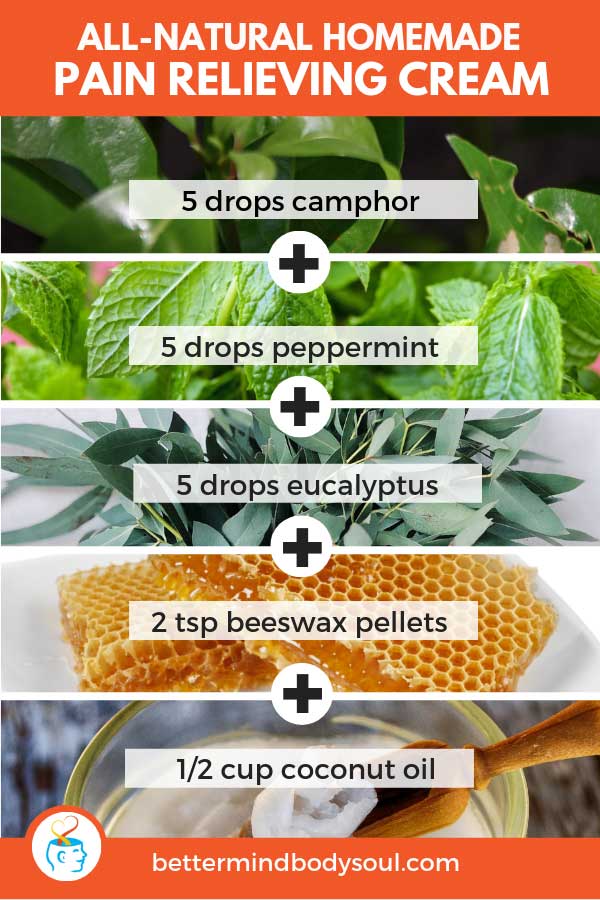 If carrier oils are not your favorite way to apply essential oils to your body, then you may want to consider making a homemade cream for application. Creams are easy to apply and smooth over skin and leave behind very little in the way of waste.
Ingredients:
1/2 cup coconut oil
2 tsp

beeswax pellets

5 drops camphor
5 drops peppermint
5 drops eucalyptus radiata
Directions:
Melt the coconut and beeswax together in a double boiler, allow to cool slightly and add your oils. Stir well and pour into a jar to cool and solidify. Apply as needed.
Inflammation Relief Blend
Treating inflammation is a great way towards relieving the worst of your discomfort and pain associated with many different inflictions. Although there are many oils that work as an anti-inflammatory, there are some that work better than others for some serious relief.
Ingredients:
10 drops lavender
5 drops rosemary
5 drops eucalyptus
5 drops

birch

3 drops peppermint
10 ml Carrier oil of your choice
Directions:
In a roller bottle, mix the ingredients and apply to affected areas as needed.
​Headache Relief Roller Blend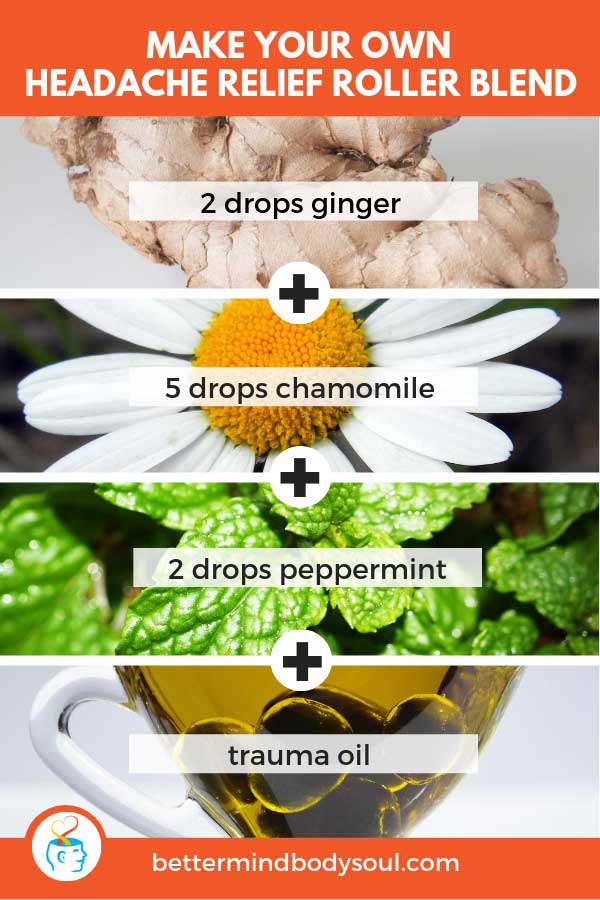 A headache can ruin your day. Headaches can come in various forms and effect you in many different ways. But no matter how you spin it, they aren't comfortable and interrupt everything you wanted to get done. Oils can make headway on even some of your worst pain and provide you temporary relief until you can get treatment.
Ingredients:
trauma oil
2 drops ginger
2 drops Roman chamomile
2 drops peppermint
Directions:
Mix in a 10 ml roller bottle and apply to your temples and base of the skull along your neck.
​Essential Oil Recipes For Muscle Pain
Although many of the above recipes are helpful for muscle pain and soft tissue inflammation, the following recipes are specific for muscle pain. Whether you have tires and sore muscles, are recovering from a strenuous workout, have had an injury, or are just plain hurting and sore from life- the following can not only work towards relieving you of the worst of your discomfort but also aid in healing. Some companies even have there own premade muscle pain blends. Young Living, for example, offers PanAway– a unique blend of anti-inflammatory oils for both muscle relaxation and aromatherapy properties.
DIY Sore Muscle Rub with Essential Oils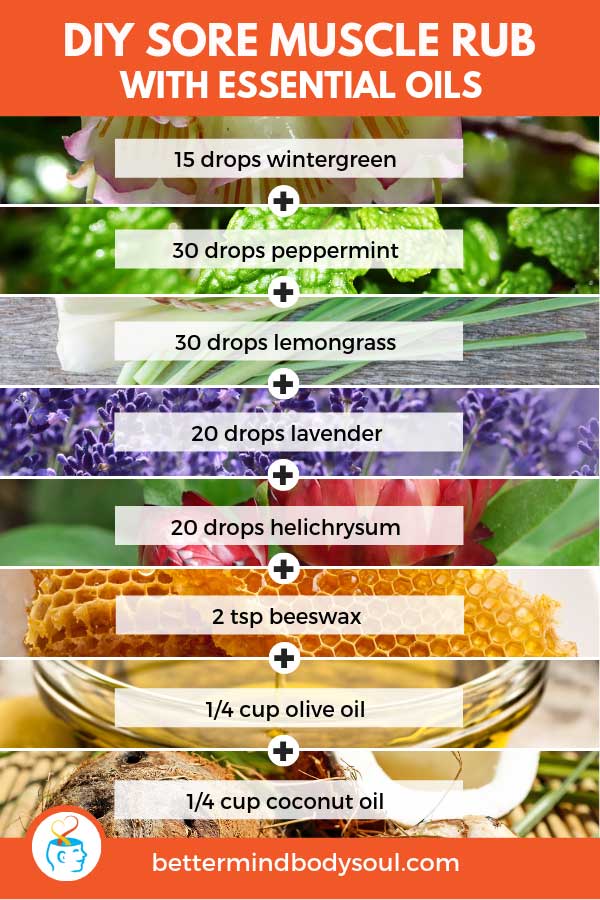 Rubs are excellent choices for when you have overworked your muscles through exercise or poor posture. This rub is a great way to get enough of what you need to those sometimes hard to reach places, such as your lower or upper back without the worry of a dripping oil.
Ingredients:
2 Tbsp beeswax
1/4 cup coconut oil
1/4 cup olive oil
15 drops wintergreen
30 drops peppermint
30 drops

lemongrass

20 drops lavender
20 drops

helichrysum
Directions:
Melt your beeswax, coconut, and olive oil together and allow to cool slightly before adding your essential oils. Mix very well, and then pour into your storage jars.
​Sore Muscle Essential Oil Recipe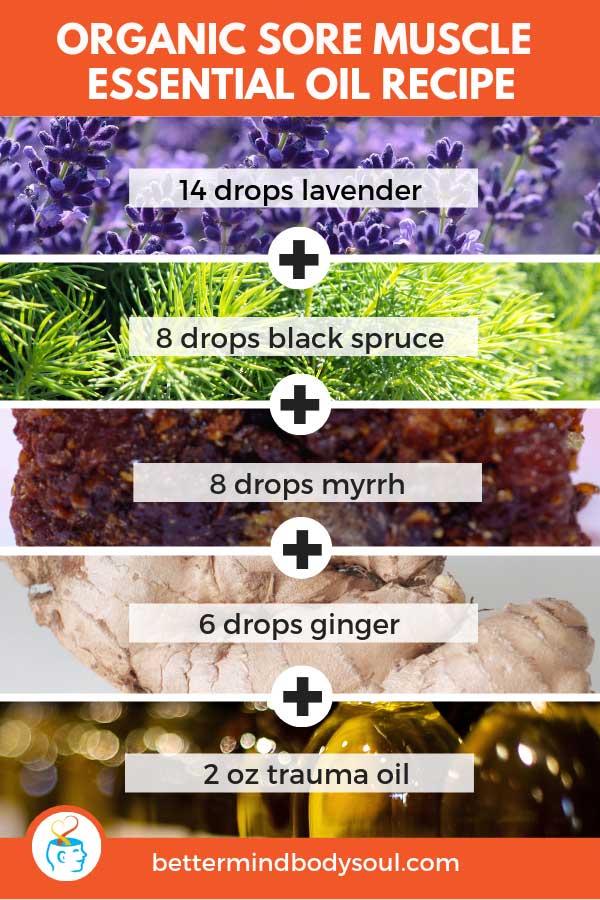 For everyday sore muscle relief and to promote blood flow and healing, you may want to consider the regular use of a simple sore muscle blend. Easy to make and apply, you can help stave off the worst of your pain with a little proactive practice.
Ingredients:
Directions:
Mix well together and put in a glass bottle of your choice. A roller bottle is especially helpful for muscle application.
​Essential Oils for Sciatica Pain (Muscle & Nerve Pain Relief)
If you have ever compromised your sciatica, you know exactly how debilitating it can be. This nerve runs down the length of your leg and starts near your spine that works down through your hip and buttocks to the back of your thigh and down your calves.
Ingredients:
2 drops of marjoram
3 drops of lavender
3 drops of ginger
5 drops of peppermint
Directions:
After mixing the above oils, dilute according to pain. Add 4 to 5 drops of the blend to a teaspoon of your carrier oil for severe pain. For less severe pain or sciatic support, dilute in a tablespoon of a carrier.
​Essential Oils for Sore Muscle Pain Relief
If you struggle with sore muscles while you run, you should consider treating your areas prior to your workout to help warm up and alleviate any soreness you may only be exasperating while working hard. A great pre-workout rub is exactly what you need to perform amazingly.
Ingredients:
1 drop lavender
1 drop eucalyptus
Directions:
Mix those two with 4 tablespoons of your carrier oil and apply pre-workout.
​Essential Oil Recipes For Joint Pain
If you have ever suffered from joint pain, then you know that it is a very difficult pain to treat. Joint pain is often associated with chronic pain conditions such as arthritis or injury. Because the root of the pain sits deep in your tissues surrounding your joints, you need oils that reach deep into those tissues to provide relief.
​Frankincense Pain Lotion for Body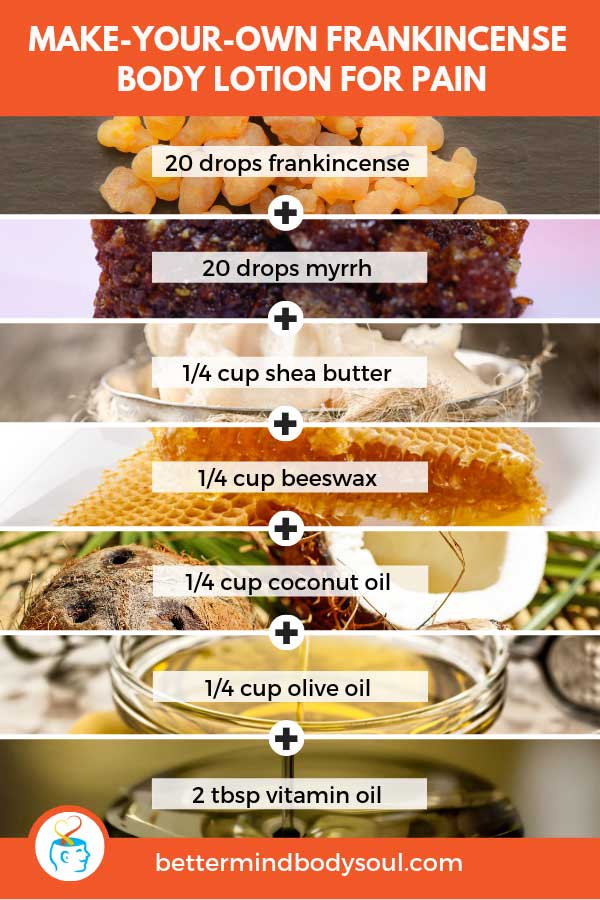 Frankincense has been used for thousands of years as a powerful ingredient to aid in many ailments and used even for beauty and comfort. It is a powerful oil that is used sparingly as it is also precious in nature, but its benefits are well known and well worth considering.
Ingredients:
20 drops frankincense
20 drops myrrh
¼ cup

shea butter

¼ cup beeswax
¼ cup olive oil
¼ cup coconut oil
2 tablespoons

vitamin E oil
Directions:
Melt the shea butter,  beeswax, olive oil, and coconut oil together and allow to cool in the refrigerator until solid. Then beat with a mixer until fluffy. Add in the rest of your oils, stirring well, and store in glass containers. Use on joints as needed.
Homemade Heat Balm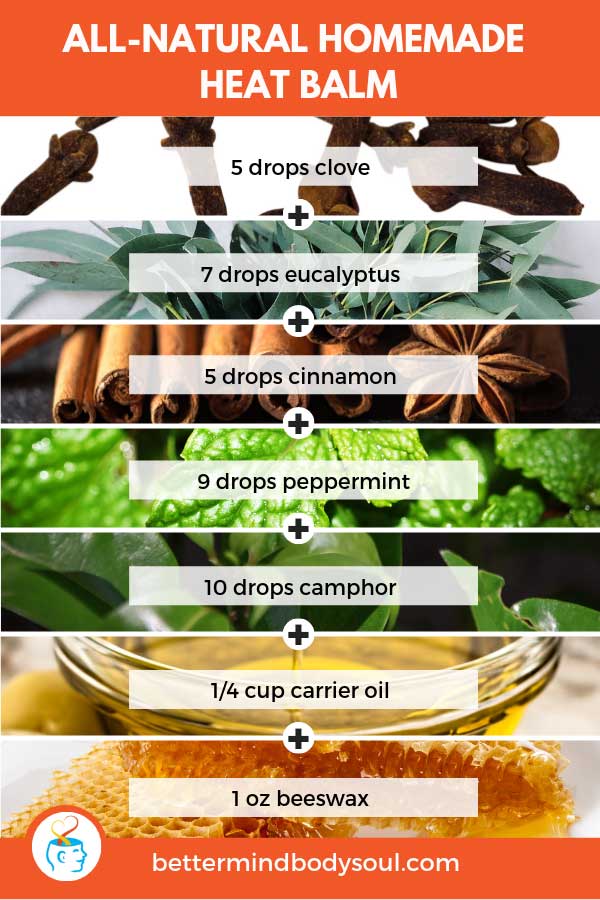 Heat is a wonderful way to loosen joints and provide instant relief to pain. Certain oils and oil blends provide a warming effect to your skin and soft tissues that reach deep into joints to provide relief. This balm can be used as is or even added to with the addition of sage or lavender for a peaceful, calming effect.
Ingredients:
5 drops clove
7 drops eucalyptus
5 drops cinnamon
9 drops peppermint
10 drops camphor
¼ cup carrier oil
1 oz. beeswax
Directions:
Melt the beeswax and stir in the oils as it cools. Mix well and place in containers for the application. Let it sit for a few hours before use.
​Conclusion
Essential oils are powerful, natural solutions to pain and are excellent as a stand-alone treatment or when under the care of your doctor with other medications. Although you should always ask about any interactions these oils may have with your treatments, most are considered safe when used correctly.
Hopefully, the above recipes can provide you pain alleviation no matter whether you were seeking relief from a few bumps and bruises or something more serious. If you have any questions or comments, please let us know below! And, as always, please share.
*You might also like: How To Mix Essential Oils And Make Them Work For You.