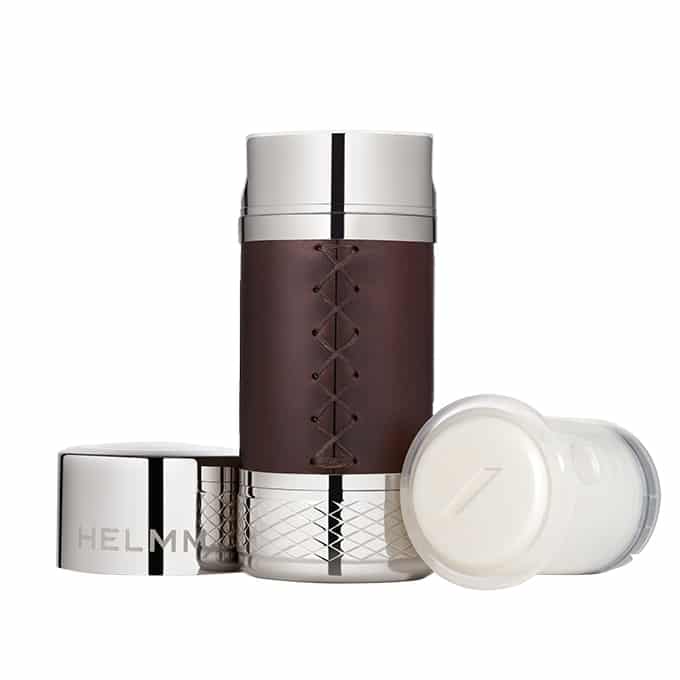 Helmm Natural Deodorant
An all-natural, luxury natural deodorant for men but works for women, too.
Check The Price
There is all this fuss around natural deodorant, it almost makes you want to go out there and get one for yourself. If you're hesitating, know that natural deodorant is a much healthier skin alternative compared to chemically imbued products, which may or may not have a negative effect on the skin. To prevent the worst from happening, let's assume that they aren't all that safe.
Natural deodorants, on the other hand, can cause an allergy at most (assuming that they contain an ingredient that you're allergic to). So, switching to natural deodorant seems like a wise step. But with all the options out there, how do you know which one is good and which one isn't? Today, I'm going to give you my two cents on one of the most innovative and powerful natural deodorants for men: the one made by Helmm.
A Closer Look at the Helmm Natural Deodorant: The Hudson Gift Pack
Helmm is the kind of brand that's really working to get in line with the modern standards of production and customer experience. The founders of Helmm are Zach and Taylor, two men who faced the corporate world of working until late at night and having to rush out to work in the morning.
Overwhelmed and unsatisfied with the deodorant choices out there, these guys decided to create a deodorant that doesn't put a label. And that is how the world's first refillable deodorant was born. With a design that meant to reduce plastic waste, the Helmm line of deodorants uses only natural ingredients and innovative design.
But aside from smelling out of this world, Helmm's deodorant is also about being eco-friendly.
I got a chance to test the Hudson gift pack and wanted to share my discoveries with the world, so you'll know why Helmm isn't just about quality customer service, but also about delivering an amazing product. When you order your own starter pack, you will receive one container and one refill cartridge, in the scent of your choice.
You can opt for the deodorant or antiperspirant, which is a type of deodorant that blocks sweat altogether by closing the pores of your armpits. Which one of these is best is totally your call.
Pros
Cons

No parabens.
No talc.
Does not stain clothes.
No phthalates.
No preservatives.
Eco-friendly container.
Refill options available.
Four different scents.
Subscription-based service is available.

Deodorant is hard, sometimes difficult to apply.
A bit too heavy to carry around.
Features & Benefits
The Scents
Basically, the Helmm deodorant has four different scents, all of which are very powerful but without having that strong disturbing fragrance that you see in deodorants sunk in perfume. While my personal favorite is the Hudson (because of its fruity woodsy scent, but we'll get to that in a minute), there are three more fragrances that you might find appealing.
Check The Price
Trailblazer
It's a refreshing aroma that kind of reminds you what it feels like to be in the middle of pine after a quick and soft summer rain. It's made with Italian bergamot essential oil, which can successfully remove germs because of its antibacterial properties. That means it can eliminate the germs that are normally found on the surface of the skin, thus removing unpleasant odors and making men feel fresh and clean.
It also features cardamom accents, which is considered to be one of the most expensive spices, third to saffron and vanilla. It also contains pure ginger essence, a root that has always been known for its healing benefits, stress-relieving features, and aphrodisiac properties.
Hudson
My favorite scent, Hudson features a lot of different ingredients with an amazingly fresh and heart-warming scent. It's made with wild peppercorn, which is actually the fruit of black pepper. It has antioxidants and anti-bacterial properties but also gives the deodorant a very distinctive scent.
Another one of Hudson's main ingredients is vetiver, an Indian-native grass with a sharp and earthy scent. Or, to put it simply, it gives this deodorant a very manly scent. Often used in aromatherapy, vetiver is rich in antioxidants, but also induces a state of calm, relieving anxiety and reducing stress levels.
The last powerful scent that can be distinguished by smelling the Hudson deodorant is cedarwood. If you've ever heard about aromatherapy, then you already know that cedarwood essential oils are some of the most powerful ones out there. They are anti-inflammatory and antiseptic, and extremely beneficial for the skin.
Coastline
From the minute you pop open a Coastline deodorant, you will feel the lavender scent. You just can't miss it. But aside from its soothing aroma, lavender is also a plant that has been used for its cosmetic and therapeutic benefits for ages.  Lavender is often used in treating skin conditions that range from rashes to acne.
The mandarin essential oil is also a part of the Coastline list of ingredients. This oil has amazing properties, which include preventing infections, improving blood circulation, and even removing toxins from the body. It also has calming effects and provides a nice citrus scent for those who are passionate about such a smell.
Night Market
If you're getting ready for a night out in the town, you will go crazy for the sensual smell of the Night Market fragrance. It features delicate notes of Australian sandalwood essential oil, which is a very powerful antiseptic and anti-inflammatory ingredient. Pure sandalwood is a very expensive ingredient, which a particular scent that soothes the skin and was often used to treat different skin conditions.
Night Market also includes carrot seed extract, which is very rich in vitamins and keeps the skin protected. Carrot seed oil has antioxidant properties, is used to treat infections, detoxifies the body, and acts as a tonic for your skin.
Last, but not least, you have the Cypriol oil, with woody and earthy notes, and a medium-strength aroma. There are many skin benefits in using this essential oil, such as keeping the skin young, relieving your body of toxins, while also inducing a state of calm.
The Ingredients
I've given you a brief idea of what to expect when it comes to the most powerful ingredients in all the four deodorant scents available from Helmm's, but I want to take a minute and tell you what this product DOESN'T have, and that's nasty chemicals and preservatives.
Every one of the four formulas are made with natural and sustainable products. You see, what I really appreciate about this product isn't that they've created a natural alternative to laboratory-made deodorants. Anyone can mix a couple of natural ingredients and try to sell that product.
What impresses me is the fact that their ingredients are actually very wisely chosen. They've mixed together natural ingredients with smells that are harmoniously blended with one another, which shows that this deodorant was given careful thought before being put into production.
Another thing I've come to like about this product is that you can still wear cologne without smelling like a perfumery. The Hudson has a pleasant smell, but you have to be really close to the skin to feel it, which means that just about any decent cologne can cover it.
Because of that, the Helmm deodorant can successfully be combined with cologne without creating a mixture of weird smells that just don't go well together.
The Container
What I love about this deodorant, aside from that fresh Hudson scent, is the actual container, which is giving me so much to talk about. I know, it's "just" a deodorant container and some of you are going to tell me that there are plenty of other deodorants out there with recyclable containers, but this is a product that is reducing waste from scratch. Because you know what's better than recycling? Not having anything to recycle in the first place. Except for the refill cartridge.
What's a refill container, you ask? Well, when you order your Helmm starter kit, you will basically receive the container where the deodorant is stored and a refill cartridge. The container is a permanent product, the case of the deodorant if you will. The refill cartridge is what you'll actually have to
reorder when you run out of deodorant.
The concept is pretty similar to an ink cartridge for the printer. When you're out of ink, do you throw away the printer and buy a new one? No, you just buy the cartridge. And that's how Helmm's deodorant reduces waste.
The design of the container is very fancy, to say the least. It's made with nickel-plated zinc and covered in sophisticated leather. It has this elegant, yet very rugged appeal to it, and the leather feels so cool and smooth upon touch.
When you roll out the actual deodorant, you have a transparent window that always lets you know how much of it you've used so far. If you've ever used stick deodorant before, you know that you don't get this benefit with other types of products.
The refill cartridges are completely recyclable because they are made with polypropylene and HDPE.
When you're out of deodorant, it literally takes less than 10 seconds to replace with a new container. The company calls it the "click in and out process", and while it sounds simplistic, it actually is that easy.
The Subscription
Have you ever heard of a subscription-based purchase, like the ones for a newspaper? Well, there are plenty of products that you can now buy with a subscription, and Helmm is one of them. What this basically means is that you pay for the deodorant kit to be shipped to your doorstep at an interval of six, seven, or eight weeks between purchases. There is no extra charge for shipping fees, so you'll only pay for the product itself.
You can also make a one-time purchase, but it really is more convenient to opt for a subscription, as it helps you save $12 for a kit. The reason why this entire concept is amazing is that you can forget about shopping for a new deodorant every time, and literally have one less thing on your plate to worry about.
You can cancel your subscription at any time, but something tells me you won't be doing that any time soon. Oh, and if you happen to run out of deodorant before your next subscription package gets a chance to be shipped, you can make changes to the shipping frequency straight from your Helmm's account. And yes, there's expedited shipping on refill cartridges as well.
Check The Price
Customer's Opinions
Efficiency
As expected, the deodorant doesn't fail to deliver. There a few customers that complained about the deodorant is it's too hard and therefore tough to apply so they ended up using more than necessary, but none of them are willing to give up using the Helmm deodorant because of that.
I don't think that will be an issue for me. The scent is strong, and the texture of the stick is perfect. I needed to apply very little. Far less than my previous lab-produced products, even.
Scent
With scents, there will always be a hit or miss type of situation. About 80 percent of the people who tried any of the Helmm's deodorants like the smell, but there will always be those who want something different. That isn't necessarily a downside of the product. There will never be a product that appeals to every person in the target market.
I tested the Hudson scent and absolutely loved it. Even though it's meant for men, it smelled fresh, slightly woodsy, and clean all day long.
Container
Love or hate the scent, it doesn't matter, because you won't find any bad reviews about the container of the product. While scents are normally a subjective matter and preferences vary from one person to another, the heavy duty and elegant container is an absolute hit with the public.
The only real regret that customers have is that this product doesn't come in an even smaller version, perfect for storing in a gym handbag. The deodorant tends to weight quite a lot, and that could bother people who are looking to take it to work every day.
Personally, I have to say the container is rather large and bulky. It looks amazing, and I don't mind leaving it out on my vanity because it's so attractive. Almost like a piece of the décor. But for travel, I wouldn't recommend it.
Application
There were a few strong reviews and comments by online users that the stick was too hard and didn't apply smoothly. While others complained about the opposite and said it was too soft and left a residue.
My personal experience is that the stick was a perfect consistency and glided on like butter. It left next to nothing for residue. I was honestly very surprised by this natural deodorant. This image shows my skin directly after applying it; clean and soft.
Check The Price
Bottom Line
The Hudson gift pack is my personal favorite and one that I'd recommend to men who love a sweet and fruity scent, but also with a drop of woodsy freshness that still makes you feel manly. But keep in mind that there are three more fragrance options out there, so giving any of them a go is a great idea.
Aside from blending natural ingredients with benefits that have been tested and approved for ages in aromatherapy and medicine practice, let's not forget that the Helmm natural deodorant features an eco-friendly packaging that helps reduce waste because all you'll ever be doing is replacing the actual deodorant, and not the entire container.