No matter where you go or what you do today, stress just seems to find us. I know that's the case for me, which is fine. I realize that stressful days are a part of living on this wonderful planet. Still, when things get to be too much or when I need to relax, I meditate. Some people meditate every day. There are monks that meditate for hours on end.
No matter how much you like to meditate, it helps to have a room in your home with decor specifically dedicated to relaxing. There are quite a  few things you need to contemplate for your DIY relaxation space. Here are some ideas to help you design a meditation room of your own.
Chakra Tapestry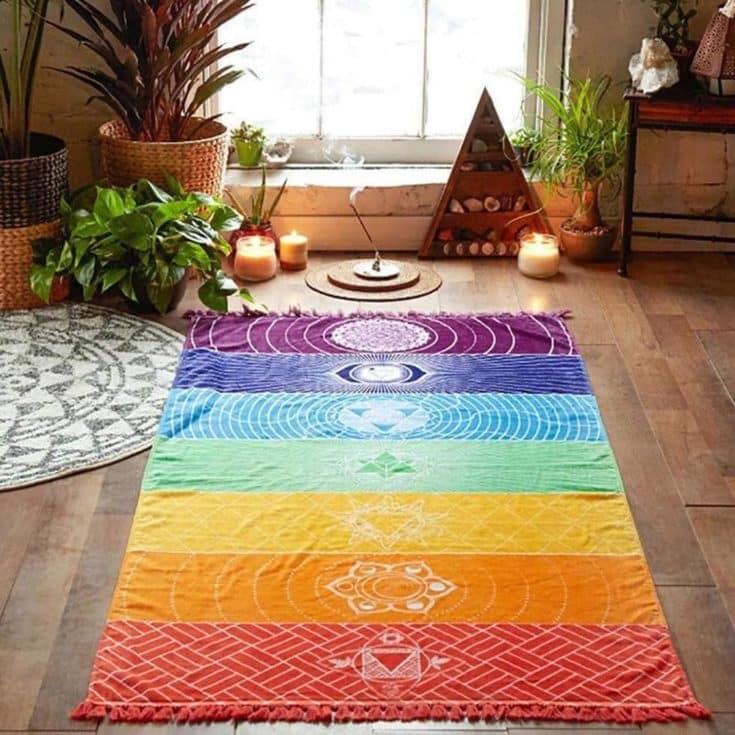 This floor covering that also serves as a yoga mat will not only add color to your space it makes your seat on the floor more comfortable while you practice your breathing. Made of polyester this plush mat is an original design with reflection in mind.
Light Changing Partition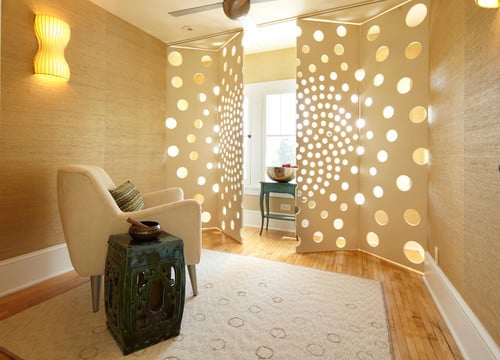 Screens have long been associated with reflection spaces. If you don't have an entire room to dedicate to contemplation, then this product will not only section off an area of another space, it will force the light to lessen yet still be present.
Fireplace

Include a fireplace in your mediation room, not only for warmth if you are based in a cold climate, but also for the ambiance and atmosphere it adds. If you are in a warmer climate, there are many realistic corner electric fireplaces that can in part recreate the feel without the heat. You can have them display a moving fire without actually heating the room.
Hammock Chair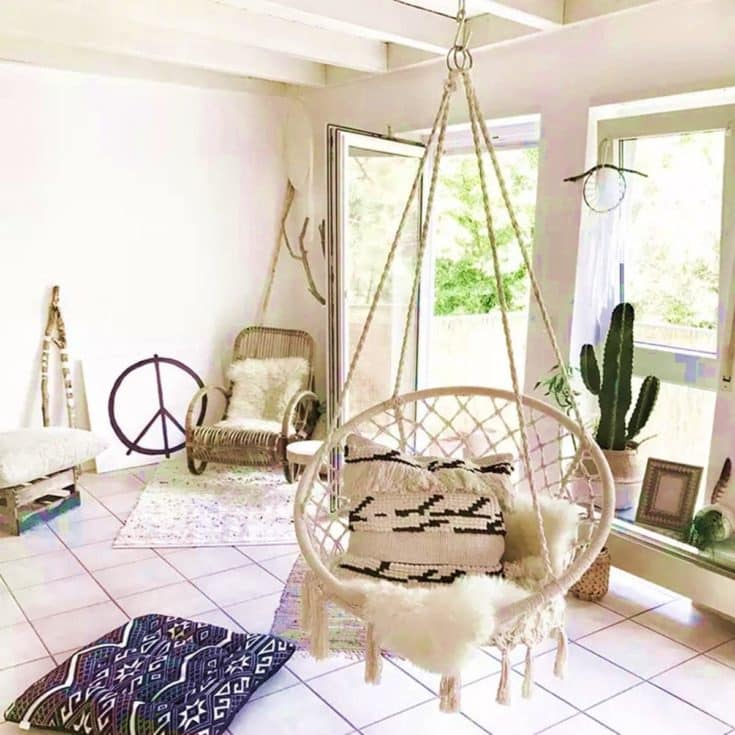 Meditation has long been associated with sitting on the ground but that is not necessary. If you want you can sit in a chair and what kind of chair is more relaxing than a hammock chair? Not many that's for sure.
Add A Rock Garden
The layout of this space is separated by rock gardens. These additions give the feeling of a sacred space. Besides, rock gardens have been a relaxing tool since before the 5th century in Japan because of their tranquil energy.
Add A Cushion
If you feel that meditation can only be done while sitting on the floor, then you may want to add a floor cushion. This round pillow pouf is hand printed on organic cotton.  The design fits with nearly every style, and it's made from 100% natural materials.
Add Corner Windows
If you are designing a new home, then adding windows that curve around the corners of your space can add a unique view while you do your practice. This style of window works especially well for a room of this nature if you are surrounded by nature.
Hang It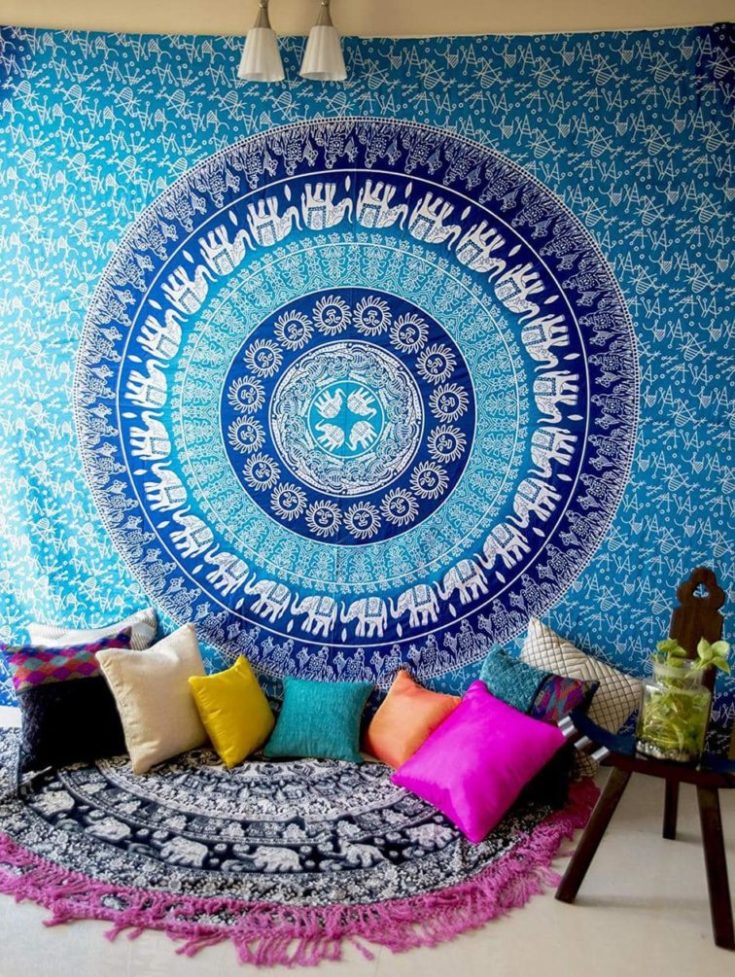 While we might like to close our eyes while meditating, there should be something appealing on the wall to tie it all together. This blue tapestry adds a feeling of calm throughout the space with a few shades of blue that inspires breathing techniques.
Low Furniture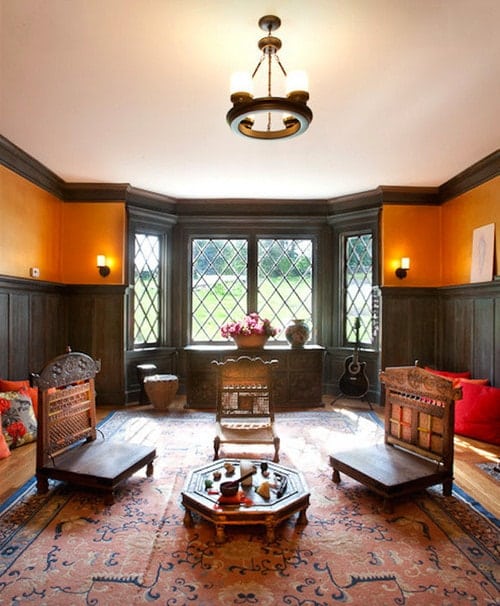 These low Pida chairs and octagonal Indian table add a meeting area in your room that would work great for tea or even reading when you are meditating. These pieces were created from reclaimed furniture, which would be a fun DIY project.
Minimize
Sleek designs with neutral shades and only a few splashes of color can be a great way to decorate your contemplation space. An interesting rug, a low chair, and an altar are all you need to start your practice. Sometimes a little goes a long way.
Inspirational Decal Sticker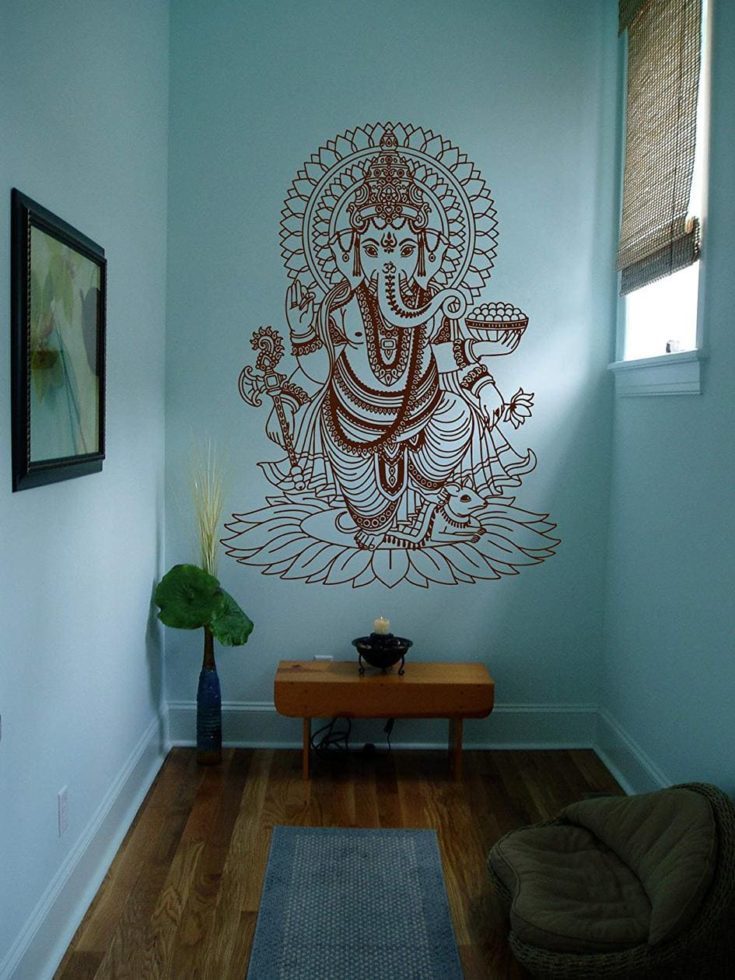 Ganesha Ganesh is a Hindu God that is known as the Lord of Good Fortune. Adding this wall decal to your sanctuary will add to the positive vibrations everytime you look at it. It's easy to apply and is a nice talking piece.
Bamboo Floors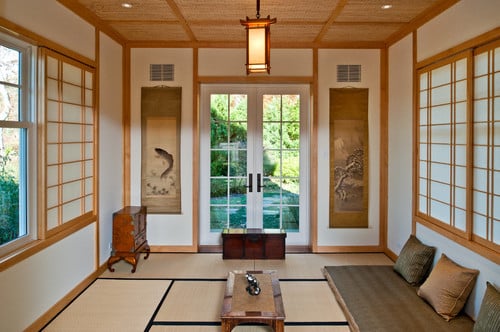 When you think of a zen room does your mind tend to sway toward Japanese decor? You can achieve this with bamboo mats on the floor. If you can't put mats all over your floor, get one or two to start and see how it feels when you cross your legs on it.
Get Psychedelic
Tapestries don't just come in cool blue. This one has a great hippie type feel to it if you are looking for a Haight Ashbury feel to your meditation space. It can be hung on the wall, ceiling, or laid out on the floor to give your space a colorful floor.
Use More Wood
Simplicity is a great goal when looking to reform a space for relaxing or breathing techniques. Wood is simple, elegant, and calming to the eye and the touch. With plain wood floors and walls, your area can gain a minimalistic look by adding nothing.
White Curtains
White is the most relaxing hue in the spectrum. When you have white flowing from the breeze coming through an open window, then the energy in that space transforms into something ethereal, which is essential in a reflection space. White curtains can also create a space within a space.
Step Up
If you are handy and have a large space that can be split off, this risen loft with the bookshelves underneath is unobtrusive nor restrictive yet sections of space for functions like yoga or meditation. This is a professional project, though, so know your stuff before attempting.
Add A Canopy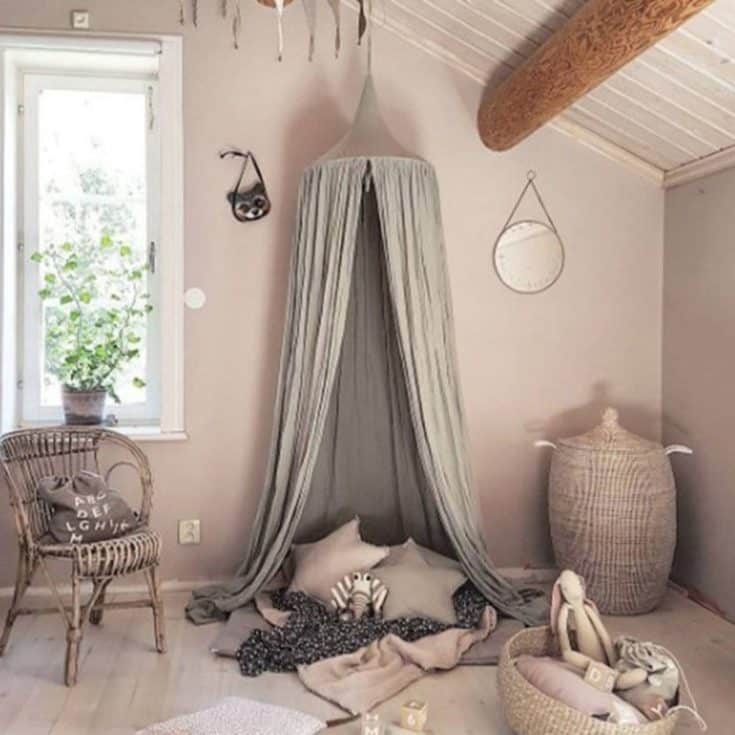 Some of us can't hire someone to build a loft space with stairs in our home. There are people reading this that live minimally in studio apartments or spaces that are small. This canopy can allow you to bring your practice anywhere, even when you travel.
Keep It Simple
While psychedelic tapestries work for some, there are others who require less on the walls when they are looking to regain their balance. A couple cushions for sitting, an altar, with a few things to focus on, and one wall hanging can keep your attention on your goal.
Move It Outside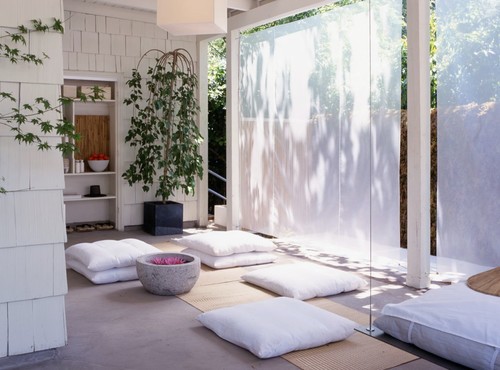 If you are lucky enough to live in a part of the world where the weather cooperates to a comfortable temperature year round, then you should consider creating an outdoor space for your breathing practice. Being closer to nature can aid you in your quest for peace and balance.
Add Some Banana
The leaf that is. These pouf ottomans are comfortable to sit on and will aid you in keeping a good posture while you use them. They are durable if you have children running around the house and they fit more design themes.
Sit In Sheer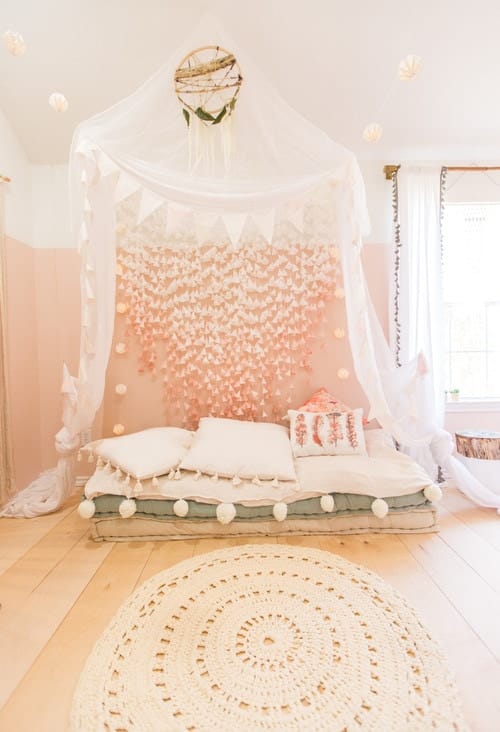 This white canopy is relaxing to look at, so sitting in it surrounded by the sheer material will transform you into your own special meditation space without obstructing your view outside. The light colors in this room also add to the zen quality.
Chaise Your Dreams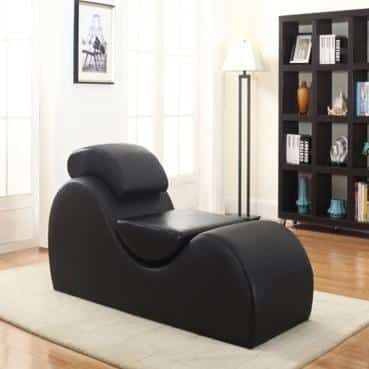 When we meditate, we are not only looking to relax, we are striving for a deeper sense of consciousness. This chaise lounge is designed with contemplation in mind. Made from a high-quality leatherette, this lounge chair is easy to keep clean and durable.
Dim It Down
Dark colors also work well in a room created for breathing techniques. Low lighting and deep earthy tones set a mood that is waiting to take deep into your consciousness for self-reflection and balance exercises. This room is rather large, but this idea would work in small rooms as well.
Minimize
This room exemplifies how very little can do so much. One cushion and on light peeking out of a rustic wood partition gives this space a quiet look, which is imperative for proper meditation. The partitions in this room also add to the way the light works in the room.
Deep Greens
Using hues other than black or white is not unheard of, and as you can see in this room, there are some shades that work very well in a room dedicated to relaxation and contemplation. While the minimalist style is apparent, the colors add a bit of warmth and cool concurrently.
Add A Focal Point
Focusing on our breath is important when we meditate but sometimes clearing our heads isn't as easy as we would like it to be. This room is predominantly one shade but has a large structure on the wall that stands out. It's mesmerizing and one could get lost in it.
Add Mirrors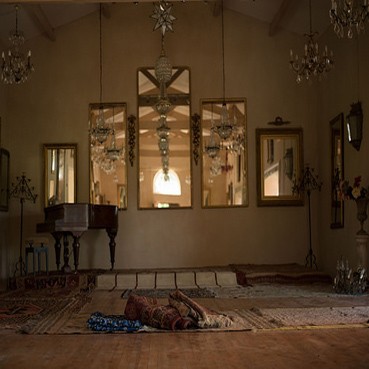 Mirrors do amazing things to rooms, particularly making small ones seem larger. This technique could open up the space in your designated area, giving the impression of the vast expanses in the mirrors while you explore the expanses of your mind.
Direct The Light
This can be done with partitions, shades, or blinds. When you let a soft light into the room, it isn't overpowering like laying on the beach in at noon in the summer. By dictating how much or how little light you let into the room, you will feel in control of your practice.
Add Some Plants
Greenery makes any room better, whether it's an office, a living room, or a space designated for breathing techniques. When you think about it, meditation areas are perfect for plants because they give off the oxygen we need, and they feed off the carbon dioxide we exhale. It's the circle of life.
Table Cloths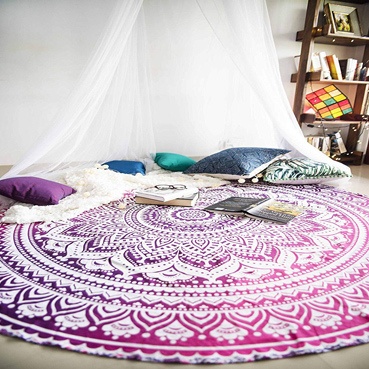 You might not feel comfortable in a space that has very little eye candy. These tapestries, which can be used on the wall or on a table, add hippie designs and hues that will brighten up your space. They are round so they would also work great on the floor under your cushion.
Use A Yurt
If you have a ton of land surrounding your home, then you might benefit from creating this space away from the house. You can focus on the energy in that space alone without hearing anyone running around in the room next door or upstairs. Yurts are expensive so another option could be a shed or a tree house.
A Wall Of Plants
White with green is a great combination. And just as I mentioned earlier about how plants add to the energy in a room for breathing, this designer took it a step further creating an entire wall of plants. This can be done in any room with shelves and hanging baskets.
Candles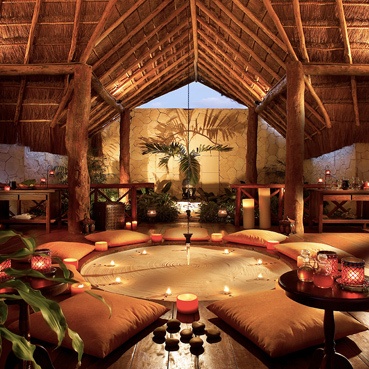 The flickering of flames is another great focal point, and the light candles emit is calm and perfect for relaxation. You can surround yourself with light and scents when using standard aromatherapy candles but be sure to blow them all out before you fall asleep.
Slate Floor
Grey is a neutral shade that works well in this space. This slate floor is inviting and has the same effect as the stone gardens we saw earlier. The three squares create a space within the space. The pairing of dark in light works in this room as well.
Use A Main Living Area
This designer turned the entire living room into a zen environment. No television, minimalist selections, only a few pieces of furniture, white walls, and draperies that let in only as much light as is needed. This tactic will promote regular usage of this area for your practice.
A Great View
If you can use a room that has a large window then I highly recommend it. My practice takes place in a small part of my living room by large windows that let the sun shine in on my face. When I open my eyes I see the trees and the sky outside and feel relaxed.
Inside and Out
This idea is not for everyone, but if you have a balcony or a deck with a sliding door, try incorporating both the indoors and outdoors in your meditation space. Of course, a sand floor like this is not possible for everyone, but the open air coming indoors adds a nice flow of energy while practicing.
Use A Well Lit Space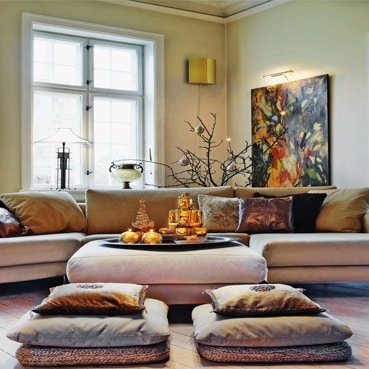 Sunlight makes us feel good. This could be because it's warm or that we get flooded with vitamin D when we are outside. Unfortunately, our skin isn't able to absorb the vitamin D portion of the sun, but the warm rays still make us feel good. Letting in natural light is a great addition to any area used to find inner peace.
Circles
Some rock gardens have sand with rakes, which are meant to give us relaxing feeling when you make grooves in the grains. Just as this person did, you can mimic that look with a rug or tapestry that imitates this look.
Make Room For Friends
Adding some extra cushions for sitting or rugs for crossing legs could create a community meditation movement that would do wonders for you and your neighbors. This person has a wooden seat for visitors, you can do this with a couple of extra pillows.
Mimic Japanese Style
The high windows on the side walls and the singular circle at the end are calming to the eye. This room was designed with the Japanese style in mind. If you mimic their simplistic decor, your practice should become natural in no time.
Add A View
If you have access to a great view like the one in this image then, by all means, add it to your routine. When you open your eyes after your practice looking out to something beautiful would be a great way to start your day. If you don't have access to a great view, then put a picture of nature on the wall that you face.
Yellow Works
It's pleasing to the eye and induces feelings of happiness. Yellow is a color that makes us feel good. If you use other monotone shades as the base and add a splash here and there for bursts of sunshine, then you can get away with a room good enough for relaxation.
Section It Off
You may not be able to add glass doors like this model, but there are ways to section off space for your practice. You can use the white curtains we mentioned earlier, or a room divider, or even a colorful tapestry.
Add A Shrine
Whether it's Buddha, Jesus, or a picture of a tree, find something important to you and create an area in your room for it to be worshipped. There is nothing wrong with believing in a deity or dedicating your practice to a religion. This is your practice, so make it mean something for you.
Use It For Yoga
If you meditate and don't practice yoga, you are surely missing out. Not only does it utilize some of the same breathing techniques, but it also adds to your overall feeling of balance and relaxation. All you need is a mat and a few feet of floor space.
Take It With You
When you travel, turning your hotel room into a space for meditation is as easy as a pillow on the floor and a candle to light. If you travel a lot for business, then this could be just what you need after a long day of meetings and conferences.
Flowers On The Floor
Whether you use decals or just paint them onto the tile, these few petaled images on the floor of this relaxation space add a sense of whimsy. When paired up with a tile or granite floor, the results are striking. Still, this technique could be used on wood as well.
Silk Silk Silk
There is something about the way silk feels that makes us feel special. The material is synonymous with the Far East, and you can drench your room in it if you like on pillows, draperies, and floor coverings.
Add Some Scents
Whether you use essential oils or incense adding your favorite aromas is a great way to add warmth and a sense of ease to your space. Whether it lavender, frankincense or sandalwood, essences are a wonderful way to enhance your meditation experience.
Use The Porch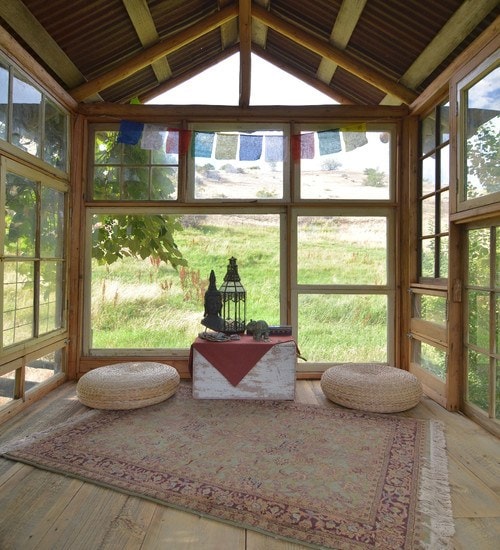 This is a great way to get that indoor/outdoor feel I spoke of earlier. If you have a screened in porch even better. The sounds and smells that will make their way to your senses while you breath will enhance your experience.
Orange
Warmth is a great thing to add to a room focused on healing your mind, body, and soul. Orange hues will add this well enough. You can get creative with light and dark shades, and by adding some orchids like the ones in this room will add a nice touch.
Bright Shades
Monotone hues are not the only shades pleasing to the eye when one practices meditation. As I've said before, this space is about you and your needs. So if purple is your choice, by all means, go mad.
Textures
The wooden partition in this room adds a please texture to face while breathing. There are many ways textures can be added to your area. Wood structures like this, more tapestries, or even stickers on the wall.
Invite The Family
This can be done by more than just saying, "Hey, want to join me in the speculation section of our home?" You can make the place family friendly with bookshelves and pillows that appeal to the whole family.
More Than Just Drapes
White works in these types of spaces because it is clean and pure. If you paint your walls white, you will feel engulfed in the feeling white gives us when looking at it. It is the same feeling we get when looking at white clouds, white snow falling, and white swans.
Add A Lamp
The lone light in this space, besides the sun coming through the window, is a perfect addition to the design theme. It is simplistic but will add just the right amount of light when needed. You don't need a lot of lamps in this type of room. One will do with an adjustable bulb or dimmer.
Add a Tea Set
Along with breathing practice and minimalism, tea is a long-standing tradition in Eastern culture. It's actually an important part of many cultures including the English. Sipping tea in a room like this makes it an experience that delights all the senses, not just the taste buds.
Keep It In The Closet
By this, we don't mean that you should be secretive about your practice nor should you hide it from anyone. If you take a look at this room, the cushion, the shrine, and the focal points are all places neatly into a little alcove or shelf in this wall. If you are limited for space, then this might work well.
In the Bedroom
If you are short on space like most of us, then consider using an area in your bedroom. Our boudoirs are part sanctuary anyway so there is no area more private for your practice. Keeping your bed made when you aren't sleeping and things tidy will help you meditate better in your bedroom.
Don't Skimp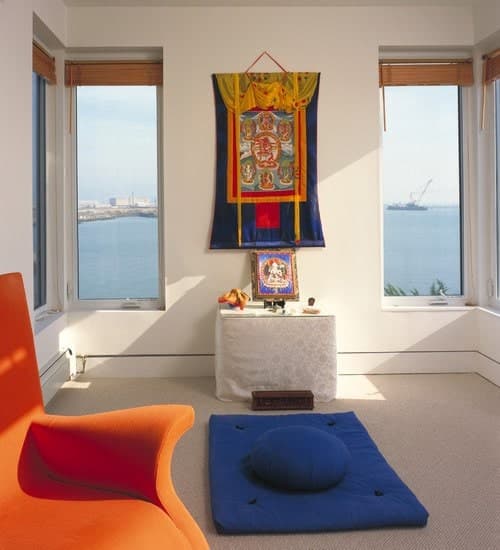 Even if you don't have a lot to spend, try to make your space as plush and comfortable as you can. No, we can't all have the view seen in these windows, but we can add the brightness and beautiful wall hangings.
Purple
This color adds a sense of wisdom, creativity, and dignity. This room chooses to keep earthy tones of brown and then the brightness of white for the bulk of the room. Then it adds a line purple mat that demands attention. The yellow candles utilize the fact that these two colors are opposites on the color wheel, and you have an energizing yet relaxing room.
Try A Communal Space
Some people use the foyer or the pavilion of their homes to hold their shrine and breath the worries away. If you have a nice communal area like this one, this could become a great activity for strengthening your relationships.
Add A Mural
Painting pictures on the walls are not only fun it's therapeutic. You can add images to your walls yourself using your own talents or stencils. Either way, having some flowing clouds move around the room or a scene from a small river town can add to the atmosphere of your special space.
​Conclusion
No matter what type of room you are looking to transform or how large or not large your home is, there is a way to create a meditation room or space for your enjoyment and the relaxation of your entire family. If you have a meditation room idea or like one of ours specifically let us know in the comments section below.