Practicing yoga is a treat, whether you have special space set up in your home or your head out to your favorite studio. Some practitioners take advantage of yoga's benefits every day, while others only use their favorite traditional poses a few times a week. No matter how much you practice, it's undeniable that yoga brings a ton of benefits to our lives.
While we consider the actual practice of yoga a great deal, have you taken a serious look at the mat you are using? If you've been using a mat at the studio instead of bringing your own, that's fine for a beginner who isn't sure if yoga is something they are seriously dedicating their time to. But, if you plan on taking your practice to the next level.
We've put together our fifteen favorite yoga mats that are sure to kick your practice up a notch.
Prosperity/Mandala Yoga Mat
The first mat on our list is beautiful to look at, but the flower in the center has more meaning to it than you might know. A Flower Mandala is used in meditation when you are attempting to achieve growth, either personally or spiritually. This particular design is for manifesting prosperity during your yoga practice.
Made with natural rubber, the Flower Mandala on this mat is printed with inks that do not contain any toxic ingredients. It is free of phthalate, which has been shown to affect the reproductive systems of laboratory animals. It's made of a lightweight material and standard size.
Laser Cut Yoga Mat
You may not be interested in purchasing a new yoga mat and just looking for a way to spruce up the one you already have. Some people use lasers to cut images into their yoga mats. You could design your own Flower Mandala with a lotus or pick an image of something that inspires you like a tree or an image of Buddha.
Whatever your choice is, laser cutting is best used on a natural rubber yoga mat. Of course, to do so you will meet a laser cutter and a vector-based program for drawing like Adobe Illustrator or CorelDRAW. The process takes about twelve hours from start to finish but it will allow you to be creative and design a special DIY mat like no other.
The Combo Yoga Mat
This mat is called the combo because it's a two in one. It comes with a yoga mat and towel all in one. If you've ever used a yoga towel on a mat you know the aggravation it can cause when it moves out of place. Annoying towels that move around are not what we need when we are trying to reach a zen place.
On top of that, this mat is eco-friendly made from natural tree rubber and recycled bottles. The paints are water-based and it's machine washable. They even offer a discount on mats if you buy more than one. Also, one dollar from every purchase is donated to yoga programs for youth in need.
Mandalas and Florals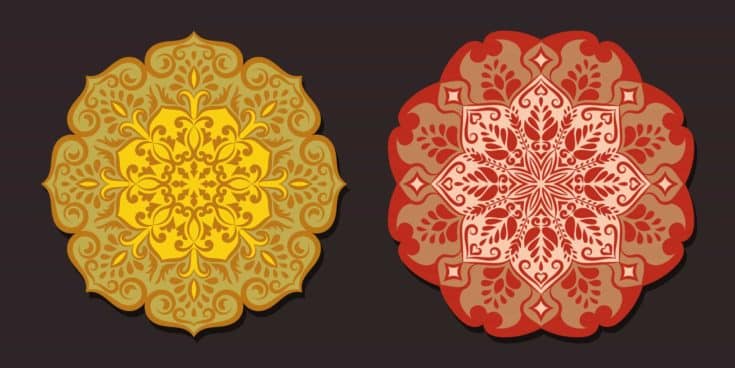 For this next yoga mat design, we are hitting Flower Mandalas again. Depending on the type of flower you use, a Flower Mandala could mean love, beauty, growth, passion, connection, hope, and compassion. They can be found in artwork, storybooks, or other mediums like clothing and scarves.
The color of the flower also has meaning. For these, you have yellow, which is typically a daffodil. In this color, they represent strength and hope in your meditation and allows the positive light to take precedence.
Gaiam Premium Print Reversible Yoga Mat
Here we have a mat made by a company that is pretty well known when it comes to yoga supplies. The name Gaiam was derived from "Gaia", which is the name of the Mother Earth goddess, and "I am" and the fusion is meant to spark thoughts that "I am the Earth."
When it comes to these reversible yoga mats, their name is exemplified in the designs. There are rushing waves and circular images that are intended to evoke peace in the user. They have dozens to choose from and the mat is extra-thick for additional cushioning.
Couple In Love Under The Tree
Our next design pays homage to love, which is a necessity in this world of ours. There are all kinds of love. Love of pets, parents, children, friends, and so forth. But it is the special love you find with another human being is rare and priceless. This design tries to capture this under one of the most iconic images on Earth, the tree.
Trees symbolize beauty, strength, and wisdom; all of the things that are required from a sustainable love. The hearts emphasize the theme while the color yellow brings out feelings of happiness and positivity.
Tone Fitness Yoga Mat with Floral Pattern
Some of us set out to find balance when doing yoga, but you can't deny, the way it tones your muscles is a bonus. In fact, we would say it isn't too far of a stretch to say that some people get into yoga for the muscle toning alone.
This mat comes with a non slip surface with a floral pattern that is soothing to look at. Floral patterns are known to evoke feelings of happiness and serenity. The light blue color on this design also brings about feelings of peacefulness.
Cheack It Out Here
Indian Hamsa, Elephant, and Buddha Design
The next design on our list is quite different from the ones we've seen thus far. Instead of a floral arrangement or a flow of lines that are circular and flowing, we have three images, which are powerful on their own.
First, the Hamsa Hand position, which is displayed in the first image is centuries old and symbolizes protection. Next, we have an elephant, which is a symbol of wisdom and strength. Finally, to the left, there is a Buddha, which means more than one line could ever exemplify. For our purposes, this Buddha could symbolize enlightenment.
Cute Little Cat Pattern
At number nine we have a yoga mat that goes in a completely different direction as far as designs go. While the mats we've covered have focused on traditional images and peace-inducing colors and drawings, this one goes for the cute angle, and they hit it on the nose.
We have two cats, a dog, and a bird, which makes for an interesting yoga session. My kitties love to climb on my mat and stretch out when I'm practicing. Unfortunately, my kitties like to obscure my poses, but I digress. These kitties will keep you smiling and the added floral designs are pleasant to look at as well.
Check It Out Here
Aurorae Classic Yoga Design
An aurora is a natural electrical phenomenon that is seen as lights in the sky, like the aurora borealis in the north, and the aurora australis in the south. As for this yoga mat design, you don't notice the light right away. But, when you see the white mountain tops it's hard to look at the negative space and not imagine light flowing in that sky.
These mats are made by a small family business and are safe/non-toxic. They are made with natural rubber and there are several designs to choose from.
Check It Out Here
Thick Anti-Slip Blue Fitness Yoga Mat
Some mats are not meant to have a specific design. Using a mat that is one plain color has its advantages, like not taking your focus away from your practice. This blue color should give the user a sense of calm, whether you choose to look at the light side or the dark.
Having a mat that is thick and slip-resistant is also beneficial and qualities in a mat you might want to pay attention to besides the design.
Custom Artwork Yoga Mat
At number twelve we have a mat that has a design that was made only for this mat. When you look at it you see a woman with brunette hair and a crown of flowers in her hair. She is holding a red floral scarf around her back. She is surrounded by fauna and blue waves and the entire image makes one feel they are on a beach in Hawaii.
Check It Out Here
Everyone Wants To Be Green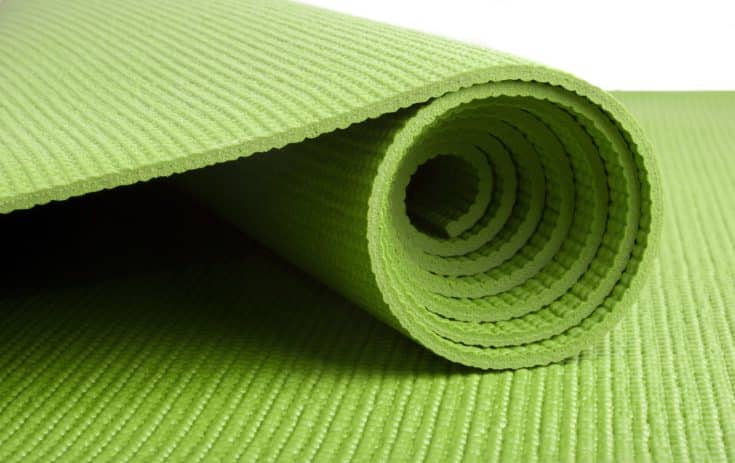 We've covered the advantages of having a yoga mat with no design, well what if, instead of blue, you went with green. What's so great about green? This is a color that makes one feel new, refreshed, and restful at the same time. Green is a positive color that makes one feel happy when looking at it. What more do you want when practicing your Crow pose?
Gaiam Elephant Yoga Mat
Our second to last yoga mat design is another that the folks at Gaiam have created. It is a black mat with a cool gold elephant that carries a flowing being on it's back. When you look at the meaning of elephants, they stand for more than wisdom and strength. Pachyderms also represent fertility, good luck, and protection.
When it comes to meditation, elephants help you access your inner power and wisdom to overcome anything in your way.
Check It Out Here
Rainbow Yoga Mat
The final yoga mat on our list today is one of the most fun and the brightest. Every color of the spectrum is represented in this design, which does nothing less than make us smile. It's difficult to look at a rainbow and not feel uplifted and happy. The flow of colors also invokes a sense of calm, which is essential when focusing on your balance. This can be partnered also by using a crocheted yoga mat bag of the same color scheme.
Conclusion
In the end, what design you choose is personal, and you need to decide on something that means something to you. Aside from designed yoga mats, other alternatives can also be used. This just tells us that no two yoga practices are the same and each of us is on an individual path for enlightenment together.
Want to know how to store your beautifully designed yoga mat? Click here for the list of yoga mat storage ideas. You may also check out our list of best yoga mats.
If you enjoyed this article let us know in the comments section below. If you know someone that would benefit from this piece, please share it with them or on your social media news feed.