If you are a yoga enthusiast like me, then you don't just own the one mat with a random piece of rope tied to it. Your collection consists of several rolled-up mats, blankets, towels, straps, bolsters, and even a meditation cushion or two.
The dedicated yogi knows the tools required for a great practice and keeps them on hand at home for those times when she or he prefers to practice in the comfort of their own home. Just like a playroom for children, these items can pile up and make a room look messy.
Storage is essential when your practice starts to become more and more serious. We've put together eleven yoga mat storage ideas that could also hold the other gadgets that come along with your home practice.
Extra Large Cotton Rope Basket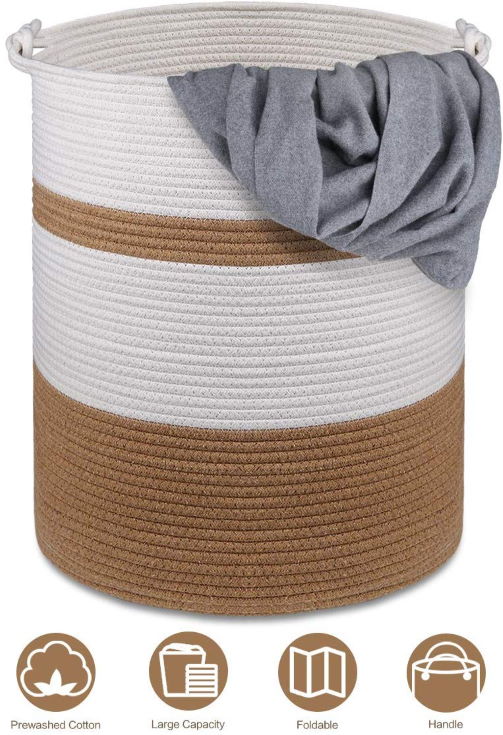 This first storage idea on our list is a pretty basket that would enhance the look of any room. The size, 18"x16", is large enough to fit all of the objects we've discussed and it is flexible enough to fit in a closet or the corner of a room. It's made of cotton, which makes it breathable, so your mat can dry after a particularly sweaty session.
BUY ONE HERE
Neutral Braided Jute Woven Basket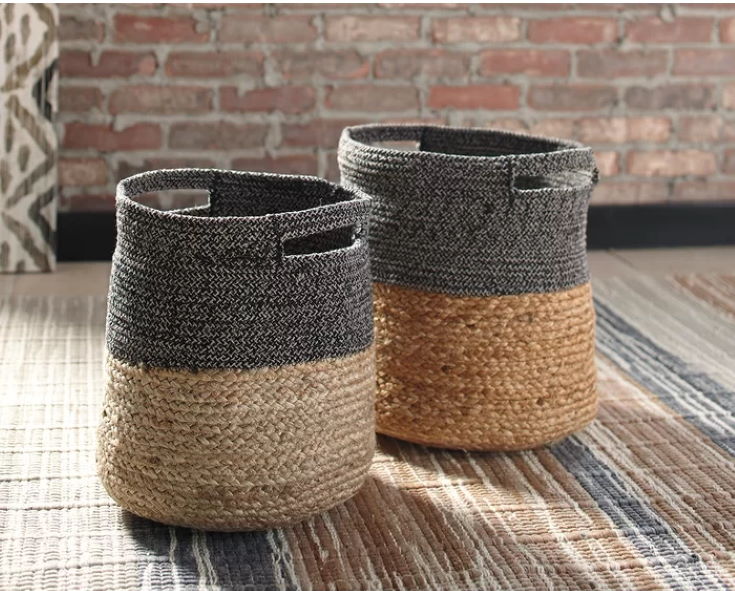 Baskets are wonderful for storage but they aren't all built the same. This set of containers measure in at 12"x11"x11", which is pretty large. This provides a great deal of storage that can be split up since there are two. They have a classic country look with neutral colors to accentuate any decor.
BUY ONE HERE
Thicker Wicker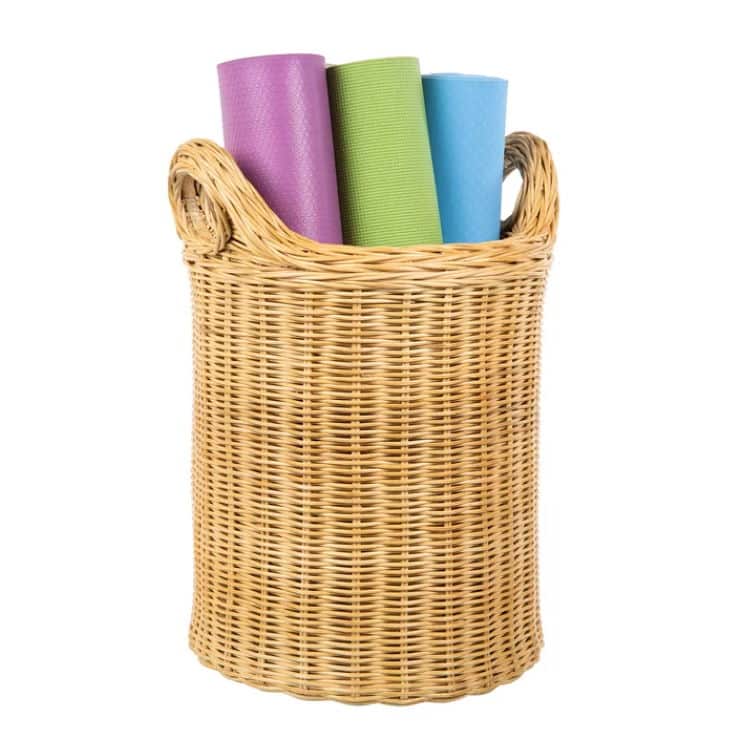 The third storage idea on our list involves a basket, but it has much more to it than the other two we've shown thus far. This wicker basket has been made with a double-wall, which makes it a little more durable and much sturdier. The color is neutral so it should complement any design and with dimensions of 25.5"x18.5"x18.5" there is no doubt it can store a lot.
BUY ONE HERE
Large Shelves For Storage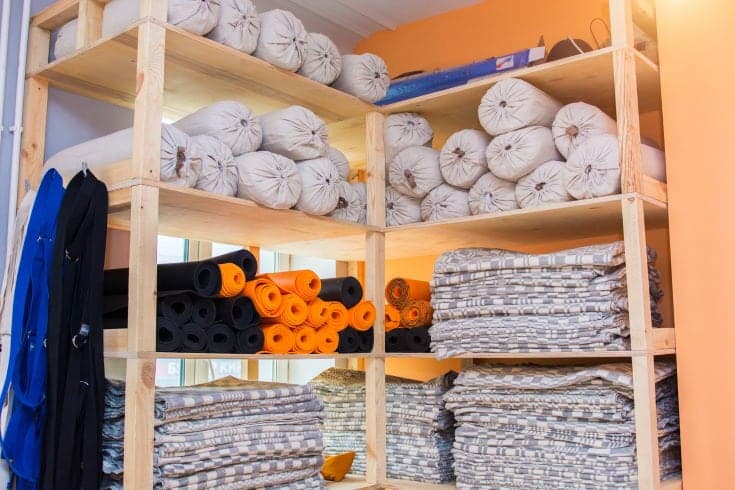 For this idea, we are going to move away from baskets and start talking about shelves. You might not be looking for storage for your home. You may be opening a studio, which would require a lot more space. These shelves come in several sizes and can accommodate tons of supplies for yoga and anything else.
Hanging Shelves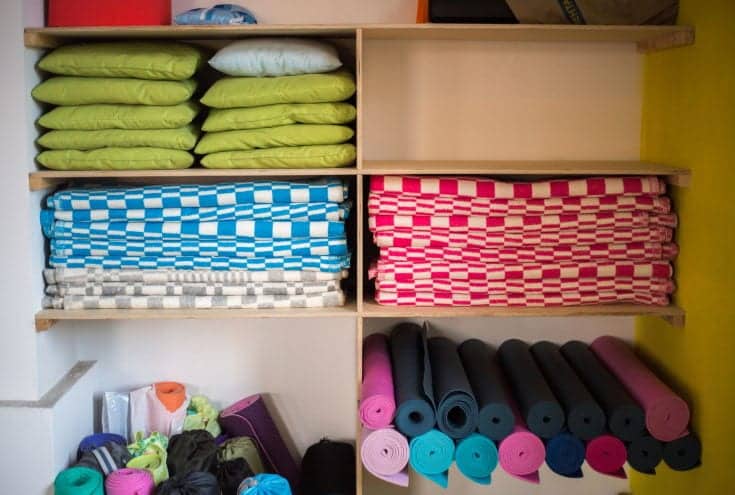 Unlike the shelving units we just covered, these are not free-standing and affix to the wall so these shelves are eye level. This is the perfect setup for anyone who's interested in keeping their items off the floor and wants them highly visible as opposed to being closed up in a basket. These units are also perfect for a larger studio.
Smaller Shelving
This shelving unit is made of wood and neutral, which doesn't stand out much from the last two ideas we've discussed. This one is much smaller, which is perfect for someone who is looking to store enough equipment for a few people but isn't furnishing tools for an entire studio. Of course, you can purchase several and create a larger shelving unit.
DIY Shelving Unit
If you are the industrious type and want to create a storage space for your yoga mat then here we have an instruction video. This is not a unit that will store tons of equipment like the others we've looked at. With this, you will have hooks that hold your mat suspended from a wooden frame made from two pieces. It's small but easy to create and stylish.
Build It Yourself
Next, we have an entire storage area to check out. A small white shelving unit that has a reinforced top filled with smaller containers to hold items and give the space a cleaner, less cluttered look. With the addition of the wall mount with loops to hold your yoga mats, this workout area is appealing to the eye, which prompts us to use it.
Multiple Mounted DIY Mat Holder
This next project is not for the woodworking beginner. To build this wall unit you will need a drill and some basic knowledge of the tools needed. If you have the skill this template could be used for a coat rack or other great ideas. This storage unit will save studio space and is the perfect project for repurposed wood.
Dark Wood DIY Mat Rack
For this project, you would also need a bit of a background in woodworking and tools like clamps, a nail gun, a jigsaw, and more. If you feel ambitious go for it. But remember to educate yourself on the required safety precautions when it comes to this type of work. The finished product is lovely and perfect for a mudroom or in-home studio.
Simple DIY Storage Rack
Our final idea of this piece is put together simply in this video. You don't need the same amount of equipment and supplies as the other DIY racks and shelves we've already covered. This one can be made without a saw and using a simple drill and hand tools. You can add some color and paint to personalize this project.
Conclusion
No matter if you are in the mood to create a unit or simply purchase one and put it together, there is an option on this list for everyone. The bottom line is, whichever storage ideas you decide upon, collecting the clutter from your studio space will open the room up for healthy energy when attempting your poses and learning to balance.
If you enjoyed this article please let us know in the comments section below or share it in your social media newsfeed for your friends.