Sunscreen is a very important product to have, even if you're not the kind of person that likes to invest in cosmetics of skincare products. Putting on sunscreen at the right time can protect you from harmful UV rays emitted by the sun, and sadly it is still one of the most underrated products in its category.
If you believe the rumors about shady chemical ingredients that could potentially cause skin cancer, but that the industry abuses of anyway, it's time you learned how to make your own natural sunscreen. And it's typically a process that only takes about 10 minutes to one hour.
Reasons to Make Homemade Sunscreen
Before we dive into some really cool sunscreen recipes, it's important to remember that using just about any sunscreen will do. But there's something about making your own sunscreen that isn't just satisfying, it also gives you full control over ingredients, quantities and fragrances. If you dive into this hobby, you will be able to:
Add the vitamins and ingredients that are actually beneficial for your skin. In other words, you can control the products quantities of vitamin C, D, or E, but also the proportions of each. By studying a bit about how important these vitamins are for your skin's health, you will be able to come up with personalized recipes that serve you well.
Create a product that is suitable for the entire family. When you're buying conventional sunscreen, not every ingredient on the list can be used on people of all ages, but natural homemade products are much safer to use even on a baby's skin.
Protect ocean life. Studies have suggested that when you go for a swim in the sea/ocean, the water washes away the sunscreen, taking its chemicals along with it. These chemicals can really affect ocean life, since there are over 5,000 metric tons of sunscreen product that gets washed away every year.
Control the fragrance. Since you're in charge of the recipe, you can add the essential oils of your choice, creating an end product that leaves your skin smelling just how you want it to.
DIY Natural Sunscreen
Homemade Sunscreen Recipe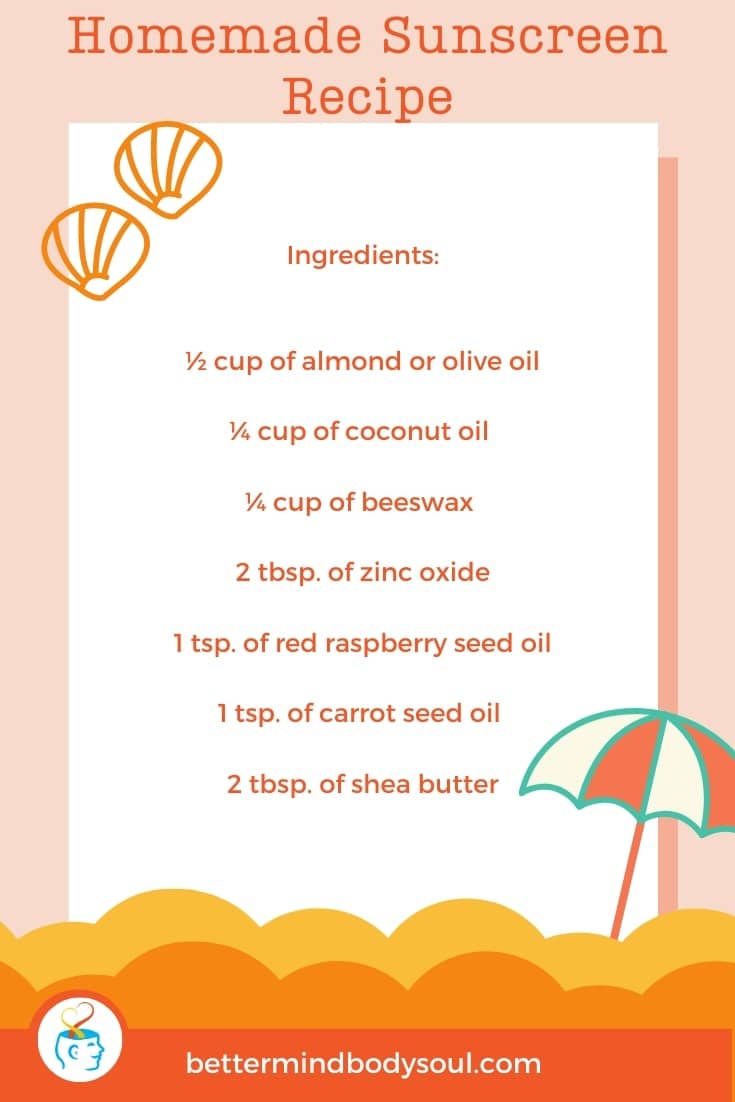 Here's a natural sunscreen recipe which takes about 15 minutes to make, and another one hour to cool down. Aside from the ingredients mentioned below, you might want to add some extras, such as essential oils, in case you're aiming to obtain a specific fragrance.
Ingredients:
½ cup of almond or olive oil
¼ cup of coconut oil
¼ cup of beeswax
2 tbsp. of zinc oxide
1 tsp. of red raspberry seed oil
1 tsp. of carrot seed oil
2 tbsp. of shea butter
Directions:
Grab a large glass jar and mix all the ingredients, with the exception of the zinc oxide. Using the double boiler method, place the jar in a bain marie, making sure you place the lid on top, without closing it too tight.
From time to time, shake the jar to make sure the melting ingredients will mix together. Add the zinc oxide in the jar once the other ingredients have melted.
After blending in the zinc oxide, pour the mixture into the container you plan to use in the long run. Stir the mixture once again, to make sure the zinc oxide has blended into the formula. Store the sunscreen in the fridge for a longer shelf life.
Homemade Sunscreen: A Natural Recipe
Zinc oxide is one of the main ingredients in natural sunscreen recipes. The amount of zinc oxide is calculated as a percentage of the total resulting product quantity, and it determines the SPF for your lotion. For example, sunscreen that offers less than 5 SPF usually contains about 5 percent zinc oxide, while formulas that have an SPF of over 20 contain about 20 percent zinc oxide.
Ingredients:
1 oz. coconut oil
0.8 oz. Shea butter
0.1 oz. jojoba/sunflower/sesame oil
0.1 oz. Vitamin E oil
Zinc oxide powder
Optional: 30 drops of your favorite essential oils
Directions:
Using the double boiler method, melt the jojoba/sunflower/sesame oil together with the coconut oil and shea butter. After the ingredients have melted, remove them from the stove.
Cover your face using a mask, as to avoid inhaling the zinc oxide powder. Measure the quantity of zinc oxide you plan on adding to your mixture (which should be about 2 oz. with this list of ingredients).
Mix the melted formula with vitamin E oil and the zinc oxide and, if you want, add the essential oils as well. Stir the mixture well and set it aside for cooling.
Whipped Shea Butter Sunscreen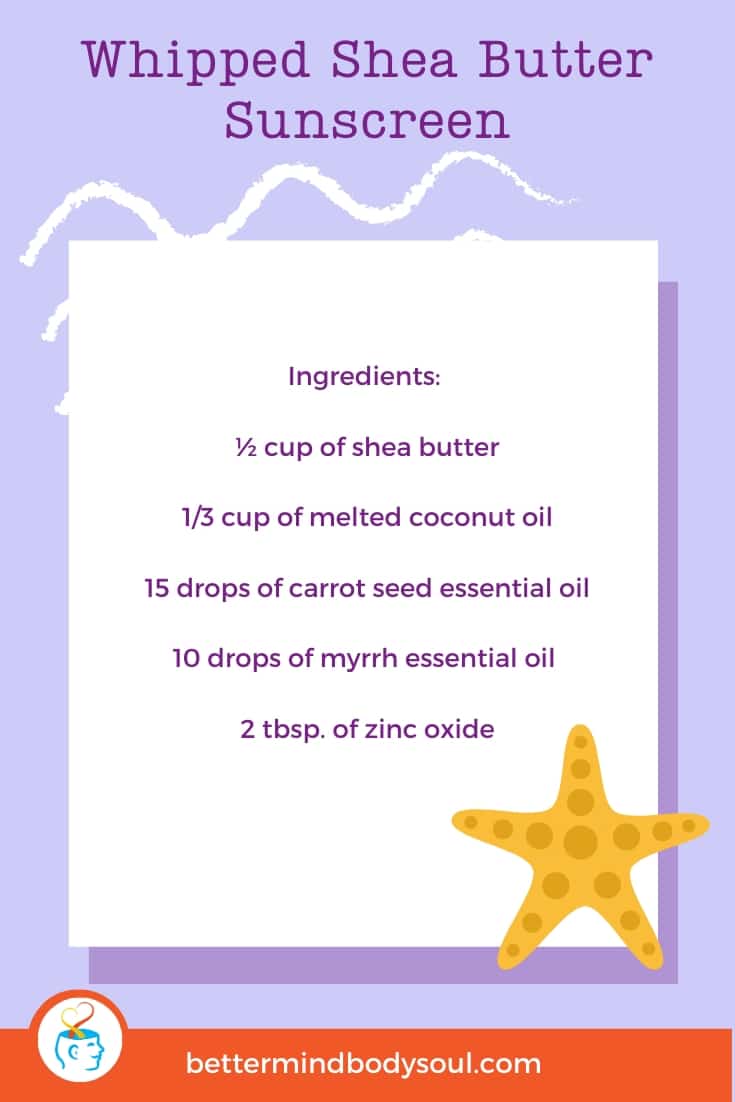 The following recipe can be completed without adding zinc oxide, in case you're not sure about the benefits of this ingredient. However, when you do add zinc oxide, you can get a total SPF of about 40, whereas omitting the oxide gets you about 20-30 SPF. Also, keep in mind that measuring the ingredients exactly will give you the right consistency for this formula.
Ingredients:
Directions:
Whip the shea butter until it has a creamy consistency. As you do so, slowly add melted coconut oil to the mixture. Then, add the essential oils and continue whipping. When you're done, you can also add the zinc oxide, should you decide to use it in the recipe.
Homemade Sunscreen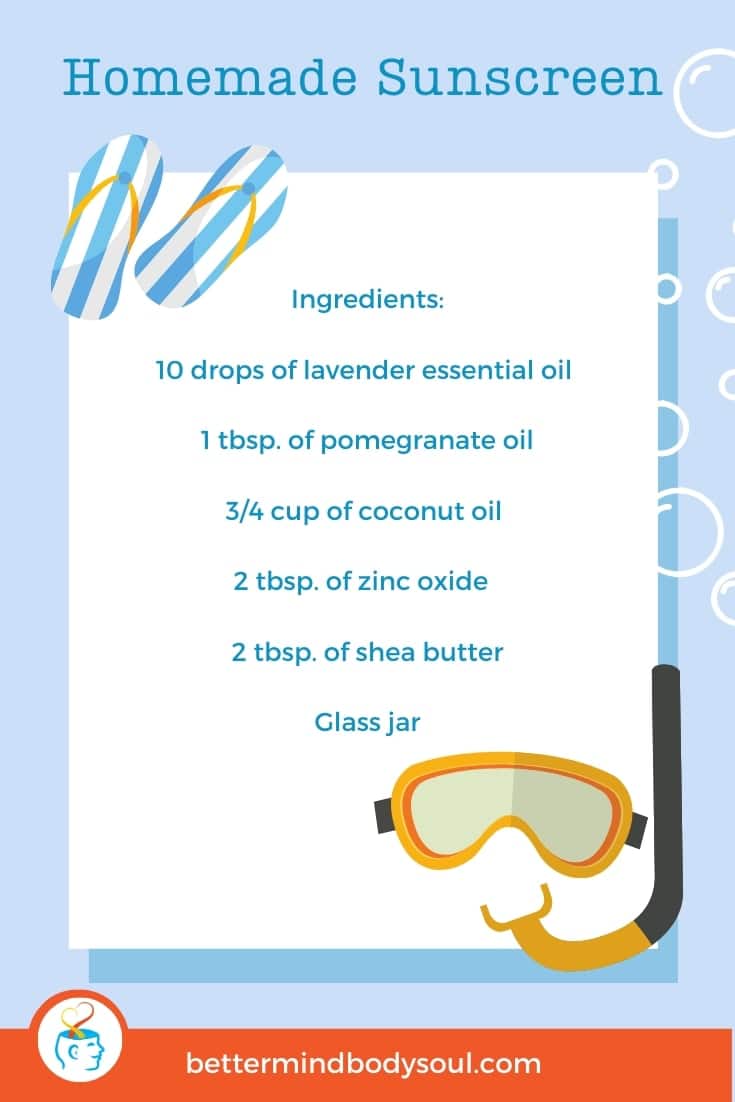 If you're concerned about the ingredients found in conventional sunscreens, you can always whip up your own batch of natural product, and a great recipe to test is the one written below. It features lavender oil, to give it that powerful floral scent, plus coconut oil, which has plenty of skincare benefits. It also uses zinc oxide, a mineral powder that's an active ingredient of plenty of well-known store-bought sunscreens.
Ingredients:
Directions:
In the glass jar, mix all the ingredients except the zinc oxide. Melt the ingredients using the double boiler method. Stir the mixture as the ingredients start melting until they've fully melted.
Once the ingredients are combined into a homogeneous mixture, add the zinc oxide and stir well.
Natural Sunscreen Recipe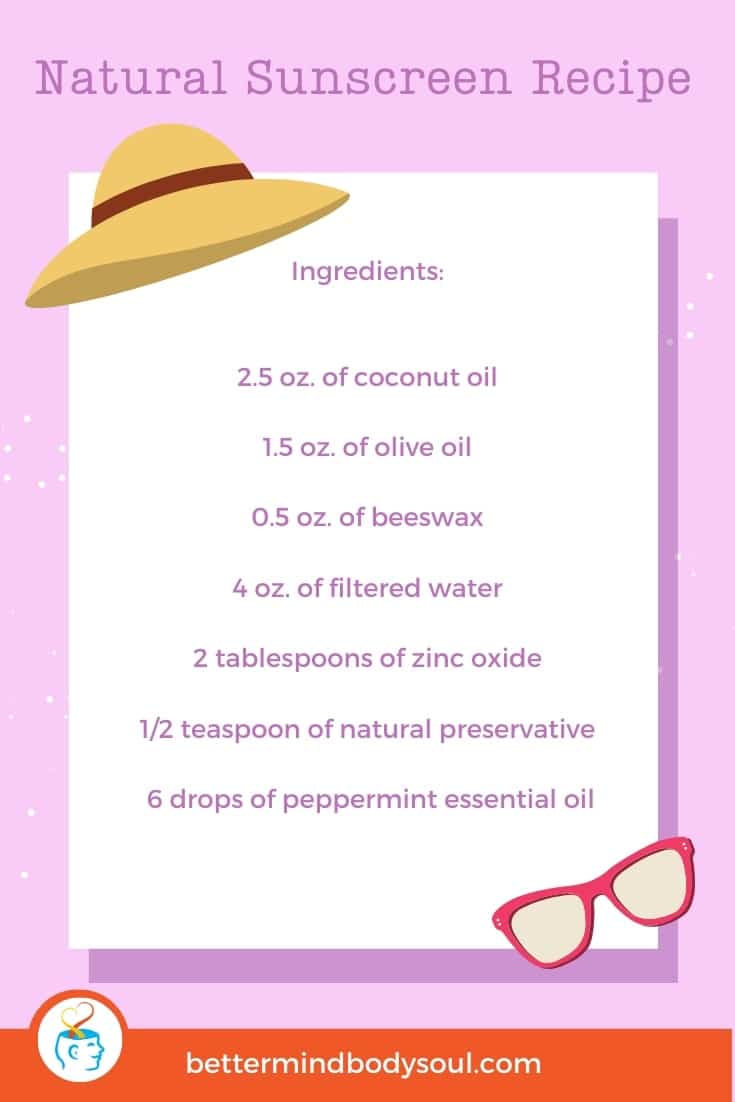 According to a 2010 study, coconut oil-based sunscreens are the most efficient ones, so here's a recipe that might be of interest to you. The beeswax gives the sunscreen a pleasant consistency, while the natural preservative maintains the quality of the mixture. You can use something like liquid radish root.
Ingredients:
2.5 oz. of coconut oil
1.5 oz. of olive oil
0.5 oz. of beeswax
4 oz. of filtered water
2 tablespoons of zinc oxide
1/2 teaspoon of natural preservative
6 drops of peppermint essential oil
Directions:
Heat a saucepan with water to prepare the ingredients for melting in a double boiler. Proceed to melting the beeswax and the oils with this method.
Remove the ingredients from the heat, then mix in the water using a stick blender. You should end up with a creamy consistency. For the final step, add the zinc oxide and mix well.
Homemade Sunscreen – Non-Toxic and Natural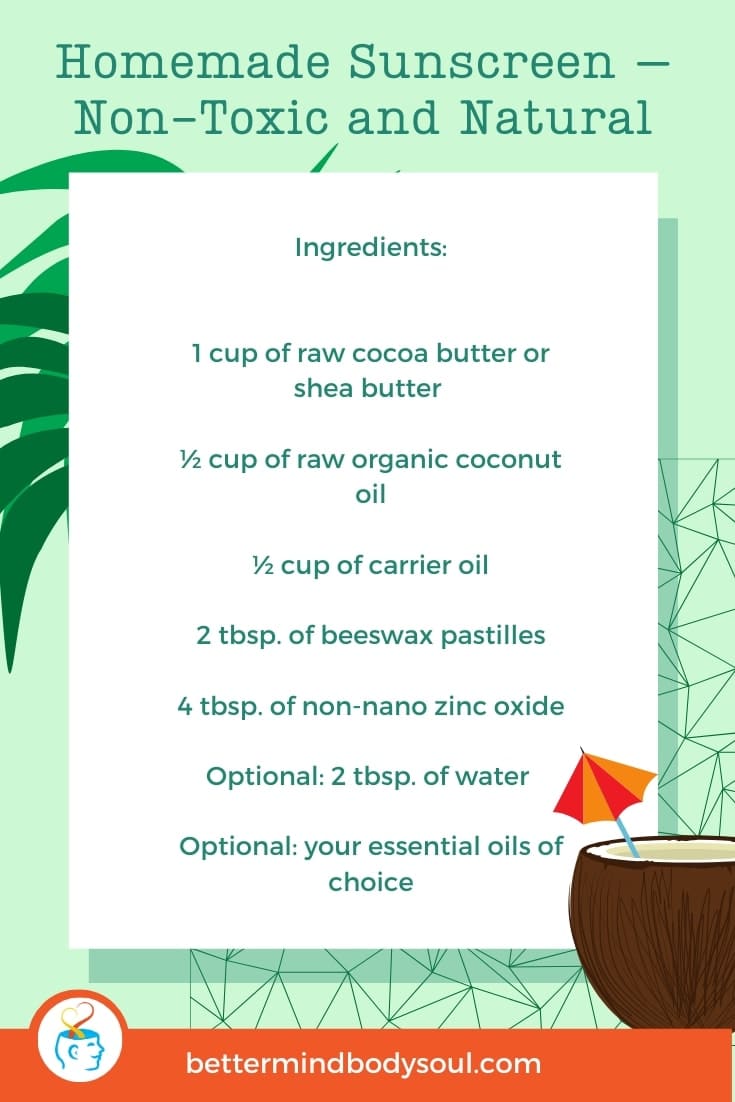 When you're making a batch of natural sunscreen, you might want to add essential oil to give your product a pleasant scent. However, you must make sure that you avoid using essential oils made from citrus fruit, because they are suspected to attract the sun.
Ingredients:
1 cup of raw cocoa butter or shea butter
½ cup of raw organic coconut oil
½ cup of carrier oil
2 tbsp. of beeswax pastilles
4 tbsp. of non-nano zinc oxide
Optional: 2 tbsp. of water
Optional: your essential oils of choice
Directions:
Using the double boiler method, melt the coconut oil, carrier oil, shea butter, and beeswax. When the ingredients have melted, place them in the fridge until they return to room temperature.
Once they've hardened, mix the formula using a mixer. Add the zinc oxide, water, plus the essential oils of your choice, and continue mixing for about five minutes.
Healthy Homemade Sunscreen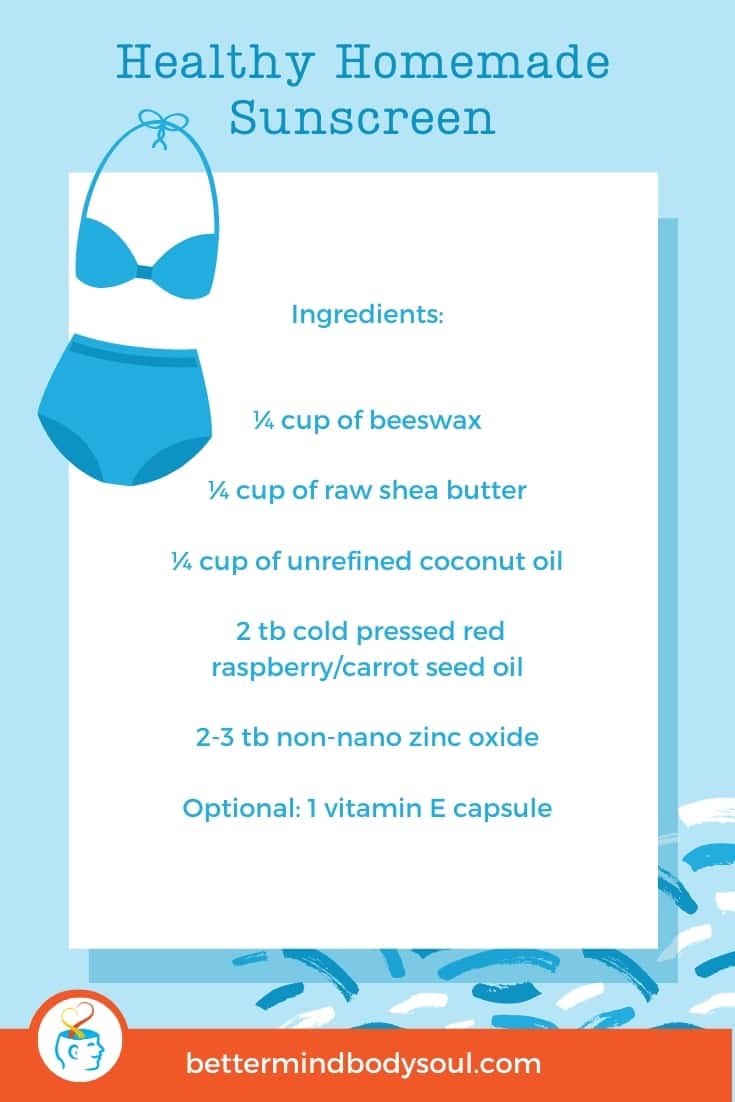 When you make your own natural sunscreen, you are full control over the ingredients that you get to place on your body. There's plenty of controversy on whether natural sunscreens are more efficient compared to conventional ones, but plenty of dermatologists point out that the one thing that really matters is that you apply any kind of sunscreen, in order to prevent potential sun damage.
Ingredients:
¼ cup of beeswax
¼ cup of raw shea butter
¼ cup of unrefined coconut oil
2 tb cold pressed red raspberry/carrot seed oil
2-3 tb non-nano zinc oxide
Optional: 1 vitamin E capsule
Directions:
Whip up a double boiler and use it to melt the beeswax. Once melted, add the raspberry seed/carrot seed and coconut oil and shea butter on top of the beeswax. If you're using vitamin E as well, add in now.
When the mixture begins to thicken, remove it from the heat, add the zinc oxide and continue to mix. Whisk until your sunscreen cools down. By the end, it should have a creamy consistency.
Homemade Water-Resistant Sunscreen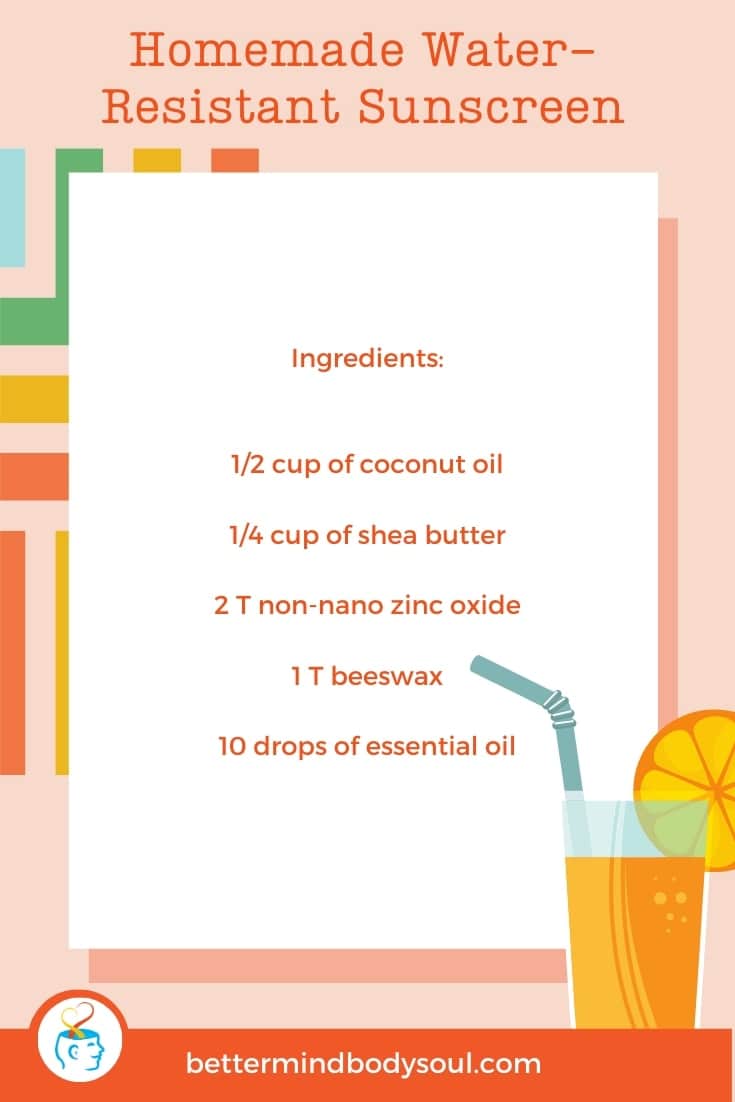 We bring you yet another 15-minute recipe that you can whip up if you're interested in making your own natural sunscreen. But a little word of advice first: even if you buy water-resistant or waterproof sunscreen, don't always believe the marketing claims, because you're doing so at your own risk. Just to be safe, apply lotion after heavy sweating or after swimming.
Ingredients:
Small jar
1/2 cup of coconut oil
1/4 cup of shea butter
2 T non-nano zinc oxide
1 T beeswax
10 drops of essential oil
Directions:
In a double boiled, proceed to melting the beeswax, shea butter, and coconut oil. Then, add in the zinc oxide and the essential oils. Make sure that you don't inhale the zinc oxide powder, use a mask or a piece of cloth over your mouth and nose.
Simple Homemade Sunscreen Recipe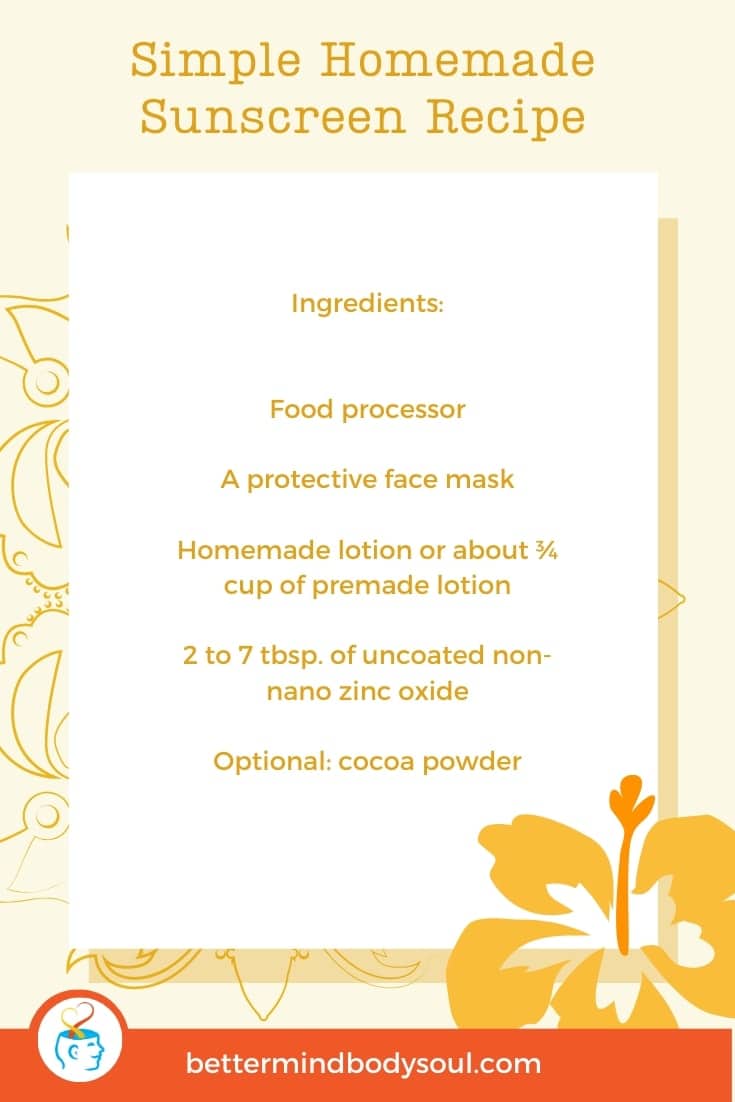 The recipe below requires using a lotion base in order to get just the right moisturizing and nourishing consistency. If you use premade lotion, you have to make sure that the formula is very rich in antioxidants (you might want to look for ingredients such as olive, avocado, or coconut oil).
Ingredients:
Food processor
A protective face mask
Homemade lotion or about ¾ cup of premade lotion
2 to 7 tbsp. of uncoated non-nano zinc oxide
Optional: cocoa powder
Directions:
Those of you who use premade lotion should warm it using the double boiler method, then add it to a food processor together with the zinc oxide. You can also add essential oils for a more particular fragrance, and cocoa powder for tint.
Bottom Line
The most important rule that you have to keep in mind is that, despite the entire controversy that revolves around the efficiency of natural sunscreen vs. conventional one, having some sunscreen on your skin is better than having none at all.
So, whether you decide to give any of these recipes a chance (hey, worst case scenario, you end up with some deliciously smelling body lotions) or stick to conventional sunscreen, remember never to leave the house without applying some. Have you ever tried making your own skincare products before?