As fans of aromatherapy and all the wonderful benefits essential oils bring to our lives, we want to make sure we are getting the best product we can for the money. Let's face it, most of us live on a budget but we want purity when it comes to our scents. Today we are going to look at two giants in the aromatherapy world. Rocky Mountain Essential Oils vs Young Living, which producer distributes the best product?
Rocky Mountain Oils and Young Living Comparison
​​Rocky Mountain Oils

​​​Young Living

PROS

Dedicated to purity

Offers a great refund even after 90 days

Offers singles, blends, and different product lines

Conducts third-party testing

Dedicated to purity

Offers singles, blends, and different product lines

Conducts third-party testing

Offers fans an opportunity to earn money

CONS

Hasn't been around as long

Doesn't offer opportunities to make money




LEARN MORE

The refund policy isn't as great

You pay more for products due to the multi-level marketing

LEARN MORE
Rocky Mountain Oils
Our first company got its start in 2004 when a group of health devotees came together with one goal in mind. To produce essential oils that were pure enough for safe use, they wanted to make their products available to everyone in the world. With this in mind, they came up with a system to make this happen.
S.A.A.F.E. Promise™
Every essential oils company I have researched has its own method of making sure their product is pure, and this is Rocky Mountain Oils own method. This is what it stands for.
Satisfaction Guaranteed
The first step is to make their commitment to supplying the purest and best essential oils available. Rocky Mountain Oils offers a guarantee the offers 100% satisfaction when it comes to the purity and potency of their oils.
Authentic
When it comes to selecting suppliers, they are dedicated to testing their products for quality. The process is demanding, but they are committed to providing quality oils to their customers. This is how they do it.
– Sourcing
When it comes to the commodity they provide, Rocky Mountain Oils makes sure the suppliers they use are reputable in the industry and that they build long-lasting relationships with them.
– The Sampling Process
Once the essential oils are extracted from their host plants, they are put through some vigorous testing. Hundreds of samples are sent through gas chromatography-mass spectrometry testing or GC/MS, which is a standard test in the industry.
– Third Party Testing
This is Rocky Mountain Oils way of staying honest. After they do their own testing, they send their samples out to be tested by a neutral, third party. The in-house chemist supervises the testing process from beginning to end as well as the bottling stage.
Analysis
The next A in the S.A.A.F.E. process stands for the other types of testing their oils are put through. Besides the GC/MS testing, these extracts are put through Organoleptic testing and Refractive Index (RI).
Organoleptic testing is conducted by their in-house chemist. Every batch is inspected for their look, smell, feel, etc. This happens before they can be bottled. RI is a process where the speed of light is passed through an essential oil. It helps to measure the combination of constituents, which are unique for each scent.
Free of Adulterants
The final stage of the S.A.A.F.E. is that they guarantee their extracts have never been spoiled by adulterants. This is made possible with third-party testing.
How They Sell
When it comes to purchasing their product, it's pretty easy. All you have to do is go to the Rocky Mountain Oil website and browse their content, put what you want into your shopping cart and go. They call it direct-to-consumer selling, which is different than the other company we will cover next.
Return Policy
Rocky Mountain Oils offers a 90 Day No Hassle Return Policy and Satisfaction Guarantee.
Young Living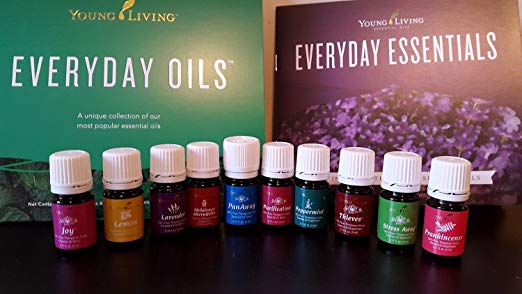 This company is an organization that we've discussed in great detail in quite a few posts. Most aromatherapy fans have heard of Young Living, and since their beginning back in 1993, they have grown from a distributor of a few single scents to a company that has popular blends, like Thieves, and complete lines of products that range from house cleaning to digestive aids.
Young Living was founded by husband and wife team, Gary and Mary Young. While he was an expert in aromatherapy, Mary was a business professional who was familiar with the multi-level marketing method. Young Living is based in Utah and has become one of the top suppliers of essential oils in North America.
Seed to Seal®
Just like our previous company, Young Living has come up with their own system to maintain top quality in their products. It's called Seed to Seal and we break it down for you quickly below.
Sourcing
This is the first part of the Seed to Seal system. Young Living has high standards when it comes to sourcing. They follow Partnership Principles and have top of the line facilities when it comes to extracting, testing, and bottling their products.
Science
According to their website, this part of the process is the "cornerstone" of all they do. They have constantly conducted research imperative to the industry and employ dozens of scientists for research, testing, and innovations in the development of new products.
Standards
Finally, in this three-step system called Seed to Seal, this company pays special attention to where they source their raw materials. They are insistent on making a positive impact on the local farming communities and follow by all the policies and guidelines set by the Global Compliance Program. Following green standards isn't important to them, Young Living is a leader in the movement.
Testing
When it comes to batches, Young Living conducts the same Refractometry and GC/MS testing among a myriad of additional tests that are far too numerous to list here. A few of them include Densitometry, Viscometry, Polarimetry, Microscopy, Combustibility, and Isotope Ratio Mass Spectrometry.
How They Sell
Now that we've covered the production, you might want to know how you purchase Young Living products. To do so, you have to be prepared to deal with Multi-level marketing (MLM). This works when the company has representatives that promote their products to people who purchase and also agree to sell their products.
Multi-level marketing has worked for many companies and Young Living is one of them. The plus side of it all is that it presents an opportunity for people to earn a side living while selling a product they love. It's reminiscent of your mother's or grandmother's Tupperware parties.
The downside is that to purchase only one bottle of oil is difficult. For that, you need to find a representative, which isn't difficult. Otherwise, you can sign up for membership yourself, which commits you to a monthly purchase. You can try to sell them yourself!
Refund Policy
Unopened products returned within 30 days will get a full refund via the payment method. Opened products returned within 30 days will receive a Young Living credit. All products returned up to 90 days will get a Young Living credit depending on how much of the product has been used. If the bottle is 50% full, you will get a credit of 50% of your purchase price.
Conclusion
When it comes to the purity of the product, both of our contenders seem to go out of their way to ensure their products are pure. Their customers are happy, and they are well established in the industry due to the quality they provide.
The difference between the two, for the most part, is the way they sell. One offers an easy online shopping cart system, which we all love, while the other requires a bit more of commitment once you choose to invest in some serious scents.
If you found this article helpful, please let us know in the comments section below.