Wolfberry Eye Cream
We might age but we don't want to look like it. Young Living Wolfberry Eye Cream takes the power of essential oils like Lavender, Frankincense, and Bergamot and blends them with other natural anti-aging ingredients like Shea Butter and Jojoba Oil. Reduce eye wrinkles and rejuvenate skin with this group of organic compounds.
Check The Price
There are quite a few body parts that begin to break down as we age. Our skin is the first thing we see when we look in the mirror and how we present ourselves to the world. That's why we care about looking younger, even if we respect and admire the wisdom that comes with growing older.
Young Living has created a product intended to get rid of the particular signs of aging that show up around your eyes. We'll explain the product and talk about Wolfberry Eye Cream reviews.
Young Living Wolfberry Eye Cream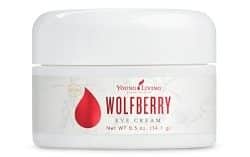 When it comes to eye creams, there are some on the market created with synthetic chemicals, which permeate your skin and gets absorbed into your body. This skin care product takes the powers of Wolfberries, and other natural ingredients, and blends them together to create a paste that has the ability to reduce fine lines around your eyes.
The creators of this product recommend that you massage this cream under your eyes after you wash and tone your face in the evening. Now that you have a quick overview of what this eye cream is, let's dig a little deeper.
Check The Price
What's Inside?
Before I put anything on my body, especially near my eyes, I want to know what is in it. I have sensitive skin and can break out easily when I expose my face to some ingredients. So what is in this eye cream? Powerful agents that we've listed below.
Wolfberry Seed
Obviously, the most important ingredient in the list is the oil whose name is on the label. Otherwise known as Goji berries or Lycium berries, has been used as a remedy for many health issues for centuries in Chinese medicine. It comes with a wealth of power when it comes to our overall well-being.
That said, this product is not some sort of cure it all. It's an eye cream so we are only concerned with how it's going to affect the wrinkles around our eyes. As it turns out, the oils extracted from this berry can do great things for the dryness and possible skin inflammation in that area. A plus is that Goji berry is also an antioxidant and great for the eyes.
Lavender
This next ingredient is a popular scent with seasoned aromatherapy veterans and newcomers alike. My personal experiences with pure lavender oil, the Young Living brand to be specific, has shown it can heal burns instantaneously, work as a calming agent, and do so much more. As a skin care ingredient, there are not many oils that can hold a candle to this one.
As for its effectiveness in this eye cream, it brings a great deal of power to the table. It works as a relaxer, which makes it great for relieving stress around the eyes. It also improves the circulation of blood, which can do a great deal for the dark circles that can appear in the very area you will be applying this cream.
Coriander
Next, we have an oil that is extracted from seeds that have been used as a treatment for several issues in Latin America, Southeast Asia, and India. The reason why it is so powerful as an additive for a skin care treatment like the Wolfberry Eye Cream is due to its ability to make the skin look brighter and healthier.
Roman Chamomile
You may recognize this name from the tea box at your favorite restaurant, or if you are a tea fan like me, you have plenty of this steeping flavor right in your own cabinet. It's wonderful for calming me down. So, it's no surprise that they added the extract to this eye cream. Relaxing the skin around your eyes may help rid of wrinkles. It's also a great remedy for other skin irritations.
Frankincense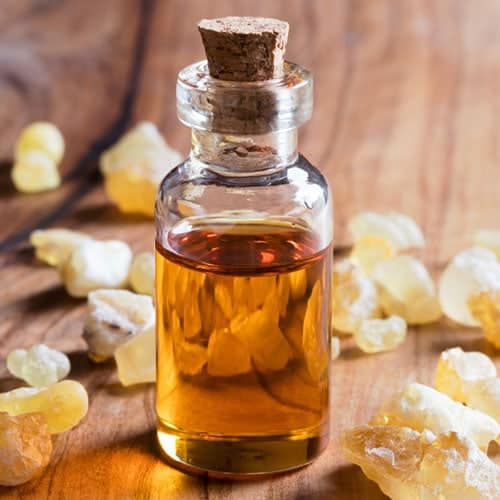 Just like Frankenstein was a monster, this essential oil with a similar sounding name is a monster when it comes to skincare. It helps reduce the appearance of scars, acts as a toner, relieves stress, all of which are all great for the skin that surrounds your eyes. Most importantly, it has anti-aging properties like removing micro-wrinkles and sunspots while concurrently regenerating skin cells.
Geranium
Our next ingredient has similar anti-aging properties we found in Frankincense. It improves the health of dying cells on your face, tones, and also reduces the signs of scars. An added benefit is its ability as an antibacterial compound.
Bergamot
The healing compounds in this next oil are what makes it a powerful addition to this group of skincare ingredients. It helps balance the pigmentation of the skin and can reduce the appearance of marks.
Ylang-Ylang
Next, we have an oil that can help balance the sebum on our face, which is great for those dealing with combination skin types. It also tones, eases irritation, and works as an antiseptic.
Rosehip
The last essential oil in this cream is far from the least. Rosehip has been used to make lines and wrinkles disappear as well as to moisturize dry skin. It also soothes irritation and speeds up the healing process. It is an ingredient that helps with psoriasis, acne, and eczema.
Other Ingredients
Of course, the eye cream is not only made up with essential oils. Here are some of the other powerful additions that give this product the power it claims to have.
Cucumber
The image of a woman lying on her back with a towel over head and cucumber slices on her eyes isn't that unfamiliar to us. Cucumbers have been used as a tool to lift the look of a person's eyes for a long time. This could be due to the levels of vitamin C, which helps soothe irritations on the skin and reduces swelling.
Avocado
While we love to put this stuff on our toast in the morning, in the case of this eye cream, we are talking about the oils derived from this fruit. It is chock full of vitamin E as well as potassium, which is nourishing and moisturizing. It is considered a carrier substance in the aromatherapy world.
Sweet Almond
This next carrier oil is also full of vitamin E, which has been used to help heal wounds, moisturize the skin, reduce itching, and ease issues resulting from eczema and psoriasis.
Jojoba
The last carrier on the list is another friend to dry skin due to its moisturizing benefits. It is also used to treat eczema, rosacea, and other skin disorders.
Mango
Here we have an oil derived from a fruit that we don't see very often when writing about skincare products, which is surprising since it's rather powerful in this type of application. It can build a barrier on the skin to protect it from external toxins as well as lock in the moisture.
Witch Hazel
This ingredient sounds scary but it is anything but. It works as an anti-inflammatory and speeds up the healing process. It is also used to soothes irritations of the skin and help keep it moisturized.
Shea Butter
Next, we have a combination of words that are heard in skincare circles constantly, which is due to its many powers when it comes to treating issues that deal with the skin. It is moisturizing, works as an anti-inflammatory, can repair damaged skin cells, and fights toxins that can cause premature aging.
It has been used to reduce age spots, wrinkles, and can reduce oxidative stress around your eyes.
Green Tea
Last but not least we have another title that might remind you of the tea bags in your collection. In fact, wet tea bags have been placed on many eyes to reduce puffiness, so it isn't surprising that it's been added to a cream designed to help that specific facial area.
Natural Is Better
We've touched on this once but I think it's important to reiterate that when it comes to the products we put on our skin, it is important that it has all natural ingredients, like the ones listed in this piece and used to create Wolfberry Eye Cream. Together, the bulk of benefits in this list is difficult to beat.
Check The Price
Cautions
While natural is safe there is always a risk when you put something on or near your eyes, which is why we want to point out that some people are sensitive to certain essential oils. Because of the volatile nature of these compounds, we recommend if you are pregnant, nursing, or on a specific healthcare regimen that you speak to your healthcare provider before using. Also, keep out of the reach of children.
Young Living Wolfberry Eye Cream Reviews
For the most part, consumers who purchased this product were happy with the results. Buyers love the powerful moisturizing agents in this cream and the added scents are hard to beat when it comes to the first sniff.
There is plenty of comments on how powerful it worked as a moisturizer, which is always a good thing. Also, some users found the formula evened out their skin tone and texture.
Some people found the cream to be a little too thick, which is a matter of personal preference. Also, there was a complaint about the contents irritating the skin, which implies that the person might have a sensitivity to one of the ingredients.
Conclusion
Aging is a process people have been trying to stop for centuries, which is difficult. When it comes to reducing the signs, there are several compounds found right in nature that can help you do just this. Most of these are found in this Young Living product, Wolfberry Eye Cream.
If you enjoyed this review, please let us know in the comments section below. If you know someone who might benefit from this, please share it with them.
Check The Price