Today, we want to talk about the benefits of using a yoga mat. The gentle practice has been around for hundreds of years, stemming from an Indian origin. It's often used as a daily exercise, a way to calm the mind, and even used in physical therapy. But none of that is effective without a proper yoga mat. Some people just use a blanket or the hard floor, but there are so many benefits to using a good mat that just can't be ignored. Let's take a look!
Benefits of Using a Yoga Mat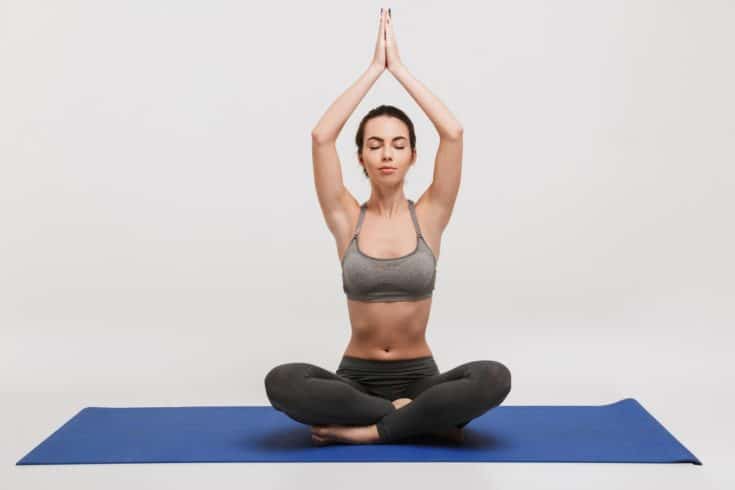 Why do you need a yoga mat? Sometimes, when you're working out, it's best if you just exercise directly on the floor. Practicing yoga isn't one of those cases, and while it is perfectly possible to do yoga without buying a mat, it's purpose will simplify the process considerably. A yoga mat that's chosen correctly and covers your current needs will change the way you do yoga in more ways than one:
So, why use a yoga mat? Without one, you risk injury on a lot of different levels. First of all, your hands can get really sweaty when practicing poses, and they could slide on the floor and cause you to fall. The floor underneath you may be very smooth and slippery, and again cause you to fall. Your feet can slide off the floor and you could fall. Basically, there are a lot of scenarios that could end up with you getting hurt, and a good yoga mat can help prevent that.
Another form of injury during yoga is a result of not getting enough comfort while you're stretching and holding postures. You might end up with sore knees, back or shoulder pain. This is even riskier if you suffer from a condition like arthritis. This is why you need a yoga mat, and one with a sufficient amount of padding that will prevent you from ending up with sore muscles and joints (unless the soreness is a normal result of a quality workout, then you're good).
It is sanitary. Imagine going to a yoga class without a mat. Think of your hands touching the floor that who knows how many hands and feet have walked on since someone last mopped the floor. Doing yoga without a yoga mat is simply unsanitary. Even when you do it at home, think of having to mop the floor, then waiting for it to dry, then doing your yoga session. A mat can provide you with a clean workout space, regardless of where you're at.
When you use a yoga mat, you are more likely to be able to maintain your balance for longer. Imagine having to do poses where you rely on your shoulders for support. If you were doing yoga on a smooth and waxed wooden floor, it would be very difficult to hold a pose without your body sliding back and forth.
Last, but not least, a yoga mat can keep you warm. As basic physics rules have told us for years and years, the floor is the coldest part of the room, as heat always goes up. Now, imagine having to lie down constantly on the floor during the winter. When you use a yoga mat, it can help transfer some of that body heat onto the surface, so you'll have a warm place to come in contact with instead of that cold floor.
How to Choose a Yoga Mat 
Unlike other types of sporting equipment and accessories, choosing a good yoga mat actually depends on a limited number of factors, but all of them have a direct influence on how your yoga sessions will play out. When it comes to picking a yoga mat, you will have to consider its weight, thickness, and construction. Also, if you practice yoga really often, you should also take an interest in durability. Luckily, we have some solid tips for you.
When it comes to the construction and materials of a yoga mat, there are four major types used:
PVC mats are created using a man-made material that makes really durable products. The thing about PVC yoga mats is that they are cheap and lightweight, which means they are much better suited for beginners who have yet to identify what type of yoga mat best suits them. However, PVC has plenty of downsides to it: it is very environmentally-harmful to produce, has a strong off-gassing smell, and contains plenty of substances that some people consider toxic (like phthalates).
Rubber is an excellent material for yoga mats. It comes with a wide range of benefits that one simply can't ignore: it's a biodegradable material (because it comes from natural rubber trees, and therefore helps protect the environment), it has a very sticky feel to it (which means that you'll get a good grip even when your body starts to sweat), and it serves to make mats that are suitable for all levels of yoga-expertise. However, rubber mats are also more expensive compared to PVC, they can't be left in direct sunlight (as this will warp the mat), and they're also quite heavy.
PER (short for "polymer environmental resin") is another material that's used to make yoga mats. The main downsides to PER mats are the fact that they don't provide that much grip at first (as most of them require a break-in period) and they aren't as sticky as PVC mats. However, they are non-toxic, affordable, biodegradable, and hardly emit any unpleasant odor when unboxed.
TPE (short for "thermoplastic elastomer) is your least durable choice out all mentioned here, but they also provide plenty of benefits. TPE mats are available in a wide range of textures, are non-toxic and biodegradable, can repel moisture, and are lightweight.
When it comes to choosing a material for your new yoga mat, you really have to prioritize what it is that you expect such a product to deliver. You want something with a non-slip surface (to avoid losing balance and getting injured), in which case rubber mats are a good choice. IF you care about being eco-friendly, steer clear of PVC. However, if you want durability, PVC is a good choice.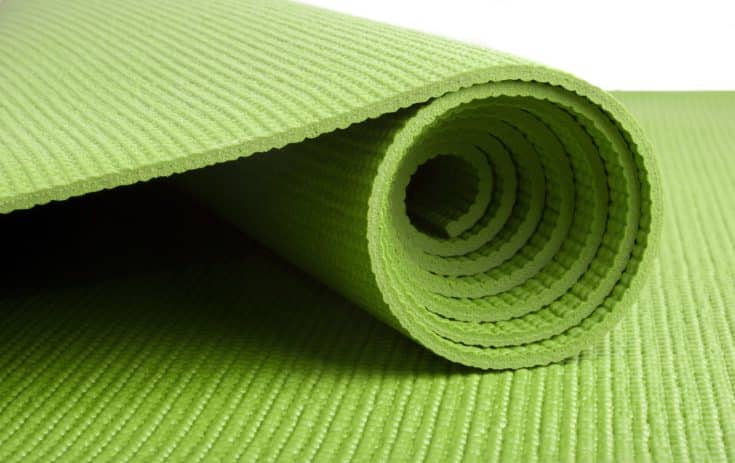 The thickness and the materials that are used to make a yoga mat will also determine its weight. Here's the thing: if you want a yoga mat that you can use at home, then weight shouldn't concern you very much. If you travel a lot and practice yoga during your travels, you want a foldable and lightweight mat. If you go to yoga classes on a regular basis, you want a lightweight mat that can easily be rolled and carried away, and especially one that comes with a shoulder strap.
If you're new to this yoga thing, look for a mat that has about ⅛ inches in thickness. This is the standard to look out for, as it helps you maintain balance when in contact with the floor, which is something that mats with plenty of cushioning can't really provide for someone who is new to yoga. However, there are plenty of experienced yogis that like a thinner mat because it allows them to have more flow during practice, helping them to switch from one pose to another with great ease.
Conclusion 
The subject of practicing yoga is a very complex one and, honestly, if this were an article focused on yoga in general, I could write for days on end about the marvelous history of the practice and the medical and spiritual benefits it brings to the table.
One of the things that you'll love most about practicing yoga is the fact that, unlike other sports, it takes very little financial investment to get everything you need and start practicing. With the right set of clothes and a yoga mat that provides a decent level of cushioning without making you lose balance or slip and fall when your body starts to sweat, you are ready to take on a practice that all about wellness and self-appreciation.