Practicing yoga is a healthy habit for both the body and the mind. People who do it not only get a chance to stretch their bodies, but they also get the chance to meditate, be in the moment, and become more aware of their surrounding environment. Whether you practice it at home or attend yoga classes with a professional instructor, you can never really have a comfortable yoga session with the right mat. But what happens when you're on a budget?
5 Best Cheap Yoga Mat for Home Use Comparisons
IMAGE
BRAND
DETAILS

BalanceFrom GoYoga

Dimensions: 71 x 24 inches

Thickness: ½ inches

Materials: high-density foam

Check The Price

AmazonBasics

Dimensions: 74 x 24 inches

Thickness: ½ inches

Materials: high-density foam

Check The Price

Yoga Mate

Dimensions: 72 x 26 inches

Thickness: N/A

Materials: microfiber

Check The Price

Gaiam Essentials

Dimensions: 72 x 24 inches

Thickness: ⅖ inches

Materials: NBR Foam

Check The Price

TOPLUS Yoga Mat

Dimensions: 72 x 24 inches

Thickness: ¼ inches

Materials: TPE

Check The Price
Considerations Before Buying a Yoga Mat
If you've been practicing yoga for a while, then you are already aware of the characteristics a good yoga mat should have. In fact, if you're a veteran yogi, you might as well skip to the second part of the article, which will give you some pointers on what the best cheap yoga mats are right now. There are options under $50, and even under $30. But if you're new to the practice, you will need a little bit of guidance when it comes to making this purchase.
One of the greatest things about practicing yoga is the fact that the accessories you need to do it aren't all that expensive. There are plenty of people who use shorts or stretch pants and a T-shirt or tops they already own to do yoga, while others like to invest in special apparel. Aside from comfortable clothing, all you really need for yoga is a good mat, so here's what you should know before you buy:
Body Type
Your body type is important because yoga mats have different sizes and lengths. A standard rug will measure about 68 inches in length, but there are longer options out there for taller people. So, what is a yoga mat length that's right for you? Take your height and make sure the rug is longer. Easy!
Type of Yoga
The exact type of yoga that you practice will have a say in the price of the mat you plan to buy. For example, if you are a beginner, it makes sense not to invest in the most expensive yoga mat you can find right from the get-go. You can find mats for beginners that cost less than $20 and if you decide to upgrade your technique and eventually start taking on more complicated poses, you can also invest in a more expensive mat.
Location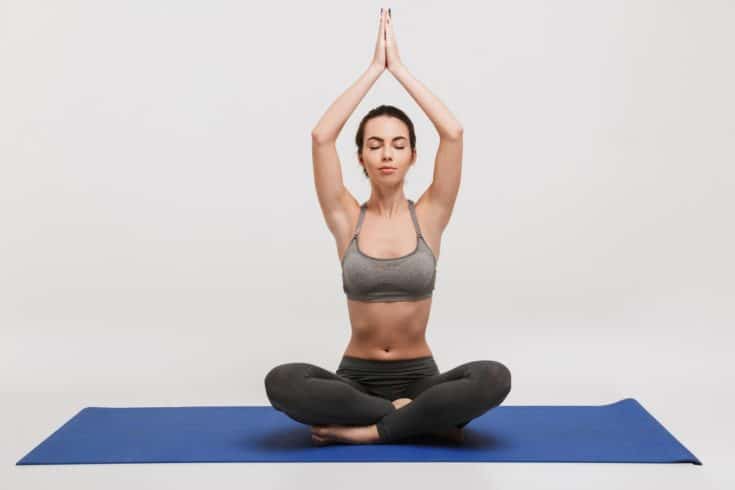 The exact location where you practice yoga is also an important factor in deciding what type of mat you're going to need. For example, if you attend yoga classes, travel a lot, or practice yoga in a remote location, you need a mat that can easily be rolled/folded and which doesn't weigh very much. If you practice yoga at home, weight is probably not that important to you.
Material
If you're interested in staying within a very limited budget, PVC mats are the least expensive ones of all. However, there are plenty of concerns over the toxins these synthetic pads contain, which is why a lot of people prefer to avoid them. Rubber is one of the best choices when it comes to yoga mat materials. It more durable, more eco-friendly, and can provide plenty of cushioning. Cotton mats are also gaining a lot of popularity, but their major downside is that they tend to absorb a lot of sweat, which means they need to be cleaned more often.
Features
It is crucial that you buy a mat with non-slip properties. When you're doing yoga, your hands and feet can get very sweaty, which makes it important to have a sticky mats surface that will help you avoid injuries. The side of the mat that comes in contact with the floor should stay in place, otherwise, you risk getting hurt as well.
This is an aspect that a lot of people don't talk about or pay attention to, but we feel is important: the texture of the mat. Since your body (and especially your hands) will come in contact with the surface of the mat most of the time, you want it to feel pleasant. For those who love smooth mats, PVC is a good choice.
Ease of cleaning is also important if you do yoga on a regular basis. Having a mat that has to be cleaned several times a week by hand is a tedious job and nobody wants more tedious jobs to handle.
Price
Price might be your priority when it comes to picking a new mat, but you should always compare the price you pay with the durability of the product. Killer deals or the best price might not equal longevity or quality.
Top 5 Cheap Yoga Mat Reviews
In no surprise that the best place to buy a yoga mat these days is online. Yoga mats can be priced form just a few bucks to more than a hundred dollars, which makes the term "cheap" very subjective. In our quest of trying to discover what the best inexpensive yoga mats, we've established to look only for mats that are $30 (which we feel is more than enough to find a decent product) or less. Here are some popular brands that we discovered.
BalanceFrom GoYoga
Dimensions: 71 x 24 inches
Thickness: ½ inches
Materials: high-density foam
Check The Price
The BalanceFrom GoYoga is a mat that's made from high-density foam and promises a non-slip surface that will allow you to do all your yoga poses without the fear of losing balance and getting yourself injured. It measures 71 x 24 inches, which makes it a good choice assuming you're not a very tall person.
It is available in 7 different colors which are bound to suit the tastes of both men and women alike. With its ½ inches in thickness, it provides more than enough padding to make sure that you don't end up with sore joints after a yoga session. It comes with a carrying strap, which means that you should feel comfortable throwing it on your shoulder and taking it to yoga class. The straps are made with Velcro, so you can adjust them to the length that you're comfortable with.
Because it's made from foam, it comes with a surface that's easy to clean with a combination of water and mild soap or detergent. However, the foam used in the construction does mean that after a while of intensive use, you'll probably start seeing signs of wear and tear.
Who Should Buy This?
This BalanceFrom yoga mat gathers all the elements to receive the "best of" award: it comes with a very low price tag, it's made with foam that can comfortably provide the padding your body needs when doing yoga, and it is a hit with other buyers.
Pros:
Really good price.
Good amount of padding.
Adjustable straps.
Good for hard floors.
Easy to clean.
Good grip.
Cons:
Indentations become visible after a while.
Does make a bit of noise.
AmazonBasics
Dimensions: 74 x 24 inches
Thickness: ½ inches
Materials: high-density foam
Check The Price
There are plenty of similarities between the AmazonBasics exercise mat and the one we've talked about before. Also made from high-density foam, it basically brings all the perks and the disadvantages of the BalanceFrom GoYoga to the table. It's available in 6 striking colors that are very vivid, but will eventually fade the more the mat's being used and cleaned.
The textured surface of the mat makes it very easy for you to get a good grip, making this mat great for yoga, pilates, gymnastics, aerobics, and plenty of other different workouts that require coming in contact with the floor. Traction is a characteristic that you never want to compromise when it comes to a yoga mat, whether you are a beginner who needs to find stability or an expert that does more complicated poses.
This yoga mat is also equipped with a strap that aims at giving you the freedom to take your math with you to a remote location, be it outdoors, at the gym, or on your travels. With a decent amount of cushioning and comfortable foam that feels good to the touch, this is yet another one of the best cheap yoga mats out there.
Who Should Buy This?
Measuring 74 inches in length, the AmazonBasics is a much better option for people who are taller and could use the extra length to freely do their yoga poses without ending up with their hands or feet on the floor.
Pros:
Carrying strap included.
Good traction.
Texture is nice to the touch.
Thick padding.
Good for amateurs and pros.
Cons:
Can get slippery when wet.
YOGA · MATE
Dimensions: 72 x 26 inches
Thickness: N/A
Materials: microfiber
Check The Price
Let's talk about something a little bit different now: a yoga towel. I know that you might be tempted to reject the idea, but check out the specs before you do. If you think that this towel is an absolutely useless accessory, you should know that it was designed for those who do hot yoga, and there are plenty of people that vouch for the quality and usability of this product. In fact, I'll do you one better: what if you used this towel on top of your yoga mat? It can fits mats that measure up to 72 x 26 inches.
It is made from microfiber and has excellent moisture-wicking properties, which means that you'll never have to face sweaty body parts rubbing against the fabric. Because it has the construction of a towel, you can wash it an unlimited number of times and it doesn't lose its properties.
And also on the topic of "because it's a towel", it can be used for a multitude of other purposes as well: take it to the beach, on your travels, use at as a towel after showing in the gym, put it on that leather chair that always makes you sweat, and use it for pretty much anything you'd need a towel for.
Who Should Buy This?
The Yoga Mate towel can be used as a mat replacement or it can go on top of your existing mat. It is a great alternative for people who often do hot yoga, for those who look for more balance when doing their poses, and for those who enjoy a nice pattern/color combination.
Pros:
Can be used on top of mat.
Can replace a mat altogether.
Absorbs sweat.
Can be washed repeatedly.
7 colors/patterns to choose from.
Good for hot yoga.
Cons:
Gets less grippy with time.
Gaiam Essentials
Dimensions: 72 x 24 inches
Thickness: ⅖ inches
Materials: NBR Foam
Check The Price
Available in 9 playful colors and with decent specifications, we wanted to take a moment and talk about the Gaiam yoga mat. Made from NBR foam, this is a thick 10 mm mat that provides a very generous amount of cushioning, making it a suitable choice for often end up with sore joints after their yoga sessions. In fact, because it is one of the thickest and cheapest options out there, it is often being purchased by people who don't do yoga but need cushioning for other floor exercises.
It provides a great deal of traction due to the texture of the mat which actually feels a lot smoother than expected. The foam used in its construction gives it a spongy texture. The edges feel kind of fragile, so we feel obliged to question their durability in the long run. There is a carrying strap that makes it easier for you to take your yoga mat from point A to point B, especially if point B is a gym.
Because of its surface, theoretically, it should be easy to clean with soap and water combination and a clean microfiber cloth, although the texture can be a little tricky for this type of cleaning method. Despite the low price, plenty of people claim they would purchase this mat over and over again, because it provides good value for the money, and it's also a lot more durable than people would expect such a cheap product to be.
Who Should Buy This?
The Gaiam Essential yoga mat isn't quite as popular as the other choices we've talked about earlier, but in our book, it checks almost every box on our list of what a good and cheap yoga mat should be like. So, if you want to give it a try, it's a solid product at a very good price. They also have tons of other models to choose from, just check them out in our Gaiam yoga mat reviews.
Pros:
Excellent cushioning.
Good for all floor exercises.
Variety of colors available.
Durable despite its price.
Carrying strap included.
Cons:
Materials can easily get punctured.
TOPLUS Yoga Mat
Dimensions: 72 x 24 inches
Thickness: ¼ inches
Materials: TPE
Check The Price
Looking for a cheap yoga mat that's made from eco-friendly materials? Then Toplus has something neat in store for you. This particular yoga mat is made from TPE and avoids using any plastic or synthetic materials that are controversial and known to be full of toxins.
It is a double-sided mat that promises to provide the same type of non-slip surface on each side. This means that the mat can provide stability in a variety of poses, but also helps you maintain balance without the fear of falling. It measures 6 mm in thickness, which should provide enough cushioning for comfortable yoga sessions.
Who Should Buy This?
If you're interested in a more sustainable lifestyle and would much rather buy eco-friendly products, then the Toplus yoga affordable mat is for you. It doesn't use any harmful materials and it can be recycled once you no longer use it.
Pros:
Eco-friendly.
Lightweight.
Good grip.
Dual-sided surface.
Non-slip texture.
Cons:
Scratches easily.
Sweat stains are visible.
Bottom Line
As you can see, finding an inexpensive yoga mat isn't all that complicated, but you also need to be aware that these are rarely ever as durable or have as many characteristics as the more expensive yoga mats do. However, if you're short for cash, you can still find a pretty decent mat to work it. If you're a beginner, spending a lot of money on your first yoga mat isn't recommended anyway.