Have you ever been awakened by a vicious leg cramp or cut your finger while chopping vegetables? Maybe you've been lucky enough to miss out on these two less than fun common occurrences but everyone either has fallen down, bumped their leg, or slammed their finger in the door.
Okay, maybe you aren't klutzy like me, but mostly everyone has been ill at one time in his or her life, which is a completely different kind of pain than the not so graceful example we used in the last paragraph. No matter what pain you have experienced in your past, there is one that is fact- you've felt some type of pain, physical or emotional, at some point in your life.
Also, experiencing pain sucks. It's the worst, and while we all know that "without pain, you would not feel pleasure," for most of us, we hate the pain part and want to do all we can to just make it go away. Natural remedies are my jam when it comes to anything including pain management, and that's why you're here to find out what the best essential oils for pain relief are.
In the next few paragraphs, we will go over essential oils and what they are. We will break down the different types of pain and list what essential oils are good for it.
Best Essential Oils For Pain Comparison
How Do Essential Oils Ease Pain?
There are oils that work as anti-inflammatories, which can help with cuts and bruises. Others reduce neuropathic pain, which works well with some types of headaches. Basically, depending on the essential oil, there are several ways in which it could help ease it.
What Is Pain?
Pain can be described as suffering, but it truly does have a large list of things that fall under its heading. When we get a paper cut, we feel pain. We experience even more pain when we accidentally touch a lemon with that same finger at a restaurant later that evening. Then, we feel pain in our head and our outlook on life when we learn that we didn't get that promotion we worked so hard for.
Describing pain in a short way isn't easy, but they can be broken down into categories that make it easier to understand.
Types of Pain
Below is a list of the different types of pain one can experience at any given moment in our lives.
Acute Pain
This is a type of pain that describes anything that lasts up to 6 months. Any longer than that, the pain moves into a different category. The pain of this type is brought on quickly in most cases and is typically stinging. Examples of acute pain include cuts, burns, surgery, broken bones, labor, childbirth, and dental work.
Chronic Pain
Lasting longer than 6 months, this type of pain is continual and is typically associated with issues like headaches, arthritis, cancer, nerve pain, back pain, and fibromyalgia. When a person deals with chronic pain, their muscles tense up and the ability to move freely is stripped. Their energy levels are quickly depleted or nonexistent and there could be appetite issues.
Breakthrough Pain
This is the type of pain a person experiences when the effect of one painkiller wears off before another one is scheduled.
Bone Pain
Associated with bone cancer.
Soft Tissue Pain
When organs, muscles, or other soft tissues are inflamed or injured.
Nerve Pain
The type of pain and numbness when a nerve is damaged.
Referred Pain
When pain is felt in one part of the body while the injury is in another part.
Phantom Pain
The pain felt in a part of the body that has been amputated.
Emotional Pain
I think this type of pain deserves a category all on its own because it can be both acute and chronic, depending on the situation. When you suddenly lose someone that you were very close with, there can be an acute pain in your chest that comes on at first. Then it goes away but a sadness lingers when it was someone you love very much, which is a chronic pain.
Even though this type of pain is psychological and not physical it is still painful when felt by the sufferer. Anyone who has lost a loved one to death or suffers from panic attacks can attest to this statement. The US National Library of Medicine National Institutes of Health reported that "psychological pain seems to run on the same neural tracks as physical pain."
People deserve relief from emotional pain as much as they do from the physical so we've added some essential oils that help with this as well.
How To Use Essential Oils To Treat Pain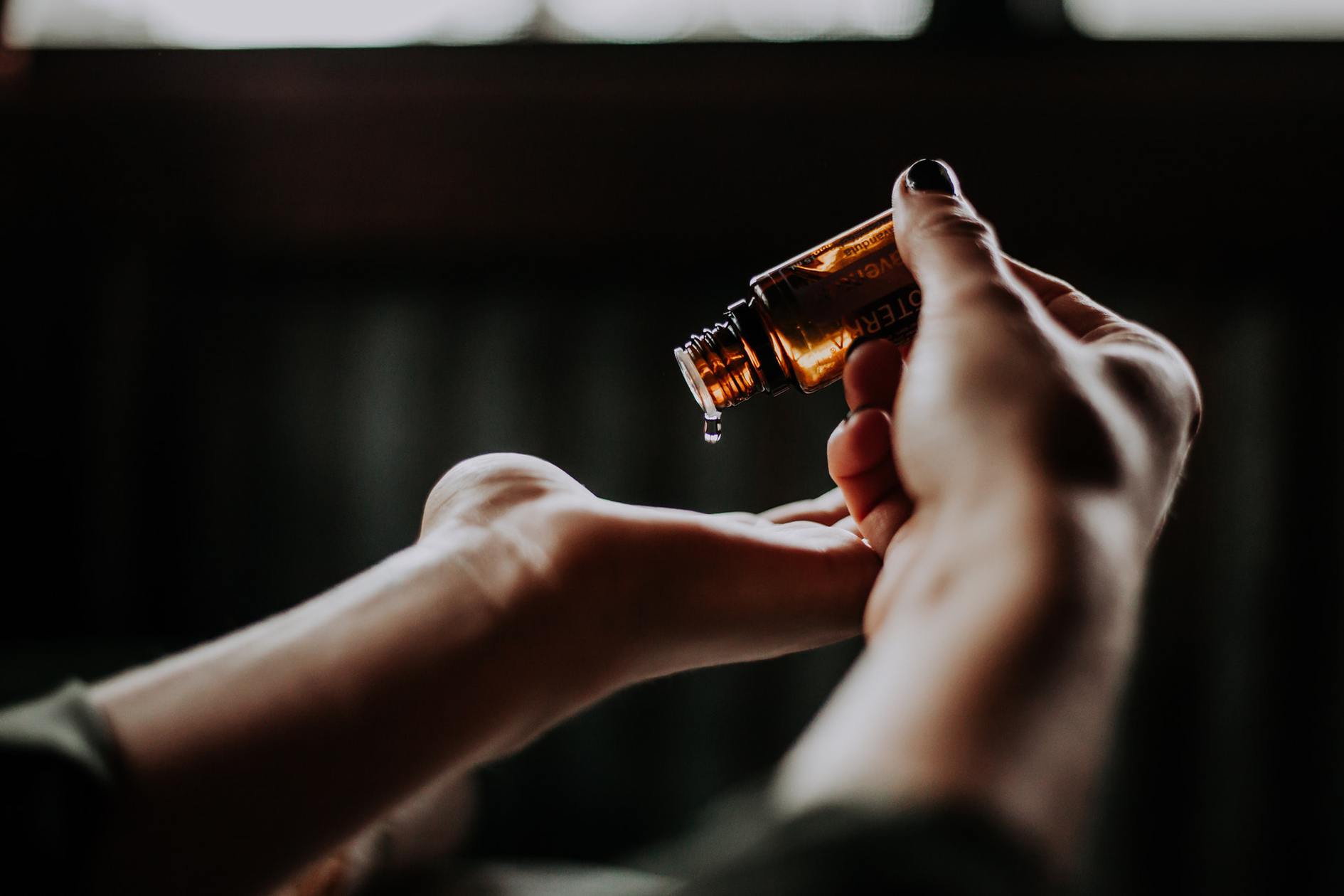 There are three ways you can use essential oils to relieve pain.
Inhaling
Emotional pain, like the type derived from an anxious day, can be relieved by breathing in certain aromas. Essential oils can be inhaled in many different ways from just opening the bottle and taking a sniff, to diffusing a few of your favorites in your home while you type away at your keyboard. Depending on the size of your room, there is a way to fill it with beneficial scents that can relieve all types of pain from depression to digestive issues.
Topical
When you massage a diluted oil on your back, neck, or temples, you are applying it topically. This application technique works with cuts, bruises, and burns as well as stomach aches and bug bite. It is recommended that you dilute your essential oils well before applying them topically since essential oils can cause an allergic reaction.
Ingesting
This is the third way you can get the benefits of specific oils, but there are quite a few that are not safe for consumption. In reference to pain, we feel that the other two application options are best for these issues, although some digestive issues can be relieved by consuming the oils.
Disclaimer
Before you start an aromatherapy regimen, it is always best to check in with your healthcare professional. While essential oils are loaded with benefits, there are still precautions that you should take note.
For example, if not diluted correctly, you can develop a rash. If you have a severe breathing issue, then inhalation might not be the best choice for you. As for internal consumption, it is always recommended to consult a professional before taking anything foreign into your body.
How To Choose The Best Essential Oil For My Pain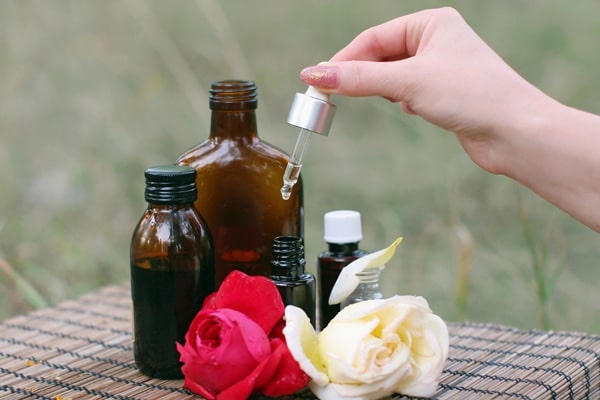 The only way to do this is to read through our list of the best and start with the ones that will help with your specific issues. We already mentioned so many types of pain that can afflict you, and we haven't even covered toothaches, lower and upper back pain, tendonitis, neck stiffness, joint inflammation, and simply stubbing your toe.
What kind of pain are you dealing with? Once you answer that question, you can then start to decide which essential oils are best for your pain. Also, remember that making blends is not only fun, but every single oil also brings its own benefits adding to the strength of the blend.
Singles are essential oils that are extracted from one harvest. Examples are lavender, frankincense, and ylang-ylang. Blends are combinations of these singles that are created by you or professionals in the essential oil industry.
21 Best Essential Oils For Pain
Now that we've covered what you need to know about essential oils, pain, and how one can help with the other, it's time to take a look at our list of essential oils that we feel work best for pain. There are quite a few listed, but between the singles and blends, there are so many pain-relieving oils out there. We felt all of these deserve a shout out.
Peppermint
The first oil on our list is a great place to start because it has so many pain relieving qualities. It can penetrate the muscles to relieve aches from the gym or get a cooling sensation into those knees, which can get inflamed when we've been working on our feet all day. On top of all that, it works on the pain brought on by sinus infections, and it can be used to clear up pimples, which can bring pain all on their own.
Because it works as an anti-inflammatory, peppermint oil works on headaches and has been used to treat migraines. Added benefits include reduction of fever, boosting energy, and is used to eliminate halitosis (bad breath).
Who Should Purchase This?
Anyone who is a fan of minty scents should consider purchasing this oil. As you can see, it can help with many different types of pain that fall under the acute and chronic categories as well as lift a person's spirit, which is a great aid for emotional pain.
Cautions
Be sure to dilute this oil well before applying topically and use it sparingly when diffusing, otherwise, you may have an allergic reaction or bring about a headache. You may also experience heartburn when you take it internally, but as we said, you should take caution and consult a doctor before ingesting any oils.
Lavender
It's no surprise that this oil has made it on to another list because it does so much. As for pain, I have to repeat the story of the time when I burned my thumb. I had grabbed a hot pan without a mitt and the inside of my thumb was red and the pain was incredible.
After remembering the French chemist that discovered the lavender oil use after submerging his burnt hand in some, I grabbed my bottle and doused the burn that I was sure would be a giant blister the next morning. Not only did it not blister, but there is also no sign of the burn whatsoever.
I admit though, this addressed healing it and not the pain associated with it. Once I put lavender oil on my burn, it began to hurt worse but only for a minute. Once that time passed, 90% of my pain disappeared, and it barely hurt, which is not the way burns go. When you apply ice, it numbs the pain for a minute but then it returns with a vengeance.
This oil can also aid pain associated with eczema, rheumatism, sprains, and insect bites. This is because it works as an anti-inflammatory.
Who Should Purchase This?
Anyone who loves floral scents and is klutzy in the kitchen like me should give this oil a try. While using it does come with risks, this is a relatively safe oil to use, which makes it good for aromatherapy beginners as well.
Cautions
Can cause nausea, vomiting, headaches, allergic reactions, and hormonal imbalances. Pregnant and breastfeeding women should definitely avoid using this oil. Because of the reported effects of this oil to young boys, parents should not use it with their prepubescent sons. It's also recommended that diabetics avoid using it as well.
Clary Sage
In slot number three, we have an oil that is no shrinking violet when it comes to pain relief. It battles spasms like the cramps in your legs when you are sleeping, it is another anti-inflammatory on our list, which is never a bad thing. This herb, which was first discovered in Europe, is also another essential oil that brings a strong scent to the table.
Strong scents tend to ease a lot of pain, and this one is no different since it also battles depression, which can bring about chronic emotional pain. No, we aren't saying this oil can cure the pains of depression, but if breathing a few whiffs in once in a while helps a depressed person have a better outlook on life, then more power to it.
Clary Sage relieves convulsions that cause physical pain, primarily aiding with those that are the result of nervous disorders. It fights bacterial infections and can ease skin inflammations.
Who Should Purchase This?
This oil is also a good choice for the person who wants power and doesn't mind a strong smell of lavender, leather, and amber. Anyone who is dealing with depression or leg cramps should also consider this oil.
Cautions
Clary sage can give the user the feeling of being intoxicated due to its ability to relax and sedate. Too much can cause a headache, and women who are pregnant or nursing should avoid it altogether.
Eucalyptus
Our next oil is steam distilled from the leaves of trees found in Australia. These leaves, besides providing us users with a powerful essential oil against pain, is the favorite food of the cute koala bear. Of course, we are sure there is plenty to go around, which is great for us since we can use the pain relief. Inhaling a diluted version via diffuser can bring relief to the pains associated with flu and cold, it eases wounds and speeds up healing, and it relieves the stress of an overactive mind, which can cause a pain on its own.
Eucalyptus oil has been used to treat muscle and joint pain, ease sinus issues, and treat fungal infections. This extract that smells like mint with honey sweetness is a powerhouse in the world of essential oils.
Who Should Purchase This?
Someone looking for an oil that will ease more than one kind of pain should consider this oil. If you are a fan of the unique scent, this would be a great oil for your shelf as well.
Cautions
This is a strong oil so be sure to dilute it well before using. It can cause nausea and vomiting or cause stomach issues. It is suggested to consult a professional before using this oil.
Rosemary
I always reference potatoes when writing about rosemary because that's my favorite herb to use when cooking them. Of course, none of that has anything to do with pain other than the oil itself, rosemary, which is a great asset to have when you are dealing with pain. It has been used in treatments for rheumatism, arthritis, muscle aches, head pains, and other inflammatory issues.
Rosemary can help with strains and relieve stress, both of which offer their own unique form of pain. In addition, it aids with digestion, detoxifies, and gives the immune system a much-needed boost. Ths oil also promotes healthy skin, oral hygiene, and eliminates bad odors.
Who Should Purchase This?
Fans of herby scents that pack a beneficial punch should give this oil a try. It can help with so many types of pain as well as bring a myriad of supplementary benefits.
Cautions
Can cause allergic reactions when used topically so dilute well. It can also cause vomiting and spasms so avoid internal consumption. Pregnant and nursing women should avoid this oil altogether.
Juniper Berry
Smelling woody, fresh, crisp, and sweet- this oil is derived from the berries of the juniper tree or Juniperus communis. It is used to make gin, and as an essential oil, it is loaded with help when it comes to pain. Juniper berry oil is used to treat arthritis, stomach issues, and relieves cramps.
While doing this, it has been said to accelerate the healing process, used as a stimulant to relieve pain associated with depression, and has even been used to treat inflammation, acne, eczema, and urinary tract infections, all of which inflict pain.
Who Should Purchase This?
Fans of complex scents should give this oil a try, especially if they are dealing with depression and tend to get leg cramps.
Cautions
Pregnant and nursing women should not use this oil nor should anyone suffering from kidney issues.
Chamomile
Next, we have a name that is most recognizable when it is associated with tea. Both the essential oil and the tea are derived from the same source, the chamomile flower which has a light scent and a lot of power. Not only is this oil used to help with rheumatism and ease the pains that result from depression, but it is also an ingredient in treatments for muscle and joint pains, headaches, sinus infections, toothaches, and bone issues like breaks and fractures.
Chamomile is also used to treat neuralgia, a specific nerve pain, by relieving pressure. Added benefits include promoting healthy skin and easing wounds, bruises, and cuts.
Who Should Purchase This?
If you are a beginner when it comes to essential oils and aromatherapy, then this is the perfect oil for you. The floral scent is great for smelling and relaxing, which eases a completely different type of pain.
Cautions
This is a relatively safe oil to use, which is why we picked it for the newer users of essential oils, but if you have an allergy to any member of the ragweed family, consult a healthcare professional before using.
Marjoram
Distilled from the leaves of the marjoram plant, this oil has been used to treat the pain that comes with fevers, inflammation, colds, muscle exertion, toothaches, and headaches. Marjoram is known to ease muscle spasms and accelerates the healing process. Added benefits include controlling diabetes, relieving stress, and boosting cognition.
Marjoram, which has been described as smelling like oregano, also eases the pain that comes with bronchitis, sinusitis, and headaches.
Who Should Purchase This?
This oil also eases with gas pains, so if this is your issue, you should give it a try. I recommend inhaling it for treatment and not consuming it since essential oils are volatile compounds.
Cautions
While there are no known side effects to be found for this oil, we still suggest that you consult a healthcare professional before consuming any oil and to dilute well for topical treatment and spot check first. Women who are pregnant, nursing, and children should avoid this oil. Keep it away from your eyes, ears, and a too powerful of a concentration from your nasal passages.
Sandalwood
Also steam distilled, this essential oil is extracted from trees by the same name that has aged for up to eighty years. This is done so that the aroma is at its strongest. As far as pain is concerned, sandalwood works as an anti-inflammatory agent, which can reduce that type of discomfort.
Sandalwood works against insect bites and wounds. It also helps with internal inflammations as well. It has been used for skin irritations, infections, and eases coughs, which can cause chest pain. Viral infections have been treated with this essential oil. Also, it relaxes the user, which is helpful during bouts of emotional stress.
Who Should Purchase This?
If you are a fan of light woody scents, then this oil is perfect for you. It's a good choice for anyone looking to treat their skin or find a natural way to lower your blood pressure. Sandalwood is also a nice choice for anyone concerned with the risks that come with aromatherapy.
Cautions
There are no known side effects of sandalwood, but you should dilute it well before applying topically.
Turmeric
As we move through our selection of the best essential oils for pain, it seems that being an anti-inflammatory agent might be required. If that's the case, then turmeric is a definite player in the inflammation area. Alpha-curcumene is the chemical found in turmeric oil that gives it this power.
Added benefits are a boost for the immunity, promotion of digestive health, body detoxification, and blood circulation is stimulated. Aside from pain relief, turmeric oil boosts cognitive functions and might even battle baldness.
Who Should Purchase This?
Fans of woody and earthy scents should consider purchasing this oil. It's also a great choice for anyone who is also fighting allergies.
Cautions
Turmeric oil does not come without its risks. This is an oil you need to use with caution because it can cause skin irritation if not diluted well and ingesting it might cause upset stomach or nausea, so do not consume this oil. It should also be kept away from your eyes.
Pregnant women should consult a physician before using.
Clove
Our next oil is specifically used to treat oral pain. It has been used to treat teething babies, and it is also an aid for dry socket, which is when you develop a pain in the socket where you recently had a tooth pulled. It has even been considered as an anesthetic for dental treatments.
Not surprisingly, clove oil also has anti-inflammatory properties as well. It also eases nausea when inhaled, and it lowers stress, which can cause all types of pain. On top of all that, clove oil is a powerful fighter of headaches. It also works on sore muscles and may diminish swelling.
Who Should Purchase This?
Clove oil is perfect for the person who is looking to get a real bang for their buck. It fights so many different types of pain.
Cautions
With that power comes with risks, be sure to be careful when using this oil. It can cause an allergic reaction, and if taken orally, can cause a myriad of problems. So, stick to inhaling or applying clove oil topically after diluting it very well in both situations.
As for pregnant and nursing women, it is suggested you avoid using this oil altogether.
Thyme
Thyme, in association with pain, works well with cuts and bruises. It speeds up the healing process, which will minimize the pain you feel from them. This oil also has antispasmodic properties which help with muscle aches, cramps in your stomach, and any type of spasmodic attack.
In addition, thyme inhibits bacterial growth, promotes cardiovascular health, and can lower that high blood pressure. It also stimulates and increases energy all the while detoxifying your body. Anxiety is no match for this oil, which can lead to physical and emotional pains.
Who Should Purchase This?
This is a good choice for someone who likes a strong herbaceous scent. It's also a good selection for someone dealing with arthritis, gout, or chest infections.
Cautions
Thyme can cause an allergic reaction so be sure to dilute it well and do a spot check before full application. Pregnant and breastfeeding women should not use this oil, and you should probably contact a professional if you have any doubts.
Frankincense
I love frankincense, and I use it on a regular basis, not so much for pain, but I use it for focus. When it comes to pain, frankincense helps out by accelerating the healing process. It relieves emotional pain when you are dealing with more than your fair share of stress, and it helps with respiratory issues.
Added benefits include promoting oral health, reduction of scars, battles the appearance of aging, and aids in digestive issues. This oil is steam distilled from the Boswellia carteri tree and is used in a lot of religious ceremonies, primarily in some Christian services.
Who Should Purchase This?
Frankincense has a wonderfully warm and musky scent that is equally Earthy as it is uplifting. I suggest it for anyone who thought, "that sounds good to me" after reading that last sentence. This is also a great selection for anyone who has not used essential oils since it is relatively safe.
Cautions
This oil has no side effects that we are aware of, but it is recommended that pregnant and breastfeeding women should avoid it since it can alter hormone production.
Wintergreen
Minty is the thing when it comes to pain, in fact, when you think of over the counter remedies for muscle pains more times than not menthol is involved, which is a product of many things including oils made from mint. This one is a particularly strong mint oil, and it has a ton of benefits including ease from arthritis pain and offering stressed people relaxation. Wintergreen has also been used to treat different types of bites including snake, dog, scorpion, wasp, and bees.
It has also been known to work on blocked blood flow. Wintergreen has been used to treat rheumatism, kidney stones, and all types of spasms including muscular, digestive, nervous, and respiratory. Added benefits include deodorizing and ease from gout.
Who Should Purchase This?
Wintergreen is a great choice for anyone who loves minty scents and is looking for a strong oil. It is for the person with muscle aches as well as those who suffer more stress than they can handle.
Cautions
Due to something inside wintergreen oil called methyl salicylate, it can be dangerous to use. It should never be ingested and should be diluted to a low percentage before applying topically. This is an especially dangerous oil so be aware of that and use it with caution.
Ginger
Extracted from the root of this plant, ginger has long been used to heal many things in many cultures. Its benefits are widely known, and personally, I love the smell and taste of ginger and incorporate it into my cooking whenever I can. It works wonders on the pains that are associated with food poisoning and relieves stomach issues.
Ginger also eases stress and helps those kidney stones dissipate. It has been used to treat respiratory issues and can battle nausea. Digestive issues like spasms, colic, and dyspepsia are also issues where ginger has come to the rescue.
Who Should Purchase This?
Fans of spicy scents should consider adding this oil to their collection. It is also a good choice for people who suffer from digestive pain.
Cautions
This is a strong oil and should be used cautiously. In fact, it wouldn't hurt to speak to a medical professional before treating any pain with this oil.
Yarrow
When it comes to anti-inflammatory oils, yarrow really brings it. It can ease several types of inflammation including nasal, respiratory tract, colds, digestive issues, and issues in the circulatory system after exposure to venom or narcotics. Because yarrow boosts the circulatory system, it can bring relief to arthritis and rheumatism.
It can help avert septic cuts and fight other bacterial and fungal infections. Spasms are no match for yarrow oil particularly those ignited by nerves. Muscle cramps are also eased with this extract, and it can help with congestion problems. Yarrow also works well with bruises, cuts, burns, acne dermatitis, and infections.
Who Should Purchase This?
People who love sweet, fresh scents might want to add this oil to their list. It's also a good choice for those who suffer from anxiety and need a bit of relaxation.
Cautions
This oil is strong so it may cause a headache or skin irritations if not diluted well before using. It should also be avoided by pregnant and nursing women.
Helichrysum
Not many people have heard of this oil, and I am right there with them. Steam distilled from a flower of an herb that is typically found in France and Italy. It has been used to ease the pain from cramps, convulsions, and stomach irritations. This oil also works as an anti-inflammatory, a pain relieving property we've already covered several times.
Helichrysum relieves several types of infections including those that are caused by viruses and bacteria. It also has been used to treat cuts, bruises, allergies, and arthritis. In addition, helichrysum relieves varicose veins and sinusitis.
Who Should Purchase
This oil is rare, but it lasts longer than most essential oils so if you are a veteran with aromatherapy, this might a good choice for you because of its scarcity. Wouldn't it make you a nice addition to your collection?
Cautions
Helichrysum is an anticoagulant so if you recently underwent surgery, then you shouldn't use this oil.
Copaiba
With a woody scent that is rather light, this oil is extracted from the Copaifera reticulata tree, which is found in Brazil. This oil has been used to relieve all kinds of pain. Copaiba is used topically to reduce inflammation and lessen the pain for issues like arthritis and headaches including the mother of them all, the migraine.
Copaiba also lifts a person's spirits, which can lessen the pains associated with depression and anxiety. It also works on all types of infections including bacterial and fungal, which can lead to a myriad of pain.
Who Should Use This?
The person with the penchant for sweet scents should give this oil a go. It has been used as a base note due to its potent sweetness.
Cautions
This oil is relatively safe, but if you take too much internally, it may cause stomach issues. Other than that, there are no known side effects of copaiba oil.
Rosehip
Not to be mistaken with rose absolute, which is an oil that is extracted from rose petals with a completely different scent, this oil is taken from one particular species of rose and is derived via steam distillation from the rosehip, which is the seed of this plant. It is native to South America and has a pungent smell that some people don't find pleasing.
Yet, this oil can ease the pains of sunburns, osteoarthritis, psoriasis, and eczema. In addition, this oil lessens the signs of aging, gives your immunity a boost, and can make the bones stronger.
Who Should Purchase This?
Eczema sufferers who don't mind strong scents could give this one a try. The user will also find they have stronger nails and their healing process speed up.
Cautions
Rosehip is a strong oil so it also carries risks. It is not recommended for ingestion because it can cause digestive issues. Dilute it well before applying topically since it can cause irritation and make sure to do a spot check first. If you are pregnant, nursing, have stomach issues, sensitive skin, or are taking medications that involve your hormones, then do not use this oil.
Deep Blue by doTERRA
This blend was created by the folks at doTERRA, which is one of the largest essential oil producers/distributors in the world. I use their products and can attest to their benefits. This particular blend, Deep Blue, was created with relief from muscle pain in mind. They put together a group of essential oils, some of which we've already mentioned, and created a powerful aid that not only comes in an oil version, but it is sold as a rub and a dietary supplement.
Wintergreen, camphor, peppermint, ylang-ylang, helichrysum, blue tansy, blue chamomile, and osmanthus are the ingredients that make up this pure essential oil blend. With the addition of the two "blue" oils, it's no wonder why doTERRA gave it that name.
Who Should Purchase This?
Deep Blue is the perfect choice for someone who is interested in several of the oils we've listed but isn't ready to create that big of a collection yet. It is also a good choice for the person who is specifically looking to relieve muscle pain.
Cautions
This blend should be kept out of the reach of children, and you dilute it well because, in its pure form, Deep Blue might cause some skin irritation. Follow our dilution chart and start with a low percentage and work your way up. It should not be used near your eyes, inner ears, and areas of sensitivity. Also, if you are pregnant, nursing, or suffering from an illness, be sure to consult your physician before using.
PanAway by Young Living
Our final choice is by another giant in the aromatherapy business, Young Living, which was started by husband and wife team, D. Gary and Mary Young. This blend is their creation and solution to sore and tired muscles while lifting your mood. It is a combination of wintergreen, helichrysum, clove, and peppermint.
These are four oils that have their own pain-relieving strengths which makes this a powerful blend. It can be diluted with a carrier oil and applied to the muscles or your temples when feeling stressed. You can diffuse the scent as well in your home or office.
Who Should Purchase This?
This oil is another good choice for the person who doesn't want to invest in more than one oil right now and is interested in more than one or two of the singles we listed. It's a good choice for anyone dealing with muscle pain.
Cautions
PanAway is not for children to play with either. It should only be used externally and kept away from your eyes and mucous membranes. Women that are pregnant or nursing and people who are on medication should consult their doctor before using.
Conclusion
Pain comes in many forms, and because it is such a general description, there are many oils that can relieve the type of pain you are dealing with. Whatever your pain may be, if it is extensive and you find that home remedies are not doing the trick, then consider seeing a healthcare professional to rule out any underlying conditions.
We love to talk about aromatherapy here, but more so, we want to help you achieve your best level of health in your body, mind, and soul. If you have any comments for us, we want to hear them. Please leave us a message below.