When I first started researching Jade Yoga, I thought it would be just another yoga mat company. I figured that with yoga mats, when you've seen a dozen of them, you've seen them all. Not only was I impressed over the quality of the products themselves, but the company's commitment to their customers and their cause is mind-blowing. This is why, before telling you more about the yoga mats they make, I wanted to talk to you about the awesomeness behind Jade's community commitments.
5 Best of Jade Yoga Mats Comparisons
IMAGE
BRAND
DETAILS

Harmony

Available colors: 16

Dimensions: 68/71/74 x 24/28 inches

Thickness: 3/16 inches

Check The Price

Fusion

Available colors: 3

Dimensions: 68/72 x 24 inches

Thickness: 5/16 inches

Check The Price

Voyager

Available colors: 4

Dimensions: 24 x 68 inches

Thickness: 1/16 inches

Check The Price

Level One

Available colors: 2

Dimensions: 24 x 68 inches

Thickness: 4 mm

Check The Price

Travel

Available colors: 4

Dimensions: 24 x 68/74 inches

Thickness: ⅛ inches

Check The Price
Who Is Jade Yoga?
We keep seeing all these brands popping up like snails after the rain, and that's why we appreciate a name with a story. Jade is one of those brands, with a story that began a century ago, with a grandfather that started his own rug business in 1904, when emigrating to the States. The brand quickly became popular because of its quality products and impeccable service.
Jade's founder's father then took on the business in 1960, turning it into Jade industries in 1974. The business then became focused on creating pads that would be placed under oriental rugs to prevent slipping and to provide cushioning. They discovered natural rubber and used it to manufacture these pads.
Then came the 2000s, when Jade Yoga was born. It was then discovered that yoga mats had one huge problem: they were too slippery and incredibly difficult to use. With their experience in making rubber pads, the company developed Harmony, their best-selling yoga mat. Needless to say, the feedback they received after launching the mat was amazing.
The company takes pride in the fact that it uses natural rubber to make the mats, which means that they're tapping into a renewable resource. The mats are made on US territory and have no PVCs or other environmentally harmful materials in their composition.
We simply can't end this company's presentation without giving you three solid reasons why Jade Yoga is a company that you should buy from:
They will plant a tree for every mat they sell. Because they are focused on doing right by the environment, Jade promises to leave the Earth just as they found it. They elegantly end the cycle by planting a tree for every mat they sell, which makes sense considering that their prime material is tree rubber. This project took birth in 2006 and, in partnership with Trees for the Future, they have now planted more than a million trees.
They are focused on being eco-friendly. It could be because the company is being run by a former lawyer for the U.S. Environmental Protection Agency.
They work together with several organizations that serve very important causes. For example, part of their sales revenue on Earth Day is donated to an environmental group. Black Friday and Cyber Monday sales also donate a part of the money to help abused children. They occasionally make mats in special colors to raise awareness over different global matters. They raise money for autism. They donate to cancer research. Need I go on?
Top 5 Jade Yoga Mat Reviews
Jade yoga mats are all the hype right now, so we wanted to check them out and see what all the fuss is about. Here is what we've discovered about their top 5 yoga mats.
Harmony
Available colors: 16
Dimensions: 68/71/74 x 24/28 inches
Thickness: 3/16 inches
Weight: 5 pounds
Check The Price
One of Jade's most popular products is the Harmony yoga mat. It is available in three different lengths, meaning that you can choose between a 68, 71, or 72-inch mat. Your width options are 24 and 28 inches.
Made from natural rubber trees, the Jade Harmony yoga mat is an eco-friendly option for those who are looking to contribute by buying a more sustainable brand, cut also for those who are worried about potential toxins in materials such as PVC. Plus, they plant a tree for every mat sold, which is something that more companies should be doing, honestly.
Aside from the wide variety of colors to match each and every personality, the Jade yoga mat provides great traction and cushioning that will support all standing poses with great ease. It is a product not only recommended by people who practice yoga, but also by instructors who take on several classes a week and are happy with the performance of this product.
Who Should Purchase This?
If you'd like to buy Yoga's star of the show, that's definitely the Harmony yoga mat. It is designed for people who practice yoga on a regular basis and for those who are interested in eco-friendly products.
Pros:
Excellent grip.
Sustainable brand.
Good for balance poses.
Slight bounce provided by the rubber construction.
Cons:
Not to be left in sunlight.
Fusion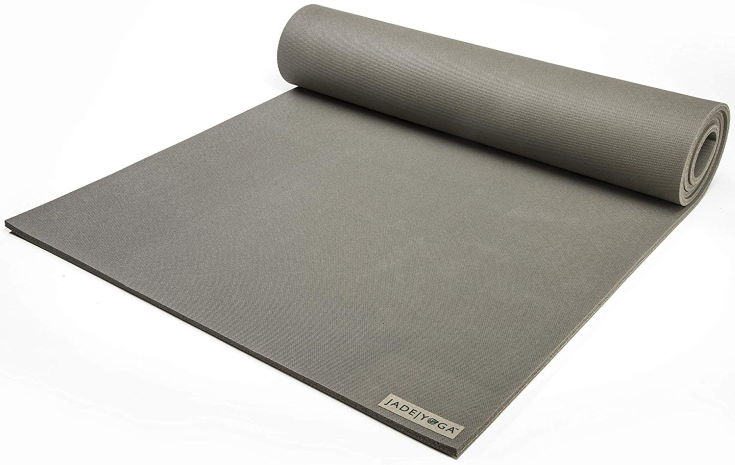 Available colors: 3
Dimensions: 68/72 x 24 inches
Thickness: 5/16 inches
Weight: 8.5 pounds
Check The Price
Made with open-cell natural rubber, the Fusion yoga mat provides a very generous 5/16 inches of cushioning, making sure that you can do yoga without having any sore joints. It is a mat that doesn't use any plastics or other synthetic materials, as Jade is a brand committed to being sustainable all the way through. If you receive your mat a bit dusty, don't return it. This is actually the company's effort to reduce plastic waste, which is why your mat will not be packaged in any harmful plastic film.
There are certain yoga poses that could cause your elbows or knees to hurt, and that's a sign that you need a thicker mat like this one. The surface has a sort of stickiness to it that allows you to maintain your balance without the fear of slipping.
At first, you might notice that your sweaty hands are a bit too slippery, and rest assured that others were disappointed in the purchase because of that. However, if you give the mat a couple of weeks to break-in, it's a purchase that you won't up regretting. After the break-in period, it provides an excellent grip.
Pros:
Sustainable brand.
Good grip.
Superior cushioning.
Great on the knees.
Durable.
Great for older people.
Cons:
Requires a break-in period.
Voyager
Available colors: 4
Dimensions: 24 x 68 inches
Thickness: 1/16 inches
Weight: 1.5 pounds
Check The Price
In not so many words, the Voyager is a yoga mat focused on portability. It is designed to be lightweight and foldable so that it can easily fit into anything from a gym bag to your hand luggage. It measures 68 x 24 inches, which means that it might not be the biggest yoga mat out there, but that's something you'll have to sacrifice for portability.
As with every other yoga mat developed by Jade, this one is also made with open-cell natural rubber, making it eco-friendly and with a solid grip. If there is one downside to this mat, that would be durability. Because it is designed mostly for travel, it is not ideal for daily use.
Who Should Purchase This?
If you need a portable yoga mat that you can take with you to classes or pack in your luggage and have it with you while traveling, the Voyager mat weighs only 1.5 pounds and folds up super nice, being compact and lightweight.
Pros:
Lightweight.
Foldable and compact.
Easy to carry.
Fits in most bags.
Good for travel.
Made with natural rubber.
Cons:
Not very durable.
Not designed for daily use.
Level One
Available colors: 2
Dimensions: 24 x 68 inches
Thickness: 4 mm
Weight: 3.7 pounds
Check The Price
The Level One mat is the perfect example that Jade has designed something for everyone. It is a 4 mm-thick mat that allows beginners to maintain their balance and take on the yoga poses of choice, without causing injuries due to falling.
It stays true to the construction of every other Jade mat we've reviewed so far, being made with natural tree rubber that has an open-cell structure and ditches the use of synthetic materials. It is not the champion of cushioning, but thin is just what you need if you are a new yogi.
Who Should Purchase This?
Have you recently started your yoga journey? Then the Level One mat is exactly what you need!
Pros:
Good for beginners.
Made with natural rubber.
Lightweight.
Good for maintaining balance.
Inexpensive.
Cons:
Not durable.
Not enough cushioning for complicated poses.
Travel
Available colors: 4
Dimensions: 24 x 68/74 inches
Thickness: ⅛ inches
Weight: 3 pounds
Check The Price
If you attend yoga classes on a regular basis, you want to invest in a solid mat that doesn't weigh too much and can easily roll up and be carried along. Available in a 68 x 24 and a 74 x 24-inch version, this yoga mat weighs just a little over 3 pounds and is available in 4 different color options.
It provides a good grip on the surface, and provides more durability compared to the thinner mats made by Jade. It can easily be cleaned with a solution made from mild soap and water. the open-cell structure of the foam rubber used to make this mat is great for people who tend to sweat a lot during yoga classes.
Who Should Purchase This?
Those of you that are looking for the latest exercise mat with good cushioning and portable enough to be taken to yoga class on a regular basis should give the Travel mat a chance.
Pros:
Good for yoga classes.
Excellent grip.
Non-slip surface.
Made with natural tree rubber.
Lightweight.
Easy to roll.
Cons:
Can't be left in direct sunlight.
Bottom Line
We can't deny the fact that Jade Yoga is a professional brand that impressed us way beyond our expectations. They make quality mats that serve different types of yoginis, but probably the most impressive thing is the story behind the brand.
The company is clearly focused on giving back to the community through their many partnerships, donations, and programs, which include planting trees for each mat they sell, donating money to causes, or creating seasonal products to raise awareness about actual problems.
P.S. Update: 1,770,944 trees planted so far.