Bullet journals are a great way to help organize the many facets of your busy life. By keeping all your needs in one place, you are better able to stay on top of your responsibilities, goals, and other personal wants. Plus, this style of journaling allows you to completely personalize your book for use as a planner and provide a space for notes and ideas.
Making and planning your bullet journal can be both fun and tedious as you need to decide on which collections to include and how to layout the design. Although many simple templates exist to make your creative journal ideas easier, you may also want to keep a few favored products on hand. Washi tape for bullet journals is a popular item since it can be used in so many ways. Read below to see what tips and tricks you can create with this variable choice.
Why Use Washi Tape and Stickers in Your Planner?
This thin, sticky tape comes in various widths and is incredibly budget friendly. Plus, the amount of colors and patterns in comes in is a perfect choice for those who need an option that can be used for more than one task.
Washi tape and stickers are excellent for page markers, creating planners, holding things down, and decoration, amongst other things. It truly is one of the most versatile items you can have on hand. If you have wondered about how to use this incredibly versatile product, this article explores a ton of ways it can help decorate and organize your bullet journal.
Design Headers
Not a fan of creating your own lettering? Strapped on time to add color and design? Washi tape is the perfect alternative to provide a decorative header to the top of your collections. Various designs, or even those that are pre-stamped for daily, weekly, and monthly use are available.
Creating a Calendar
It's never been easier to create a planner than when you have pre printed tape that you can simply tear off to place where it is needed. These options make quick work of your calendar needs.
BUY ONE HERE
Perfect Lines
No need to measure and take advantage of a ruler when you have the advantage of a strip of tape. Make colorful lines of various widths to help separate and break up your pages.
Planner Flags
Flag what is important with premade labels to help highlight what you need to pay attention to, label in order what needs to be done, or simply point out events of importance!
BUY ONE HERE
Title Tape
No time to make a decorative title? Use a strip of thick tape of any pattern and color and then use a permanent marker over the top of it to make your title 'pop'.
Easy Calendar Creation
Yet another decorative option for daily, weekly, monthly, and even yearly calendar decoration, these stickers use a clear background so you can use them on any colored background- black included!
BUY ONE HERE
Use as an AdhesiveTape
Washi Tape is just that, a tape that you can use to help stick down other items and hold them in place. Although it is highly versatile and can be used in many creative ways, there is no pressure to use it as such. Sometimes using it as it was made to do is perfect!
Scrapbook Style
Use your tape to help hold things down and create a scrapbook style theme or collection of ideas. This is an easy way to adhere materials to a page, overlap, and remove as needed.
BUY ONE HERE
Collection Page Cover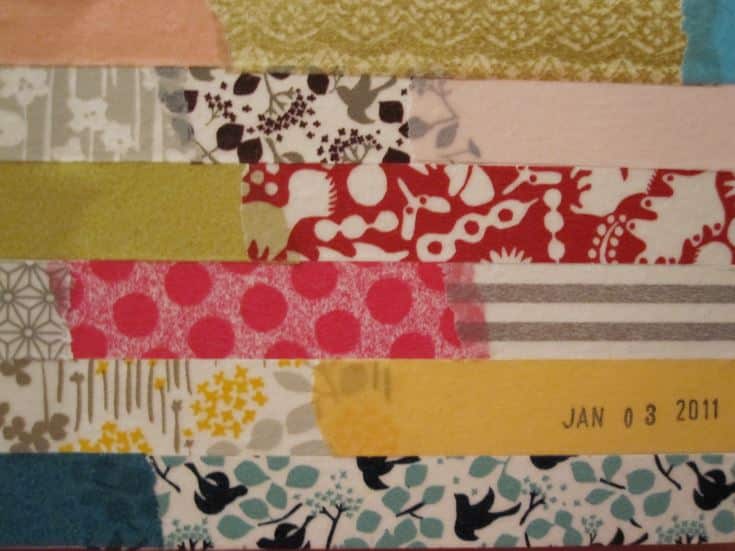 Cover new collection pages with this decorative tape to highlight your themes and make it easy to turn quickly to the pages you need. This will thicken the page slightly to make it an easy find.
Keeping Things Secure
Keep loose notes, pictures, drawings, etc… secure by using this tape as it was traditionally designed to do. Border printed photos, cover corners to hold tight, or simply use as a backdrop to other notes!
Cover Journal Design
If you have been struggling with how to decorate your cover due to time constraints or lack of creative inspiration, turn to your favorite washi tapes. You can mix and match patterns and colors, pre-printed ideas, or anything else you want to carry forward the overall theme of your BUJO.
Start a New Collection
Decorate inside covers, new collection pages, or breaks in the book with the straight clean lines provided by the tape. Use them diagonally or even weave into a pattern! The ideas are endless with the huge amount of colors and patterns offered.
Make Your Own Cover
Make your own cover with the use of this adhesive product to create a unique display. You can design so many of your own patterns by mixing and matching the tapes, and showcase your own decorative flair.
Sticky Notes
Sticky notes, or rather notes you can stick just about anywhere, are highly popular with many people to keep track of goals and lists to keep you on track from day to day. They are a temporary option, easy to stick to surfaces and restick, and can help draw attention to the things you need to get done. Plus, once you are finished with them, they are easy to toss.
Hold Random Notes
If you are a list maker and note taker you will write on just about any random scrap of paper. Keep these secure within your journal so they aren't lost in the clutter with a little washi tape.
Create Your Own Notes
Wider tape is a great way to add your own notes to various pages and subjects throughout your book. You can easily write on most surfaces with a fine tipped marker or ink pen.
Mood Tracker
The changes in your moods and behaviors are well worth tracking. Although normal, sometimes changes due to forces beyond control can be detrimental to your overall health. Tracking changes you can both explain, and not explain can help you get refocused and work towards coping in a healthy way.
By the Month
Keep markers on moods or mood changes by the month with a special collection that helps with this is especially helpful for changes that occur due to hormones. This way you can find patterns.
BUY ONE HERE
Color Coding
Use tape to help color code various moods you have recognized. Place a strip on a calendar, or make a list of colors to help track patterns you can more easily recognize.
Swatches
Using your own decorative swatches of tape that you can trim and cut help keep your journaling in order. These ideas are perfect for marking pages, creating decorative items, and bringing color and style to your pages. The thinness of the tape allows you to use them in very creative manners without worrying they will peel free.
Flaglets
Small flaglets are easy to trim from tape to use as markers in all your books. Color code for special events or use as a way to bring interest to the pages of your journal.
Decorative Designs
Use small bits of tape to help color and inspire your various collections. Small bottles of polish for beauty tips, flags for goal tracking, bouncing balloons for months that have birthday parties- the ideas are endless.
Swatch Page
Make a swatch page to help you keep track of color themes, labeling purposes, and even as a way to make an index to refer to the tape colors you use for each collection.
Making Stickers
Making stickers out of washi tape is a fun way to add a personal touch and unique look to your books. The amazing array of tape variances allows you to customize your own sticker needs, and even create fun and whimsical ideas. These work great to bring color to the pages as well as used in a meaningful manner.
Personalized Notations
Make your own little personal stickers to help bullet your responsibilities, highlight events, or simply decorate your pages. You can even use them to cover items on a list you have already completed.
Highlight Important Events
Use the tape to highlight specific days on a calendar to draw attention to it and showcase its importance. You can make shapes from the strip, or simply tear out a small piece to place on the day.
Color Coding
Swatches for color coding is a popular use and can follow existing themes or simply work to provide labels or reminders for their use. Simple and quick to make, consider using these for various collections.
Daily Calendar Use
Rather than cross items off your lists, why not cover them with colorful tape you can write back over? Ot simply use them to color code chores or other regular events that show up in your calendar.
Use as Dividers and Borders
Probably one of the most popular uses, washi tape is one of the best ways to help organize pages. Use thin tapes for separating sections on individual pages, and thicker for borders. Patterns are also popular for border uses, and can help bring your creative passions to light as they frame your hard work.
Divider Tabs
Washi tape makes some of the best divider tabs as it is rigid enough to keep from completely collapsing when folded together, and also has so many colors you can label anything!
Halve a Page
Stop folding your pages in half vertically when you can run a piece of tape down it. This provides you the ability to create borders for all your sections in an easy way, and since the tape generally is easy to remove with ripping, you can always change them as your book grows.
Vertical Separations
Find tape that speaks to you and works with whatever themes you have going to totally customize your page experience. These are a great addition anywhere on a page when you need a border to separate ideas and lists.
Weekly Planners
Use thin strips of tape to separate days of the week in your daily planning collections. You can allow them to do double duty in these situations as well to provide a way to recognize important dates.
Make Tabs
Making border edged tabs and ways to keep a marker on your pages is one of the best ways to use this tape. Its thinness makes it easy to fold and provides a decorative touch even if you have taken a more materialistic approach to your journaling.
Border Edges
Layer your tape to create long vertical tabbed edges and create a unique way to find the collection you are looking for quickly. By folding them over one another and working them out you elongate the edge of the page.
Page Ends
Continue to use them along the ends of the page, but in a simpler manner to simply provide a colorful, yet flatter aspect for easy page recognition. You can run this down the length of the page, or simply in one area.
Color Coding
Color code your page ends using an adhesive folded over the side. You can make short, fat, long, etc… tabs to use in this manner. This is especially helpful for more minimalistic book styles.
Circular Tabs
Rather than use boring rectangular tabs, try cutting your tabs into circles and create an unexpected look. Washi tape cuts easily, sticks well to itself, and is a secure tab creating choice.
Page Keeper
Afraid to lose the page you are on and not a fan of traditional tab designs? Make your very own bookmark or page keeper with this material by layering, folding, or simply twisting into shape!
Low Profile Tabs
These low profile tabs are easy to fold into place when you make them out of washi tape. Simply stick, fold, and go! Be sure to leave a slight overlap for easy page turning.
Create Checklists
Checklists are a great way to keep track of a variety of things. Everything from daily events, do-to lists, and grocery shopping products can all be quickly jotted down and checked off as you go. Sometimes writing lists in haste allows something to be overlooked, but not if you provide the detail to keep that from happening such as bullets or boxes to cross off. Pre-printed tapes allow you to choose from a wide variety of easy to stick options!
Bullet Boxes
This pre-printed tape provides a plethora of shapes to choose from to create easy to use boxes for all your list making needs. Just rip off what you need and stick to your paper!
Covering Mistakes
We all make mistakes, and if you prefer to work in inks and pens, then sometimes that can be more permanent that you would like. There always is the option to tear out a page or cover your mistake with Whiteout, but both options leave behind the obvious. Washi tape provides an excellent cover, and since most surfaces are easy to write on, it is a great cover up choice.
Straight Lines
Screw up that straight line you were making for a planner or border? No problem, stretch a piece of washi tape over it and make it a colorful border addition instead.
Border Ideas
Not liking your original drawing, border, or decoration?  Choose the color and pattern of tape that works best for you and design some pretty borders. These truly are the perfect cover-up.
Title Pages
Mess up your title page with spilled drink or bad lettering? Some colored paper, a bit of tape for highlight and border, and a marker will get that all fixed up.
Covering It All Up
Whether you have a small mistake or a big one, these many ideas help you get them covered with a minimal fuss. Tape also plays a role in this all to add a pop of color and design.
Design Ideas
Because it is so colorful, you can use the tape for many different types of collections and pages. Look for specific printed tape that reflects your themes and helps you provide a unique design to your book.
Monthly Trackers
Keep track of all things monthly with washi tape. Use it to color code specific pages or comply to provide organization to your planner ideas. No matter the use it will be adorable.
Adding Pictures
Adding printed pictures, photos, and just fun prefab templates are a great way to own your journal. Use tape to help hold pieces down and also showcase and frame what you have.
Underlining Importance
Highlight important stuff when you use tape to underline and define in your pages. As versatile as it is, you can also use it to cover over completed tasks or other list items that are no longer important.
Color Coding
Using this type of product for organization is a budget friendly way of making your pages look nice. It also provides unique ways of keeping track of your responsibilities by providing color coding systems in indexes, legends, and individual collections.
Listing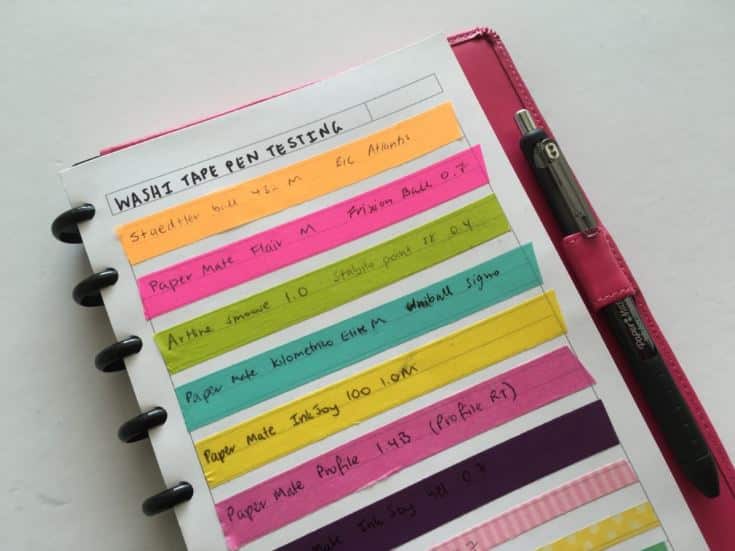 Make stacks of lists using color coded tape to show the order of importance, code specific responsibilities, or simply provide a fun background to your work. Most tapes are easy to write on using permanent markers.
Calendar Appointments
Coded calendar appointments and due dates are easy to spot on your month to month collections when you use the same color every time. Tape also allows you to run a strip over multiple days with ease.
Legend Creation
Make a colorful legend to use throughout your entire planner collection or even through the whole book. Use a strip of tape to serve as a reminder, to highlight events of importance, keep appointments, or add to existing lists.
Coding Days
Cut tape into fun shapes, or use on a day to day basis to indicate a completed task, upcoming assignment, or draw attention to a special day. The ideas are truly endless.
Monthly Legends
Keep a legend that you can use for month to month needs. It may take some time to get used to recognizing what you use each color for, but once you are in the habit you will more quickly be able to glance at your book to indicate its use.
Days of the Week
Assign a specific color for every day of the week to cross reference other collections you have pertaining to goals, events, and other various things you feel are pertinent to make note of.
GET ONE HERE
Conclusion
Washi tape provides awesome decorating ideas as well as a unique way to help you say organized. Its versatility is an excellent thing to take advantage of to create tabs, highlight events, stick things to pages, help organize lists, and in general, make order out of chaos.
Budget friendly, it truly is a product to always have on hand for all your bullet journaling ideas. If you have any tips to share with us or want to show us how you use it, please do so below! And, as always, please share!