There are a number of factors that can lead to hypertension or high blood pressure. When your arteries have a blockage or your vessels grow narrow, the heart works harder to get the blood where it needs to be. This puts a strain on your heart, which will be damaged if nothing is done to get the blood pressure back to normal.
Natural remedies are the best route when it comes to relieving body issues, and hypertension is no different. Essential oils are full of all kinds of benefits to help your life. Let's take a look at some essential oil recipes for high blood pressure.
​Essential Oil High Blood Pressure Relief Recipe
Hypertension is a serious issue and can lead to some serious health issues. Not only can a person suffer a stroke, there is the risk of coronary artery disease, heart failure, aneurysm, dementia, kidney issues, and it can cause damage to your eyes. While there are medications your physician can prescribe and lifestyle choices that will help you lower your blood pressure, essential oils can provide some aid as well.
These recipes might help you in your quest to lower your blood pressure. Before you apply any essential oils topically, be aware of skin sensitivities and always do a spot check. If you are on any medication, be sure to consult a healthcare professional first.
​Foot Massage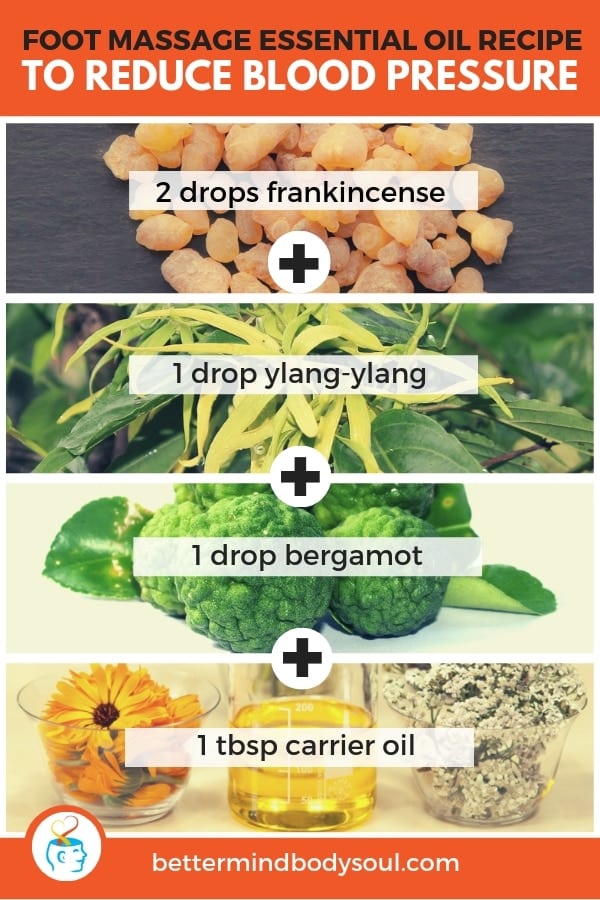 One of the three ways essential oils can be used for relief is through topical use or massaging them into the skin and muscles. In this case, these are specifically the ones applied at the bottom of your feet. When it comes to hypertension, it might seem strange that this route can bring relief to a circulatory issue, but we think when you try it, you might be pleasantly surprised as it helps you relax, and that in a way reduces blood pressure. Upon application, the oils penetrate through the pores while you breath in the scent. It's truly the best of both worlds.
Blend the above ingredients in a dark bottle and put it with your other oils for storage. If you rub this mixture on the bottom of your feet, you will feel the relaxation set in from this powerful mix of oils. Suggested carriers are jojoba and sweet almond.
You might be interested in:
11 Essential Oil Recipes For Arthritis - Click Here
​Inhalation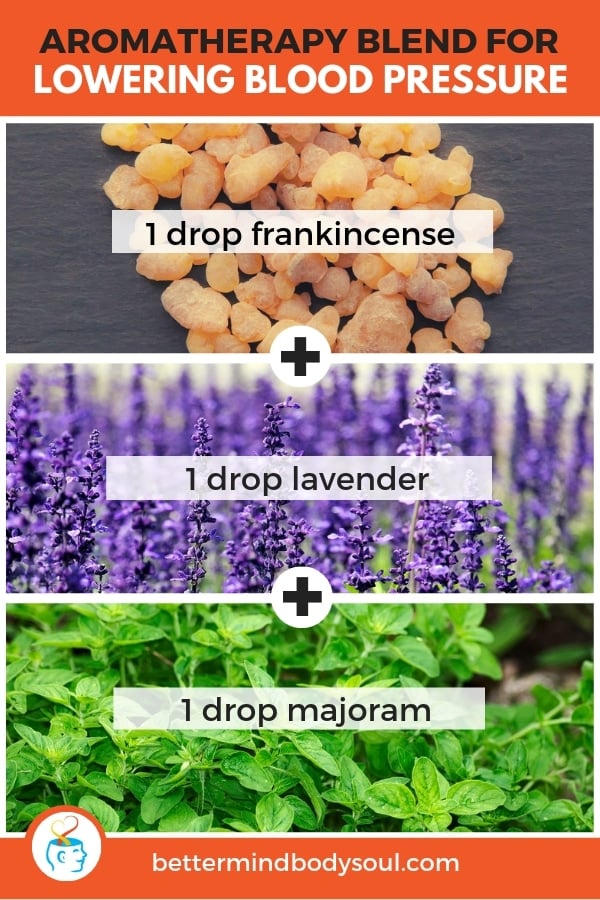 Arguably the most popular methods of utilizing essential oils are through inhalation or simply put, breathing them in. This blend is a mix of scents that will relax you while lowering your blood pressure. Take the following ingredients and mix well.
This blend works well when added to some steaming water. You can lean over it and inhale all the scent you want. The experience is much more intense when you drape a towel over your head. Make sure to pull your head out from the steam from time to time so you don't overdo it
​Over The Heart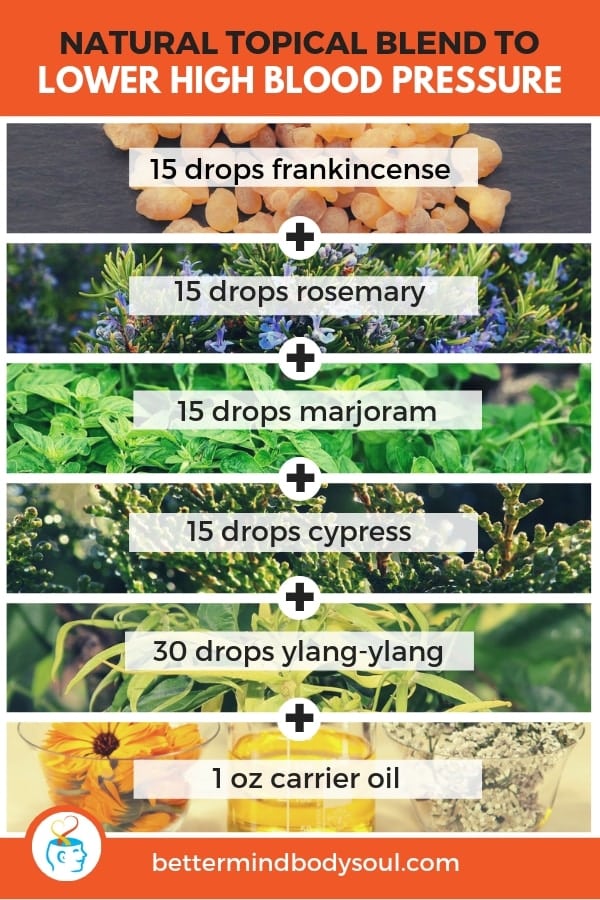 Another great place to apply blends focused on hypertension topically is on your chest that covers the heart cavity. There is a ton of tissue that oil has to penetrate, but it will get through so why not go right to the source. Try mixing these ingredients.
15 drops of frankincense
15 drops of rosemary
15 drops of marjoram
15 drops of

cypress

30 drops of ylang-ylang
1 ounce of carrier oil
Put all of this into a dark bottle and shake well. Take a few drops of the blend and massage it over your heart area. Once in the morning and once before bed should help alleviate that hypertension.
​More Massage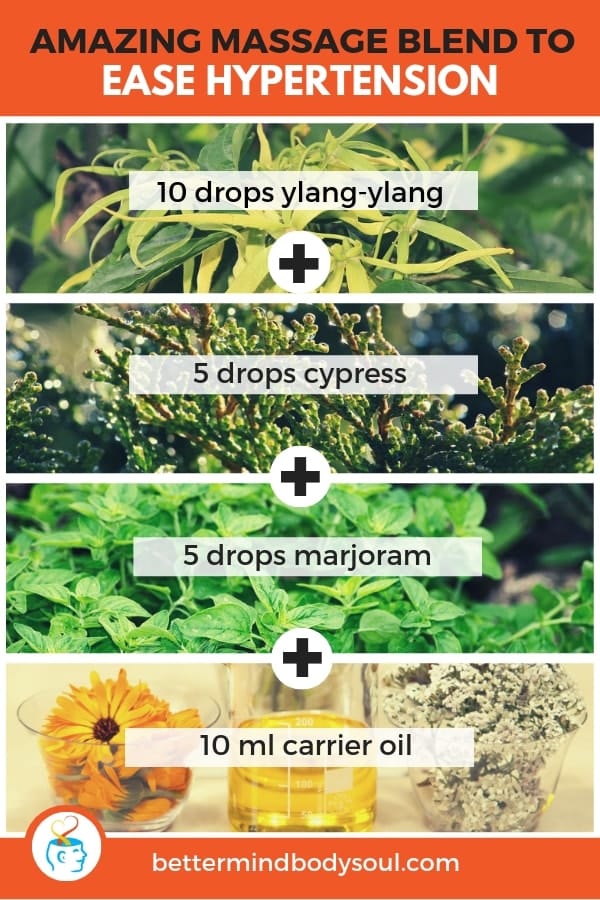 When it comes to topical treatment and hypertension, there a ton of variations you can make to achieve your goal of lowering your blood pressure. For this mix, it's suggested to blend the following.
10 drops of ylang-ylang
5 drops of cypress
5 drops of marjoram
10 ml of carrier
This blend focuses more on the relaxing nature of ylang-ylang and goes a bit lighter on the sedative effects of cypress. You can apply this in a few of the places we've mentioned, feet and over the heart, and you can massage a few drops on your wrists.
​Bath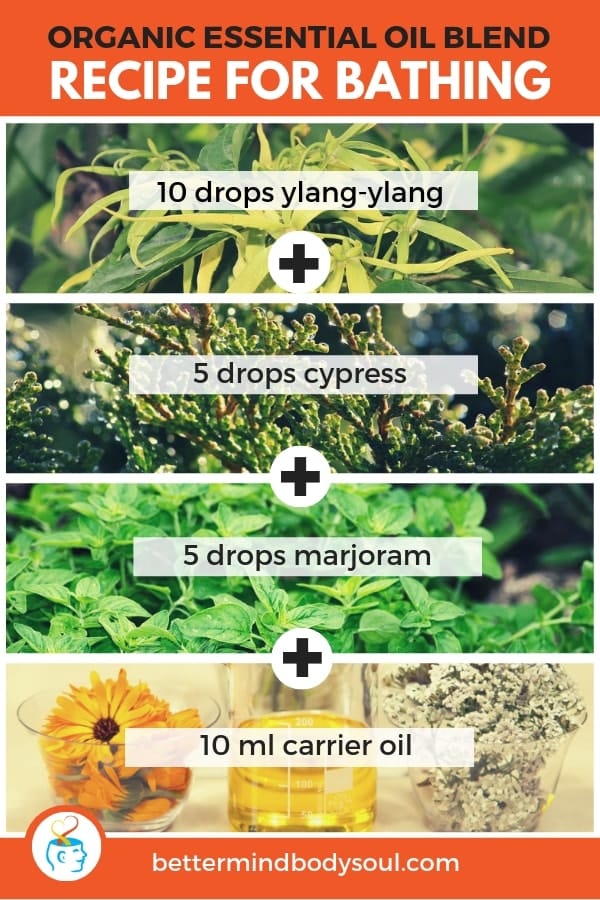 When you bathe, it is a great time to take advantage of the benefits you can get from essential oils. Not only will you inhale the fresh healing scents, your body will also absorb them through the bath water. The next time you want to take a bath, put the following together.
1 drop of sandalwood
2 drops of geranium
2 drops of lavender
Blend them first and then add to the bath water. Your nerves will relax and your blood pressure will lower down a bit. This blend would also work well in homemade bath salts.
Shower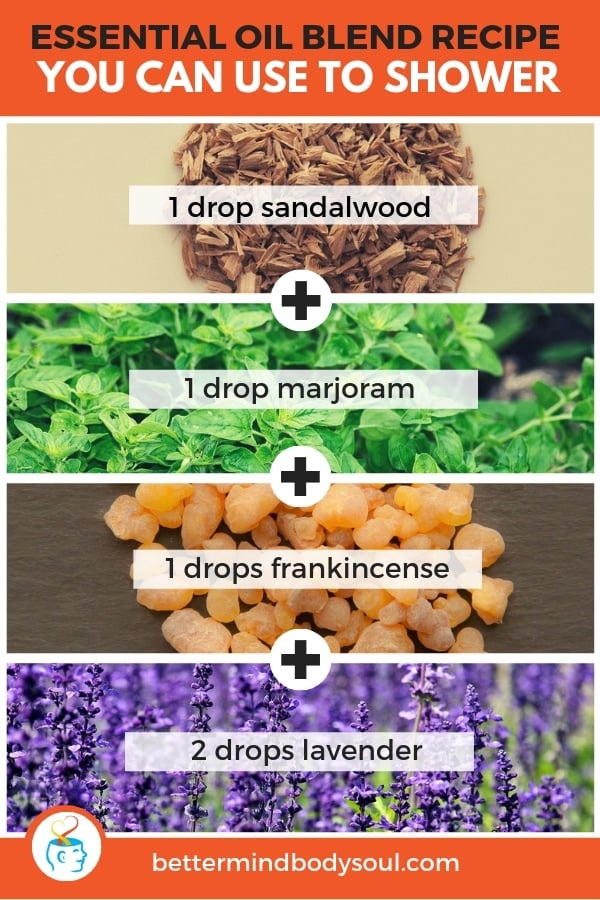 A bath isn't the only cleansing technique you can use as a vehicle to reap the benefits of your essential oils. The shower is another great place to do this. Just take the following…
1 drop of sandalwood
1 drop of marjoram
1 drop of frankincense
2 drops of lavender
…and do the same. Mix them and add them to the shower. The constant flow of water will create a mist that is scented like nothing you've ever known. It'll be hard to take a shower without oils after the first time you add them.
​Lotion
Topical treatments are lovely but some can be super strong, and it's nice to have a topical treatment that can be applied regularly if needed. This is where lotion comes in, which is a lighter blend you create that you can carry with you.
5 drops of lavender
5 drops of clary sage
5 drops of frankincense
2 ounces of fractionated coconut oil
The coconut oil adds a nice touch, and this mixture is something you might find yourself applying to your temples when you feel a little stressed or in a situation where your blood might start pumping.
​Diffuser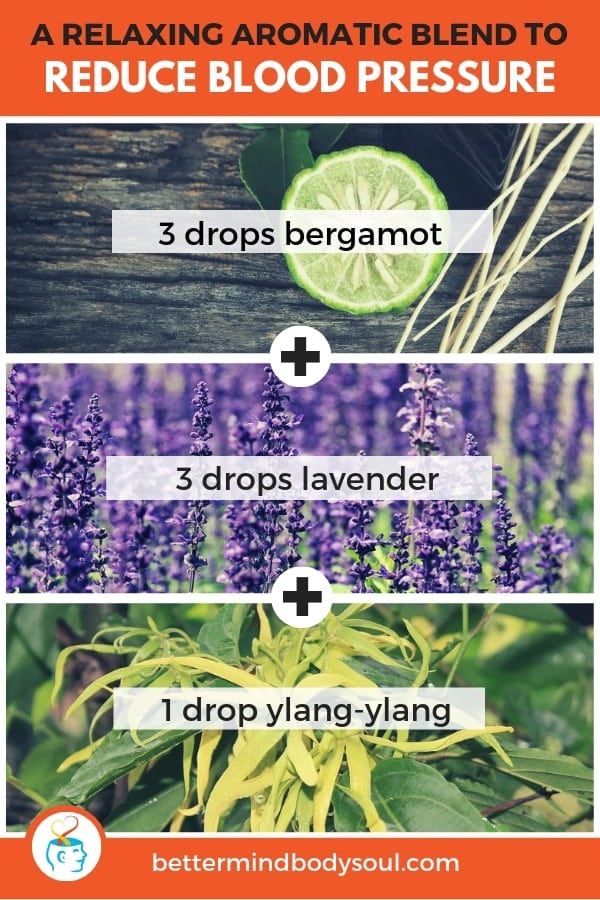 As we've mentioned, inhaling is another way to take advantage of these benefits and using a diffuser is one of the best ways to do this. When broken correctly, essential oils truly pack a punch. Diffusers are designed to make sure the person inhaling the scent is getting the best of the oils.
3 drops of bergamot
3 drops of lavender
3 drops of ylang-ylang
Add these ingredients to your favorite diffuser, possibly the one you use for your larger rooms and then let it run periodically throughout the day. It is advised to only diffuse for no longer than 30 minutes three times a day.
​And More Massage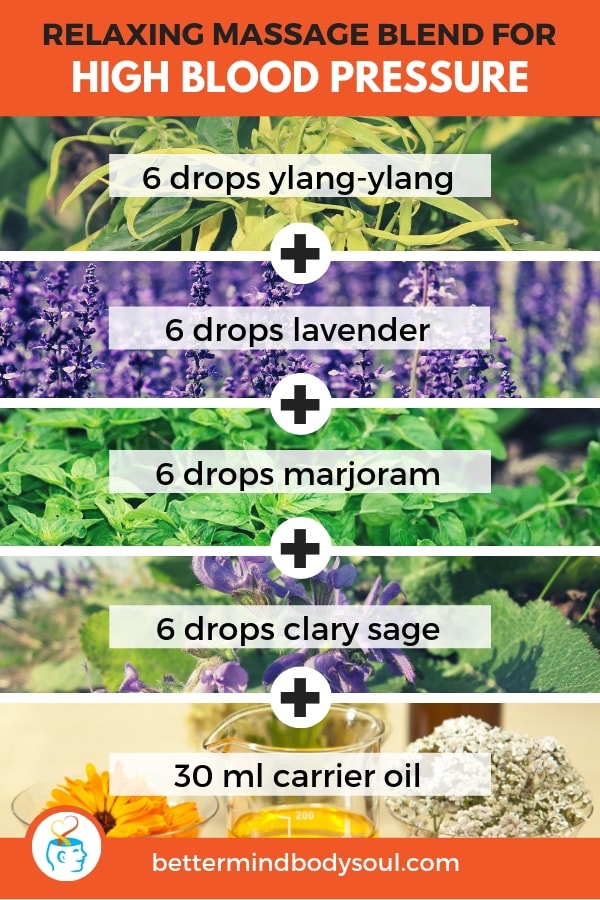 There is a good reason why a lot of these recipes are focused on topical treatment and massage. These oils provide relief to so many parts of the body, which is evident once the mixture hits your skin. For this next massage recipe, you need the following.
6 drops of ylang-ylang
6 drops of lavender
6 drops of marjoram
6 drops of clary sage
30 ml of carrier oil
If you notice, this is the largest quantity we've listed thus far, and while the ingredients seem to be somewhat similar to those we've listed in the past, the volume and size vary from each recipe.
Back To Bathing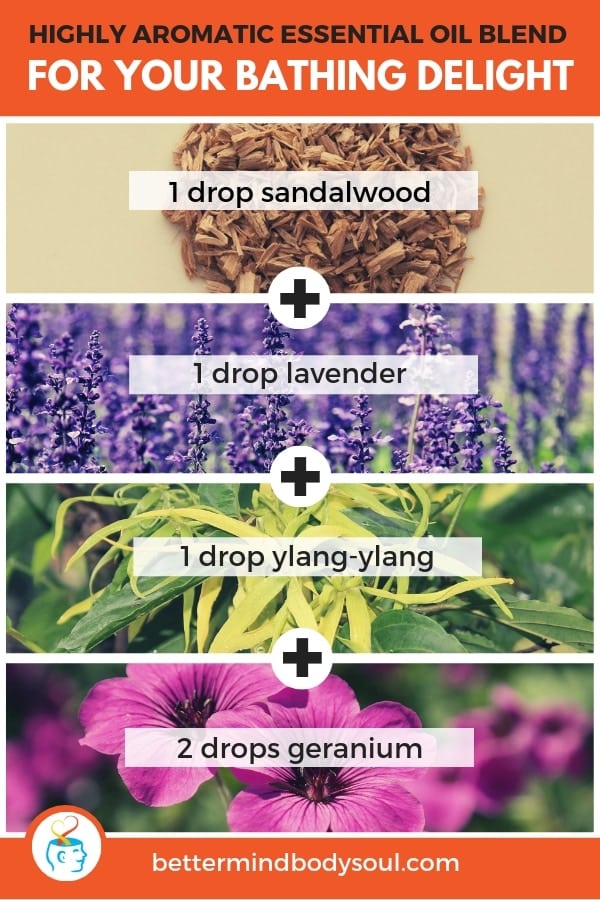 Here, we have a recipe that you could add to your roster of blends that accompany you in the shower. You will see some familiar scents mixed in a whole new way. Get the following ingredients.
1 drop of sandalwood
1 drop of lavender
1 drop of ylang-ylang
2 drops of geranium
Mix well and add to the steaming water running from your shower head. The aroma will fill you with relaxation for your heart and your head.
Inhaler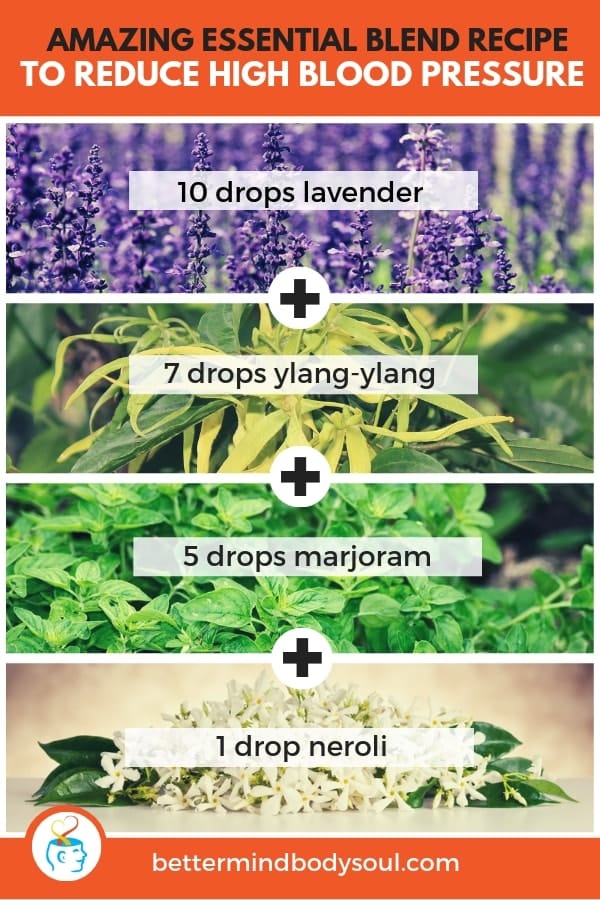 If you don't have a diffuser, there are many ways you can create to make your own inhaling device. Would it surprise you if I said you have a diffuser of sorts right in your bathroom? Cotton balls, facial tissue, and even a square of toilet paper can serve as a diffuser when you need it.
10 drops of lavender
7 drops of ylang-ylang
5 drops of marjoram
1 drop of neroli
The last ingredient sets this blend apart and adds a bit of an exotic twist to your blood pressure needs. Just put this mixture together and apply it to one of the vehicles we've mentioned and breath in to maximize the benefits.
To Conclude
We hope you enjoyed our list of essential oil recipes for hypertension and use one if not all of them to ease that blood pressure. If you did enjoy this article, please let us know in the comments section below, and if you know someone with high blood pressure, then share it with them so we can all continue our journey toward a better mind, body, and soul.