Essential oils have been gaining in popularity for a variety of uses. Everything from mental and physical health, to creating a relaxing atmosphere, or even adding flavoring to your favorite drinks and dishes can be found in the use of these oils. With the many companies claiming to offer pure oil options, it is a good idea to research your oils for purity and source transparency for safe use.
Young Living is often a well-recognized name in the industry with a large offering of oil and oil-based products. Kis is a lesser-known name and is a smaller company, but it offers a decent selection of single and blended oils. This article briefly compares Kis Oils vs Young Living to provide you an informed overview of what each company provides.
Kis vs Young Living Essential Oils Comparison
​​​Kis

​Young Living

Purity Certified: not available

Blends: yes (but not available on the website at the time of writing)

Ingestible: no

Sourcing: no

Pricing: $$

LEARN MORE

Purity Certified: yes

Blends: yes

Ingestible: FDA approved

Sourcing: Global Transparency

Pricing: $$$$




LEARN MORE
Kis Essential Oils
To provide full transparency in my research of this company, I have to start by saying there is very little information to go off of. Currently, they are a small company located in Brooklyn NY and seems to have been around for at least 5 years if online FAQ review date stamps are to be trusted, although there is no information of their founding on their website. Their small footprint bottling company buys directly from producers to offer to consumers without worrying about the cost of the middleman. This allows them to offer it to their buyers at a less expensive cost compared to other companies.
Pros
Cons

– Decent selection of singles and blend oils

– Good description of oil options

– No sourcing transparency

– Website missing information
What is Offered
The company offers a decent selection of oils for a small company. They seem to carry the most popular oils that are widely recognized and used by beginning and advanced oil users alike, as well as some more rare distillations for a very good variety. The problem I noticed was that many of the oil descriptions also noted the oils weren't available due to the website still being under construction. Their blends page was also void of any options at all. With no copyright date to their webpage, it is difficult to discern if this is a new site being built or a site that has been long neglected. An email to the company went unanswered.
Some of the oils were available through a third party, online selling site.
Single oils (availability questionable)

Blends (not available)

Sampler Sets (availability questionable)
Sourcing and Purity
For a website that seems to be more or less unavailable, there is a decent amount of information provided about their single oil offers, country of origin, extraction methods, use, and cautions. Unfortunately, what is not included is transparency in where it actually comes from and if any quality testing (3rd party or otherwise) is ever part of the process.
They do claim their oils are 100% therapeutic grade and is tested as such, but no literature or explanation of this seems to exist. Each bottle is also a concentrated oil and is not diluted with any carrier, which makes it a potent option.
Although transparency of their claims may not seem like a major issue to everyone, essential oil concentrates are strong in their use and absorbed readily by the body when applied topically or inhaled. Knowing how the plants that source the oils were grown, the purity of the oil extracted, and a 3rd party test for unbiased safety claims may be an issue for many people.
Pricing
As mentioned, the main goal of the company is to offer an oil that is affordable and is of high usable quality. Their ownership of buying directly from producers, bottling their own oils, and offering to consumers most definitely helps lower production costs- and their price per bottle reflects this. These are a very affordable oil, and if their claims of sourcing and purity are true, this is an excellent value.
Young Living Essential Oils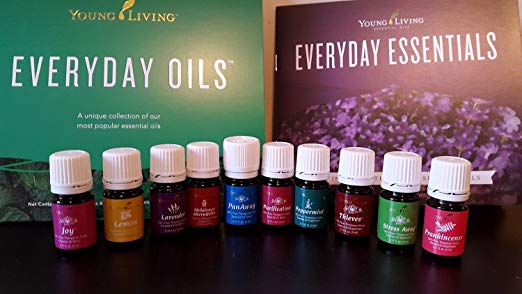 Young Living was started as a family business in 1993 and has grown through the years using
a Multi-Level Marketing (MLM) strategies to sell products. Their oils and oil products are available to the general public without becoming a member, but wholesale discounts do exist for members and those who choose to sell them.
If selling products you love is a passion of yours, this can be a great way to earn a little extra income and get your own products for free or deeply discounted. Some people prefer to join with the purchase of a starter kit to get the wholesale pricing, while others just buy the occasional oil as needed at cost.
Young Living offers a huge selection of products, all of which provide transparency in their quality standards for consumer needs. Everything from sourcing, distillation, bottling, and 3rd party testing information can be found and researched on their website so you know exactly what you are using.
Pros
Cons

– Huge selection of oil and oil products

– Clear transparency of sourcing and proof of claims

– Clear directions for use

– Offers FDA approved oils for ingestion

– Membership only for wholesale pricing
What is Offered
Compared to Kis Oils, Young Living offers a much larger selection of oils and a huge selection of various oil products. This is to be expected with a much larger company, however and isn't necessarily an indication of quality products offerings. Everything from oil use to body and home care is provided through the Young Living Company.
Single oils

Blended oils

Dietary oils (FDA approved for ingestion)

Diluted rollerballs

Massage oils

Collection singles and blends

Cleaning products

Children's oils and health products

Pet care

Dietary nutrition products for energy, weight loss, digestive wellness, and cleanses

Healthy cooking options

Bath and body care

Skin care

Makeup

Diffusers
Sourcing and Purity
In order to provide detailed transparency of their products, Young living has implemented their Seed to Seal Quality Commitment promise: a three-tiered process documenting the sourcing, science, and standards applied to all their oils. This program highlights how an oil begins from seed through growth, harvest, distillation, testing, and production. This allows the consumer to know where their oil has come from and the safety measures provided for personal use.
Each bottle of oil has a batch number so it can be traced to its source and testing results. All oils are sold as a pure concentrate unless otherwise noted (such as in a roller bottle that requires a carrier oil for smooth, even application).
Pricing
Young Living pricing reflects the details of oil availability, sourcing, harvesting, and quality testing. Plus, as an MLM company, they pass on their savings to members with wholesale discounts and rewards for those who sell. They are equitable to other similar MLM in reference to cost, but are rather pricey when compared to other companies that have fewer products, but sell directly to consumers.
Conclusion
Honestly, when buying essential oils you need to consider their potency and use. In fact, most companies suggest you check with healthcare providers prior to starting their use. Because of this, the knowledge of sourcing and purity is truly an important detail to be aware of, and any company willing to provide transparent information of this is a company I, personally, gravitate to.
There are MANY essential oil suppliers, both MLM run designs and smaller businesses, that provide this information to provide your choice in both quality and pricing categories. The fact that there is no way to reference claims made by Kis Oils, as well as the general lack of any mention of sourcing and processing on their website, makes me think they are a young, growing company who has oversight in their department or that they are unable to provide this information.
Kis Oils may very well have a quality product, but compared to Young Living have many gaps to fill in – at last pertaining to basic proof of information.
If you have any further questions about these companies or any experiences with either type of oils, please let us know below. And, as always, please share!