Premium Starter Kit with Rainstone Diffuser
Young Living is a powerhouse when it comes to essential oils. It's difficult to do any research on the subject without their name popping up, which is a good thing if you are a fan of their oils. I am a fan for several reasons, but we will get to that later. The fact that you found yourself here, reading an article on starter kits, then I think it would be safe for me to assume you are new to the world of essential oils. I remember my first experience with oils and my first round of research on the subject. It was overwhelming to me because I guess I didn't realize how complicated it all was.
I'm not going to give you a huge lesson on essential oils right now. For today, we are going to take a look at a beginners product by Young Living, a company who has established a great name for themselves in the essential oil world for supplying consumers with pure extracts.
Check The Price
Who Are They?​
Knowing a little bit about the source of your essential oils is, well, essential. There is a good deal of distributors with products on the market that claim to be "extracts" but are actually diluted with fillers or carrier substances. This isn't the case with Young Living according to their biggest fans.
Gary Young, the founder of the company, was a pioneer in the forefront of modern society's introduction to aromatherapy and the benefits of essential oils can bring to your everyday life. Unfortunately, Mr. Young passed away in May of 2018, and he leaves behind a legacy of family, friends, fans, and coworkers behind.
Most importantly, he leaves behind a company that has grown tremendously since it began in the late twentieth century. The reason it has been so successful is due to the company's reputation for purity in their products.
Their Process
Seed to Seal® is a series of tests that their company puts every batch of essential oils through from investigating the farms they source their product from to the time the seal clicks on that little brown bottle on its way to being shipped out to customers. They also involve a third-party facility to test their batches, just to be sure. The types of testing these oils go through are quite intricate and extensive.
Young Living is based out of Spanish Fork, Utah and houses a facility that is as high tech as it gets in the essential oil business. Science is an important tool in their process and their scientists are some of the best in the industry.
As a person who is interested in essential oils, a starter kit is a way to go. The idea in this product that you get a little bit of everything. There are singles for blending and blends for enjoying, and after looking at the initial description of this product, I am impressed at all the scents they offer in this kit.
Below, I will go into each part of this kit individually, but for now, we want to look at it as a whole since this one-time purchase is chock full of great scents and goodies. Let's look at them quickly. With this starter kit you get:
Lavender 5ml
Peppermint Vitality 5ml
Lemon Vitality 5ml
Copaiba Vitality 5ml
Frankincense 5ml
Thieves Vitality 5ml
Citrus Fresh 5ml
Raven 5ml
DiGize Vitality 5ml
PanAway 5ml
Stress Away 5ml
AromaGlide Roller Fitment
Thieves Household Cleaner 1-oz sample
10 Love It? Share It! Sample Business Cards
10 Love It? Share it! Sample Oil Bottles
2 NingXia Red® 2-oz samples
Product Guide and Product Price List
Essential Oils Magazine
Essential Edge News
Member Resources
As a newcomer, some of these products in this kit may sound familiar while others may seem foreign. That's okay. I will go into detail about each one.
Check The Price
It's Worth Mentioning
This kit, if you haven't picked it up by now, is intended for people who want to start their own business selling Young Living essential oils. They have a sales model called Network Marketing Home Business, which is kind of like Avon or Tupperware. For those of you who don't know what those businesses are, it's a model where you purchase the product and sell it to your friends, families, and coworkers.
Quite a few companies are run with the same type of business model and are highly successful while offering people an opportunity to own their own business. As with anything else, what you get out of it will equal what you put into it.
The Kit
If this kit is starting to sound good to you, then keep reading. We will touch on each part with a little more detail. Each of the following products is in a 5 ml bottle, which equals anywhere from 100-120 drops of oil.
Lavender (Aromatic | Topical)
This oil is one of my favorites, and I own the Young Living brand. A little goes a long way, and I can personally vouch for its purity. It's a great scent to diffuse when you are looking to relax or relieve some stress.
Peppermint Vitality (Dietary)
I also own this oil. This is the first one on our list that was created with consumption in mind. That's why the word "vitality" is added to the scent. This one word should help you distinguish between the oils you can consume and those you can't. This oil was created to promote a healthy gut. A drop in a pint of water in the morning should start your day with a refreshing flavor.
Lemon Vitality (Dietary)
Here, we have another oil I own. With the addition of "vitality" in the name, we know that this oil is also meant for ingestion. This flavor adds freshness to vinaigrettes or can bring out the flavors in fresh vegetables.
Copaiba Vitality (Dietary)
Made from the gum a Brazilian tree with the same name, this oil has a pleasant flavor that is complex. It is recommended to put two drops in a capsule to promote wellness. Pregnant and nursing women should consult their doctor before taking, and it should be kept out of the reach of children.
Frankincense (Aromatic |Topical)
This oil is one of my favorites. I couldn't wait to get it when Better Mind Body Soul sent me some to review. I diffuse it quite often and love the musty scent when I am sitting at my computer writing which I feel helps me focus.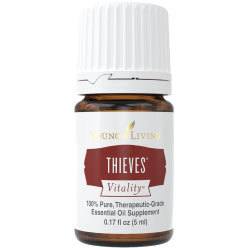 Thieves Vitality (Dietary)
Named for a blend of scents first used by robbers in France stealing from plague victims so they wouldn't contract the disease. It has a spicy and sweet flavor that can be added to a capsule, to your morning oatmeal or cereal, or in a cup of water.
Citrus Fresh (Aromatic |Topical)
The name alone catches my eye because I love the aromas of all citrus fruits. This combination is meant to uplift your spirits and give your home a refreshing scent.
Raven (Aromatic |Topical)
Since I am a fan of Edgar Allan Poe, it's not surprising the name of this blend intrigues me as well. It's a combination of Peppermint, Ravintsara, and Eucalyptus Radiata, among other extracts. It is meant to give a cooling sensation when applied topically.
DiGize (Aromatic | Topical)
This blend gives off a calming effect once diffused. With the combination of oils in this blend, Young Living feels they can add to your wellness regimen.
PanAway (Topical)
A friend of mine also owns and swears by it. She says it works wonders on her sore muscles, and when she applies it topically, she can feel it penetrating the deeper tissues
Stress Away® (Aromatic| Topical)
I own this blend and love it. My stress levels can spike at times, which is fine because that's what life is about at times. A few drops in my diffuser, and it all melts away.
AromaGlide Roller Fitment
This product will allow you to use your favorite oil or blend into a roll-on bottle, which would work great after the gym.
Thieves Household Cleaner
I own this product and feel it cleans my counter tops very well. I like the scent and can dilute it in as much water as I want, which is recommended on the bottle.

10 Love It? Share It! Sample Business Cards
These are business cards meant for you to run your business.
10 Love It? Share It! Sample Oil Bottles
These will work great with the roll on filaments for sampling when you have customers who want to sample.
2 NingXia Red® 2-oz. Samples
This drink mix is intended to give you a daily boost of pure essential oils. You just drink one 2-oz sample one to two times daily for best results.
The rest of the kit includes the Product Guide, the Product Price List, the copy of Essential Oils Magazine, the copy of Essential Edge News, and resources available only to members. They also state that the contents are subject to change depending on availability.
Check The Price
You might be interested in:
Young Living Deep Relief vs Panaway: Which Is The Better Choice? - Click Here
​What Are People Saying?
There was very little to go on, but it seems that the majority of consumers that purchased this product were not too happy with how expensive it was. They loved the oils though, and there weren't any complaints on the quality of the product.
PROS
Great selection
Large quantity
Ample amounts of blends
Ample amount of singles
Pure oils in every bottle
CONS
Expensive
Is meant primarily for those looking to start their own business
Who Should Buy This
I think this starter kit is best suited for someone who already knows about essential oils and is considering creating their own business selling Young Living's product. If you are a person who has no experience with essential oils, I feel this is too much of a commitment for you. You are better off buying a few oils at a time.
But, if you are a fan of essential oils and are interested in the prospect of informing your friends of the many benefits available via aromatherapy, then this kit is perfect for you. The quality is there, but do you want to sell it?
To Conclude
Young Living is a company that is synonymous with essential oils and their use in modern day society. Selling oils is a lucrative living and I know someone that does it. Still, if that's too much for you to take on, then this isn't the kit for you. If this opportunity sounds intriguing then, by all means, dive in. It sounds like an adventure to me.
Check The Price