Despite the fact that yoga is a practice that is thousands of years old, people are just starting to understand its benefits. Yoga is a kind of wellness activity that benefits both the body and the mind. It helps people burn calories, tone their muscles, relax, meditate, practice deep breathing, and stretch their bodies. And the best part of it is that you only need to invest in stretchable clothes and a yoga mat!
5 Best Non-Slip Yoga Mat Comparisons
IMAGE
BRAND
DETAILS

BalanceFrom GoYoga

Dimensions: 71 x 24 inches

Thickness: ½ inches

Made from: high-density foam

Check The Price

YOGA DESIGN LAB

Dimensions: 70 x 24 inches

Thickness: 3.5 mm

Made from: natural tree rubber + microfiber made from recycled bottles

Check The Price

IUGA Yoga Mat

Dimensions: 72 x 24 inches

Thickness: ¼ inches

Made from: TPE

Check The Price

Manduka Yoga Mat

Dimensions: 71 x 26 inches

Thickness: 6 mm

Made from: eco-certified PVC material

Check The Price

Heathyoga

Dimensions: 72 x 26 inches

Thickness: 6 mm

Made from: SGS certified TPE

Check The Price
Benefits of Using a Yoga Mat
Sure, you can skip the yoga mat and do your stretches directly on the floor, but you'll be really sorry the next day. A yoga mat gives you nice support and comfort, with a series of other benefits:
It gives you a clean place to stretch. If you would be doing toga directly on the floor, it would be very unsanitary. Sure, you can always mop the floor before yoga, but who wants to have to deal with that extra chore every day? Also, if you're attending yoga classes, cleaning the floor before your workout is not an option. Consider the fact that yoga exercises imply touching the floor with almost every body part, so you want to have a clean surface to sit on.
It also keeps you warm. Since you'll be doing yoga during every season of the year, you want to avoid sitting directly on the floor, which is the coldest place in a room, since all heat usually goes up instead of down. With a yoga mat, your body's heat will be transferred to the mat's material, which stays warm and keeps you warm, instead of being transferred on the floor.
It's more comfortable. Doing yoga implies adopting plenty of different postures and maintaining them while holding your breath. If you were to be doing that on a rough surface, you will either end up with unnecessary sores or won't be able to maintain your posture because of discomfort. Consider the yoga mat as a sort of padding that allows your joints to avoid the floor's hard surface, in order to avoid pain.
It provides your body with the stability needed during yoga. Because of the mat's padding, you will successfully be able to stretch in different positions that would otherwise be uncomfortable if you were sitting directly on the floor. By using a yoga mat, your body will be comfortable enough to help you focus on the stability of the poses you're practicing.
Choosing a Yoga Mat
Having a yoga mat isn't necessary for doing yoga, but you will definitely regret not investing in one after your first session. Yoga mats are actually accessories that can help you make the best out of this experience, as they are a comfortable and healthy alternative to doing yoga poses directly on the floor. If you're not sure how to choose a yoga mat that meets your standards, know that there are three main aspects to consider prior to buying: thickness, weight, and materials.
Thickness & Weight
These two aspects go hand-in-hand, as the thickness of the mat will greatly influence its total weight. As you can imagine, yoga mats come in a variety of thicknesses, each one serving a different purpose. The thinner ones are great for travel or for people who attend yoga classes and need portability in a yoga mat, while the thick ones are great for home use, particularly because they can weigh up to 7 pounds, thus being quite uncomfortable to carry around.
If this is your first time buying a yoga mat, look for one that is about 1.8 inches thick, as this is the general standard for most people. Because they are rather thin, your body will be very stable when performing different poses. They also make it easier for you to move around, which means that your practice will have better flow, allowing you to smoothly transition from one pose to another.
If you do a lot of traveling, you want a yoga mat that's lightweight. There are mats designed specifically for travel, and they are smaller and thinner compared to standard yoga mats. These are great for air travel because their compact size makes it easy for you to fit them in your luggage.
Thicker mats are better for people who need extra cushioning. For example, if you're practicing yoga as a form of recovery or as part of a therapeutic process that's a result of injury, you are better off using a thick mattress. However, you need to consider that thick mats make it more difficult for you to maintain your balance.
Materials
The materials and thickness of a mat will always have a say in its durability. For example, thinner mats have a shorter lifespan compared to thicker ones. But since materials are also important, let's have a quick look at some of the most popular ones used in the production of yoga mats:
TPE is short for "thermoplastic elastomer", a synthetic blend made from a combination of rubber polymers and plastic. They are eco-friendlier compared to mats made from other types of materials, so if you're into protecting the planet, you can buy one that's fully recyclable. They are known for their traction but aren't as durable as yoga mats made from PVC.
PVC mats are made from plastic-based material. While they are not as eco-friendly as TPE mats, they are considerably more durable. They are known for being the best grip yoga mat options, and they are super easy to clean. Even so, if you sweat a lot when doing yoga, PVC mats aren't moisture-wicking, which makes them very slippery.
If you want an eco-friendlier option, there are plenty of different types of yoga mats to choose from. Some are made with jute, others with organic cotton, or using natural rubber. They don't have a floor grip as efficient as other types of mats, but they give your body plenty of traction when doing yoga. They aren't durable as mats made from PVC, but they are recommended for those who want to practice yoga on a more sustainable level.
Top 5 Non-Slip Yoga Mat Reviews
Now that we all have an idea of what different yoga mats should be like and know the purpose that it serves, let's look into some of the best non-slip yoga mats and see just what the market has to offer and what others recommend.
BalanceFrom GoYoga
Dimensions: 71 x 24 inches
Thickness: ½ inches
Made from: high-density foam
Available colors: 7
Check The Price
Here's a great sticky yoga mat thanks ranks number 1 in a lot of different categories. Available in 7 chic colors, this mat is thick enough to give you enough support while doing yoga, but also thin enough as to offer you stability. It is a double-sided mat with non-slippery surfaces and a comfortable ½ inches in thickness.
Made out of foam, the surface is smooth enough to be easily cleaned with soap and water. It comes with an adjustable strap made with Velcro, which means that you can customize it for easier carrying. It features moisture-resistant technology, which means that not only is it easy to clean but sweat odor and bacteria won't penetrate the surface either.
Who Should Purchase This?
Tested and approved by tens of thousands of customers, the BalanceFrom GoYoga mat is a really solid product that comes with just the right thickness to support your balance, while also being easy to clean and giving you that anti-slip safety you crave for.
Pros:
Non slip traction.
Good thickness.
Easy to clean.
Variety of colors.
Adjustable strap.
Cons:
Yoga Design Lab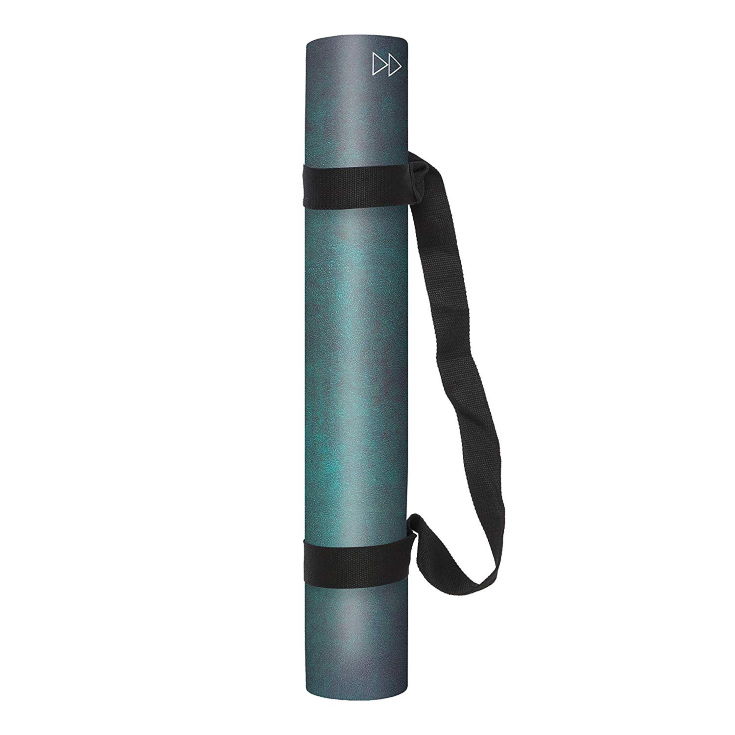 Dimensions: 70 x 24 inches
Thickness: 3.5 mm
Made from: natural tree rubber + microfiber made from recycled bottles
Available colors: 22
Check The Price
To be honest, the first thing that caught our attention with this eco-friendly mat is the variety of colors and patterns that are absolutely breathtaking. Despite it being just a yoga mat, it's a regular fashion statement, and we love it for it. Then comes the fact that it's made with sustainable materials, like microfiber that resulted from recycled bottles and natural tree rubber.
Designed to be a true yoga companion, this anti-slip mat promises that you will stay shielded from any potential injuries, because of its sturdy grip. The material is also moisture absorbing, which means that sweaty palms are less likely to cause an accident when striking different poses.
The mat is reversible, meaning that you get the same awesome properties regardless of the side you're using. It provides plenty of cushioning to avoid feeling pain or discomfort after a yoga session. It can be washed inside your machine in cold water, or you can use the company's special mat cleaner.
Who Should Purchase This?
If you are into saving the planet (as well as your body) even with a simple purchase like that of a no-slip yoga mat, consider this one made by Yoga Designs Lab, which is made from natural tree rubber and microfiber resulted from recycling bottles.
Pros:
Lightweight and foldable.
Can be used as a towel.
Reversible.
Beautiful colors and patterns.
Carrying strap included.
Machine washable.
Eco-friendly.
Cons:
IUGA Yoga Mat
Dimensions: 72 x 24 inches
Thickness: ¼ inches
Made from: TPE
Available colors: 6
Check The Price
Don't let the price fool you: there are plenty of hints that indicate this mat is actually pretty solid. It is made with eco-friendly material, which means it doesn't use any PVCs of sorts. It is reversible, which means that you get the same features on one side as you do on the other. The non slip design makes it easy to use your mat on different kinds of surfaces, without worrying about the ground literally sliding from underneath.
Stretch tests have proven that the mat is quite resistant to wear and tear, so it definitely scores high on our durability scale. It comes with a carrying strap, making it super easy for you to just throw the mat on your shoulder and head over to yoga class. The closed-cell structure makes this anti-slip yoga mat rather easy to clean.
Who Should Purchase This?
We think that the IUGA yoga mat is the perfect example that it is indeed possible to buy a good product without spending a fortune (assuming you know where to look; wink wink).
Pros:
Really solid grip.
Easy to clean.
Carry strap included.
Double-sided texture.
Reversible.
Eco-friendly.
Cons:
Warps in heat.
Attracts odors.
Manduka PRO Yoga Mat
Dimensions: 71 x 26 inches
Thickness: 6 mm
Made from: eco-certified PVC material
Available colors: 8
Check The Price
Curious what other yoginis would recommend in terms of yoga mats? It would surely be the Manduka, one of the most professional yoga mats out there. There are plenty of interesting features, and we were really curious to see if the performance would justify the high price tag. First of all, you should know that you're able to buy this mat in a 71 or 85-inch length, so if you're looking for something longer than the average, this is your chance.
Made from really rubber-like PVC, this mat feels very durable from the moment you lay your slippery hands on it. It is made to last, as even stretch and folding tests have shown how easy this mat returns to its original shape. It is designed to be non-slip and sweat-resistant, although it might get a little slippery if it gets wet.
Because of its construction, the mat is really easy to clean, so all you need is a damp cloth to wipe it clean. Make sure that you allow it to fully dry before using it, as the PVC tends to get slippery, especially when placed on top of a smooth surface.
Who Should Purchase This?
We were a little bit skeptical about adding this non-skid yoga mat in our roundup because it tends to become slippery when wet. However, the overwhelming amount of positive feedback that this product received from customers leads us to believe that the odds of you loving it as well are pretty high. That being said, if you trust other fellow buyers, this mat should be an amazing buy. Also, this model is great for hot yoga. If you're into that. Here's our picks for hot yoga mats, if you want to check it out.
Pros:
A hit amongst customers.
Recommended by yoga teachers.
Available in two lengths.
Very durable construction.
Supportive for joints.
Cons:
Slippery when wet.
Requires a break-in period.
Heathyoga
Dimensions: 72 x 26 inches
Thickness: 6 mm
Made from: SGS certified TPE
Available colors: 6
Check The Price
Here is one more for the road: another eco-friendly mat that's made from TPE. Available in 6 very funky colors, this mat is designed with two textured surfaces. One of them is with a diamond-shaped pattern that will prevent sweaty hands and feet from slipping, while the other side has a tire-like pattern, meant to provide excellent floor traction.
Basically, the mat comes with a 3-layer design: there's the nonslip surface, an anti-tear mesh center, plus a bottom layer. You can twist and turn this mat however you want and notice that brute force doesn't leave any marks or signs of wear-and-tear. It's basically like trying to mold rubber with your body.
One feature that we absolutely loved about this mat is the fact that it literally comes with instructions directly on the surface of the mat. The lines and markings will show you where to place your hands and feet to have them perfectly aligned, and what is the correct position for the rest of your body.
Who Should Purchase This?
With a really good price-to-features balance, we feel that this Heathyoga mat isn't getting the attention it deserves. It's a product for people who want to try something new, for those who don't want to spend a fortune on yoga equipment, and for those who fancy a highly portable mat (weighs 2.8 pounds). Also great for sweaty hands.
Pros:
Marking for proper poses.
Dual-sided textures.
Great support.
Durable, but lightweight.
Carry strap included.
Cons:
Bottom Line
First of all, congrats on your decision of taking up yoga! It is a wonderful way of keeping your body in shape while allowing your mind to free itself from troubles. As we've mentioned, one of the best things about yoga is that you don't need to invest in equipment very much, as long as you have a set of clothing that allows you to stretch and a good slip-resistant yoga mat.
When you're out looking for such a mat, remember to check out the important features, such as thickness, construction, or grip-related details. Remember that you want to buy a nonslip mat because it's very likely to get hurt when you're forcing your body to maintain different complicated poses. There's also the option of turning a regular mat into a non-slip one. Check out our tips for how to make a yoga mat sticky, if you're interested.
There are plenty of viable options out there, some made from really durable materials, others that are eco-friendly. You should also make sure that you establish a budget before shopping, as there are mats in all price ranges, and I'm not sure you want to end up spending a few hundred dollars on a mat, especially if you are a beginner.