Who hates bugs? Okay, except for the entomologists out there that have a penchant for natural scents, very few of us like those crawling little insects that fly in our faces, ruin our picnics, and leave bites on our skin that itch, break, and bleed. To be honest, I am not a fan of bugs.
Still, I am a caring person and don't feel that killing them, unless absolutely necessary, is the answer either. When it comes to arthropods, I never harm a bee because they are necessary for our survival but I couldn't care less about the mosquito and would probably smash it with no regard for its poor little life. We can't shoo away every insect that tries to infiltrate our food, our space, or our bodies and that is where repellants come in.
​Essential Oil Bug Repellent Recipes
Their store-bought bug sprays are full of chemicals, and to be honest, I don't remember using one that ever worked at 100%. Essential oils, on the other hand, are natural so you are not only avoiding putting chemicals into the air and environment, you are not soaking them into your own body through your pores. Yes, when you put something on your skin, it ends up penetrating it via those little openings you sweat from.
Here are 31 natural essential oil insect repellent recipes that should be a breeze for you to do yourself.
doTERRA BUG REPELLENT DIY
When it comes to the production and distribution of essential oils, doTERRA is one of the best companies you can deal with in the market. Personally, I use their products and am more than satisfied with the quality. As for the bug repellent, this recipe should be able to duplicate "TerraShield", a blend made by doTERRA. We were unable to find the specifics but here are the ingredients.
Ylang Ylang
Nootka
Cedarwood
Catnip
Vanilla Bean
Arborvitae
When it comes to recreating this bug repellent, try following the guidelines in our dilution methods and you can choose the percentage. For example, if you want a weak solution, then that would be at 0.5%, which means less than one drop of essential oil per teaspoon of the carrier, the coconut oil.
This recipe calls for nine essential oils and a carrier, so I suggest making it at a 2% dilution in a 15ml bottle or at a 3% dilution in a 10ml bottle. This would require 3 teaspoons of coconut oil for a 15ml bottle and 2 teaspoons for 10ml. Both of these would require one drop of each oil listed.
​YOUNG LIVING MOSQUITO REPELLENT DIY
Next, we have a recipe that was specifically designed for Young Living essential oils, which is another powerhouse corporation in the world of aromatherapy. They have an insect repellent they've created but, if you have most of these extracts at your home, then you might want to try making it yourself.
83% Sesame Oil
6.5% Citronella
1.15% Lemongrass
1% Rosemary
0.5% Geranium
0.35% Spearmint
0.25% Thyme
0.25% Clove
1% Vitamin E
Mix well in a dark bottle and apply.
COLD COMPRESS WITH LAVENDER AND TEA TREE OIL
This recipe is not a prevention tool but something you can throw together quickly after you or your loved ones are bitten by mosquitos. Grab a washcloth, run it under cold water, ring out the excess, and then mix the following:
1-2 drops of Lavender
1-2 drops of Tea Tree
Once it is mixed, add it to the compress and then apply to the bites. Repeat every hour until the inflammation is reduced.
​LAVENDER OIL MIXED WITH OLIVE OIL
Here, we have one of the oils used in the treatment of bug bites in our last recipe and dilute it as a prevention technique. Certain essential oils can cause a rash when applied topically so it's important to dilute them correctly. Lavender is a relatively safe oil, but just in case, grab a light-resistant container you are planning on using and fill it with the following:
50% Lavender oil
50% Extra Virgin Olive oil
Apply topically to your body. Not only will the lavender repel insects, but the olive oil will also moisturize your skin.
​HOW-TO MAKE HOMEMADE ESSENTIAL OIL INSECT REPELLENT SPRAY
Applying any type of repellent or lotion is difficult when you have to use your hands. As much as we love lotion, getting it on our backs is not the easiest thing to do, especially when you live alone. That's why sprays were invented, so we can cover more area with ease.
This recipe calls a light resistant spray bottle that holds 4 oz for the following:
2 ounces distilled or boiled water
1.5 ounces witch hazel or vodka
30 drops of Citronella
25 drops of Peppermint
15 drops of Tea Tree
1 teaspoon Jojoba oil (optional; if you add Jojoba, then reduce vodka or witch hazel by 1 ounce)
​DIY Natural Mosquito Repellent Using Essential Oils
A lot of bugs are considered pests by none more than the mosquito. These little vampires suck our blood and leave an annoying welt that's nearly impossible to ignore. Get rid of them naturally with this DIY spray.
12 ounces of witch hazel
15 drops of citronella
15 drops of lemongrass
10 drops of peppermint
10 drops of tea tree
Put all the ingredients in a bowl, mix and then pour into a spray bottle via a funnel for future use. Make sure that bottle is light resistant since brightness can alter the compounds in the oil.
ESSENTIAL OILS FOR MOSQUITOES & HOMEMADE REPELLENT SPRAY RECIPE
Mosquitoes are so annoying that tons of creative people came up with recipes to get rid of them. Here is one that is completely different from the last one we listed yet it achieves the same results. You still need a bowl, a funnel, and a spray bottle that is…you guessed it…light resistant!
20 drops of Lavender
20 drops of Tea Tree
20 drops of Citronella
15 drops of Lemongrass
5 drops of Geranium
1 teaspoon Neem oil
1 tablespoon of vodka
Distilled water
​Homemade Patchouli Bug Spray
While hippies used this scent to mask the scent of cannabis, the fact is- patchouli is powerful enough to keep the bugs at bay. There isn't much to it, and it should be simple to throw together in your kitchen.
2 ounces apple cider vinegar, witch hazel, or vodka
2 ounces of water
40 drops of Shield Me essential oil synergy.
DIY HOMEMADE BUG REPELLENT WITH ESSENTIAL OILS
The next few recipes are intended for you to personally design your own scent using one or more of the following oils they recommend.
Citronella
Lemongrass
Rosemary
Geranium
Spearmint
Thyme
Clove
Pick your favorites and use the following directions/ingredients for number 10 and 11.
Carrier oil (examples are fractionated coconut and avocado)
10-20 drops of essential oils, divided between the scents you chose
Small bottle or old jar
Mix and apply.
DIY HOMEMADE BUG REPELLENT: RUB ON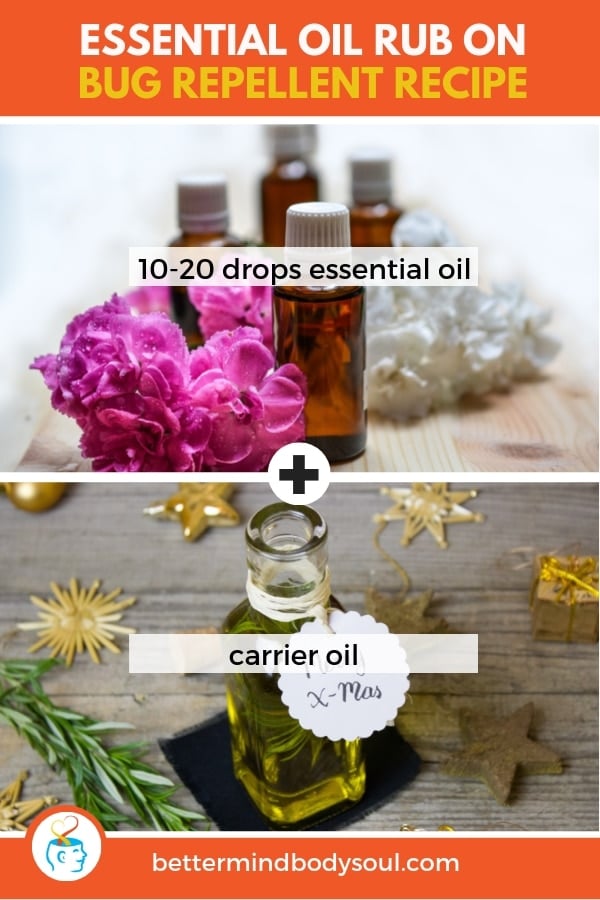 Carrier oil (examples are fractionated coconut and avocado)
10-20 drops of essential oils, divided between the scents you chose
Small bottle or old jar
Mix and apply.
​DIY HOMEMADE BUG REPELLENT WITH ESSENTIAL OILS: SPRAY ON
Carrier oil (examples are fractionated coconut and avocado)
15-20 drops of essential oils, divided between the scents you chose
2 oz spray bottle
1½ teaspoons of distilled water
1 teaspoon of vodka or witch hazel
Add all of the ingredients to the bottle and shake. Then you can apply and tell those pests to bug off.
Essential Oil Mosquito Repellent
Have you ever seen anything as hated as the mosquito that so many recipes were created to rid our lives of them? This one claims to be long-lasting. Choose from the following scents:
Cedarwood
Clove
Citronella
Lemon eucalyptus
Patchouli
Peppermint
Thyme
Then use the following recipe:
1-ounce carrier oil (a mixture of neem, fractionated coconut oil, and soybean)
15 drops of chosen essential oils
Glass spray bottle.
Mix. Shake. Apply.
Homemade Bug Repellent With Essential Oils
Next, we have another "select your own oil" recipe, which gives you the choice of three from the following:
Lavender
Eucalyptus
Clove
Geranium
Rosemary
Cedarwood
Lemongrass (can attract bees)
Citronella
Cypress
Tea Tree (Melaleuca)
Peppermint
Then use the three you chose for this recipe:
30 drops of essential oils divided any way you wish
3 ounces of water (distilled or boiled or replace with fractionated coconut oil)
Mix. Shake. Apply
Homemade Mosquito Repellent Spray
Here, we have a recipe that calls for much more on the essential oil end and very little of the carriers. Be sure to do a spot check before applying the results of this recipe.
2 tablespoons of one or a combination of the following: grapeseed, jojoba, almond, olive, or neem oils (the latter contains natural insecticide properties)
2 tablespoons of witch hazel
1/2 teaspoon vodka
100-110 drops of the following essential oils: 55 drops Lemon eucalyptus, 15 drops Cedarwood, 15 drops Lavender, and 15 drops Rosemary
Add carriers to a 4-ounce spray bottle and add the essential oils; then shake well.
​BUG REPELLENT SPRAY
Here we have a spray that doesn't require a million ingredients.
1 tablespoon witch hazel
5 drops master oil blend
5 tablespoons water
8 drops Lemongrass
4 drops Lavender
4 drops Peppermint
4 drops  Thyme
Combine in a dark glass spray bottle. Shake and apply.
BUG REPELLENT MOISTURIZER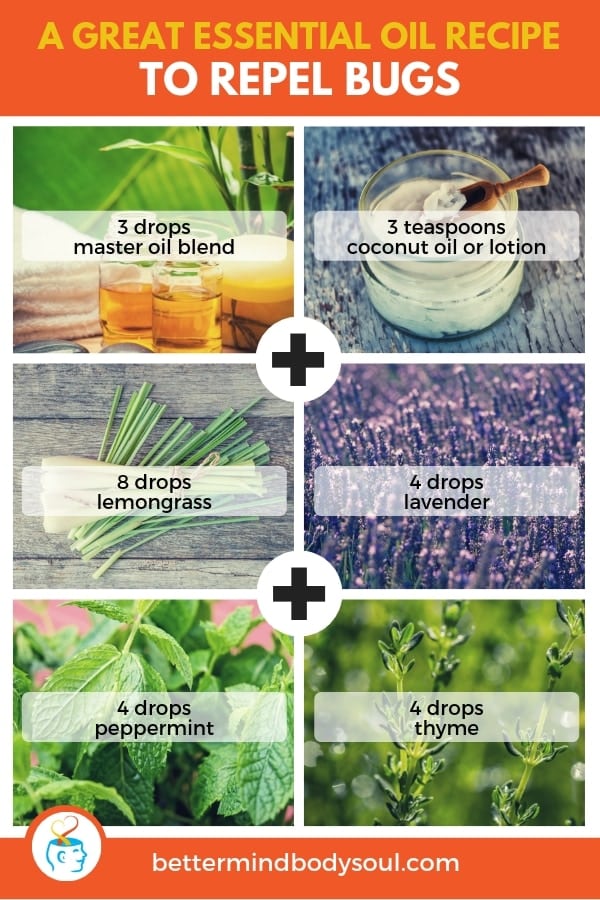 This next recipe is the same as the last, but a few of the ingredients have changed so that it works as a moisturizer instead of a spray.
3 drops master oil bend
3 teaspoons coconut oil or lotion
8 drops Lemongrass
4 drops Lavender
4 drops Peppermint
4 drops  Thyme
TRY LAVENDER AND APPLE CIDER VINEGAR
Next, we have a very simple recipe with only two ingredients, which are listed above.
Mix the following in a bowl and apply topically to repel bugs.
25 drops Lavender
¼ cup organic apple cider vinegar
Water if vinegar is too strong
​NATURAL BUG REPELLENT
All of the recipes we've covered are natural, but here is another one because you can't ever have too many recipes that involve essential oils and getting rid of bugs.
1 cup witch hazel
1 cup water
1 tablespoon vodka
10 drops Citronella or Lemongrass
10 drops Clove
10 drops Eucalyptus
10 drops Peppermint
Combine in a glass spray bottle and shake.
HOMEMADE OUTDOOR & CAMPING SPRAY
When outdoor season hits, we can't wait to pack our gear and set out to a remote area where we camp and reconnect with nature. Unfortunately, sometimes nature wants to take a bite out of you so next time, bring this.
4-ounce glass spray bottle
Distilled water
Witch hazel
Purification essential oil
Optional oils like Lavender and Peppermint
Add 15-20 drops of Purification to the bottle. Then fill it ½ way with distilled water and then to the top with witch hazel. Add a couple other scents if you like.
5-MINUTE ESSENTIAL OIL BUG SPRAY RECIPE
Sometimes, we just want something to throw together on the fly. If that's the case for you, check out this mixture.
30 drops Geranium
30 drops Citronella
20 drops Lemon Eucalyptus
20 drops Lavender
10 drops Rosemary
1 tablespoon vodka or rubbing alcohol
½ cup water or vinegar
1 teaspoon vegetable glycerin (optional)
½ cup natural witch hazel
Put everything in a glass spray bottle from the top ingredient to the bottom. Shake well and use.
HOMEMADE CITRONELLA BUG SPRAY
This scent isn't only for those horribly dangerous candles that people put in their backyards. Not only is this method safer, but you can also put it together in a flash.
2 ounces apple cider vinegar, witch hazel or vodka
2 ounces of water
40 drops Shield Me essential oil synergy (specially formulated for children ages 2-10, but also good for adults)
Add the essential oils to the apple cider vinegar and then add the water last. Shake well. This mixture should be stored in the refrigerator when not in use.
​BASIC BUG SPRAY RECIPE
This recipe doesn't tell you what scents to choose, so I suggest picking three that have stuck out to you in other recipes you've read.
4-ounce glass spray bottle
2 ounces of witch hazel
2 ounces of distilled water
40-50 drops of essential oils
KID-SAFE ESSENTIAL OIL BLENDS FOR BUG SPRAYS (FOR KIDS AGE 3+)
Next, we have the same recipe above, just altered slightly for children.
4-ounce glass spray bottle
2 ounces of witch hazel
2 ounces of distilled water
20-25 drops of essential oils
There are certain oils that should be kept away from children so make sure to research the scents you've chosen well before using it on your kids.
MY FAVORITE ESSENTIAL OIL BLENDS FOR BUG SPRAY (SAFE FOR ADULTS AND KIDS 10+)
Here are some essential oil blends that would go well with either of the two recipes we listed below.
Number 1
15 drops Lemongrass
15 drops Eucalyptus
20 drops Citronella
Number 2
20 drops Lavender
20 drops Lemongrass
10 drops Peppermint
Number 3
20 drops Rosemary
20 drops Cedarwood
10 drops Peppermint
Number 4
15 drops Lavender
10 drops Basil
10 drops Rosemary
15 drops Spearmint
Number 5
15 drops Eucalyptus
20 drops Lavender
15 drops Lemongrass
​HOMEMADE BUG SPRAY
With this recipe, there are strong scents involved so you should avoid getting it into your eyes or mouth.
½ cup witch hazel
½ cup apple cider vinegar
40 drops of essential oils (Eucalyptus, Lemongrass, Citronella, Tea Tree, or Rosemary)
One 8-ounce glass spray bottle
Mix ingredients from top to bottom in the spray bottle. Shake well, and use.
MIX A LAVENDER SPRAY
Lavender is one of my favorite scents. Not only because it smells good, but also the benefits are abundant.
Spray bottle, glass
Distilled water
Lavender oil
Put 30-40 drops of Lavender in the bottle and then fill with distilled water. If you want to use dried lavender, boil 3-4 tablespoons in 3-4 cups and then strain.
ESSENTIAL OIL INSECT REPELLENT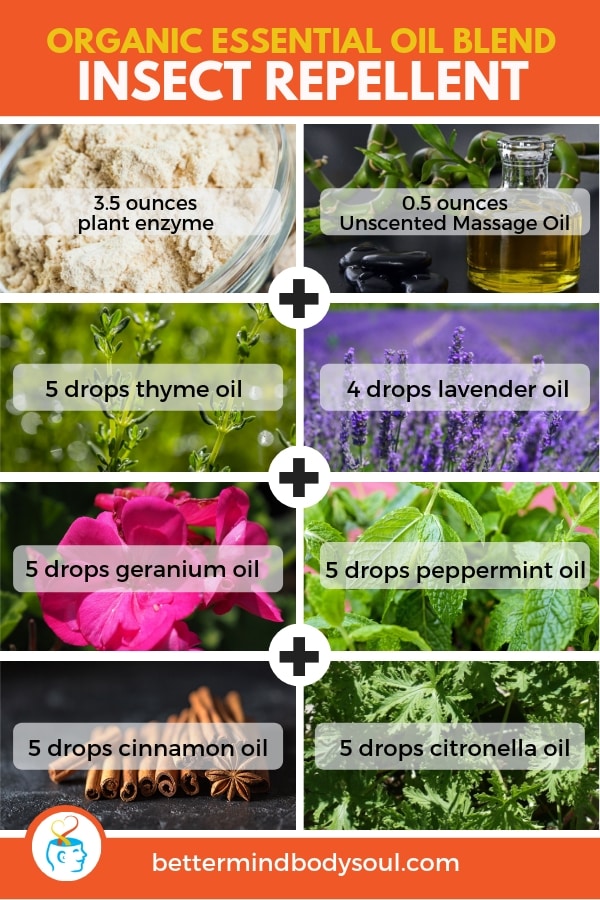 This recipe calls for some ingredients we haven't seen yet.
3.5 ounces Plant Enzymes
0.5 ounces Unscented Massage Oil (Grapeseed)
5 drops Thyme
4 drops Lavender
5 drops Geranium
5 drops Peppermint
5 drops Cinnamon
5 drops Citronella
In a 4-ounce glass bottle, add massage and essential oils. Shake it well and then add the plant enzymes. Shake again.
DIY NATURAL INSECT REPELLENT & BUG SPRAY
As with other recipes you've seen today, get a 4-ounce glass spray bottle to mix and store your spray in.
3 ounces of distilled water
15 drops of Citronella
10 drops of Lavender
10 drops of Eucalyptus Globulus or Eucalyptus Radiata (the latter for small children)
5 drops of Lemongrass
Mix and shake well before each use.
DIY INSECT REPELLENT SPRAY WITH ESSENTIAL OILS
Get a nice glass spray bottle and mix the following.
½ cup distilled water
10 drops of Citronella
10 drops of Geranium
5 drops of Eucalyptus
5 drops of Lavender
5 drops of Patchouli
5 drops of Peppermint (optional)
MAKE YOUR OWN!
We realize that all these recipes are "make your own," but we wanted to be sure you knew.
10 drops of one or more of the following essential oils

Cedar
Neem
Catnip
Citronella
Lemon Eucalyptus
Pine
Thyme
Vetiver
Bergamot
Peppermint
Tea Tree
Eucalyptus
Basil
Lavender
Rosemary
4 ounces of witch hazel
10 drops of any of the following carriers
Vanilla (optional)
Distilled Water (optional)
Mix, shake, spray, and repeat when necessary.
DAB A LAVENDER OIL MOISTURIZER ON YOUR SKIN
Our final recipe is not a spray on but a homemade lotion that moisturizes.
Carrier oil (sweet almond, apricot kernel, avocado, olive, sesame)
Lavender essential oil
Put 1-2 drops of Lavender oil to every ounce of carrier oil. Mix well and apply.
To Conclude
We hope that you enjoyed reading all the different combinations that can be made to repel insects. While we repeated some ingredients from recipe to recipe, they were all different variations, which inspires me to try and create my own version.
If you found this article helpful, please let us know in the comments section below.