Native Deodorant
All natural Native brand deodorant is a great way to apply long lasting body odor control. With the ability to last through even hot, humid conditions- the fresh, uplifting scents are a favorite with consumers. When you want the best, this is definitely a choice to consider.
Check The Price
With all the many natural deodorant options becoming available, it can be hard to determine which are truly toting safe, alternative ingredients and which simply through in a few choices as a gimmick. It also can be hard to tell which are actually effective and work as described, which is why we have chosen some of the top rated products to review personally.
The Native brand is dedicated to the use of safe ingredients that are simple, yet effective, and pride themselves in their customer support. The following Native deodorant review is written from my own personal use of their Lavender and Rose scented option.
I ran it through a pretty tough trial to see how well its claims to body odor stood up against some serious heat and humidity, as well as to see what sort of moisture control existed. My findings are found below.
Natural Deodorant Claims
No true label actually exists to help define the use of 'natural' in an ingredient list, so therefore it is not controlled by some third party- which leaves the consumers having to trust the claims of the company. What is generally accepted, however, is transparency in the ingredient list and the exclusion of parabens (synthetic preservatives) and aluminum (used to stop perspiration).
Both are considered harsh and unnecessary by many consumers, and although no studies indicate any adverse reactions occurring due to their use, applying ingredients that are better understood and naturally derived are preferred by many people.
The Native company provides a comprehensive list of all their ingredients on both their packaging and on their website. These claims are easily understood, safe, effective, and cruelty free options. I had no problems personally understanding what each ingredient was and why it was being used- and everything was naturally derived rather than being a laboratory synthetic.
A Breakdown of the Native Company
Native was founded in 2015 out of San Francisco as an answer to dependable underarm odor protection using all-natural ingredients. The founder, Moiz Ali, had a lot of practice with online startups, and approached this fairly soft market with, 'working with the idea until the idea worked' type attitude. And he has been more than successful with a company that now carries the Procter & Gamble backed name- since they acquired Native in 2017.
Still run in the same manner as it started, Native offers one time purchases as well as a subscription service to keep you in product, and to save money. A leader amongst natural deodorant brands, Native continues to pull high ratings with consumers. They offer a range of products that include deodorants, toothpastes, soaps, and body washes for men, women, and teens.
Native Natural Deodorant Claims
Native is one of those companies that doesn't push any fad-like gimmicks on their customers, or offering things like coupons and promo codes to garner attention. Rather they allow their deodorant to speak for itself through consumer reviews and online sharing, rewarding their repeat customers with bulk discounts and mini-freebies when they provide attention.
Ingredients are their main focus, and although they do not claim to be fully vegan due to their uses of beeswax, they do claim cruelty-free and even provide sensitive skin formulas. These options exclude certain natural ingredients, such as baking soda, that may cause a reaction in some people.
Free from aluminum, parabens phthalates, talc, and artificial fragrances and colors, the deodorant options are formulated especially for men, women, and even teens. They also offer a decent range of various fragrances, including fragrance-free and season scents that change through the year.
Check The Price
Packaging and First Impression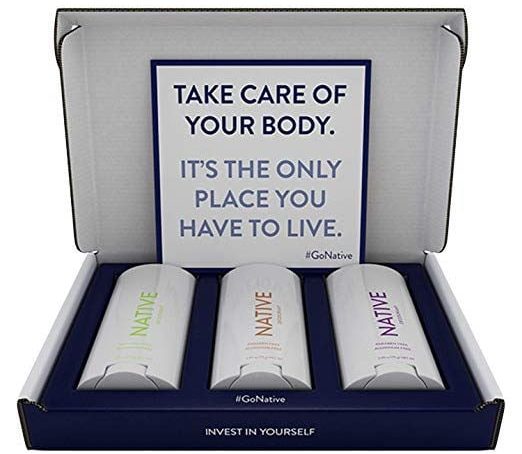 If you were wondering where to buy Native deodorant, I purchased mine off the shelf of a popular pharmacy, but it is easily found online and through the Native website. It comes in a recognizable deodorant plastic 'stick' housing that most companies have adapted for easy application. The easy to turn, twist bottom lifts and lowers the stick to provide the amount you need without waste.
The 2.65 ounces of product contained within is comparable to both other natural options as well as the many deodorant and antiperspirant sticks it sold next to. The cost is slightly higher overall than what you might be used to, but most natural products are as their ingredients are not always as easily derived as many synthetics.
Ingredient List
The ingredients listed mimicked the website transparency and was easy to understand. Everything included was a meaningful choice to help with easy application, fragrance, solidification of the ingredients, skincare, and even moisture control. Even though a few of the words were unfamiliar to me in their scientific name, they were easy to search for online for a better understanding. For example, ozokerite is a mineral wax derived from shale.
The recipes are derived to provide an easy to apply, smooth product that is healthy for your skin. This help breaks down odor-causing bacteria all while keeping your pores open, and provide light, refreshing scents made from essential oils rather than harsh perfumes.
I did not have a large selection of scents to choose from in the store, but choose the lavender and rose option because I enjoy the scent and am well aware of how natural lavender should smell. I did not get the sensitive skin choice so I can't say how effective that option is,  but was impressed with my first whiff- and review of the label prior to purchase.
Scent Options
I am fairly sensitive to fragrances and generally choose light scents to wear rather than anything overwhelming. This is especially true for my underarms, and since I love the smell of lavender figured this was a good choice. I did want to get a good understanding of the strength of Native's scents and to see if their natural smelling claims held up to the test. Since I grow lavender in my backyard, what better way to compare a product scent?
The company offers a decent range of scents specific to both men and women, although it is easy enough to swap them around if you choose to. One of the more popular men's scents is the citrus and herbal musk that I was able to smell at the store and highly recommend!
The overall scent of the deodorant is somewhat strong if you stick your nose right next to the stick. But it also is very fresh smelling and does not at all belay any sort of artificial or synthetic tones. It is very similar to my own, live plants despite that it is mixed with a rose geranium (which is a sweeter rose floral smell) oil as well. I would hazard a guess that they use high quality, very pure sourced essential oils.
Lasting Power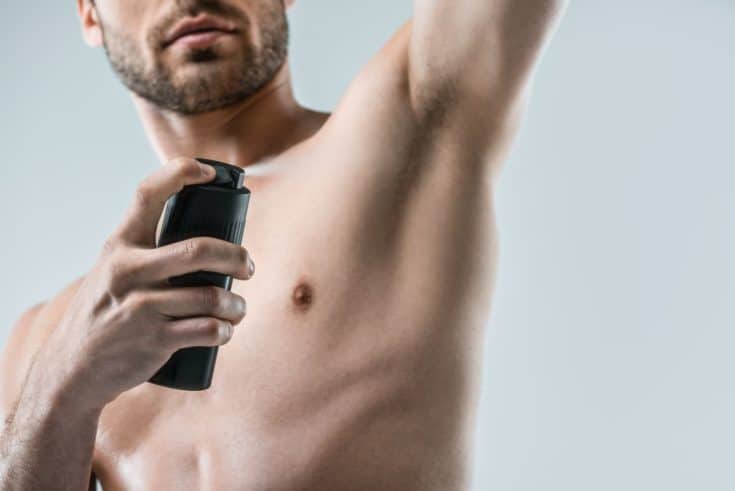 When applied the scent was not at all strong or concentrated in nature, and not noticeable unless I made a point to smell my armpits. I did my best to stay out of the public's eye when I did this, especially since I was wearing this deodorant everywhere to see if it was working as it claimed! I also made my kids take a whiff from time to time to see if they could still smell the light floral scent. They thought this was hilarious so at least somebody was amused.
What these tests (detailed below) concluded was the scent WAS long-lasting and handled everyday chores, shopping, and general running around for long periods of time. I applied once in the morning and that was it unless I was heading into a heavy workout session (and then I applied another swipe). Never did I smell any body odor, which has me conclude that the ingredients are highly effective in breaking down smelly bacteria and providing a natural smelling option.
Check The Price
Consistency
The stick is a powder solid that applies smoothly without any wet or sticky residue. I experienced no clumping while using it, and although I did notice a slight white film upon first applying, this went away immediately. When touched it feels like a dry powder but left behind no powder in the creases of my skin.
Because this bar includes baking soda and tapioca starch, I assume that is what I could both see and feel. These ingredients are effective in more than just deodorant control, they also aid in moisture control, and I never felt like I had a sweat buildup or was wet under the arms despite staying busy while wearing it.
Trials and Results
I used this deodorant exclusively for two weeks, applying once in the morning, and once again before a heavy workout. I do consider my skin to be fairly sensitive but I did not have any adverse reactions to the baking soda or other ingredients and never experienced any armpit discoloration or discomfort.
I do live in a hot, semi-humid Southwestern region, and going about regular outdoor chores is a pretty physical exercise. Even walking across a parking lot in the middle of the day will leave you wilting, so when I talk about going about a normal day it is important you understand the climate this deodorant was tested in.
Everyday Use
My everyday activities start with outdoor chores such as watering livestock and gardens. This does require a lot of walking around in temperatures that average in the '80s before 9 am with some of our higher humidities. It is normal to break a sweat while doing this. Afterward, it is usually a busy day of running to the store, getting children to where they need to be, work, etc… I really do give a deodorant a run for its money with as active as we are.
As mentioned, I never noticed anybody odor through the day, nor did anyone else I asked. I also did not have any underarm wetness despite being in the heat consistently through parts of the day. I would not say that I sweat heavily, but my body does work as it should and I am regularly wiping sweat from my forehead and back of the neck as my body self-regulates.
I would say that this deodorant works excellently for regular, everyday underarm perspiration as well as odor. The ingredients are well equipped to handle minimizing this moisture as to make it noticeable- at least for my own personal use.
Heavy Workout
I am a runner and regularly cover the miles during the week whenever I can. Before my more intense runs, I did apply another swipe of deodorant to see how well it could hold up to the heat. No antiperspirant can keep a person dry in 90-degree weather over a period of 1 to 2 hours of consistent running, so I wasn't expecting much in the way of moisture control, but I was curious to see if I could still smell it when I was done.
The long and the short of it all was that after an 80-minute run I could still smell the lavender. And since I usually take advantage of the endorphins such a workout produces, I could smell the lavender 50 minutes after that while I was pulling weeds, brushing horses, and filling water. To top it all off, I was not more sweat-soaked under my arms than I normally would be if I had started out with an antiperspirant. Is it effective? I would say so!
Overall Rating: 5/5
I absolutely am rating this option as a 5/5 stars. There is nothing I could find that could be improved upon as it is a product that is easy to find without any special ordering needing to occur, the company provides a customer loyalty discount, and it does exactly what it claims to do. I was super impressed with the lasting power of the scent and the overall moisture control. The ingredients are well spelled out and simple to research, and although I do have sensitive skin, I never once had any adverse reaction to the deodorant ingredients.
Check The Price
What Consumers are Saying
I was hard-pressed to find anyone who gave less than a 5-star rating to this product. It seems to be a favorite amongst natural deodorant lovers with many claiming that it is one of the longest-lasting they have ever tried. Their scent varieties are mentioned often as well as to their clean, fresh options, and people seem to like to make their own sample packs to try out various scents rather than stick to just one.
Complaints were few and far between (seriously, I had trouble finding anything negative). Most people simply said it didn't work for them, with others who found one particular scent, not to their liking, but overall still enjoyed the product. Few people had any problems with packaging or the deodorant itself, belaying a very small margin of error with the products
Conclusion
Looking for an all-natural deodorant option that actually works? Native deodorants definitely made the cut in my opinion, and I am not an all-natural ingredient type person with certain things- but this one impressed me. With a very impressive ingredient list and amazing scents that are light and refreshing, this is a long-lasting choice that handled the high heat index and heavy workouts I put it through.
If you use Native products we would love to hear from you below. And if you have any questions please leave them in the comments. As always, please share!